The executive producer and episodic director on the Disney+ series takes us back to the birth of Grogu and looks ahead as Season 3 continues to unfold.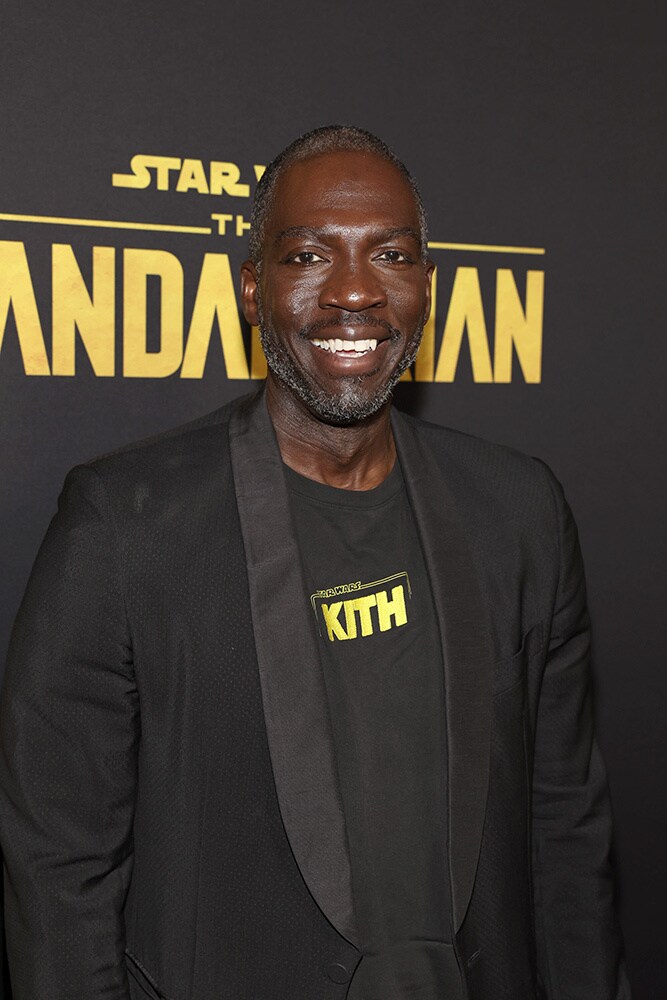 Rick Famuyiwa feels like he's graduated. After joining The Mandalorian in Season 1, where he directed "Chapter 2: The Child," — among the first people in the world to discover the character that would come to be known as Grogu, — he's ascended to the role of executive producer, alongside creator and executive producer Jon Favreau and executive producer Dave Filoni, and director of three episodes in Season 3 of the Disney+ series.
"I mean, it's both exciting and unbelievable," Famuyiwa tells StarWars.com. As a child, the first film Famuyiwa saw in theaters was Star Wars, so being invited to contribute to the galaxy far, far away has brought his fandom full circle. "I still, to this moment, go back and go, you know, 'You had no idea when you went to watch this movie as a kid that somehow you would be part of telling a Star Wars story.' It's still kind of mind blowing to me that it happened," he adds with a laugh. "It's been a part of my life so long. What I loved about it was the instant connection it gave me to a lot of other people that loved the world."
It's a story familiar to much of the cast and crew on the critically-acclaimed series, which has become something of its own found family over the years of production. "Definitely, it's a family," he says. "For me, that's been unique because I came from feature films where it's more like camp. You go to camp for the summer, everyone has a great time. Everyone says, 'I'm gonna remember you forever,'" Famuyiwa laughs. "And then when camp's over, you never see them again, you know? But since Season 1, we've seen how the family has grown. We've actually seen people that have come together and had their own family started. It's been an incredible experience in that regard….And I think that's what makes it special for all of us: everyone who's come into this show and this world comes to it because they are massive fans of Star Wars, right? And that's been the connective tissue. Everyone loves it. Everyone understands that."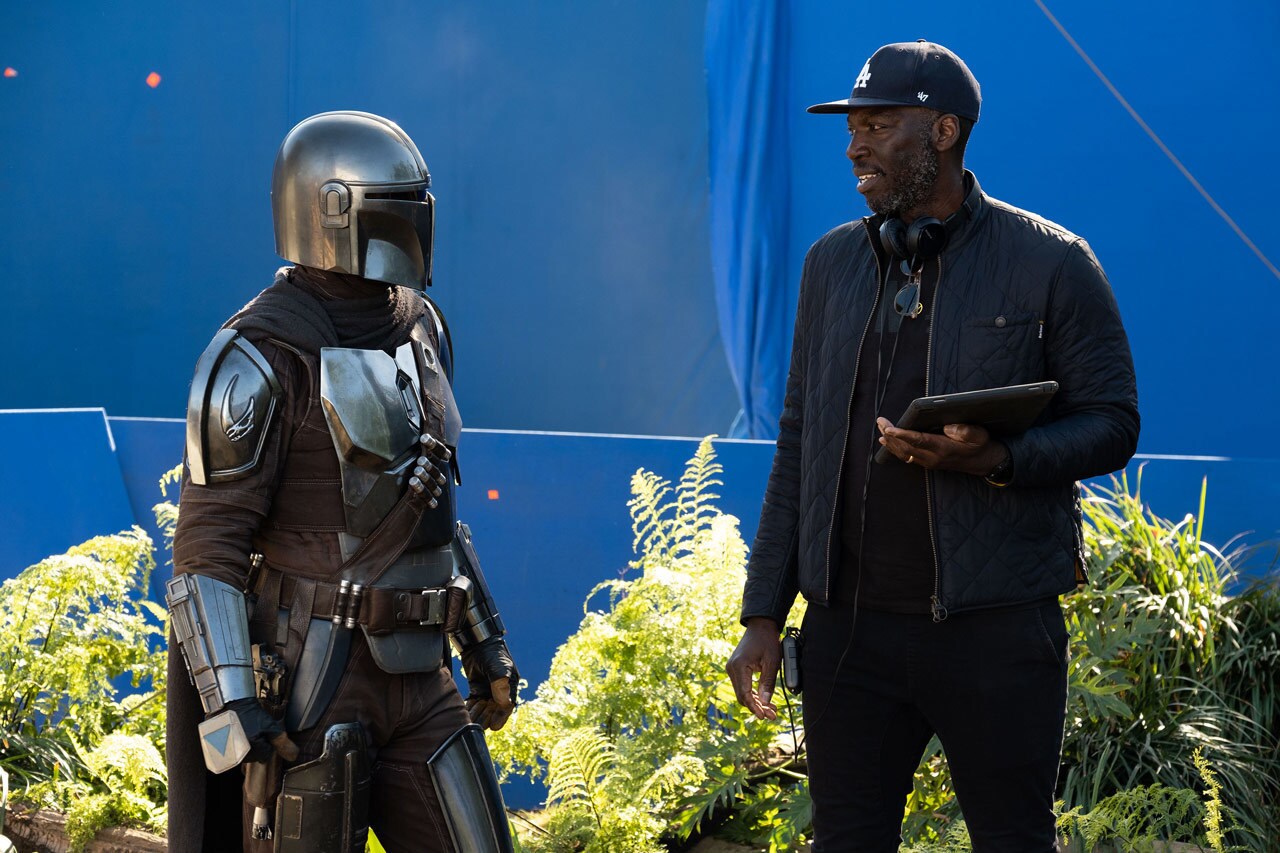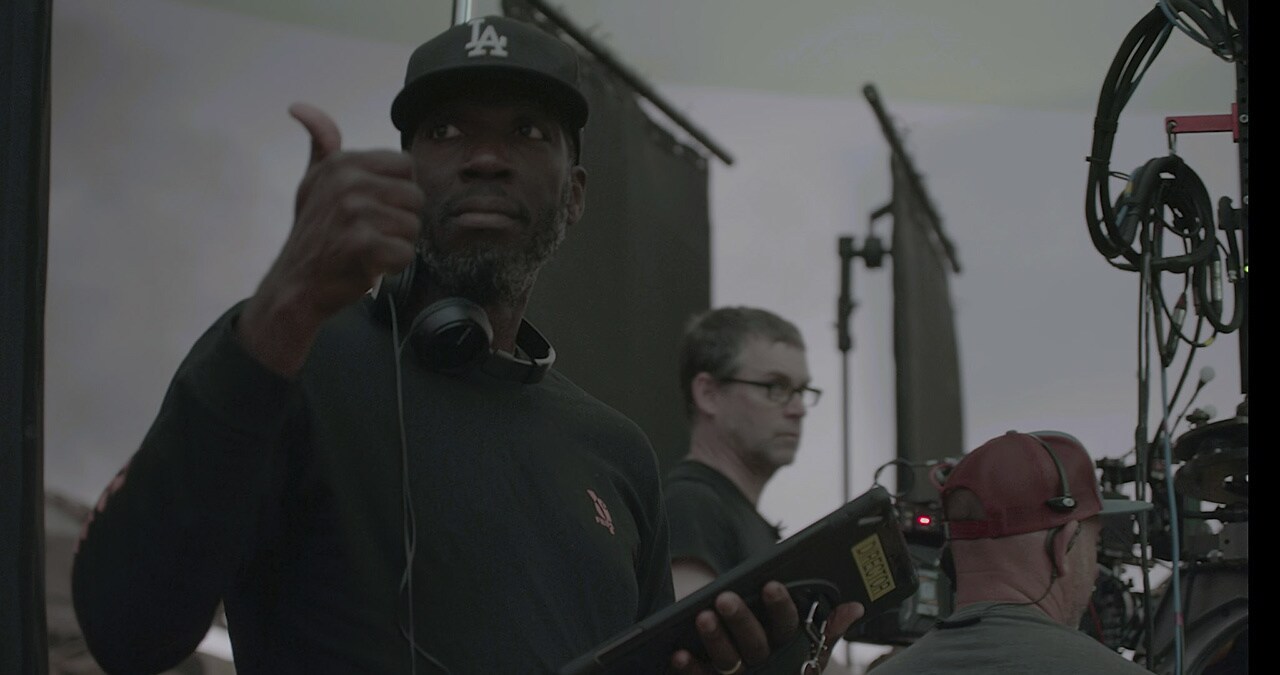 From day one, Famuyiwa was captivated by the individuals and connections explored in the original trilogy, and the same themes resonate throughout The Mandalorian, now nearing the end of its third season. "For me it's always been grounded in the characters and the relationships. There was something about it that felt real and tactile, like it's possible. It didn't feel like fantasy. It felt like, 'Oh, this just happens to be a window into a world we just haven't seen yet.' But it didn't feel like something foreign. So, I think that's the foundation of it for our show, and why it's become a connection point for new Star Wars fans; it's about this relationship between, at the time, bounty and the bounty hunter and how that's grown."

"Things are coming to fruition"
After delivering Grogu to the Jedi Luke Skywalker at the end of The Mandalorian Season 2, the tiny alien and Din Djarin were reunited in The Book of Boba Fett, beginning this season on a new quest to absolve Djarin in the Living Waters of Mandalore.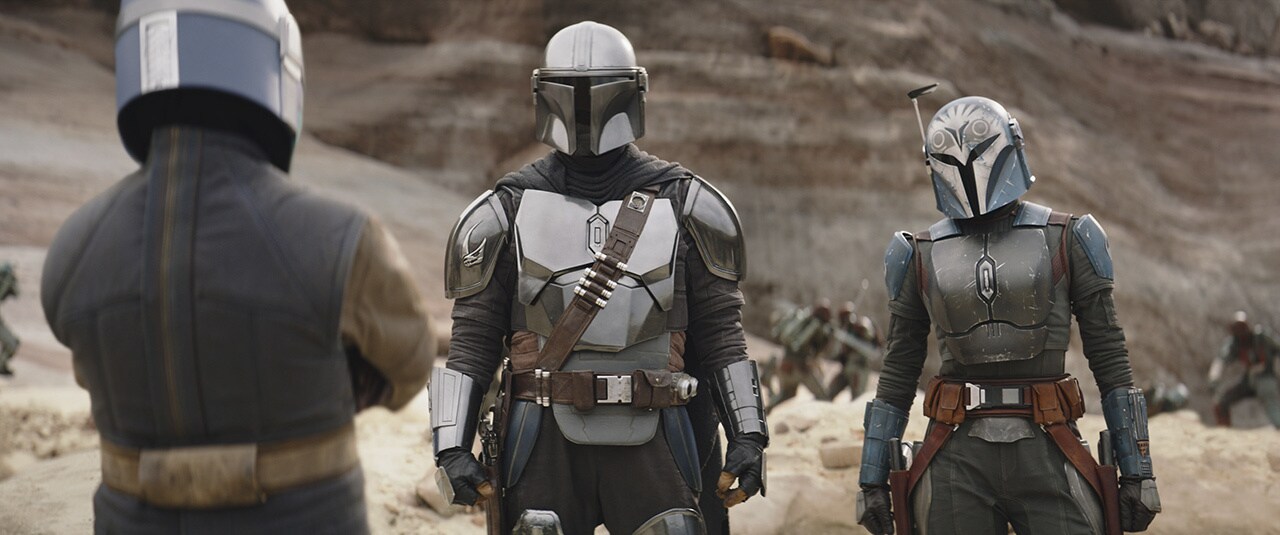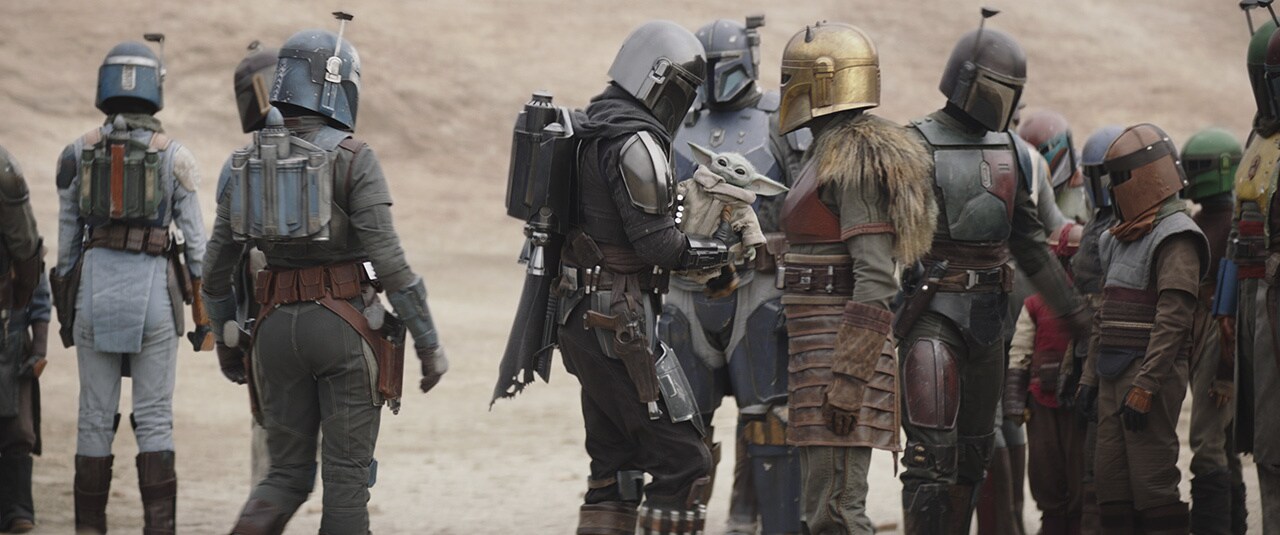 Beyond realizing the war-torn planet in live action, the season has expanded on our understanding of Mandalorian culture, reuniting Din with the Armorer and her covert, and bringing Bo-Katan into the fold. "I think both from a creative standpoint and a production standpoint, it's certainly the most ambitious season we've had to date," Famuyiwa says. "I think we've built upon the seeds that have been planted… And there's a lot more Mandalorians than the first time we met this guy a few years ago!

"A lot of tension, a lot of things are coming to fruition," Famuyiwa continues. His world has expanded. He's seen more of it and more Mandalorians in it, including Bo-Katan." Lady Kryze plays a significant role, as the one-time heir to the throne of Mandalore. The story gives creators the chance to explore "where she is at this point, her ideas and expectations versus where she is in reality. All of that's coming together in this season."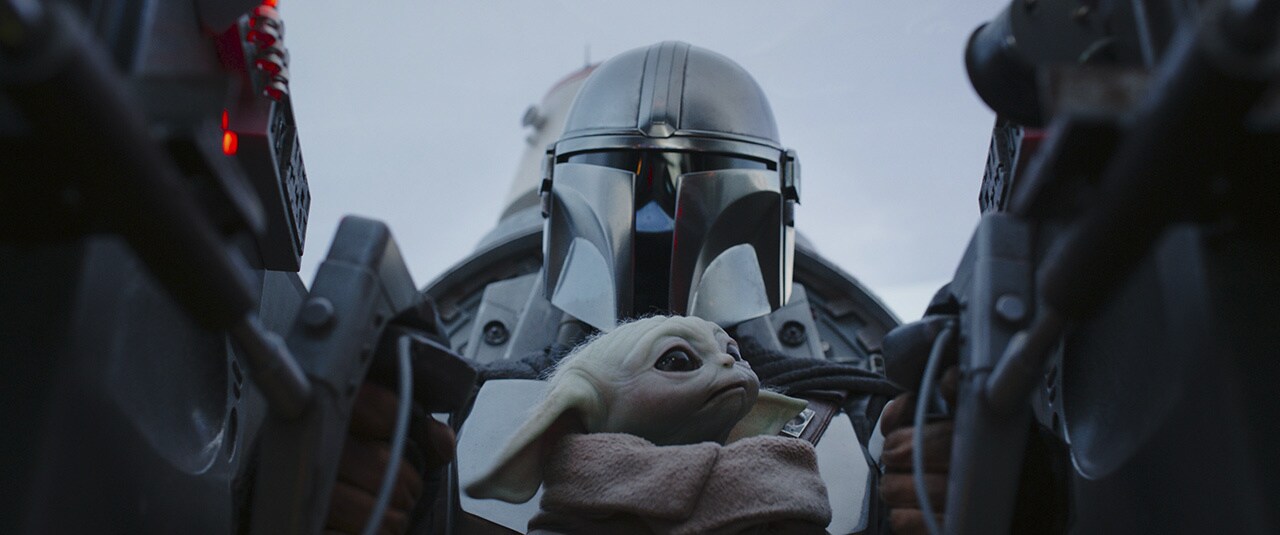 Growing up Grogu

Grogu, or "Baby G" as Famuyiwa calls him, has also changed since his debut, both into a meme-worthy phenomenon and in-world as a character, the other half of the Clan of Two. Famuyiwa came in on the ground floor, directing the episode in Season 1 that set the tone and helped define the relationship between the Mandalorian and the kid.
On set, Famuyiwa addresses the puppeteers behind Grogu as one, as if he's any other cast member. "It's so amazing what these, these magicians at Legacy do with their puppetry," he says.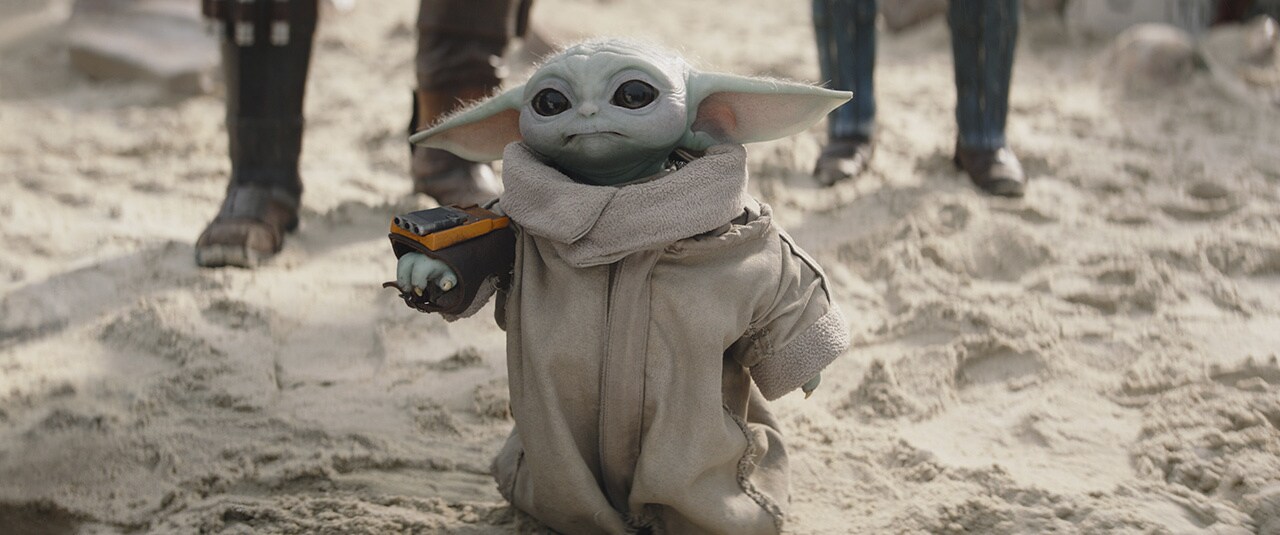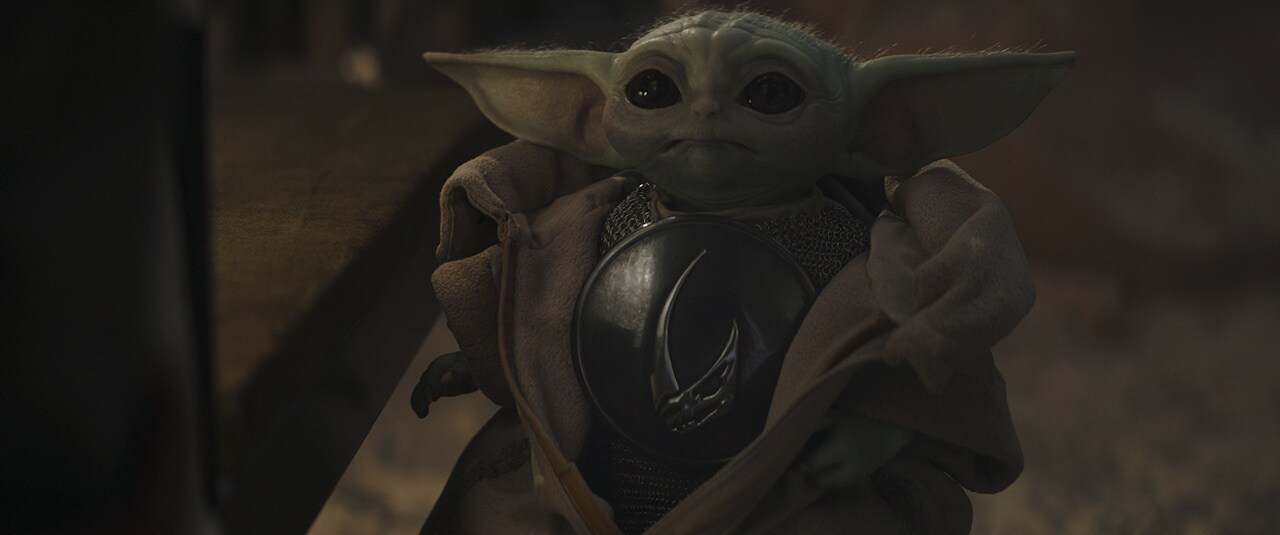 There's just something about Baby G that's captivated and entranced the world. "There's an innocence about him, obviously, but there's also sort of this transformative power that he has," Famuyiwa says. "The lives around him change probably more than he does himself and I think there's something about him that makes us want to both take care of him, but also examine who we are." The allure comes both from the design, a reverential reference to Jedi Master Yoda of the original trilogy and another member of the mysterious species, and Grogu himself. "There's just a mix of all of it that I think really made this character connect," Famuyiwa says. "And then you can't discount the world and the times that we live in and maybe just the need to really escape into an innocent character like that, that I think we all really felt at the time and we needed, probably more than we realized."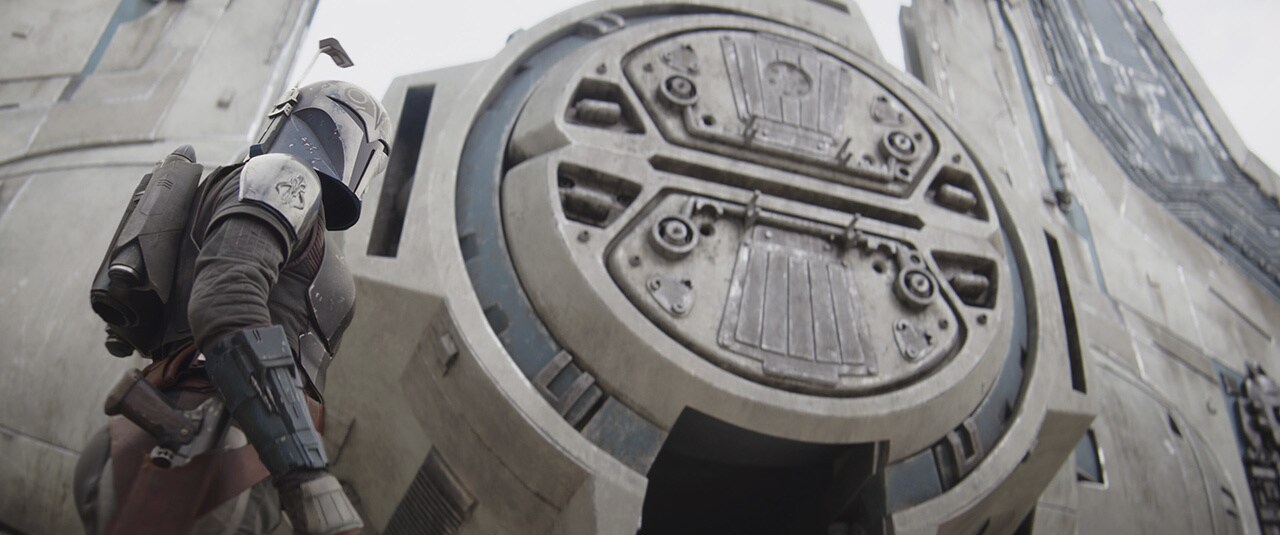 This season, many of the key characters find themselves at a crossroads, aiming to figure out who they are in their own changing galaxy. "It's about identity," Famuyiwa says. "Both what we're born with and how we choose to identify ourselves. And I like the idea that you have a people that come together around a Creed or a set of ideals, but those ideals aren't necessarily uniform. How do you bring people with different ideas about what it is that unites us together?"

And while the Jedi Order is more clearly defined by allyship with the Force, the Mandalorians are more of a blank canvas, ripe for storytellers to explore. "The Mandalorians feel more open for definition. It's not about a connection to the Force. It's not about anything other than what brings them together. They look different. There's not a unifying thing that makes them who they are other than these beliefs," Famuyiwa says. "I think there's something about that that I've always been attracted to. And that's why I love the continual definition of that, which we're doing this season."
Watch part of the interview with Rick Famuyiwa and catch up on other news on the latest episode of This Week! In Star Wars below!