In conversation with Tom Spina and the head of the Star Wars: Return of the Jedi monster shop, StarWars.com unveils the ferociously unique collectible.
In Phil Tippett's mind, the rancor — Jabba the Hutt's captive pet first seen in Star Wars: Return of the Jedi — was always going to be a puppet. But Star Wars creator George Lucas had other plans.
"George was usually pretty loose with his direction," Tippett tells StarWars.com. "He said, 'I need a big monster for the Jabba's Palace scene.'" At that point, there wasn't a complete script, just Lucas' vision of Luke Skywalker falling into a pit beneath Jabba's throne room and having to fight the beast within. "I came up with that design thinking that it was going to be a stop-motion or go-motion deal," Tippett continues. "And then George said, 'We're going to make the best Godzilla suit ever!' At which point Dennis [Muren] and I kind of went like, 'Uh oh.'"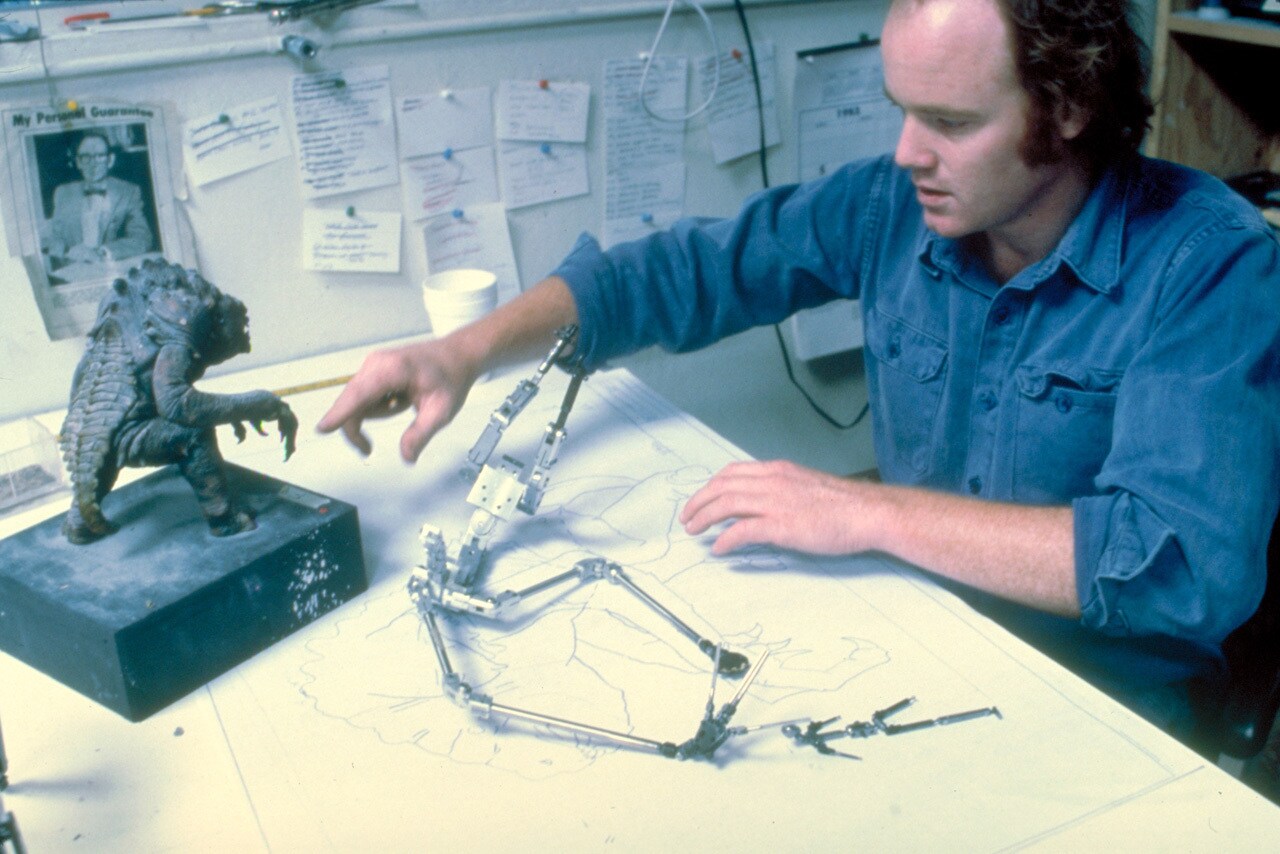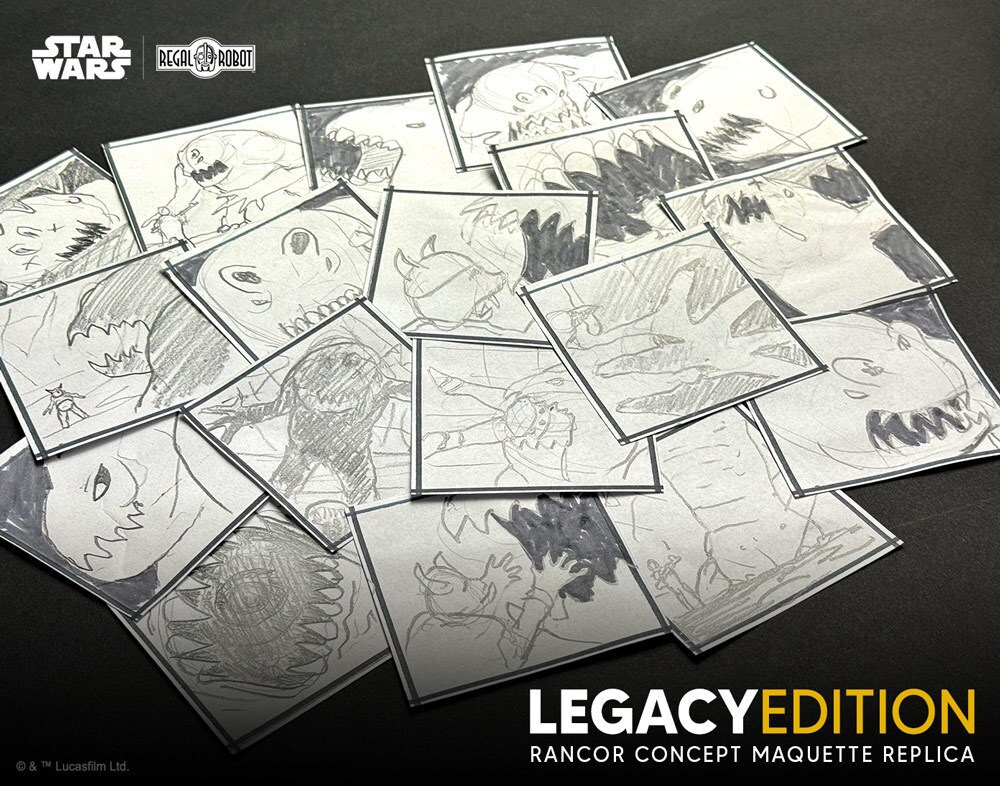 Ultimately, the rancor was realized as a hand and rod puppet, and the design was executed largely unchanged from Tippett's maquette, which was sculpted over about three days in ILM's monster shop. And soon, collectors can bring the maquette home. Today, StarWars.com is thrilled to reveal the first look at a new Regal Robot collectible version of the rancor, a 1:1 scale replica of the design that started it all: the Rancor Maquette. Part of the Archive Collection that launched in 2022 with another Tippett creation, the Max Rebo maquette, the rancor is something of Tippett's King Kong for the Star Wars galaxy, a hulking, muscled, and misunderstood beast. "I usually have to orbit some kind of a concept," Tippett says. "So, it was like the power of a bear and the brain of a potato."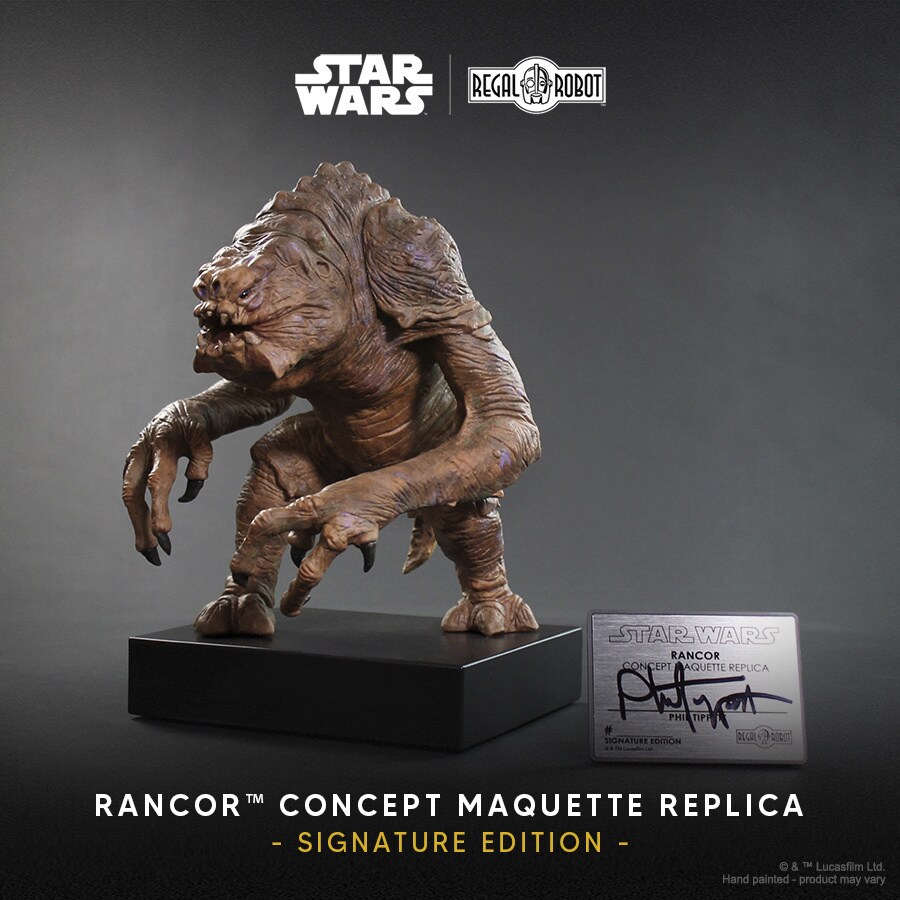 Recently, StarWars.com sat down with Tippett and Regal Robot's Tom Spina to talk about making the limited-edition maquette, including a 150-piece Signature Edition with a plaque signed by the sculptor and a 100-piece Legacy Edition, which includes a framed, one-of-a-kind hand drawn sketch from Tippett depicting the rancor scene.
StarWars.com: Tom, when you and your team are unearthing these maquettes at the Skywalker Ranch archive, you're scanning them and looking at every inch of them. For this one in particular, was there anything that really stood out to you in the process of recreating it?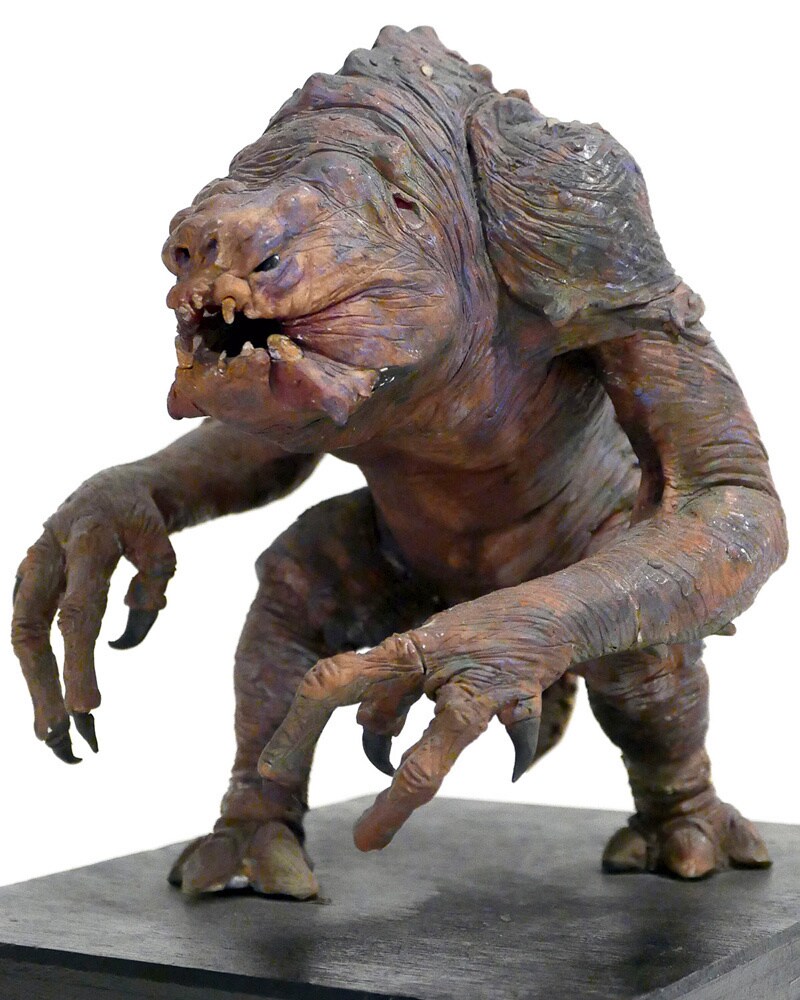 Tom Spina: It is very interesting and it reveals more to you the more you look at it, which I think is true for any good monster sculpt. The first thing that grabbed me about it is that it has a really wonderful weight and center of gravity to it. He looks like he's just taken a step forward and he just landed on that foot. You can really feel that. The sculpt on the rancor might be the most refined of all of the maquettes. Do you feel you put extra time and care into this one versus the other ones?
Phil Tippett: I don't actually remember it very well. My memory is that it was just the same as everything else. You know, bang it together in two or three days. And what I generally do, because we were on the clock, was I would get a telephoto lens. And I would shoot front, side, and rear of things so I had a guide [for the final sculpt]. I'd have calipers, and that allowed me to kind of speed things along because I could figure out how big is the wrist? And how far is it from the elbow? It just expedited things.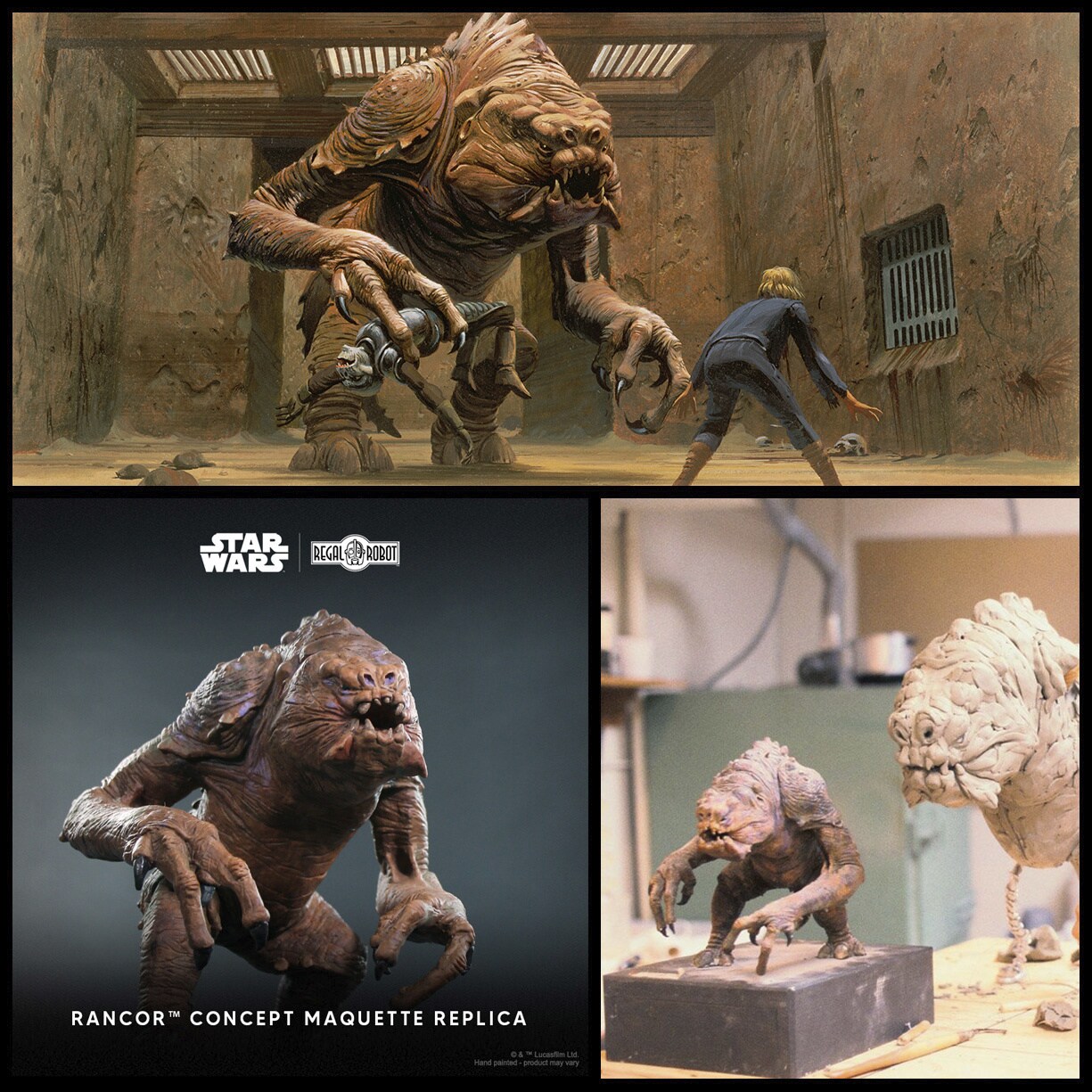 Tom Spina: The thing that really surprised me… everybody thinks of rancor and they think he's just a brown blob. And this has a paint job where the more you look at it, the more you start to wonder what the heck was Phil doing? Because it's got lots of brown and lots of dark spots of umber; it's very blotchy, which is wonderful. It gives you a monkey skin effect. It feels real and it feels like it's got depth and then there's purples and greens on top of it in random places. It doesn't show up in every photo, but when we started doing color matches and turnaround shots in good lighting, all these cool colors started to jump out. It was one of the more challenging things in recreating it. You know, how do we maintain that and not make it look too garish?
StarWars.com: Phil, any idea why you chose that color palette? Would it have just been what was close at hand at the shop?
Phil Tippett: No, that's what I would do to add more [depth]. What you want to do is have contrast. You don't want to get the spray paint out and just spray it. You have to work at it.
Tom Spina: It's one of the things I like about this whole series of maquettes is they're almost all brush painted rather than spray painted or airbrushed. You can do really amazing things with a brush and certainly the Return of the Jedi crew and Phil in particular did amazing things with brushes. Personally, that's my favorite thing when I'm sculpting a monster or painting. Just give me an old chip brush or a couple of filberts. That's life. That's what makes things look real.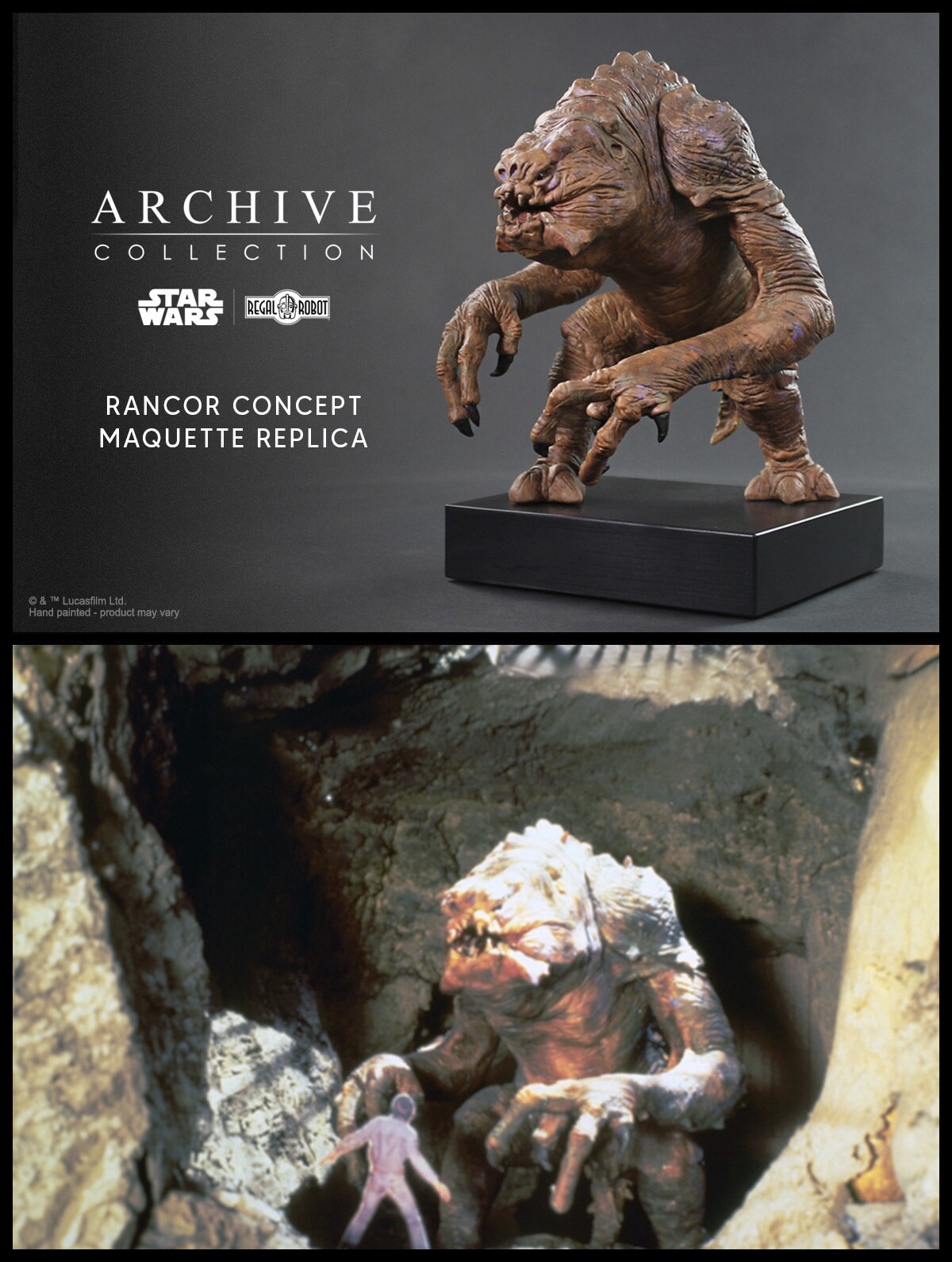 Phil Tippett: And spray paint nozzles are such a pain in the ass. They're always gumming up. One of the things that George was really adamant about was that he really wanted to see the face. He was into more of a conventional face, a face that was clear. He wanted the eyes to be bright. So, we put fiber optics in the eyes, but it just looked ridiculous. Then we got stainless steel ball bearings and a black Sharpie and painted them black. And the Sharpie ink had a certain level of thinness that the light would penetrate the black and hit the ball bearings and we created a tiny little speck of light so you could see the eyes.
Tom Spina: On the maquette, I actually think the face reads pretty well. I mean, not to contrast with George on that one, but at the end of the day, it's probably one of the coolest pit beast type monsters that's ever been made.
Phil Tippett: [Laughing] How many pit beasts are there?
Tom Spina: I don't know. But it's something that, just from a strictly design point of view, it feels dangerous. It feels lumbering and heavy.
Phil Tippett: Well, the mouth, too. I wanted to put all the power in the jaws, so once the teeth came down, you know, you didn't stand a chance.
StarWars.com: I like that contrast with the little beady eyes and the big mouth, because without that mouth you don't have the snarling, fearsome thing that's going to take your head off. Can you talk a little bit about the collaborative process behind the scenes between the two of you?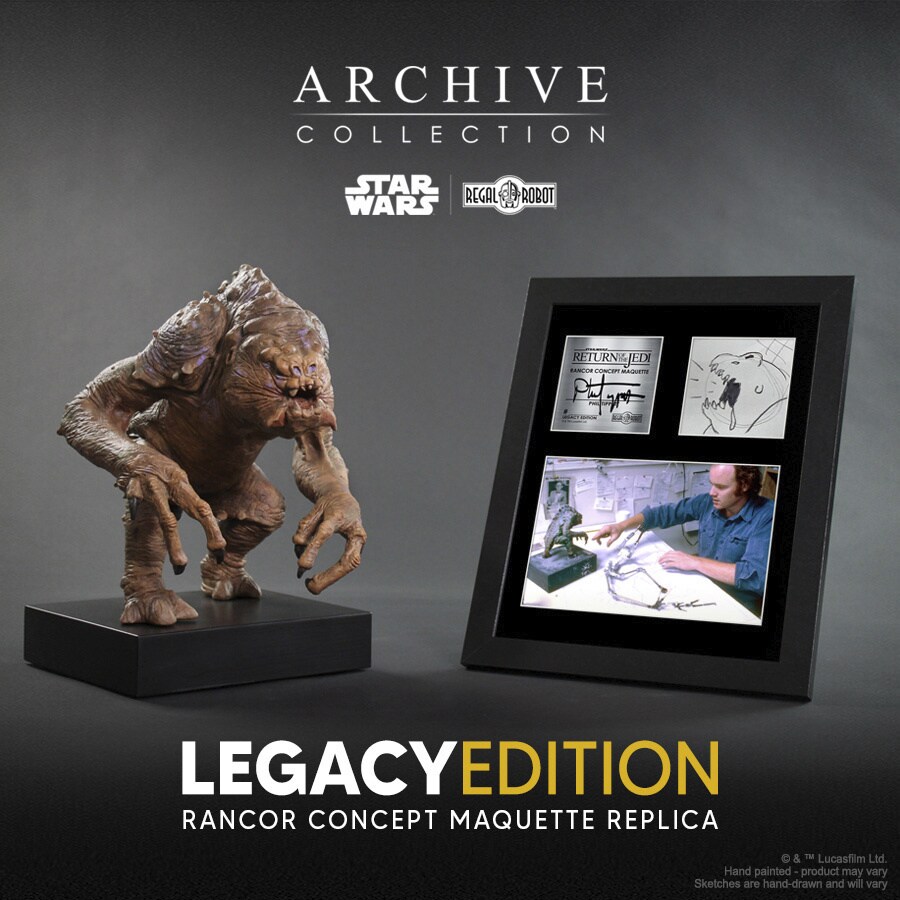 Tom Spina: It started with the tauntaun maquette. [Tippett] Studio was able to get us a master casting out of that and that was the first collaboration. I'm just grateful that Phil kept so much of what he did and has been so willing to dive into these. In previous editions, we did some stuff using old molds he had and we'd be bringing Phil in for a Signature Series. With the rancor, we've got 150 pieces that are going to be done with a signature. But because this is such a special creature and people are always asking us about it, we wanted to do something really, really special, something that really directly connected the artist to the artwork. We're calling it the Legacy Edition. It comes with a frame beautifully matted with a metal plaque that Phil has signed, a vintage photo of Phil with the rancor maquette, and a three-by-three hand drawn sketch. It will be an edition of 100 pieces, and every single one will have a completely unique sketch by Phil. Every one of them is going to be different.We've got everything from full body shots, headshots, there's some looking down, there are some where it's just his foot and Luke with the bone. Phil really pushed it to the max by coming up with this idea of making them all unique like that.
Phil Tippett: Well, the trick is trying to figure out how not to be bored, you know? If it was the same thing, it would have been torture.
StarWars.com: So, you're just amusing yourself?
Phil Tippett: That's all I ever do.
Tom Spina: You amusing yourself, I think, has led to a lot of joy for a lot of people and, honestly, probably put a lot of people in the business, too, by getting inspired by what you did.
StarWars.com: Phil, were you kind of telling yourself a story through the sketches?
Phil Tippett: I was just trying to remember the scene, you know? There are only so many angles that you can get in a tiny, little cave.
StarWars.com: When it comes to the rancor, why do you think this particular design has so much resonance for people 40 years on?
Phil Tippett: That was a good scene. It didn't really linger on anything for too long and luckily the puppet worked and the approach worked. But that was really all experimental. We had no idea, shot for shot, how they were going to come out.
Tom Spina: I think that's why the rancor endures. He had a really great scene. He did cool stuff. He told an important part of the story of Luke's growth as a character and all of that. And when you got the old Kenner toy, you got to relive something you saw in the movie. It's a beautiful design. It definitely has King Kong vibes. But it doesn't look like anything that came before it.
Phil Tippett: Imagine that.
Tom Spina: [Laughing] You did! 
Visit StarWars.com/GiftTheGalaxy every Tuesday through December 19 for the latest products featured and join the conversation on social media using #GiftTheGalaxy and #StarWars.