At the Gamescom broadcast, we got a closer look at the charmingly irreverent new game coming in spring of 2021.
Note: LEGO Star Wars: The Skywalker Saga will release spring 2022, as announced at Gamescom Opening Night Live 2021.
There are plenty of serious cinematic moments in the latest trailer for the upcoming LEGO Star Wars: The Skywalker Saga -- from Luke Skywalker's heroic X-wing trench run on the Death Star to the daring lightsaber duel between Rey and Kylo Ren on Kef Bir. But what sets the saga-sweeping game apart from other immersive Star Wars storytelling and high-flying adventures is LEGO's cheeky sense of humor.
In a new trailer that is somehow both emotionally charged -- that score! -- and laugh out loud funny -- those porgs in a cloak! -- we get the best of both worlds ahead of the game's arrival in spring of 2021 on the Xbox One family of devices including Xbox Series X, Nintendo Switch, PlayStation 5, PlayStation 4, PC and Mac.
Here are 20 of our favorite Easter eggs, background details, and funny moments from the game trailer, spanning all nine Skywalker saga films.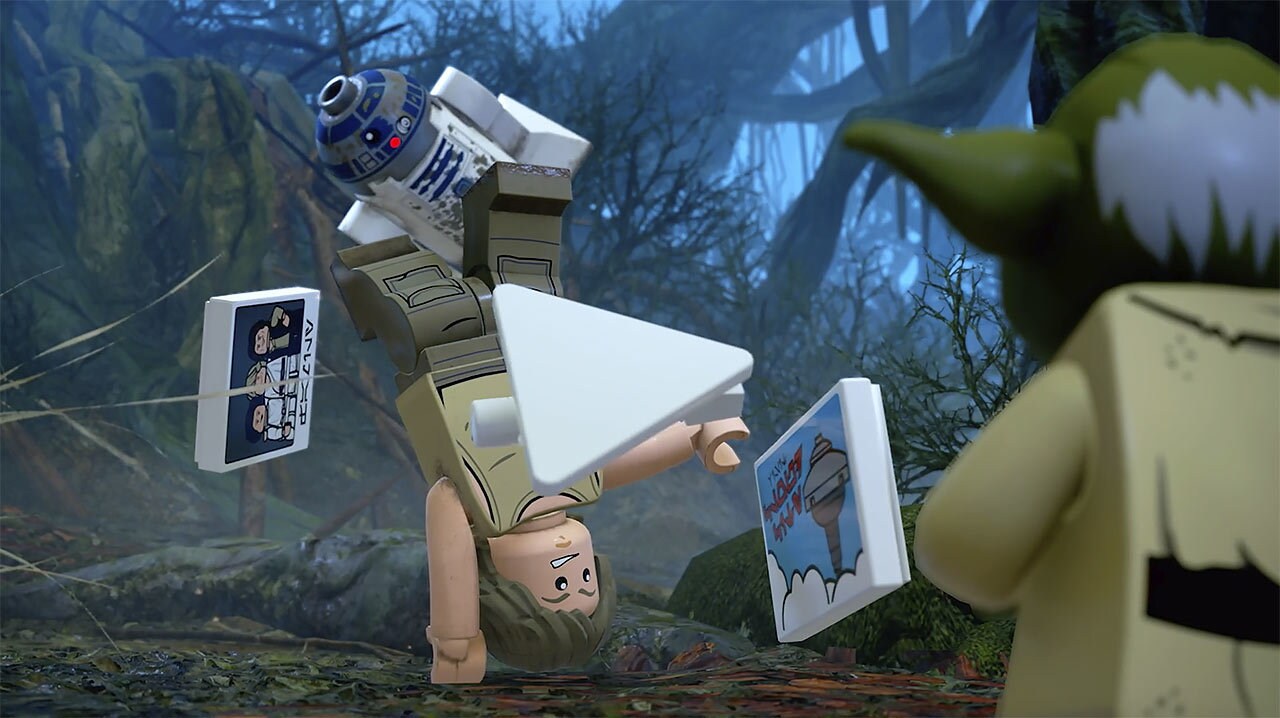 1. It's not about lifting rocks. On Dagobah, as Luke Skywalker trains to be a Jedi, check out a postcard from Bespin and a snapshot with Leia and Han among the objects he's learning to lift through the Force, a visual cue for his troubling visions of the future.
2. Pop! Foley arts and other sound effects are an important part of Star Wars filmmaking. Here, the tradition takes a turn with a delightful *pop* as young Anakin Skywalker prepares for the Boonta Eve Classic podrace.
3. Fishing for an apprentice. Darth Sidious looks so pleased as his loyal stormtroopers reel in his next Sith apprentice, fresh from dueling Obi-Wan Kenobi -- and losing -- on the molten surface of Mustafar.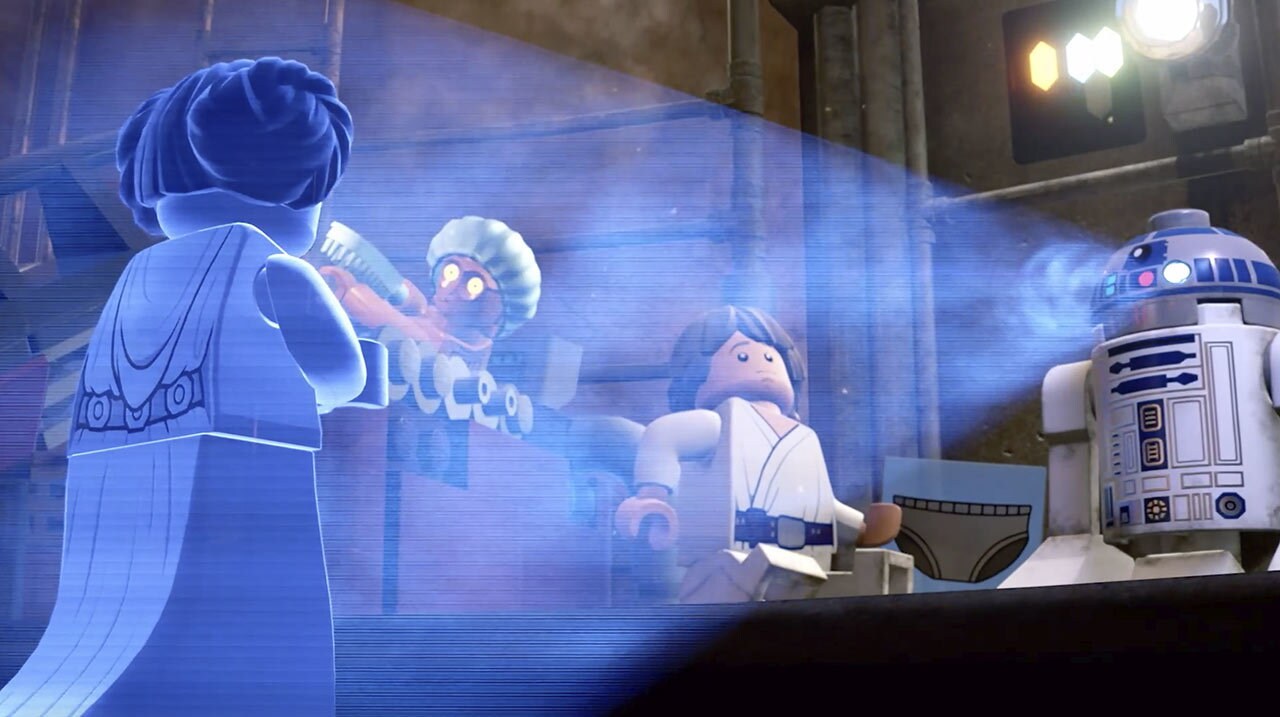 4. This oil bath is going to feel so good. For a split second, you get a glimpse of C-3PO enjoying a refreshing oil bath, now complete with a shower cap and scrub brush.
5. Are those…underpants? Look closely, and in the same scene you'll see Luke Skywalker holding a pair of beige briefs. Tatooine chic!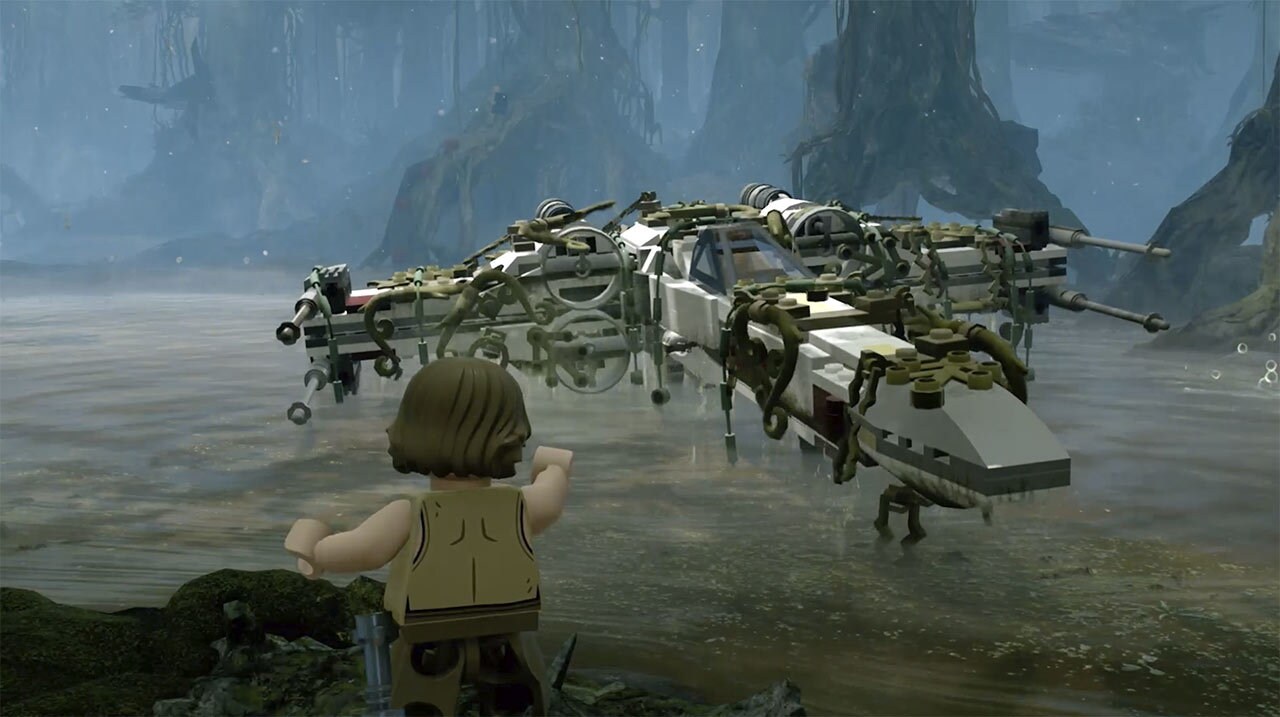 6. That's impossible! As Luke's X-wing ascends from the swampy depths, bits of Dagobah greenery dangle from the fighter, seemingly clattering against the hull given their LEGO construction.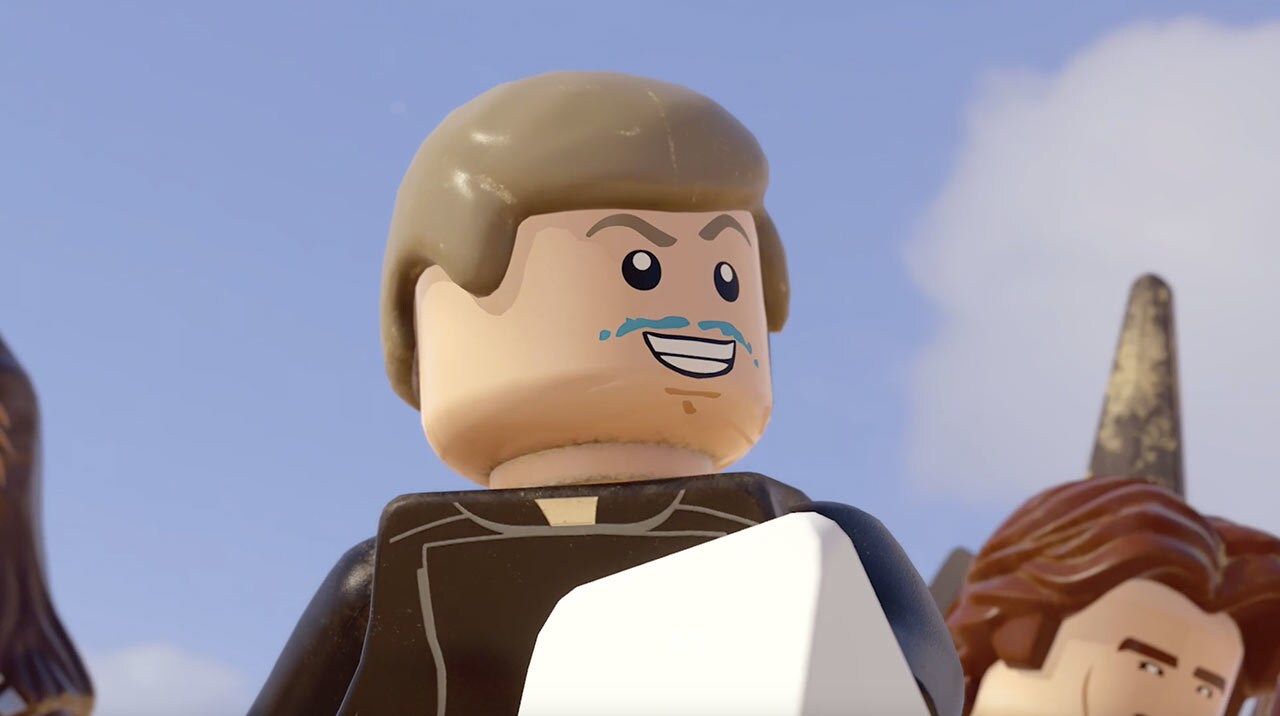 7. Got blue milk? Before Luke launches the final part of his rescue plan, precariously close to the gaping mouth of the Sarlacc pit, he catches…a carton of blue bantha milk? Who needs a lightsaber when you can chug a refreshing beverage, leaving behind the hint of a blue milk mustache.
8. A royal beauty trick. Leia's complicated updo is easy to swap out when it's made from LEGO.
9. You probably don't recognize him because of the red arm. C-3PO's new limb gets a fresh paint job in the background.
10. Two porgs in a Jedi cloak. It's the Star Wars equivalent of a couple kids stacked up in a trench coat! And Master Luke is not amused.
11. Best boy BB-8. BB-8 is Poe Dameron's number one droid. Here, he does the droid equivalent of wagging his tail excitedly when he's reunited with his friend.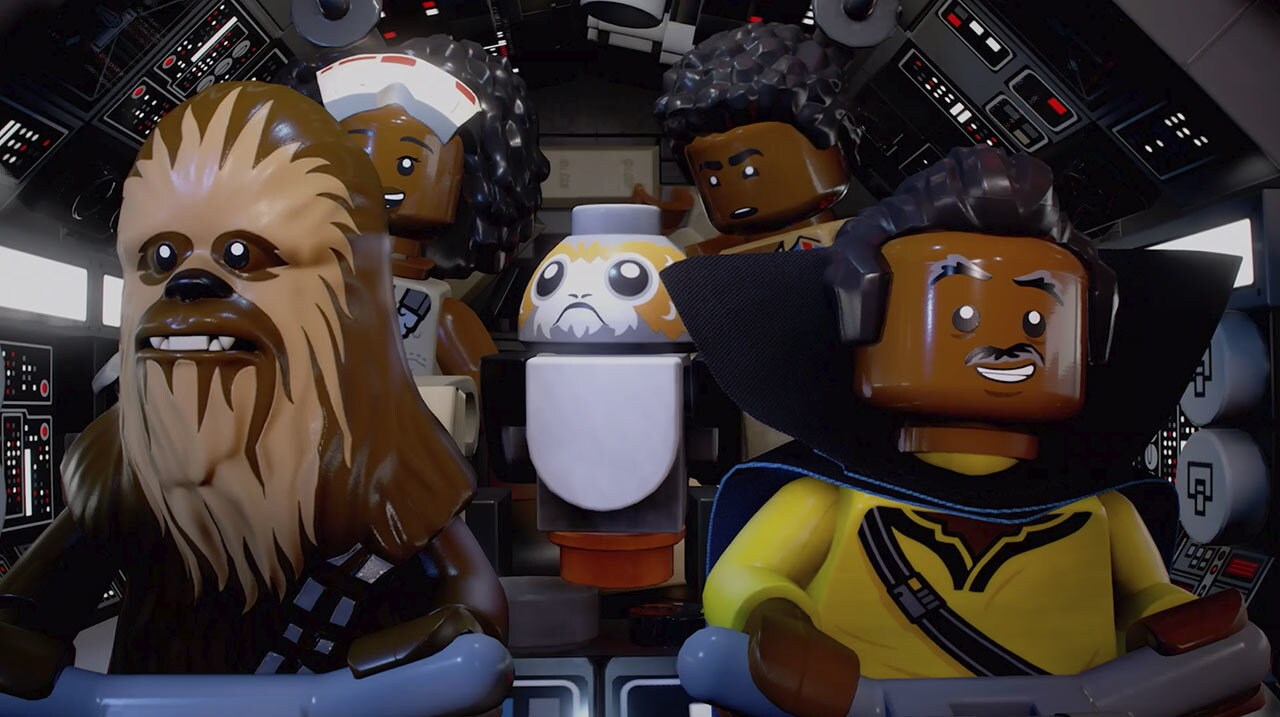 12. Move, porg. Look out for the moment when Finn sends a porg flying in the cockpit of the Millennium Falcon. Whoops.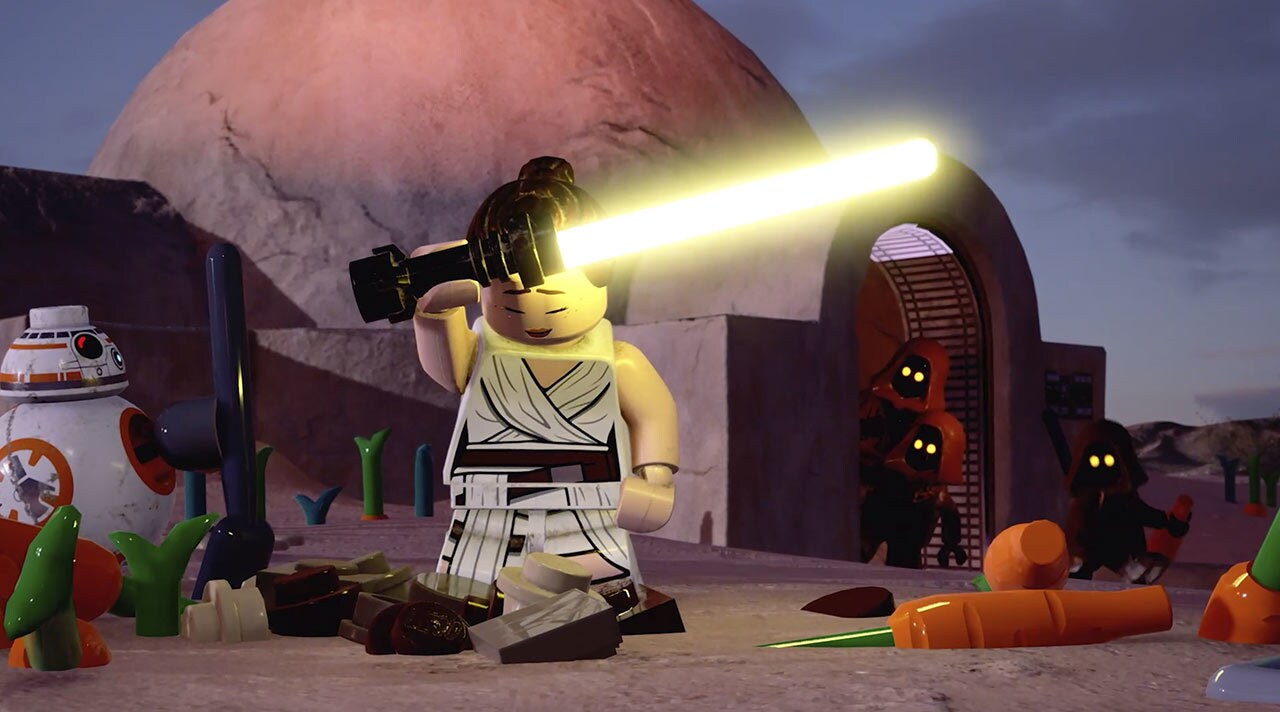 13. Jumpin' jawas! When Rey returns to the Lars homestead on Tatooine, she's not alone. A small group of mischievous Jawas can be seen snacking on space carrots in the background and high-tailing it back inside as she ignites her yellow lightsaber.
14. R2-D2 kicking up his heels, er, droid legs. How does the loyal astromech celebrate a rebel victory? In style.
15. Punch it! But C-3PO, well, sometimes we think he was made to suffer. Han Solo's words to co-pilot Chewbacca don't result in a jump to hyperspace this time, instead sending poor Threepio's head spinning.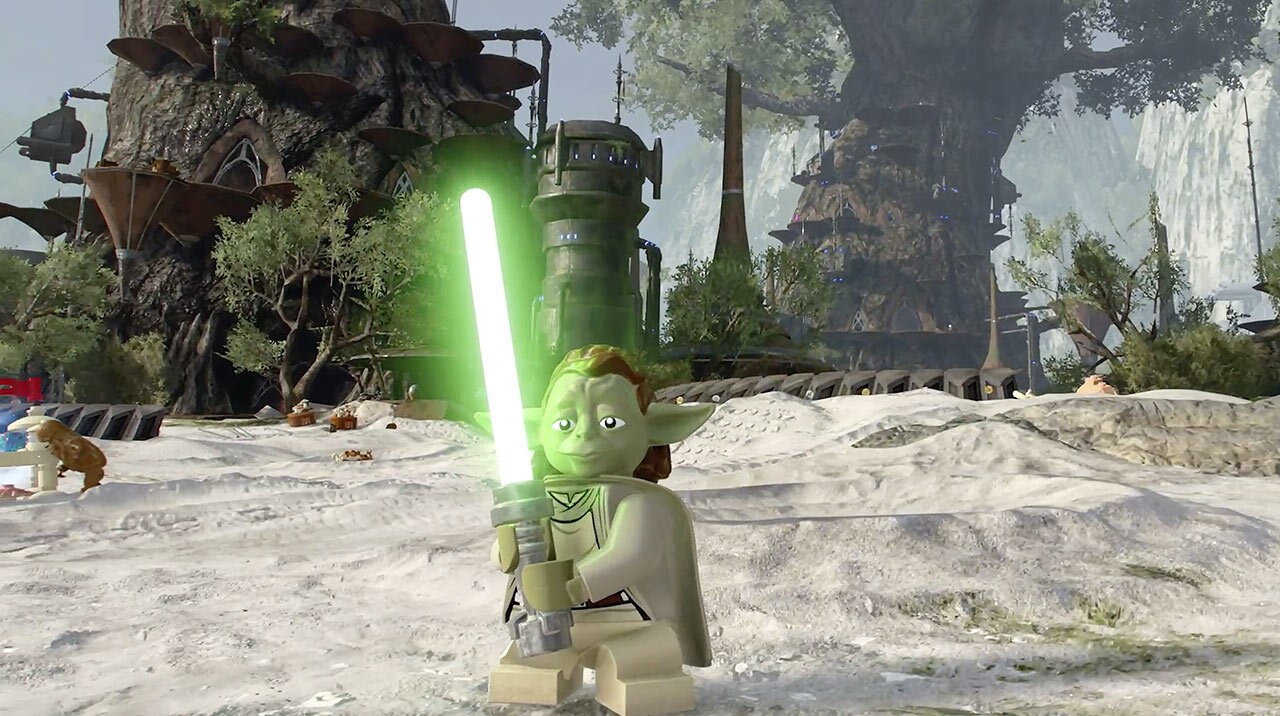 16. Yaddle in battle! Need we say more?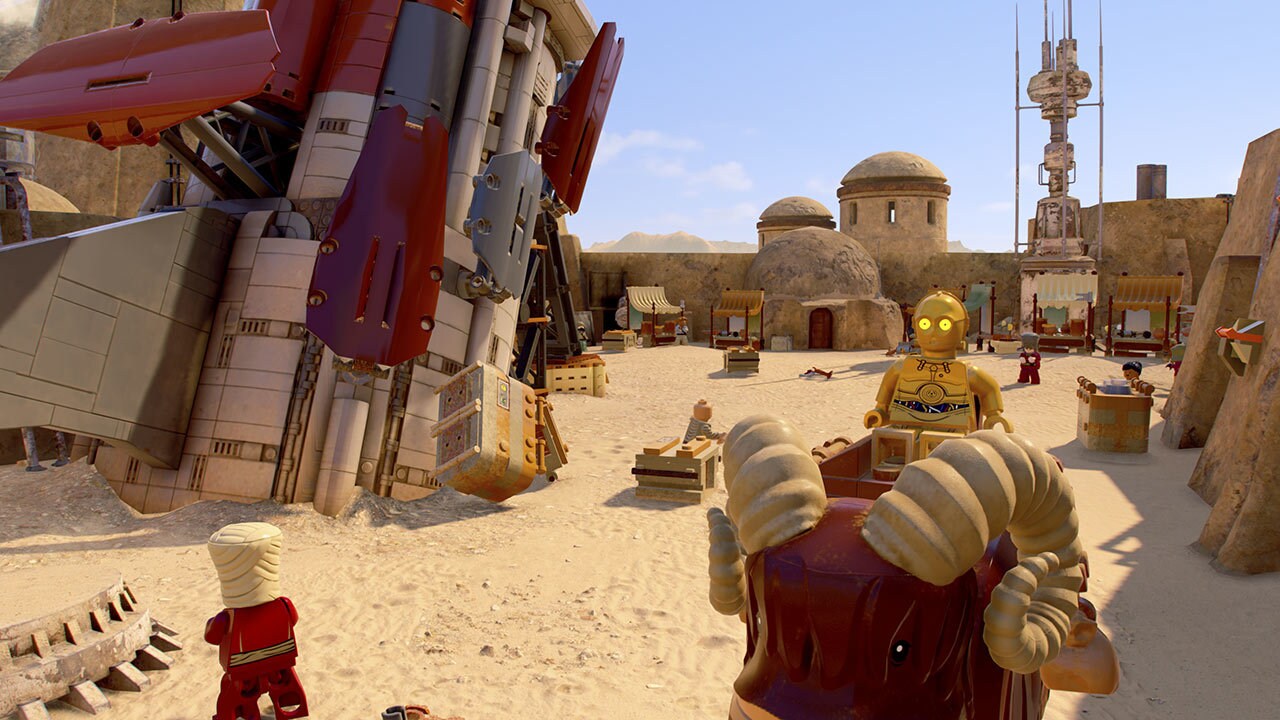 17. C-3PO riding a bantha. It certainly would make it easier for the protocol droid to get around the sands of Tatooine.
18. Jet skiing on Crait. One Resistance fighter was having fun during the battle.
19. Han shot first. At least in this trailer he did. But that doesn't stop Greedo from returning fire.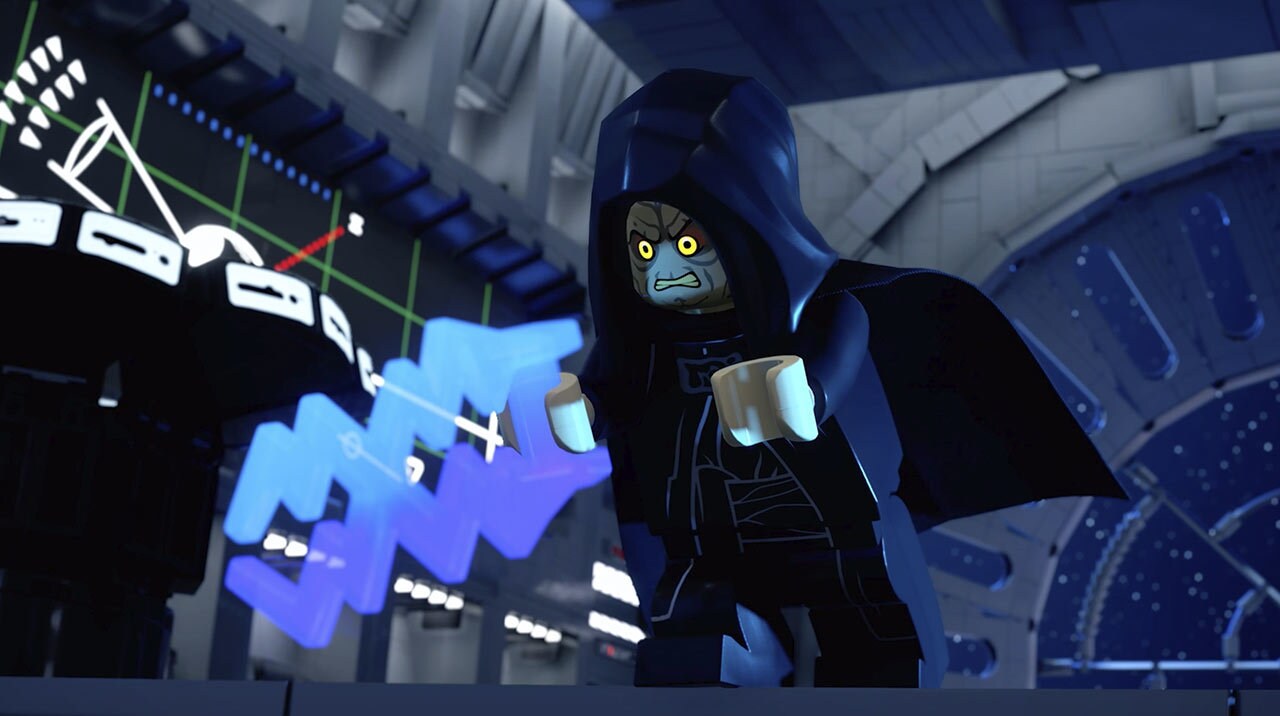 20. LEGO gets meta with Emperor Palpatine. Striking the balance between humor and seriously epic storytelling sometimes means a good self-referential joke. When Palpatine unleashes his dark lightning it, uh, doesn't quite go according to his plan.
Watch the full trailer for yourself below!

Learn more about LEGO Star Wars: The Skywalker Saga on StarWars.com.
Associate Editor Kristin Baver is a writer, host of This Week! In Star Wars and The Star Wars Show Book Club, and all-around sci-fi nerd who always has just one more question in an inexhaustible list of curiosities. Sometimes she blurts out "It's a trap!" even when it's not. Do you know a fan who's most impressive? Hop on Twitter and tell @KristinBaver all about them.
Site tags: #StarWarsBlog