Cal Kestis' loyal and adorable droid companion comes to life in a rewarding build.
There are a lot of reasons to love Star Wars Jedi: Fallen Order. The story is compelling, the gameplay is fun and rich. However, if you're like me, the absolute best part of the game came in the form of Cal Kestis' pint-sized little droid buddy, BD-1. He's adorable, a fount of useful knowledge about Cal's world, and extremely helpful in some sticky combat situations. In a galaxy of some truly remarkable droid friends, BD-1 ranks right up there among the best of the best. There's no better partner a Jedi in hiding could possibly ask for.
That's why when the LEGO Group announced its BD-1 back at Star Wars Celebration Anaheim 2022 earlier this year, I immediately pre-ordered him and then began counting down the days until his release several months later. His eventual arrival in August was the Star Wars event of the summer in this household; here are four reasons BD-1 was worth the wait and is an excellent LEGO set.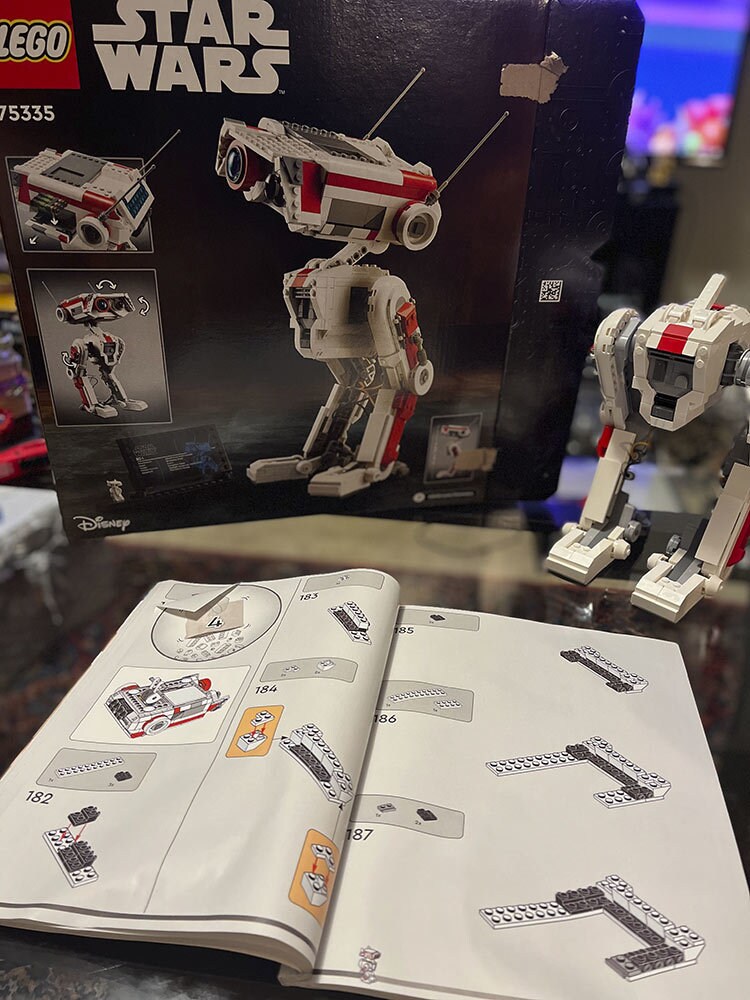 1. He's beginner friendly!
While I've always enjoyed building with LEGO bricks, I've never been an avid collector or builder. Most of my experience has been with LEGO sets that are Microfighter sets. Picking up a larger one can feel intimidating for someone who doesn't build them regularly. Not so with BD-1! While the instruction booklet does seem intimidating at first due to its size, the instructions were clear and easy enough to follow without much trouble. This is notable, especially given how the vast majority of pieces are white, red, black, or shades of gray and could easily be confused for similarly sized or shaped pieces. When mistakes are made because of the builder's own error, they're simple enough to correct, which is part of the joy of LEGO building. (However, BD-1 is still complicated enough that more experienced LEGO fans will appreciate the build process.)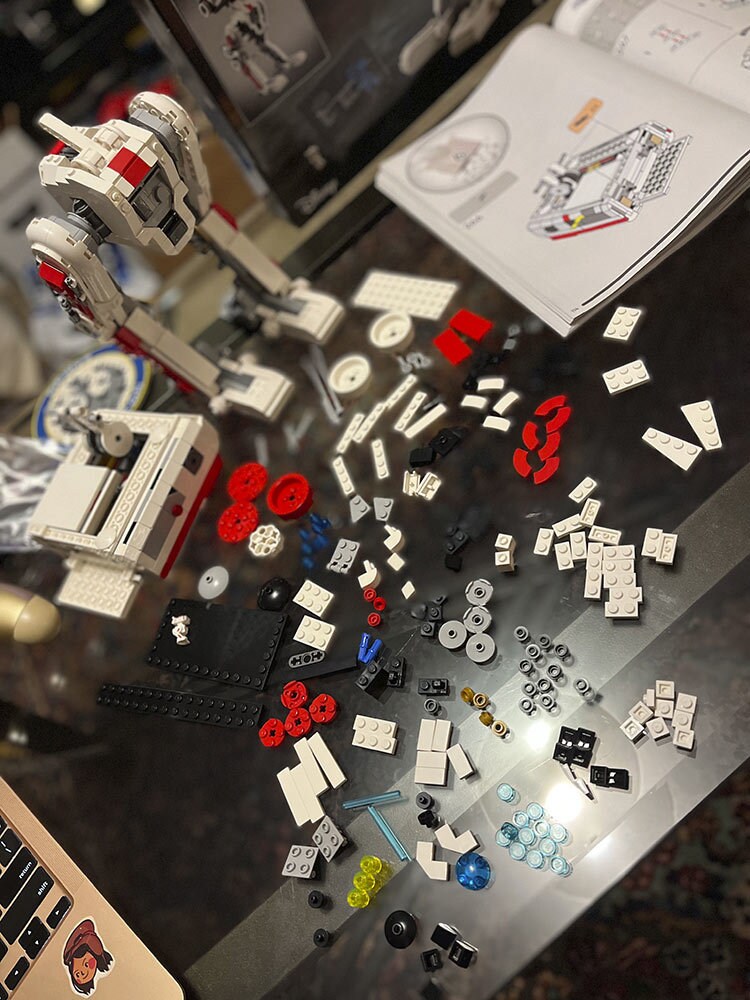 2. It's the perfect sized project.
With 1,062 pieces in the box, BD-1 is the sort of LEGO set that requires far more of a time commitment than one of the aforementioned smaller Microfighter builds, but he also doesn't require days upon days or even weeks like the truly large-scale sets. The box is comprised of six large bags of pieces that could easily turn this into a week's project for someone looking for a way to relax or destress after a long day at work or school. As a casual LEGO aficionado, it took me two nights of approximately two to three hours each to put this little buddy together, with the last three bags going faster than the first three.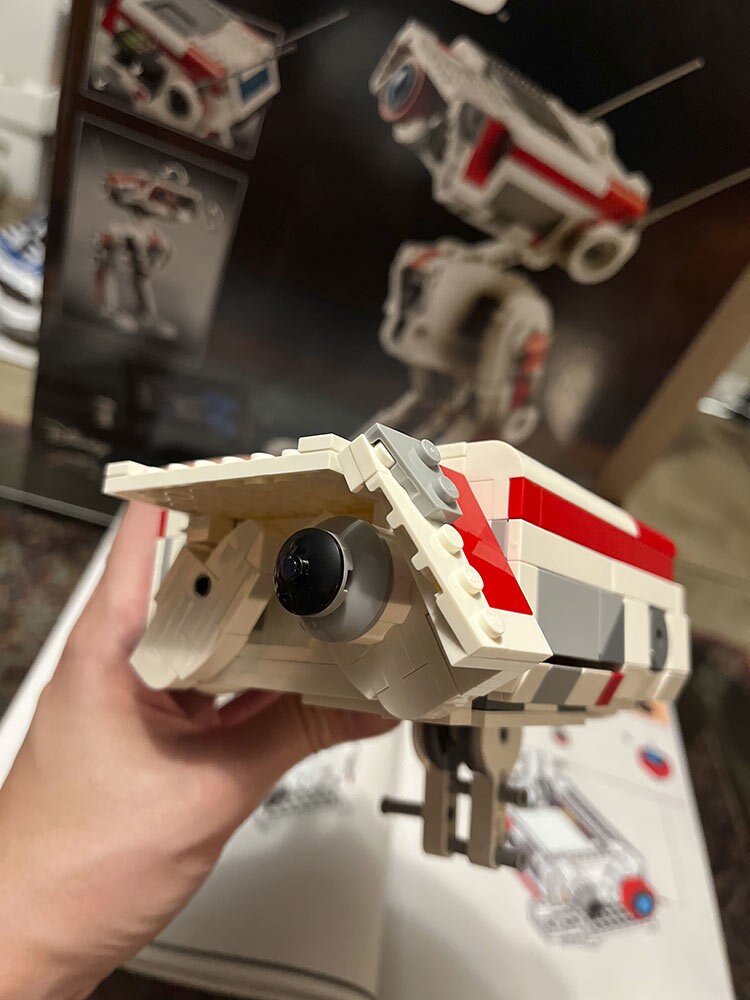 3. His poseability adds to his sense of realism.
Maybe he can't do the cute little tippy-taps like his on-screen counterpart, but BD-1's head is poseable, and you can choose your favorite tilted angle for maximum cuteness. Even his little antennas rotate back and forth with the semblance of ears. What truly gives him a certain sense of life (even though your brain knows he's still only made of plastic bricks) is how his little head wobbles as you change around his pose or when you gently boop his head. Which brings us to how…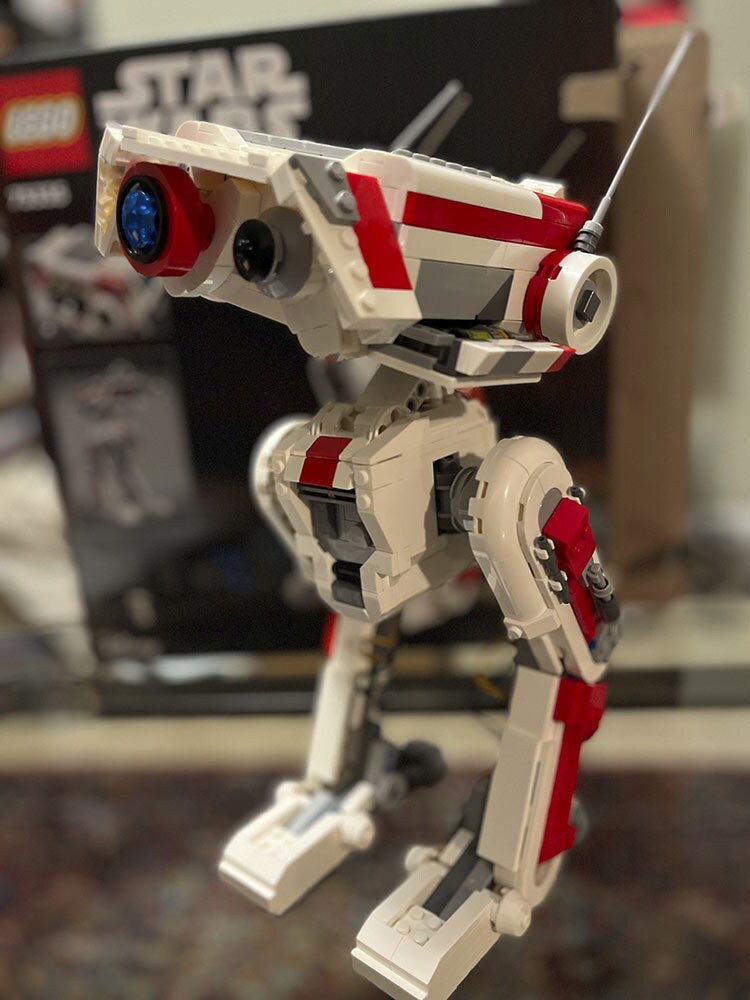 4. This set is the closest most of us can get to having our very own BD-1.
One of the things that originally drew me to the set was how it's fairly close to the actual size of BD-1. While the in-galaxy BD-1 isn't built of plastic bricks, LEGO designers did an impressive job with designing this build so that at a quick glance one might not even realize he's a LEGO set. In the week since I completed the build, BD-1 sat on my coffee table and has done a very good job of keeping me company while I work.
Technology in our world might still be pretty far away from making droids like those in Star Wars a reality. But in the meantime, this LEGO Star Wars set is a pretty decent substitute for those who'd love to have BD-1 as a companion.
LEGO Star Wars BD-1 is available now.