Creative teams and starring characters revealed!
Fans of the Star Wars Forces of Destiny animated series are in luck (even though some Jedi believe there's no such thing). Lucasfilm announced a Star Wars Forces of Destiny comic at New York Comic Con this weekend, coming January 2018 from IDW Publishing. At their panel, IDW revealed even more details, including creators, storylines, and more.
"We're doing a five-issue event," said senior editor Denton J. Tipton. "Every week, a new issue will come out featuring a different character and different creative team." The comic will connect directly with the animated series; some issues are "extensions of those stories, and some of them are offshoots with the same characters."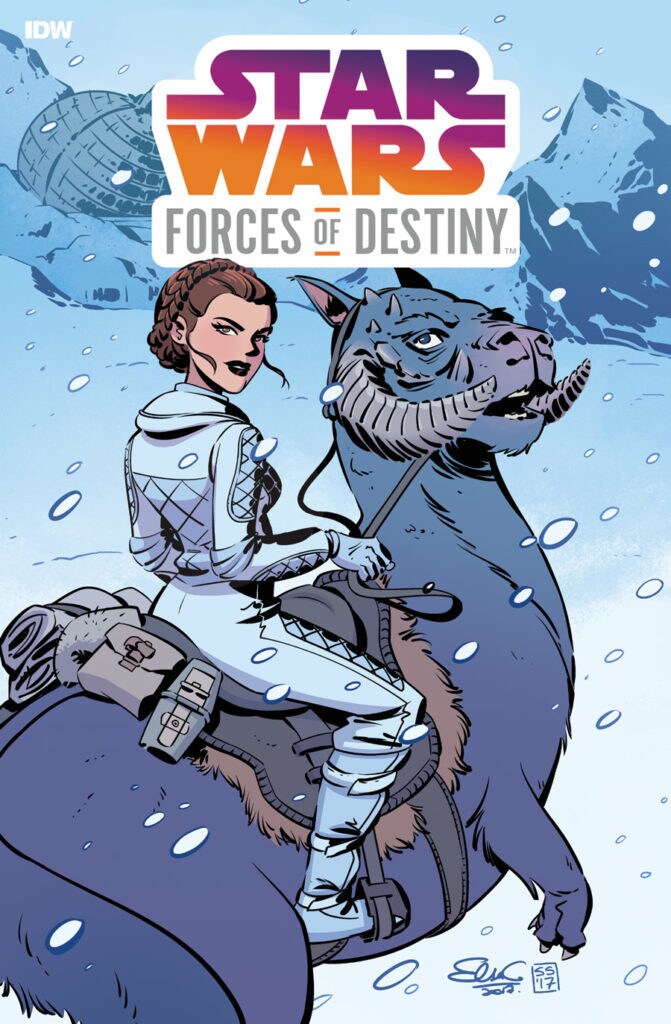 Issue #1 will star Princess Leia in a story by Elsa Charretier and Pierrick Colinet, with art by Charretier. (Charretier has been providing beautiful covers for IDW's Star Wars Adventures.) "We're really excited about it," Charretier said. "Leia is just one of the best female characters out there, and getting to write and draw comics about her is fantastic."
The second issue, written by Jody Houser and illustrated by Arianna Florean, will feature Rey. Issue #3 stars Hera from Star Wars Rebels, and will be penned by Devin Grayson and penciled by Eva Widermann. The fourth installment comes from writer Beth Revis and artist Valentina Pinto, and follows Padmé and Ahsoka Tano in an expansion of their team-up in the animated series. Finally, the series wraps with a tale starring Rose and Paige, new characters from Star Wars: The Last Jedi. "This will be coming out right after [the film], so it will kind of get more into their backstories, so you can learn more about those characters," Tipton said.
Much like Star Wars Adventures, IDW's Star Wars Forces of Destiny seems like it will be for everyone. "The good thing about these Star Wars books is that they're all-ages, but they're not just for kids," Charretier said.
"And we're telling stories from all eras," Tipton added. "There's original trilogy, there's prequels, there's sequels, Clone Wars, Rebels. We're doing it all."
For more on IDW's Star Wars comics, be sure to read StarWars.com's interview with Star Wars Adventures writer and artist Cavan Scott and Derek Charm.
Dan Brooks is Lucasfilm's senior content writer and editor of the StarWars.com blog. He loves Star Wars, ELO, and the New York Rangers, Jets, and Yankees. Follow him on Twitter @dan_brooks where he rants about all these things.