Marking issue #1's release, StarWars.com talks to the creators of the all-ages series.
It had us at "adventures." Ever since the series was announced at Celebration Orlando 2017, IDW Publishing's Star Wars Adventures comic has been eagerly awaited by fans. With a beautiful 2D-cartoon-on-paper art style and saga-spanning all-ages stories, the title looked like pure Star Wars fun and something that readers of any age could enjoy. Star Wars Adventures #1, by writer Cavan Scott and artist Derek Charm, arrives today, and it's everything we hoped for -- an energetic tale starring Rey, completely charming and exciting, but not without real insight into her character. (And there's a backup Obi-Wan tale, to boot.) StarWars.com e-mailed with Scott and Charm to discuss their initial impressions of Rey in The Force Awakens, crafting their story, and kicking off a series that might be a young reader's first step into a larger world. Or worlds.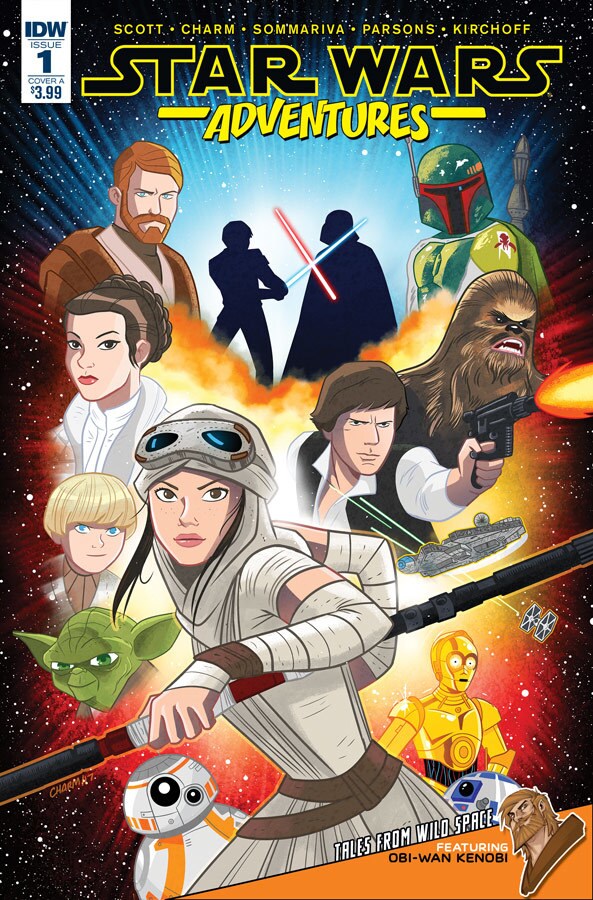 StarWars.com: Issue #1 features an early adventure of Rey's. What did you think of her when you first saw The Force Awakens, and what was it like to tell a Rey story set before those events?
Cavan Scott: I loved her. She's a survivor, but a survivor who hasn't sacrificed her sense of right and wrong while trying to scratch out an existence in the harshest of conditions. I think some of the most powerful moments for me came right at the beginning of the film when we see her alone in her wrecked AT-AT walker. You can see her resilience, but soon find out that, even though she's lived a difficult life, she still wants to help people, putting their needs ahead of her own.
It was so much fun to go back to a time where she has yet to meet BB-8 and Finn. Jakku seems such a well-rounded world in The Force Awakens, so I wanted to delve more into the life of a scavenger and the community at Niima Outpost. And when you deal with Niima, you have to deal with Unkar Plutt who plays a big part in Star Wars Adventures' first arc.
Plus, I also got to sneak in my favorite Niima resident -- Bobbajo. I love that little crittermonger. I can't believe we haven't got an action figure of him yet. I need one to go with the Rey and Plutt toys in my study!
Derek Charm: One of the magical things about Star Wars is you can zoom into any planet and find a compelling character whose journey you want to see. Rey is living her own little life, outside of the galactic conflict, but her willingness to help others and do the right thing leads her into this larger universe. What's really cool about doing a story set before The Force Awakens is focusing on those seemingly minor background characters like Unkar and Zuvio who we don't really know anything about, and spending some time in their world.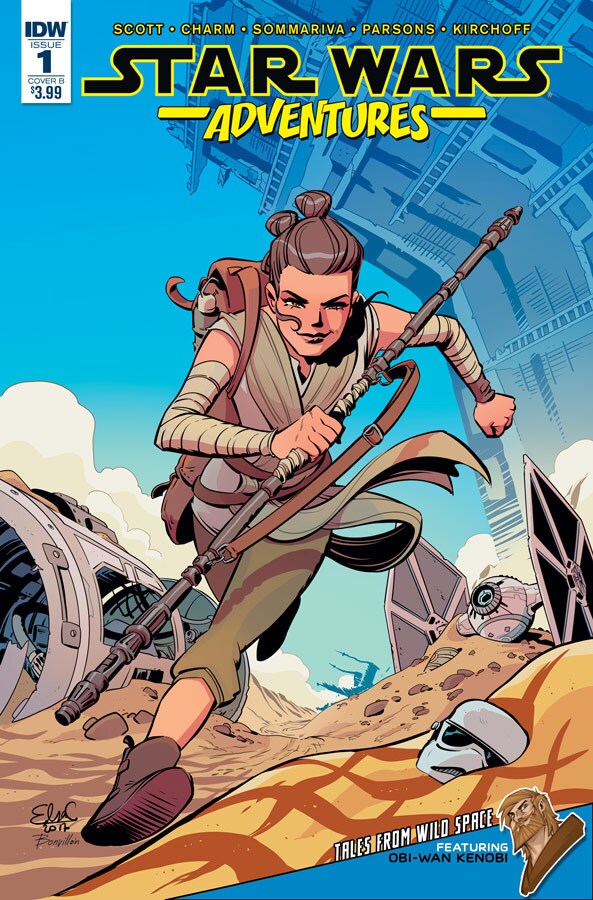 StarWars.com: As a character that's become so important to so many people, what did you want to achieve in your take on her?
Cavan Scott: I really wanted to get that across that although she is world-weary, she's also brave, resourceful, and more than capable. Not only that, Rey has a good heart and will do well by people even if they don't necessarily do well by her.
Above all, she's a hero. I tried to see her through the eyes of my daughters who adore her. She's right up there with Leia and Ahsoka as far as they're concerned. I didn't want to let them down by writing a Rey they didn't recognize. And, if I could get it right for them, I reckoned I'd get it right for the rest of her fans, too.
Derek Charm: One of the things I appreciated about Cavan's scripts for this story is that Rey is always on the go -- running from one adventure to the next. We see this aspect of her in The Force Awakens, too. She's always down to help and do what's right in this selfless way. She's even willing to help people who she may not consider friends because it's the right thing to do.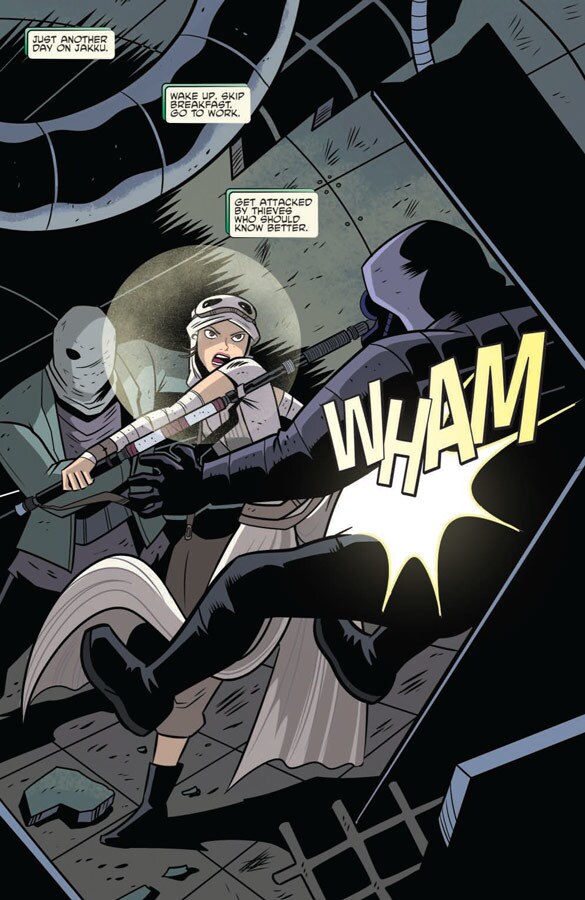 StarWars.com: Derek, fans are really excited about your art and the look of the series, which is reminiscent of classic animation. Was it a challenge to capture such well-known actors and locations and ships in your style?
Derek Charm: With this project, the idea was to capture the essence of the character Rey, not necessarily the likeness of Daisy Ridley, if that makes sense. We did a lot of back and forth with her, trying to get something that boiled down her iconic traits to something simple that still felt like Rey. It's really cool that Lucasfilm sees the value of doing artistic interpretations of its characters rather than focusing so much on actor likenesses. The aliens and ships are a lot of fun to try to strip down and simplify, too. I'm really happy with how Unkar and the Niima Outpost aliens all came out.
StarWars.com: Was Star Wars an influence on your art at all? What impact did the movies have on you?
Derek Charm: Absolutely. My cousin had every Star Wars toy when we were kids and we would play with them all the time. I loved that every alien had a name and a species and a backstory just as interesting as Luke and Vader. The visual aesthetic of Star Wars is something that I think is so recognizable to people, as well, and something I really noticed as a kid. I had all of the Art of books, and I would see the different artistic styles and try to do my own takes on my favorite characters, which ended up being good practice.
StarWars.com: Cavan, what was the collaboration like with Derek? 
Cavan Scott: Derek is a genius, plain and simple. He just gets work for this age group and nails the action on every panel. I love the way that he can also convey quite complex emotions in just a few lines on his character's faces. We're also big science-fiction nerds and so have been geeking out on Star Wars and its many varied aliens, firing e-mails back and forth across the Atlantic.
StarWars.com: I think the all-ages tone is perfect for Star Wars, and also just nice to have out there for younger fans to enjoy. How did you approach hitting that tone?
Cavan Scott: Well, obviously you have to be careful about how dark you go, but the great thing about Star Wars is that Lucasfilm is keen not to talk down to younger readers or treat them with kid gloves. There is still plenty of peril and danger for the characters, and you get the real sense that the stories have consequences. Just look at [Star Wars] Rebels, which very quickly has become one of my favorite parts of the Star Wars universe. It doesn't shy away from drama and real emotional moments. Kids get that life isn't always black or white, that it isn't always fair. I think you have to be honest with them, but do it in a way that is exciting and -- as this is Star Wars -- has hope at its center.
There are guidelines, of course. There was a moment, when plotting issue one, when some of the secondary characters suffered a quite harrowing fate. As soon as I'd jotted it down, I realized that it was wrong. And nine times out of 10, those moments of realization lead to better storytelling. I looked at it again and saw there was a chance to give Rey a cool little character moment, something that I think sums up who she is at this point in her life and sets things up for later.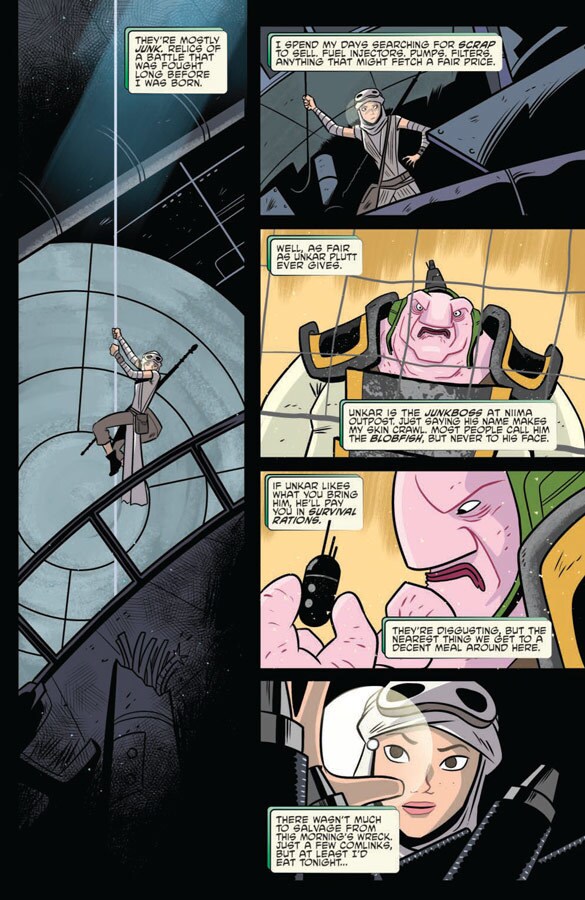 StarWars.com: Did you work with Lucasfilm on shaping some of these stories? What was that process?
Cavan Scott: In the first instance, I was asked to submit a number of ideas for the characters which went off to Lucasfilm for them to choose the ones they liked. What I only found out later was that one of my ideas was eerily close to the Forces of Destiny episodes that feature Rey. That kind of thing happens quite a lot. I had to rethink the beginning of the first Star Wars Adventures in Wild Space novel because I had unwittingly mirrored the opening scenes on Lah'mu in Rogue One.
Once the stories were agreed upon, I went straight to scripts which were also passed by Lucasfilm and Story Group who again were on the look out for clashes with other Star Wars stories that are in the works.
I really enjoy working with the guys at Lucasfilm. They are so passionate about their work. Obviously, at times they do have to tell us that we can't take a story in a certain direction, but when that happens, always provide ideas and options of where we can take it instead. They definitely make you feel part of the Star Wars family.
StarWars.com: I can picture these comics being someone's first introduction to Star Wars. Aside from the thrill of working on Star Wars, what does that mean to you?
Derek Charm: That's actually very cool. I would hope it leads them back to the original films and that this intricate universe opens up their imagination and creativity to make something of their own.
Cavan Scott: It means the world. I had the same thrill working on the Adventures in Wild Space books. I remember picking up the old Marvel UK Star Wars Weekly comic when I was a kid, probably around 1979/1980. I read those before I saw any of the films and, like the action figures, they were my gateway into the Star Wars universe. Not only did they hook me into the trials and tribulations of Luke, Leia, and Han, they also got me reading adventure comics.
The great thing about Star Wars Adventures is that, as well as introducing a whole host of people to Star Wars, these issues may even be a kid's introduction to comics, and to reading in general. I do a lot of work in schools and libraries, and meet so many kids who never thought books or comics were for them until they started reading Star Wars. How amazing is that? It's what makes all ages comics so important. They can introduce young readers to so many incredible worlds, and really instill a love of reading at an early age. They did for me.
Dan Brooks is Lucasfilm's senior content writer and editor of the StarWars.com blog. He loves Star Wars, ELO, and the New York Rangers, Jets, and Yankees. Follow him on Twitter @dan_brooks where he rants about all these things.