Writer Justina Ireland and artist Pere Peréz tease the new miniseries ahead of Sana's first solo comic debut this week.
The galaxy far, far away is expanding with the arrival of Marvel's Star Wars: Sana Starros #1 this week, charting a course to all-new locations, according to the comic creators.

First stop: the Starros homeworld of Hosnian Prime, where we'll discover the origins of the scoundrel. "Justina [Ireland] is depicting parts of the universe that have never been explored before," says series artist Pere Pérez. "This series has action, character development, and family drama."
"I love character backstories, because where we come from is such a huge part of who we are," Ireland adds. "Getting to give her this huge messy family with ties all the way back to the High Republic has been really fun. They are messy and loving and all a little too good at what they do. I won't say anything more than that because…spoilers!"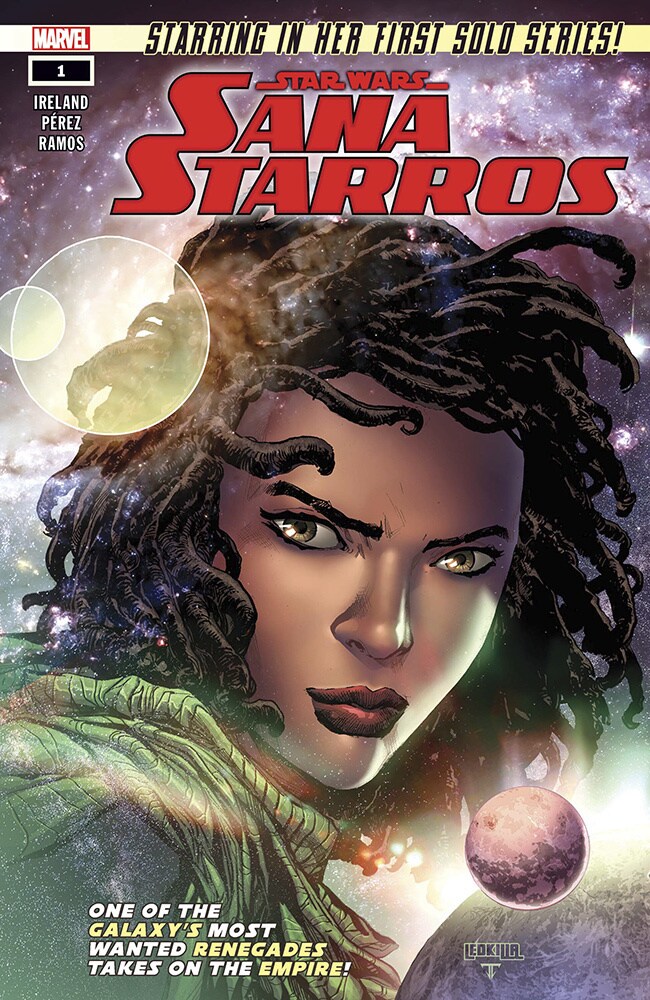 Sana Starros was introduced in Marvel's Star Wars #6 in 2015 as Han Solo's allegedly long-lost wife. Since that first encounter on an uncharted world, Sana has explored the galaxy as a swindler and rogue, helping the Rebel Alliance, teaming up with Doctor Aphra and Leia Organa, and causing her own special brand of trouble along the way.
Recently, StarWars.com caught up with New York Times bestselling author Ireland and Pérez to talk about what fans can expect from the five-issue miniseries putting the galaxy's most wanted renegade at the heart of the action and dropping hints at connections to other Star Wars storytelling.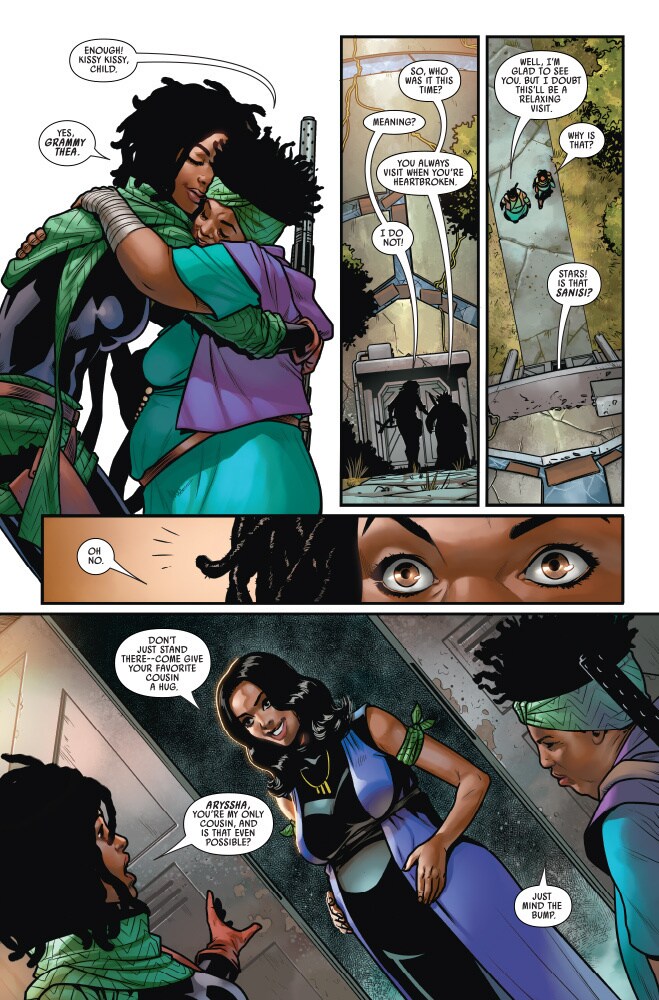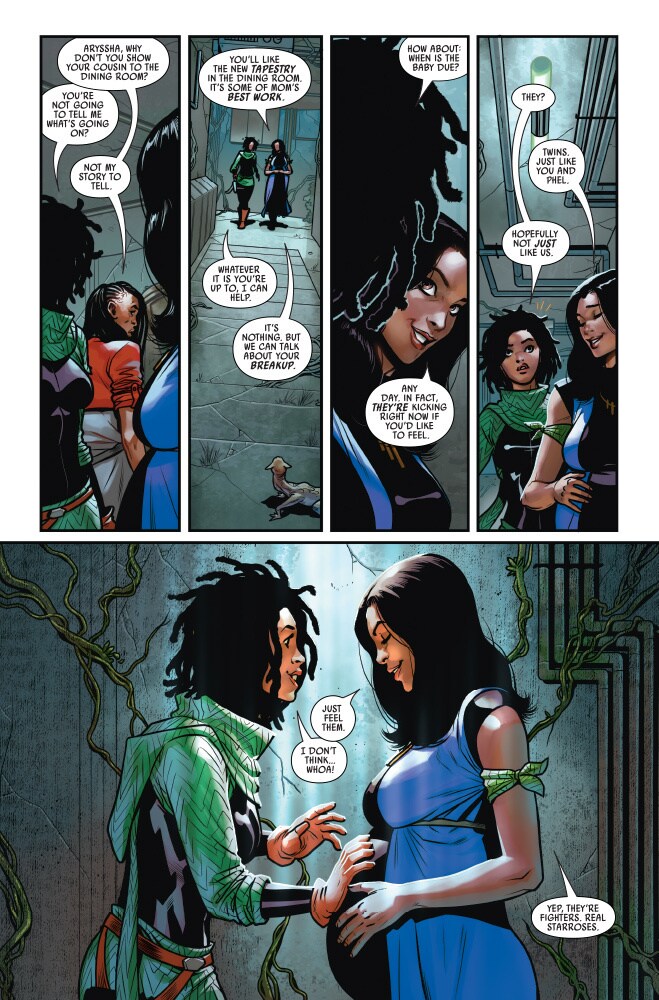 Readers know Ireland as one of the architects of Star Wars: The High Republic initiative and co-author of the recent YA novel Star Wars: The High Republic: Path of Deceit. She also penned stories in Marvel's Star Wars: Life Day #1 and Star Wars: War of the Bounty Hunters – Jabba the Hutt #1. "I always visualize scenes thoroughly before I write," Ireland says, "so writing comics is a lot more fun than writing books, because I get to see pictures of the things I think up."
Meanwhile, the series' artist, Peréz, has been a comic book mainstay for several years, but along with this winter's Star Wars: Revelations #1 one-shot, this new miniseries marks the artist's first true foray into the galaxy. "I've been waiting for this opportunity since I started doing Star Wars fan art in high school," Peréz says. He welcomes all of the unique challenges that drawing a Star Wars comic entails, saying, "The fun part of this franchise is making even the backgrounds a believable part of the vast universe, with ships, aliens, and locations integrated into the visual landscape of the action…I consider my job visual storytelling, so I relate to film directors more than I do to painters or illustrators. I find inspiration in movies by Steven Spielberg, Jackie Chan, James Cameron, Sam Raimi, and, of course, George Lucas. I always try to make my action scenes faster and more intense."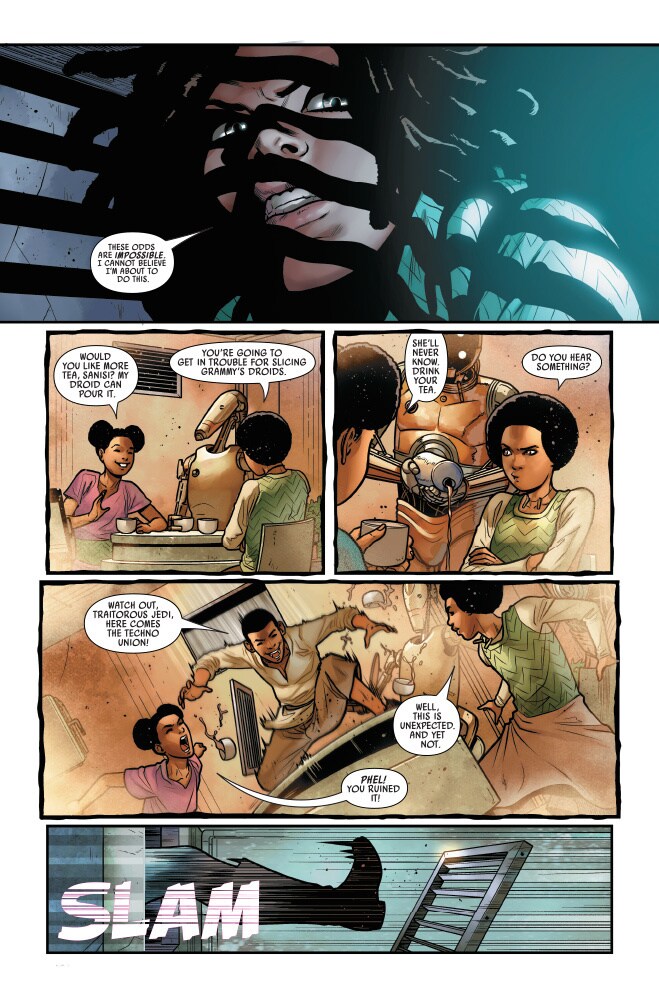 Since her very first appearance, Sana Starros' exploits within the vast universe have been varied, from the pages of Daniel José Older's Star Wars: Last Shot novel to the explosive run of Alyssa Wong's Star Wars: Doctor Aphra comic series. But, in most cases, Sana has had familiar characters like Han Solo, Leia Organa, or Chelli Aphra to share the stage with. This new series presents an opportunity for Sana to shine on her own. "It's always fun to take a side character and give them more of their own arc," Ireland says. "Our prior experience with Sana has mostly been watching her react to other characters, so it was exciting to put her front-and-center and show that she does have deep connections to people."
Sana's family is also along for the ride, ready to cause some trouble from the beginning. "I don't want to spoil too much, but we start the series with Sana having a bit of bad luck and deciding to return home and regroup," Ireland notes. "When she arrives, she starts to realize that maybe she's been gone a little too long, and these people she's known and loved for most of her life have become little more than strangers."
"She likes to do things her way but there are always a lot of crazy things that happen all around her," adds Pérez, like running into Deva Lompop, a character previously co-created by Ireland, in Star Wars: Sana Starros #2. "Deva is going to push Sana outside of her comfort zone and make her realize that maybe she isn't as okay as she thinks she is," hints Ireland.
As for the rest of the miniseries, there are plenty of surprises in store for readers. Ireland says, "You will have to pick up the issues and see. But I will say…there is a rancor! And, if you've read any of The High Republic, you may just spot some Easter eggs."
Marvel's Star Wars: Sana Starros #1 arrives February 1, 2023, and available for pre-order now on ComiXology and at your local comic shop.