Don't count on K-2SO making these brownies for you, unless Cassian says he has to.
KX-series droids were created for the Galactic Empire, but K-2SO was reprogrammed for use by the Alliance. Self-aware and sometimes too honest, this security droid has a biting personality that takes some getting used to. These tasty brownies are a reflection of Kay-Tu's charisma, sweet but with a dark side, much like Kay himself.
Fudgey and covered in a rich frosting, you'll always want one of these delicious droids by your side.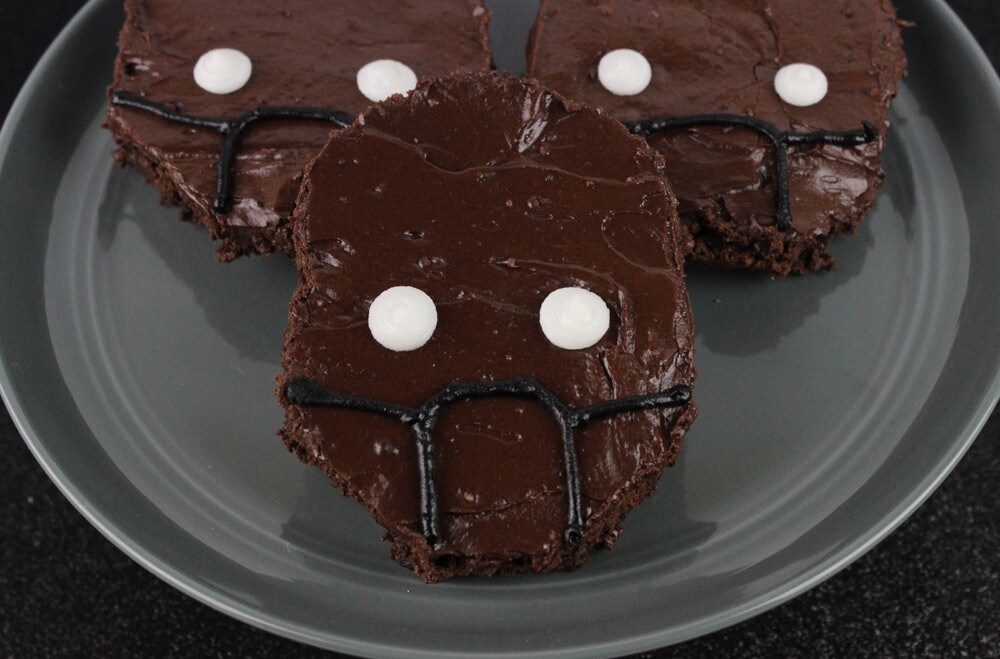 K-2SO Brownies
You'll need:
Black icing
White icing
Ingredients:
1/2 cup all-purpose flour
1/3 cup cocoa powder
1 teaspoon baking powder
pinch of salt
1/2 cup (1 stick) unsalted butter, melted
1 cup sugar
8 ounces dark chocolate, melted
4 eggs
1/2 teaspoon vanilla
Frosting ingredients:
4 tablespoons butter, softened
2 cups powdered sugar
¼ cup cocoa powder
3 tablespoons whole milk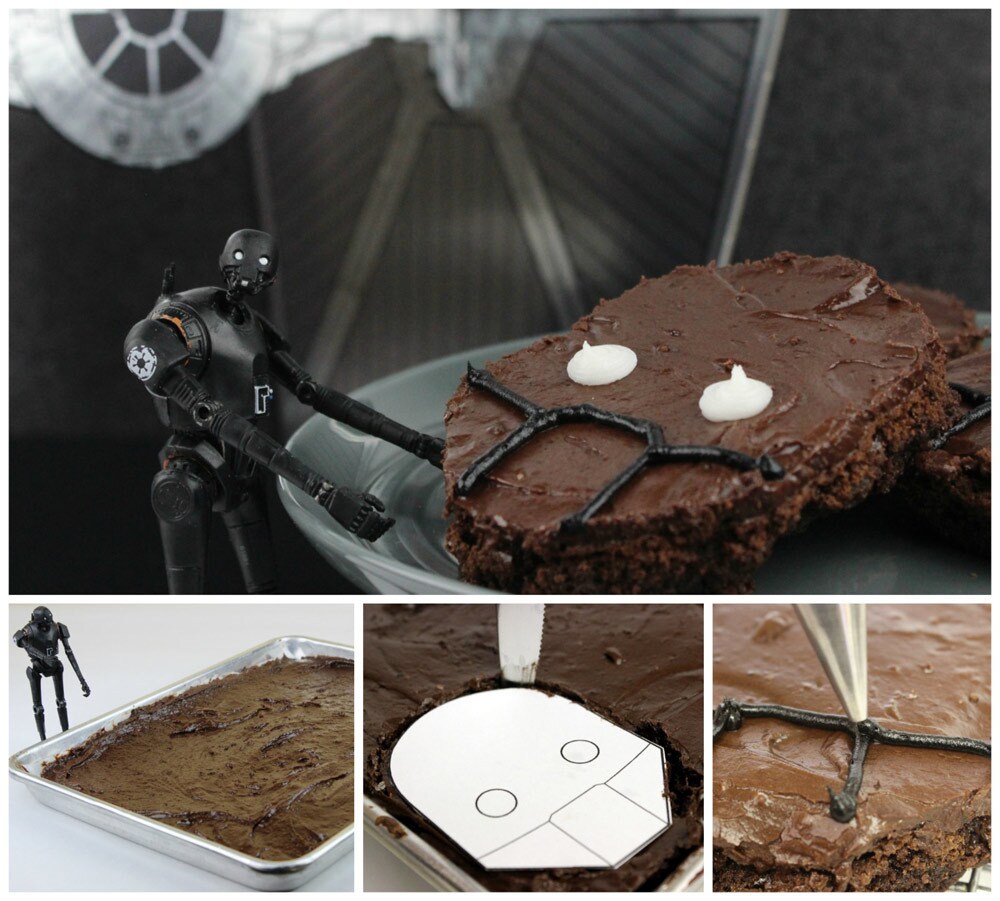 Preheat the oven to 350 degrees. Prep a quarter sheet pan with buttered parchment.
In a medium bowl whisk together the flour, cocoa powder, baking powder and salt. Set aside.
In a large bowl, stir together the butter, sugar and melted chocolate.
Add the eggs and vanilla.
Stir in the dry ingredients until just combined.
Pour into the prepped pan.
Bake for 40 minutes until toothpick comes out clean. Let cool.
To make the frosting, in a bowl stir together the butter, powdered sugar, cocoa powder and milk. Spread evenly over the brownies.
Cut out the brownies into Kay's head shape using the template. Use the black icing and a #3 tip to create the bottom details, then use a #7 tip with white icing for his eyes. Once the icing is set the brownies are ready to serve.
There is a 97.6% chance you will love these brownies!
Jenn Fujikawa is a lifestyle and food writer. Follow her on twitter at @justjenn and check her Instagram @justjennrecipes and blog www.justjennrecipes.com for even more Star Wars food photos.