The galaxy's most powerful crime lord is now its tastiest candy.
Happy Easter, or as they say in Huttese, Happy Easter! I don't know, I'm no protocol droid, but I can tell you that springtime means holiday candy. Sugar covered marshmallow goodies of pure happiness, or in this case, poofy puffs of pure tyranny.
These bouncy treats are made of a sweet homemade marshmallow, covered in a sugary dust -- a color specific to his high exaltedness, the great Jabba the Hutt. This holiday, you're sure to want one of these pillowy Hutt sweets in your Easter basket.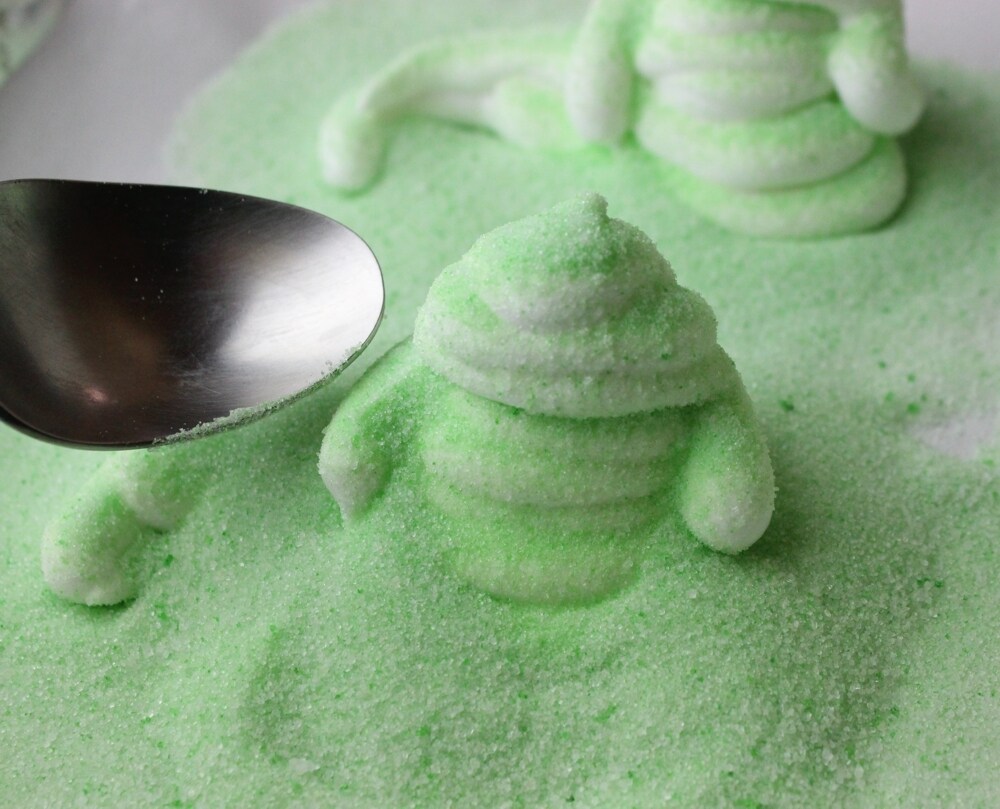 Jabba the Hutt Marshmallow Treats (makes 10)
You'll Need:
1 cup green sanding sugar
yellow icing
brown icing
Ingredients:
1 envelope unflavored gelatin
⅓ cup water
1 cup sugar
¼ cup water
½ teaspoon vanilla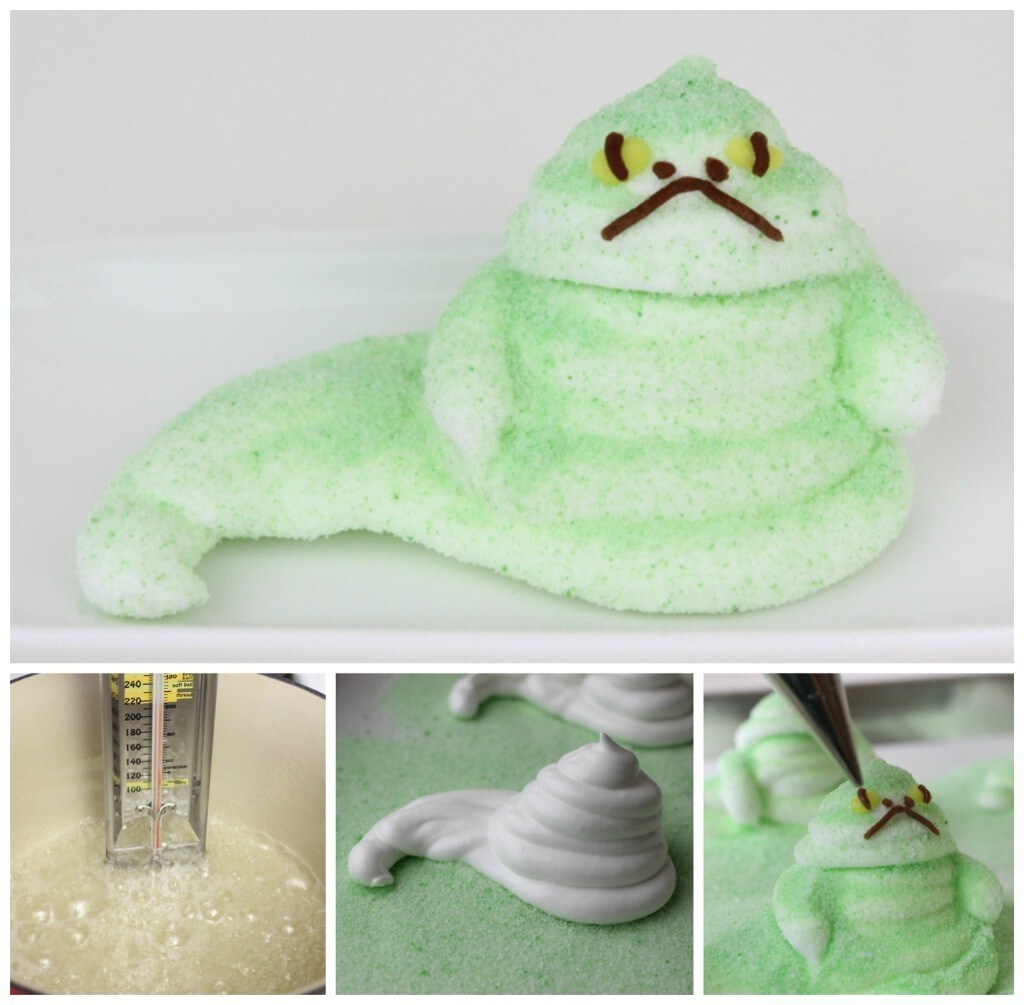 Directions:
1. Prep a small pan with parchment and spread 1/3 of the green sanding sugar evenly on the parchment. Set aside.
2. In the bowl of an electric mixer, combine the gelatin and ⅓ cup water. Stir well and set aside.
3. In saucepan, stir together the 1 cup sugar and ¼ cup water.
4. Over medium high heat, cook the sugar and water until it reaches the soft ball stage, approximately 238 F degrees on a candy thermometer. Do not stir.
5. Once it reaches 238 degrees, remove from heat and carefully pour into the gelatin mixture. Whip on high with an electric-mixer whisk attachment until the mixture becomes white and stiff peaks form.
6. Spoon the mixture into a piping bag fitted with a #12 tip and pipe directly onto the colored sugar in the prepped pan. To make the Jabba shape, start with the tail, and curve around to form the body. Pipe upwards in a swirl, add arms, and finish off the top to form his head. Immediately spoon the green sugar over the entire figure. Let cool completely.
7. Once the shapes are cool, use a #1 piping tip and yellow and brown icing to create Jabba's facial features.
8. When the icing is dry, the Jabbas are ready to serve.
There you have it -- the tastiest treat this side of Tatooine.
Jenn Fujikawa is a lifestyle and food writer. Follow her on Twitter at @justjenn and check her Instagram @justjennrecipes and blog www.justjennrecipes.com for even more Star Wars food photos.