Make the perfect Valentine's Day treat for the scoundrel or princess in your life.
There's no more memorable Star Wars line about love than the one between Leia and Han right before he's frozen in carbonite. Two simple phrases, "I love you" and "I know" became a part of cinematic history in The Empire Strikes Back, then again when the lines were reversed for Han and Leia in Return of the Jedi.
This Valentine's Day, use those iconic words to express your love by making larger than life conversation heart cookies. Sweet and delicious, these treats are a great way to show off your Star Wars fandom.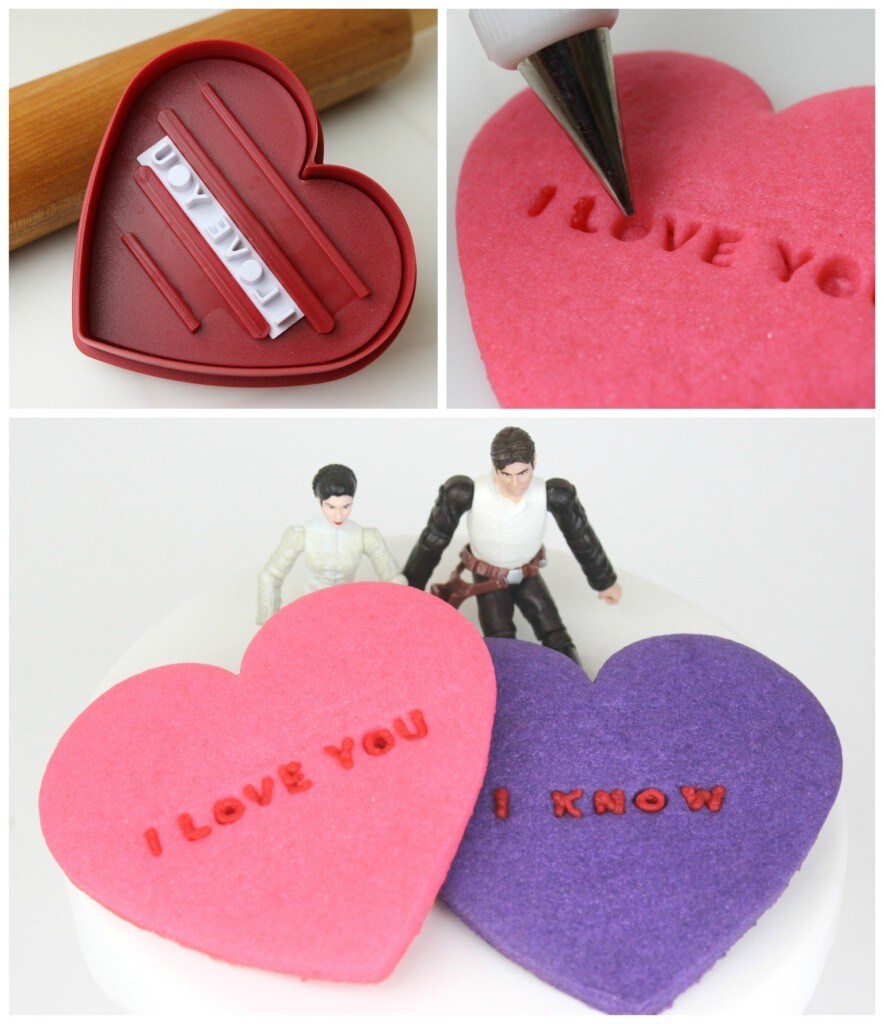 I Love You, I Know Conversation Heart Cookies
You'll need:
1 Personalized Note Heart Cookie Cutter by Chicago Metallic
Red icing
Ingredients:
3 cups all-purpose flour
1/2 teaspoon baking powder
1/4 teaspoon salt
1 cup (2 sticks) unsalted butter
1 cup sugar
1 egg
2 teaspoons vanilla
Pink food gel dye or purple food gel dye
Directions:
1. In a bowl whisk together the flour, baking powder and salt. Set aside.
2. In the bowl of an electric mixer cream the butter and the sugar.
3. Add the egg, vanilla, and the food gel dye color of your choosing.
4. Add the flour mixture until combined. When the dough pulls away from the sides of the bowl, it's ready.
5. Wrap up the dough in plastic wrap. Refrigerate until you are ready to use.
6. Preheat the oven to 350 degrees. Prep baking sheets with silpats or parchment.
7. Align the wording into the cookie cutter. Roll out the dough to approximately 3/8-inch thick and cut out the shapes, placing them on the prepped cookie sheets.
8. Bake for 10 minutes, let cool on a wire rack.
9. Using a #2 tip and red icing, pipe over the wording. Once the icing is set the cookies are ready to serve.