Judge them by their size, do you? From mini muglets to towering tikis, Beeline Creative adds a playful spin to Yoda, Chewbacca, and more favorite characters.
Inside the Geeki Tikis Lounge, which opened this summer in the heart of Hollywood, a towering 10-foot-tall sculpted visage of the mighty Chewbacca greets visitors, looking as if he's ready to let out a fearsome Wookiee roar.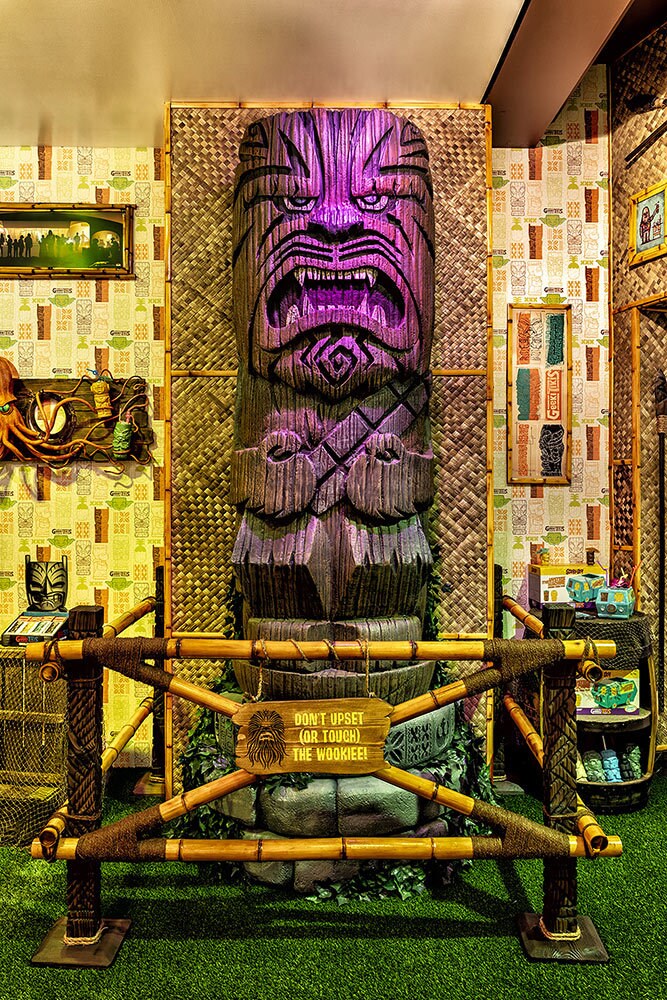 The massive, one-of-a-kind sculpture, is a celebration of the popular Geeki Tiki line that has turned some of our favorite Star Wars characters into stylized and stylish drinkware. At San Diego Comic-Con last month, Brandon Giraldez, president of Beeline Creative Inc., gave StarWars.com a crash course in the many uses of the brand's collectible and colorful tiki glasses and a sneak peek at what's to come.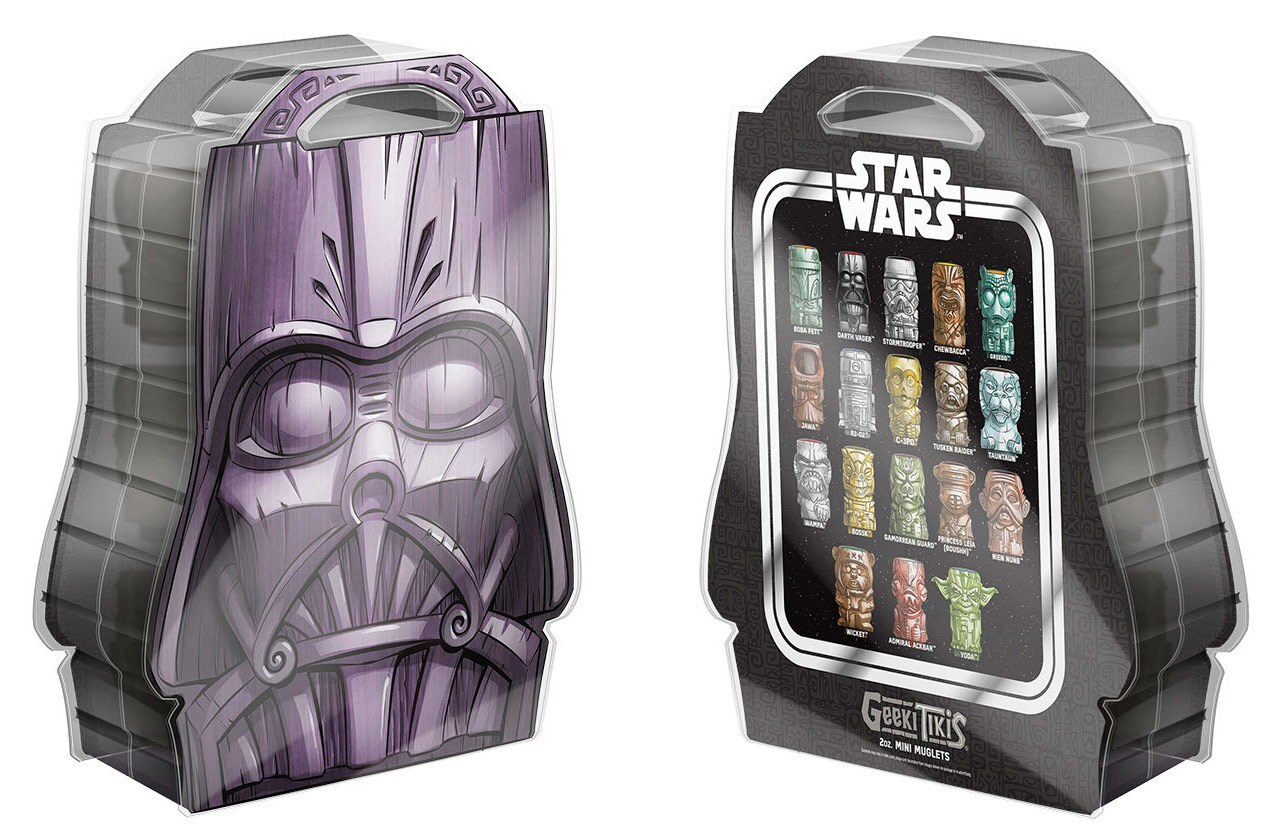 In November, the brand will put its own tiki spin on the classic Darth Vader action-figure case from Kenner with a special set of 18 mini muglets in a sleek carrying case. Featuring brand new sculpts, the stackable muglets present a petite alternative for collectors who love the look of the full-size line but are running short on shelf space. "We've got a huge following with our mugs," says Giraldez. "And for the people who are running out of space, we really wanted to offer something that takes up less real estate." Included in the set is a very, very short stormtrooper, among other characters that are only sculpted from the waist up, perfectly-proportioned muglets of Wicket and Yoda, and even designs fashioned after the newer additions to the line like Admiral Ackbar and the bounty hunter Bossk, which were available for the first time at SDCC. "You can collect more of them," Giraldez notes of the muglets, "and we can introduce more characters, tertiary characters that we may not release at the larger scale."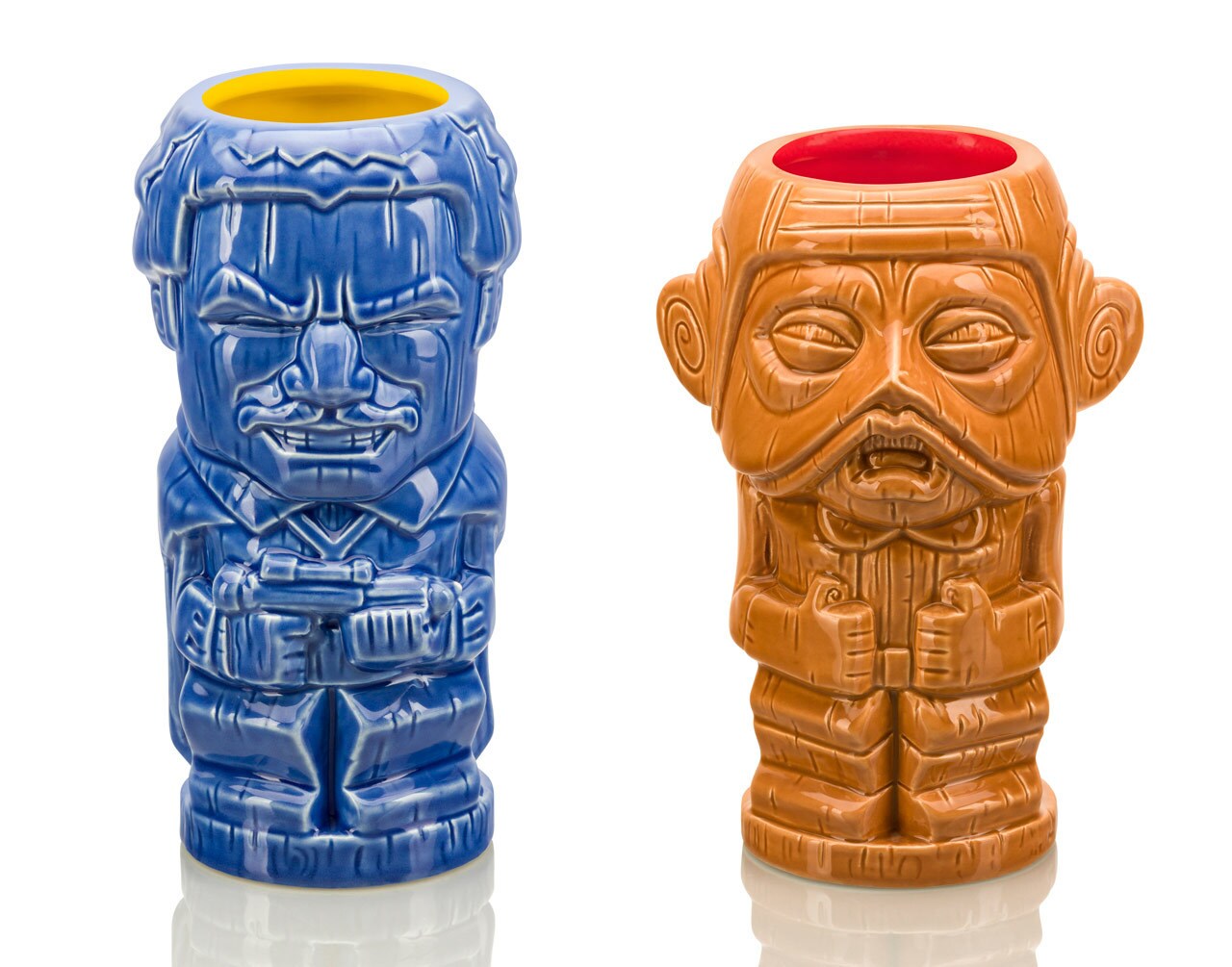 Marching onto store shelves in September, the Sith trooper from Star Wars: The Rise of Skywalker will join the line in a striking red finish. The tiki was available for the first time in San Diego, along with an impressive display including a BB-8 lidded mug, and a special convention-exclusive set featuring Lando Calrissian and Nien Nunb. 
Although tiki culture sprang up around exotic cocktails and ornate drinkware, Giraldez notes that fans of the Geeki Tikis have found many creative uses for them. "They keep smoothies very cold," he says, and blue milk, too, or any number of other cantina-type drinks.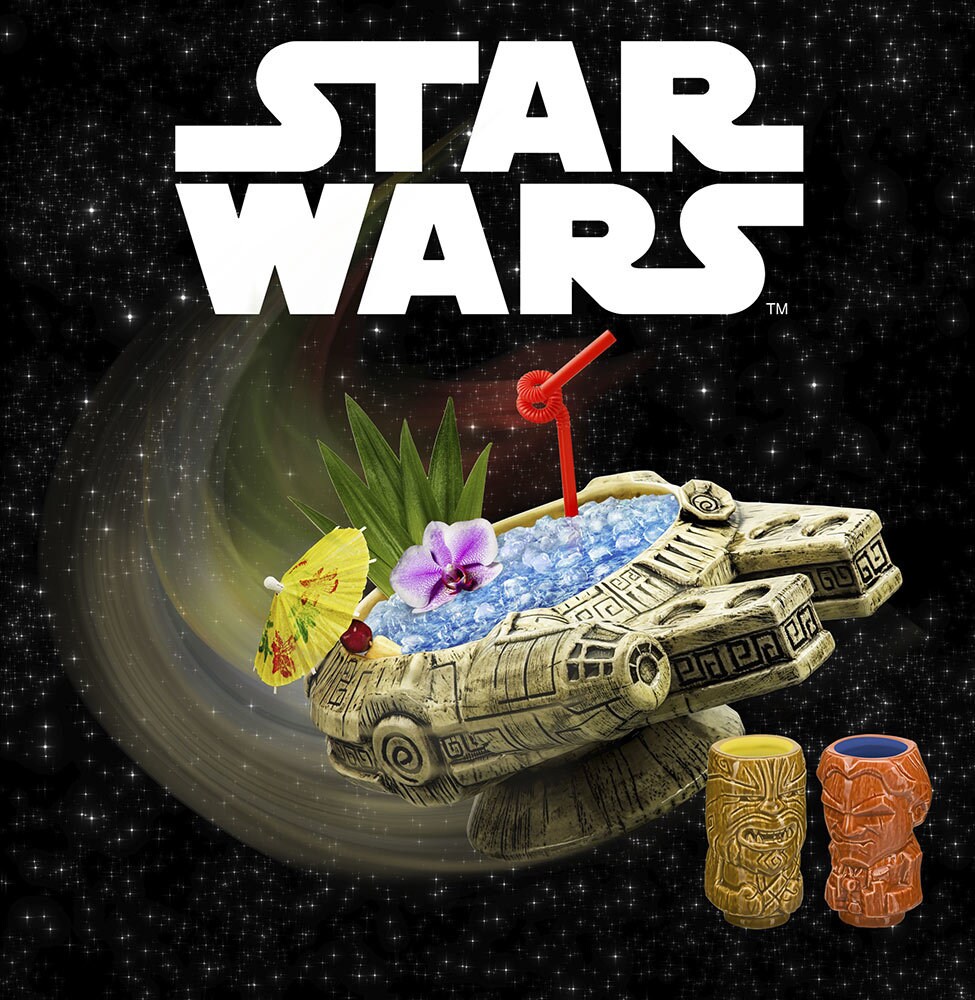 Larger versions of the mugs, like a 45-ounce Millennium Falcon punch bowl, can also serve all kinds of creative uses. "Fill with your favorite drink, cereal, chips, dip, salsa, guacamole,  whatever floats your boat. Or Falcon," Giraldez says. Some fans have used the mugs for ramen, a place to plant an indoor succulent and even as flower vases, he says.
For collectors who came a little late to the tiki collecting game -- the line launched its first wave on May the 4th in 2016 -- some of the earliest full-size mugs are getting a rerelease and, in some cases, a whole new look. "There's a lot of new fans," Giraldez says. "We're actually making a few modifications." Special modifications, we imagine.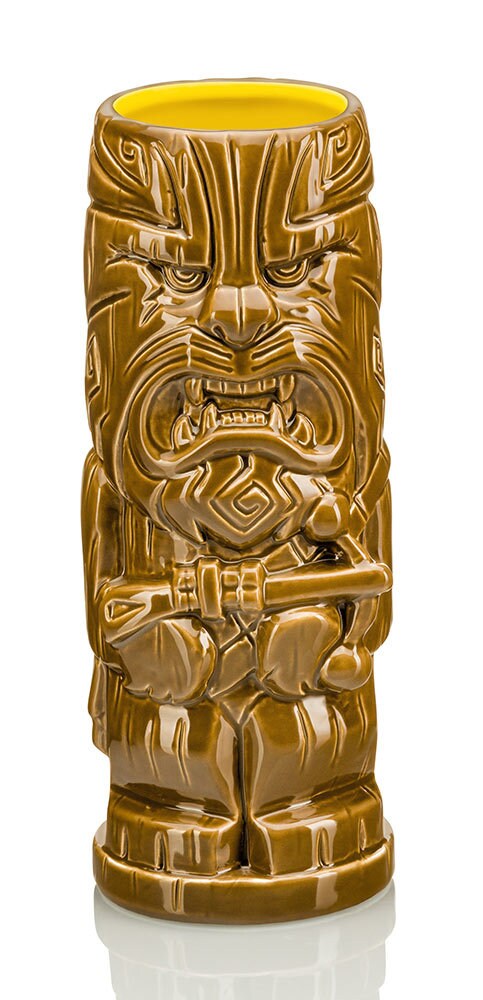 This time around, the R2-D2 mug which originated with an all-white exterior and a bright blue glaze inside will get a new deco with a blue wash to add dimension. The Chewbacca mug is getting a full resculpt, making the new version taller (although not quite as tall as the one in the Hollywood shop) and adding a bowcaster to the Wookiee's side.
And for fans with kids (or cats who like to swat at anything left sitting on a table), the line's plastic tumblers, coming later this year, are the perfect hybrid of Geeki Tiki style and everyday functionality.
Giraldez is particularly proud of the line's creatures and aliens, and the way the array of colorful paint schemes give each mug in the line its own unique look, from the soft turquoise of the tauntaun to C-3PO's striking goldenrod hue, offset with an interior glaze. "We just wanted to add some additional pop to it and complement the characters," Giraldez says. "We don't want to do too many green mugs."
So while you're sipping your blue milk or whatever you like to use your tiki mug for, make sure to take a closer look at the faux-carved designs and the other details, like the splash of red complementing Darth Vader's mug, that make these mugs a tiki treasure.
Get your hands on your own Star Wars Geeki Tiki mugs by ordering here.
Associate Editor Kristin Baver is a writer and all-around sci-fi nerd who always has just one more question in an inexhaustible list of curiosities. Sometimes she blurts out "It's a trap!" even when it's not. Do you know a fan who's most impressive? Hop on Twitter and tell @KristinBaver all about them.
Site tags: #StarWarsBlog