StarWars.com reveals a trilogy of new patterns fusing the flower power of Vera Bradley's classic print designs with subtle nods to beloved Star Wars characters, ships, and insignias.
A bag from Vera Bradley is instantly recognizable: striking patterns and bold colors that are often paired with quilted fabric that's as soft as it is stylish. Add iconic Star Wars imagery into the mix, and you have a brand-new Vera Bradley collection that's a must-have for May the 4th.
In the Star Wars | Vera Bradley collection, colors bloom across gray cotton fabric in the forms of flowers and medallions that incorporate your favorite Star Wars characters and symbols. The eye-catching patterns do the Imperial March across totes, sling bags, blankets, drink tumblers, and so much more in one whimsical collection.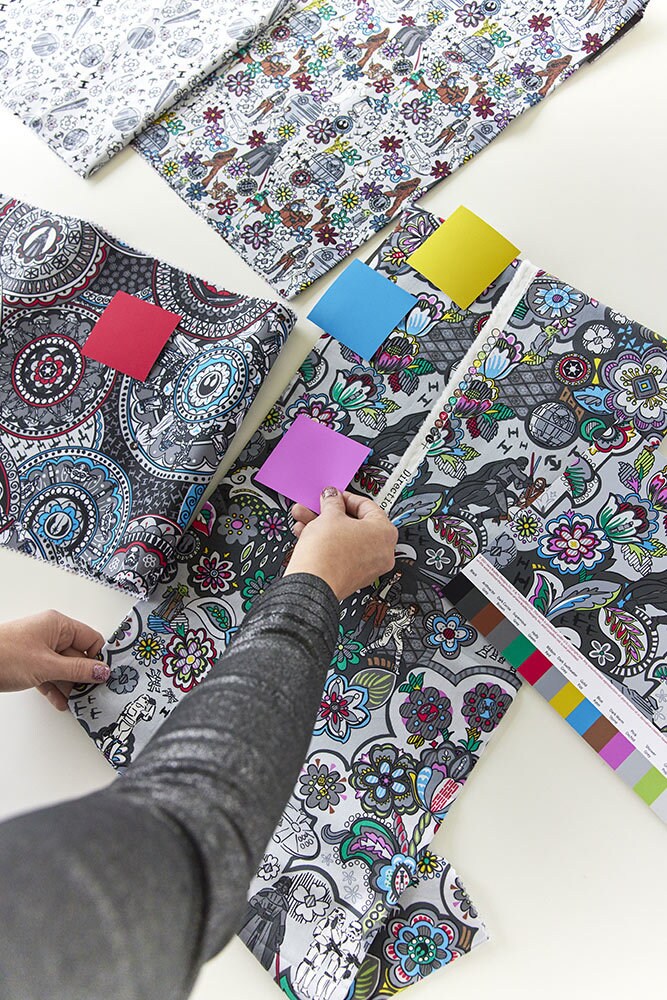 Today, StarWars.com is excited to reveal your first look at this trio of exclusive new patterns! And, to celebrate the collection, we recently sat down with Vera Bradley designers Kat Kovac and Kerry Hasselbach to discuss the brand's Star Wars collaboration, including designing for a broad audience, how colors come into play in their patterns, and why Princess-turned-General Leia Organa is the character who they both find most inspirational.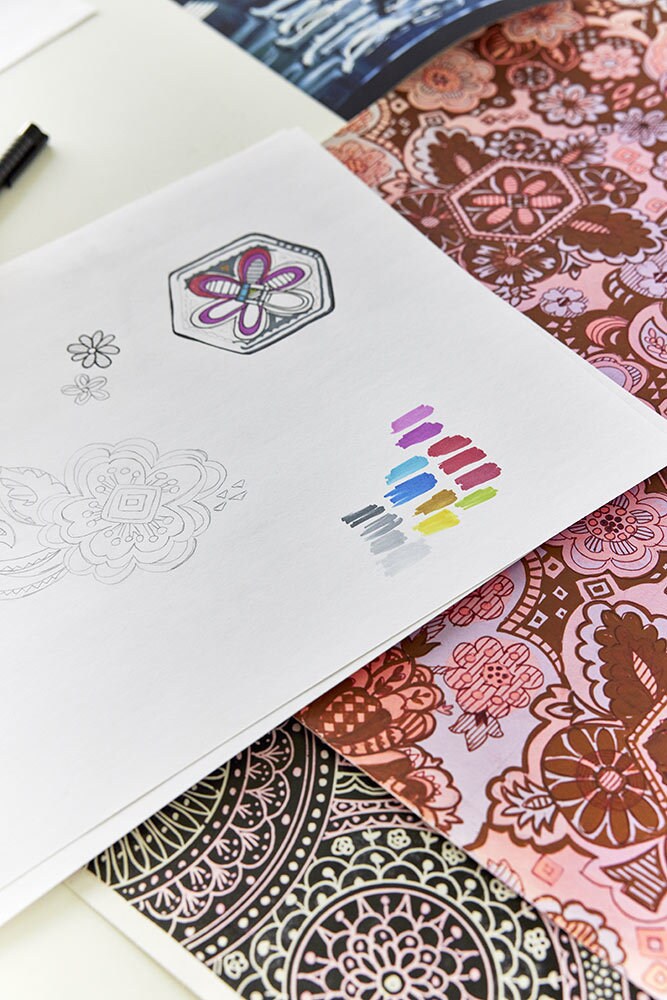 A balance of color
Although Vera Bradley bags have historically been favored among women, the design team kept men, women, and fans who have seen the films one or 1,000 times all in mind as the Star Wars collaboration came to life.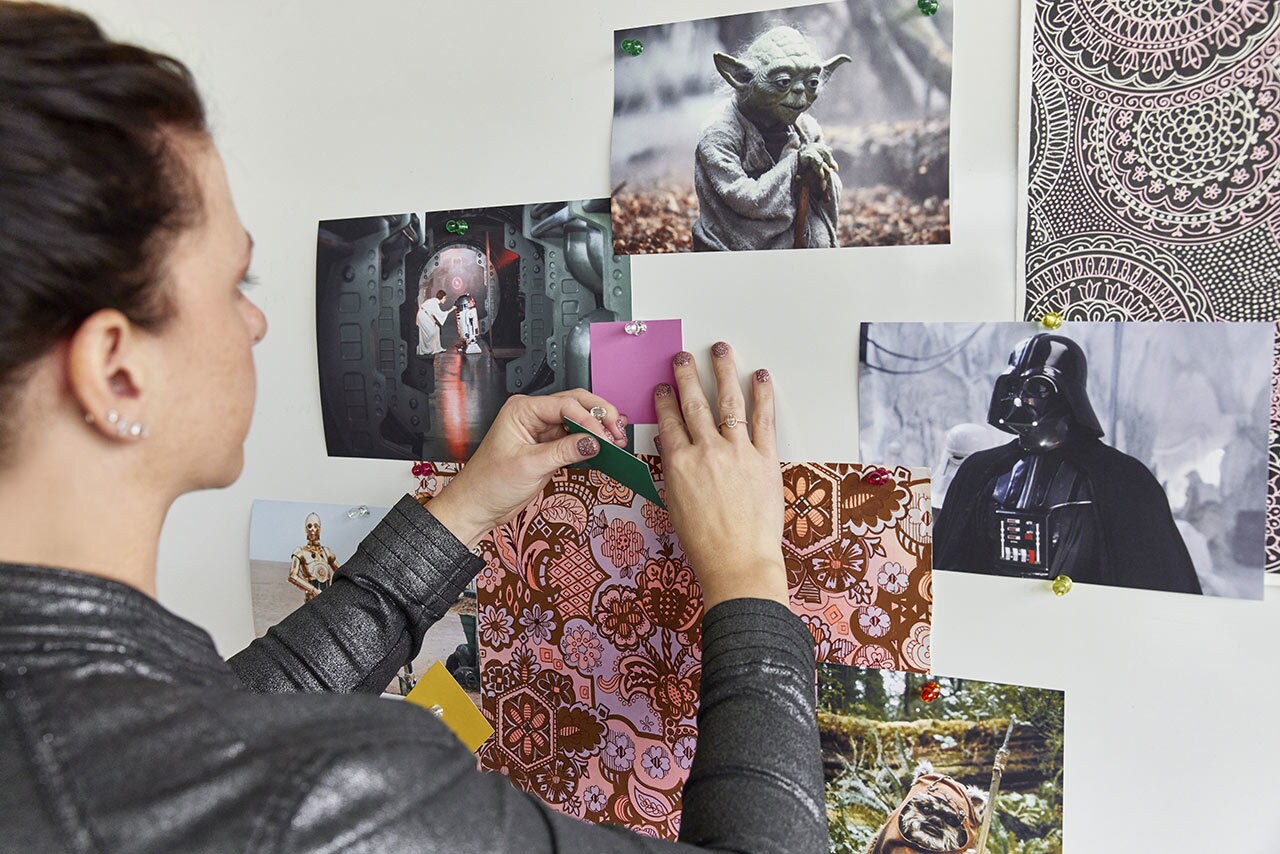 "We paid very close attention to maintaining authentic Star Wars details," says Hasselbach, VP of design at Vera Bradley, "depicting characters and the colors attached to them as accurately as possible, while balancing the color placements throughout the print to ensure the handbags and accessories are joyful and wearable."
"I wanted to give the longtime Star Wars diehards something that they would love because of all the extra details that tie back to the original Star Wars trilogy," adds Kovac, print design and technology manager, "but also give the new or casual fans something to inspire them."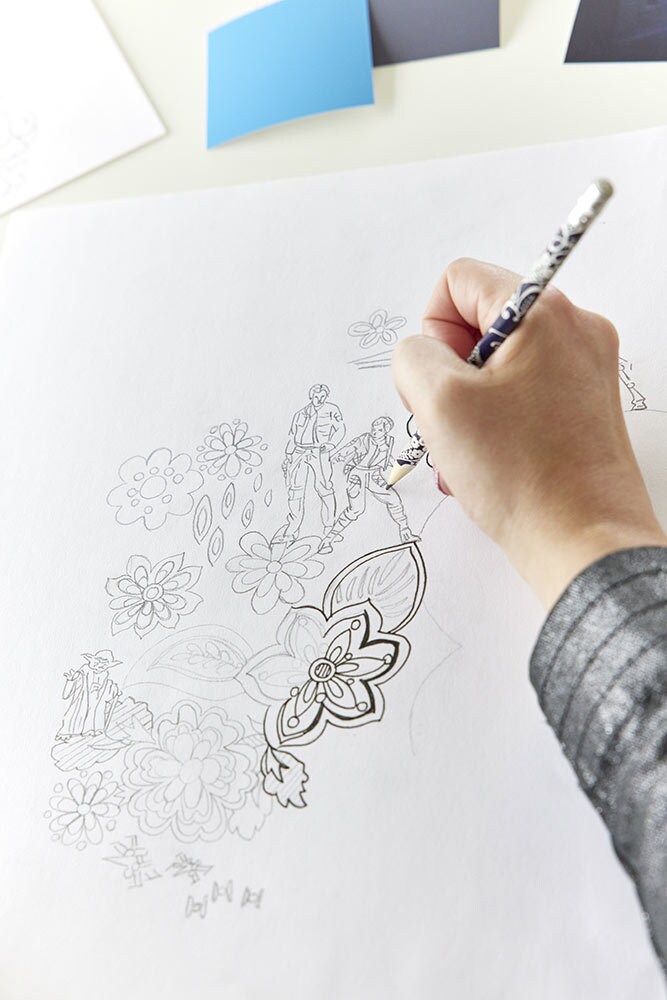 Both Kovac and Hasselbach started their journeys as Star Wars fans with the original trilogy; this collaboration with Lucasfilm focuses on those first three movies. Not only do beloved and classic characters play a prominent role in the patterns, but everything else — from colors to imagery — were inspired by the original films.
"When thinking of the original Star Wars trilogy in terms of color, there are two sets of things that come to mind," Kovac says. "First, the bright saturated colors of the lightsabers, and second, the rich range of gray metallic hues of the ships. Using gray hues helped me capture the idea of both the exterior and interiors of the ships and let the bright colors really pop and feel like they have the glow of a lightsaber."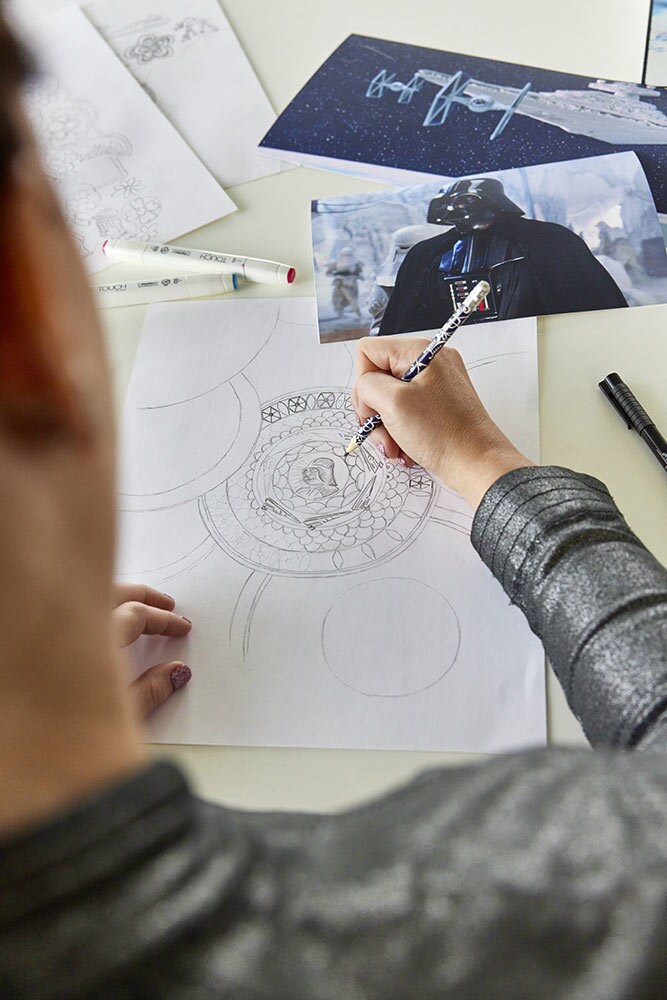 Stormtrooper secrets
Iconic symbols like the Rebel Alliance insignia and lightsaber hilts are seamlessly incorporated into the designs. The closer you examine each pattern in this Vera Bradley collection, the more delightful details you'll discover. Just look at those tiny Y-wings! "I was especially enamored by the medallions in the ReActive print that cleverly incorporated several details from the films," Hasselbach says, "almost like a kaleidoscope. Kat was incredibly thoughtful and did an excellent job of maintaining the right level of emotion and excitement across each of the prints in the collection."
While some of the Star Wars imagery might be subtle, it's impossible not to notice everyone's favorite princess in the pattern. Princess Leia is highlighted across the collection and for good reason; she's an inspiration, Hasselbach and Kovac agree.
"Princess Leia is a strong female role model who fits perfectly into Vera Bradley's mission of connecting and empowering women and girls in their unique and remarkable journeys. She is smart, strong, empathetic, brave, loyal, and a bit sassy. Along with all her admirable qualities she is also a great hero who inspires women and girls across the galaxy," says Kovac.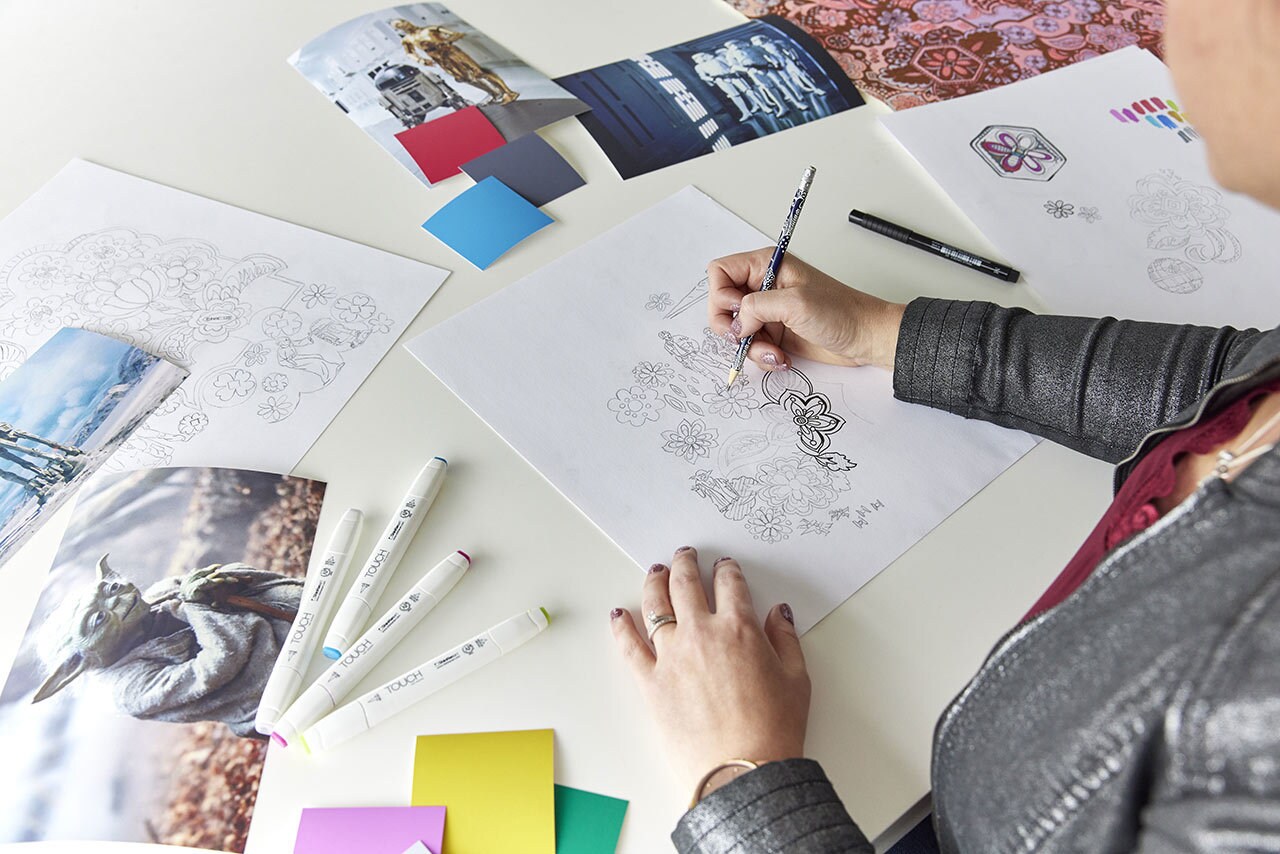 "Leia was unapologetically herself and a feminist well before her time," Hasselbach adds.
The Empire also makes its presence known in the brilliant designs. TIE fighters, stormtroopers, and Dark Lord of the Sith Darth Vader are all integral parts of the collection, adding to the quirkiness alongside other details in the galactically fun patterns, from marching AT-ATs to gossiping stormtroopers. ("I'm going to get ice cream after this. Are you in?" one is whispering, at least according to Kovac's head canon.)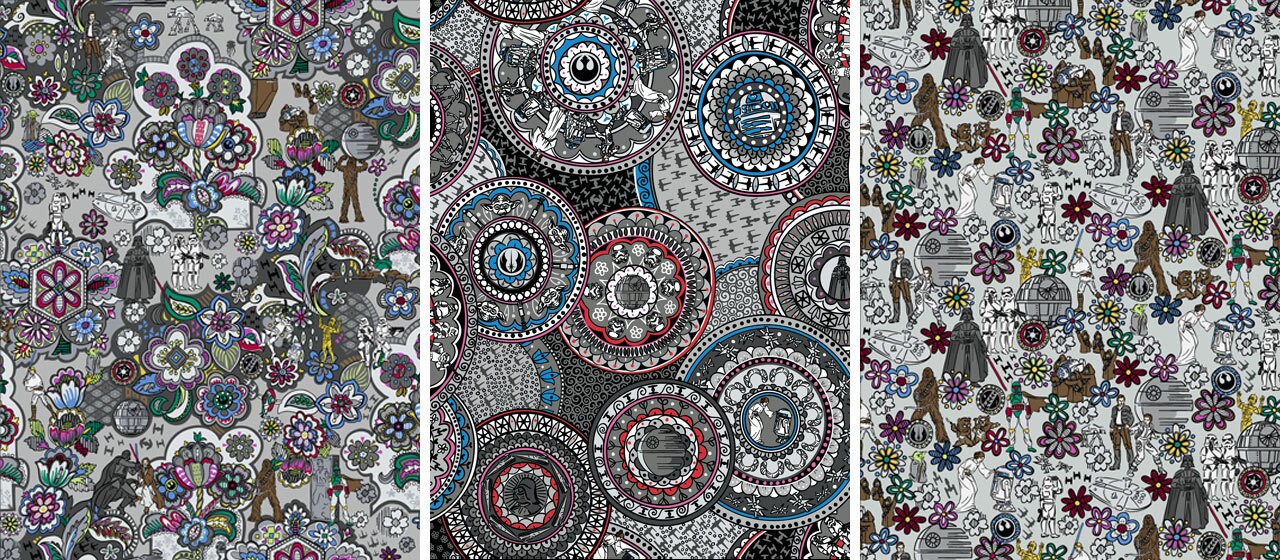 It's safe to say that the collaboration between Star Wars and Vera Bradley was a blast for everyone involved. "Getting to design a collection based around something that I am a huge fan of has been amazing!" Kovac says. "From dreaming up the initial concept, and seeing the design printed on fabric for the first time, to working on product design layouts and collaborating with our marketing team, I can't wait for the collection to be out in the galaxy and see all the Star Wars and Vera Bradley fans getting to enjoy it as much as I do."
The Star Wars | Vera Bradley collection releases on May 4, 2022, available on verabradley.com and in Vera Bradley stores nationwide! Don't miss your chance to pick up a piece and bring your love of the galaxy far, far away with you no matter where you go.