What could be better than a relationship with a solid Star Wars foundation?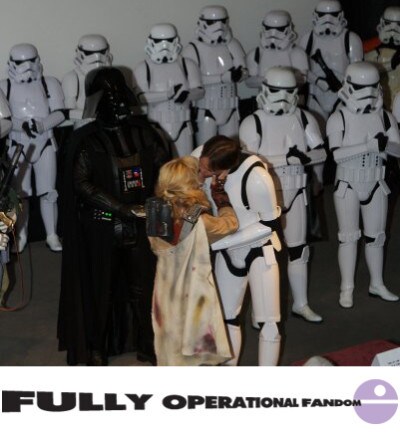 It's been just about a year since I started this column, and I kicked things off by talking about how a mutual adoration for Star Wars can bring two people together. Since Valentine's Day is almost here, it seemed appropriate to highlight more love stories from fandom. In some cases, couples saw one of the films on their first date and others had big, fat Star Wars weddings (the best kind of weddings). Just like the Force, love surrounds us and binds the galaxy together.
The story can begin with a date to the movies. Troy Pichelman's first outing with his now wife was seeing The Phantom Menace a week before it was released to the general public. Since her parents owned a movie theater, an early screening wasn't a problem. If someone got me in to see a Star Wars movie early, I might propose to him on the spot. Troy's wife made a creative callback to the date by giving him a framed original of an Episode I teaser poster for Christmas.
Besides being the beginning of the saga on the screen, the prequels started at least a few relationships. TheIdDM met his wife while waiting in line for Episode I. Maybe someone should come up with queue speed dating before Episode VII's release.
R2-D2 has appeared in every Star Wars film, and he's also been a constant in Susan Damon's relationship. He's a busy droid -- constantly saving the day and playing matchmaker. How does he do it all? When Susan and her fiancé went on a date for May the 4th, she wore Black Milk Clothing's R2-D2 dress. Her fiancé has gotten her R2-D2 themed gifts such as a robe and a voice-activated Artoo for special days, and they're planning to have an R2-D2 cake at their wedding. I hope it has sound effects!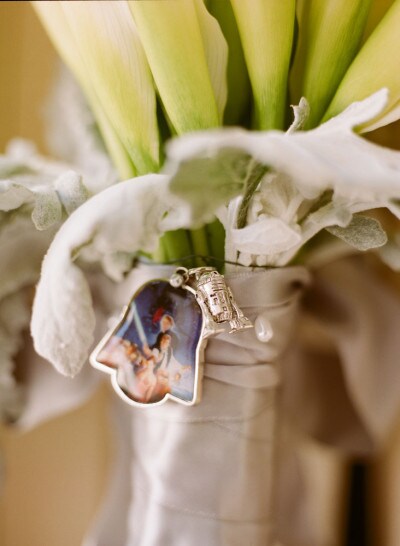 Speaking of weddings, I heard from several fans who incorporated the fine work of John Williams into their festivities. "The Throne Room/End Title," "Princess Leia's Theme," and "The Imperial March" were the pieces of music named the most. Laura may not have played Star Wars tunes on her wedding day, but she did use charms from Her Universe in her bouquet. The pendants are a subtle and classy touch. She also had a photo booth where guests could pose with an Admiral Ackbar cutout. Though I'm not sure "It's a trap!" is the best sentiment for a wedding, I would have happily hammed it up with the Mon Calamari.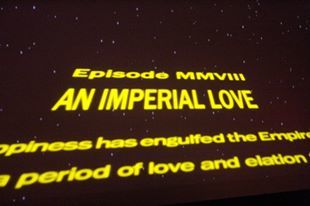 Though it's not a competition, if there was a contest for Best Star Wars Wedding Ever, Garet Jones and Consetta Parker would be my odds-on favorites. Star Wars has been part of their relationship since the beginning. They met at Skywalker Ranch on May 4, 2005, and Garet proposed one year later to the day (because it had to be May the 4th) while wearing Stormtrooper armor.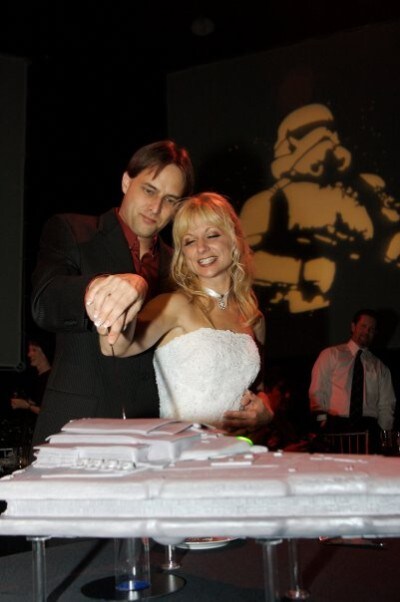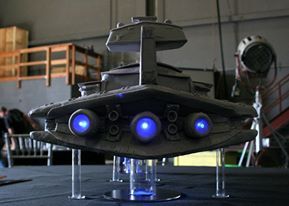 And, of course, he proposed with a ring shaped like a Stormtrooper helmet. Given their history, it was obvious their wedding would be themed to the max with the saga. Consetta said when they first started talking about wedding plans they both had tons of ideas, "It was like the most galactic and romantic brainstorming session ever!"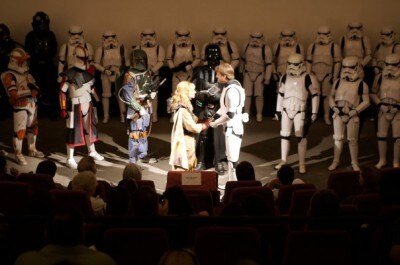 As you can see from the photos, they succeeded. They had over 30 people in armor from Darth Vaders (plural) to Boba Fett to Stormtroopers and clone troopers. Tactical support was provided by the 501st Legion's Golden Gate Garrison, of which Consetta and Garet are both members. They had a Star Destroyer cake, special Imperial glasses, and themed shirts for family members. Consetta's father wore a sweatshirt that read "Darth Dad."
Their fun has continued after the wedding. Consetta and Garet's home is filled with Star Wars collectibles. They got in the habit of going on "toy adventure dates" to places like Toys"R"Us and Target to look for items to use in their wedding, and they've kept the dates going ever since. Since Consetta is the director of publicity at Rancho Obi-Wan, she and Garet also have regular Star Wars play dates working at the museum and exploring. See? Imperials do have hearts!
Not feeling full of warm and fuzzies yet? Go check out my first post about Valentine's Day and Star Wars.
Amy Ratcliffe is addicted to Star Wars, coffee, and writing. You can follow her on Twitter at @amy_geek and keep up with all things geeky at her blog.