Inside the making of Kay Jewelers' stunning necklaces inspired by Jyn Erso's family heirloom.
Jyn Erso's kyber pendant is more than a family heirloom passed down from mother to daughter in a final act of protection and love. The crystal fragment is a symbol of hope and the rebel cause, a nod to the Jedi's powerful lightsaber and the unstoppable force of the Death Star's core.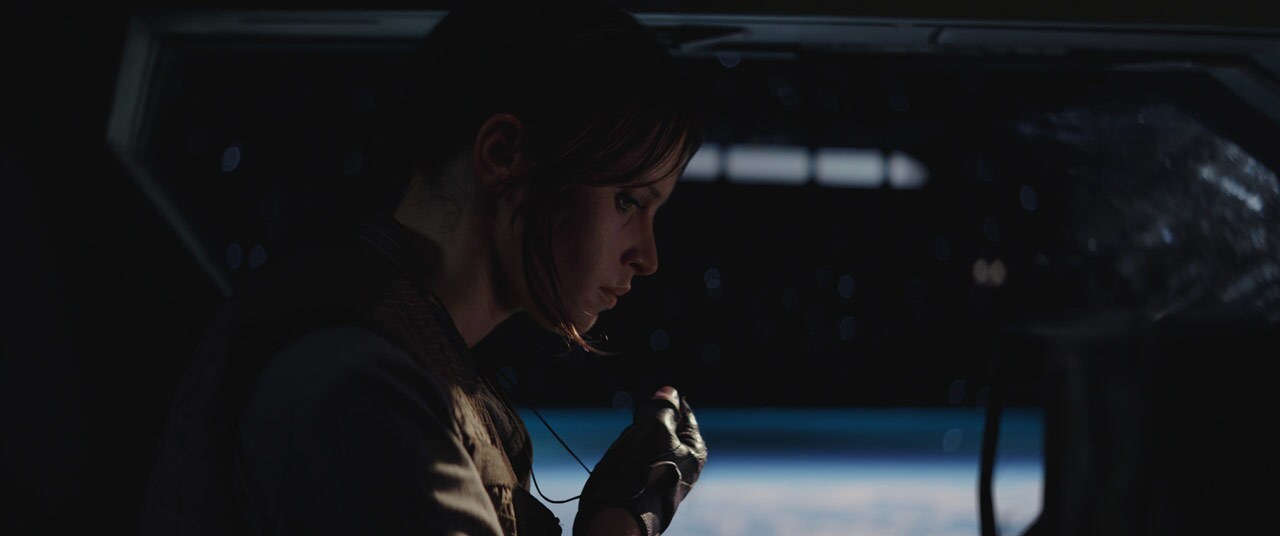 Celina Chu, design manager for accessories at Star Wars product development, kept that in mind when she created her first sketches of what would become the piéce de résistance of Kay Jewelers' Star Wars collaboration collection: a couture, quartz and 14-carat rose gold necklace that pays homage to the first family of Rogue One.
Chu and co-collaborator Moss Makhoulian, a designer of Star Wars jewelry available at Kay Jewelers, recently sat down with StarWars.com to discuss translating the essence of the on-screen Erso pendant into the real-life, high-end piece after the pair had joined forces in 2015 to create a one-of-a-kind diamond-encrusted 18-carat gold BB-8 for display at the Force 4 Fashion exhibit in New York.
Hope, crystallized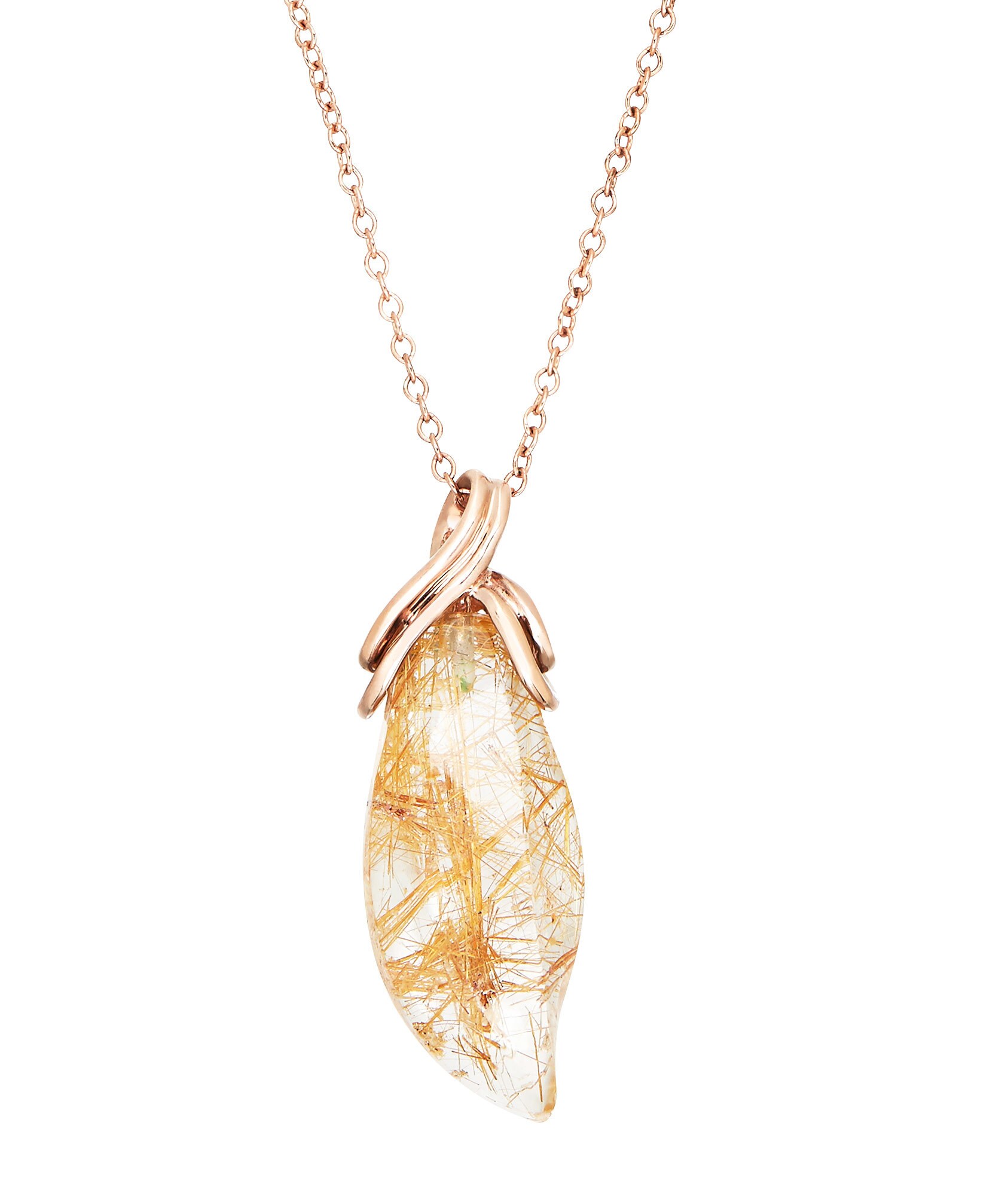 The strongest stars have hearts of kyber, but without a Jedi Temple to raid, designers turned to hand-cut quartz with fine sandy gold rutilations when choosing a stone for the pendant.
"We really wanted to stay true to the actual piece," Makhoulian says. "I like odd shapes, so making this piece of jewelry was very natural. We just adhered to the shape of the actual piece as much as we could and made it as natural as possible."
Kay Jewelers has been the flagship for exclusive Star Wars jewelry pieces since 2015, but this time Chu hoped to "create something a little more sentimental and something a little closer to the aesthetic of Rogue One."
Early character notes indicated that Jyn's costume would include a special necklace. "We have to constantly be looped in with what's going on. With the film industry things can change super quickly. Things get edited out," Chu says.
Chu envisioned her design as a gift to symbolize an enduring bond, something that could translate between siblings, lovers, or a mother gifting the memento to her own Stardust (even if she's not about to be put into the custody of Saw Gerrera.)
"It's the idea of hope," Chu says. "That just really captures the relationship element."
Heart of kyber
The on-screen prop has more of a rustic feel than its couture counterpart, swapping out rough-hewn cord and basic wire for a golden chain and a 14-carat setting for the hand-cut quartz stone.
"The stone that Moss selected was so beautiful and so perfect because it really emulated the kyber crystals being mined," Chu says. "It feels very organic."
Chu tried out five different versions before a final composite sketch was conceived to cast the first couture piece. Since then, three duplicates have been made, although each stone is unique. "The stones are all hand cut, one by one, and no two stones are identical," Makhoulian says.

The creators also conceived a smaller but similar piece in gold-plated sterling silver, a rarity for the shop. "The smaller piece is something that we wanted to offer to Kay's everyday customer," Chu says. "We didn't feel like [the original] was accessible to some of our fans."
Where the couture necklace has diamond accents, a larger quartz pendant, and a bolo to adjust the 36-inch cable chain, the $199 version is 14-carat gold-plated, with a scaled-down stone that hangs on a 17-inch chain, hovering around the collarbone.
Both necklaces were always intended more as homages than replicas, the designers say. "We really just wanted to take the essence of the necklace and translate it into jewelry," Chu says. "We're not really after the prop replica."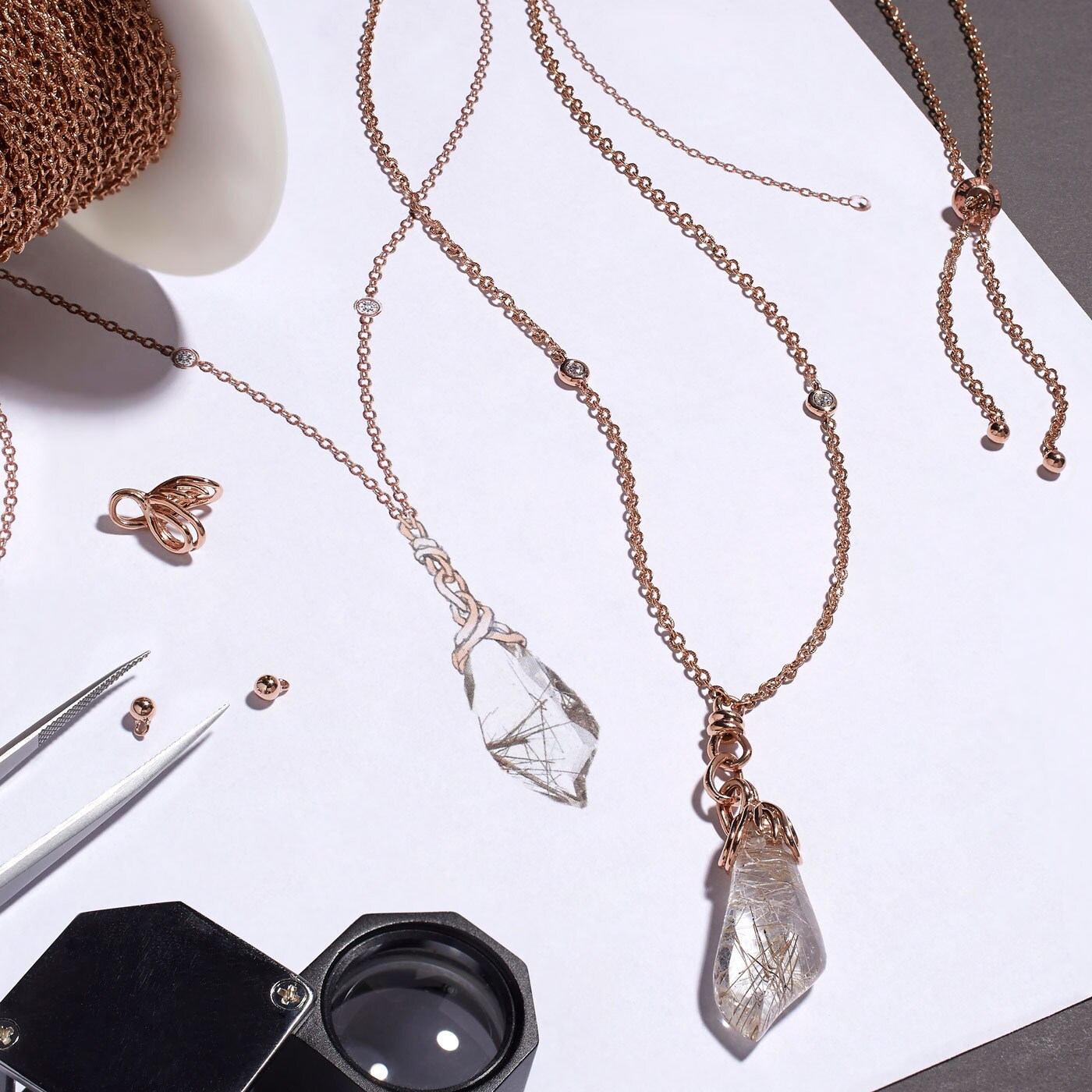 It's too soon to tell if the collaboration will herald more high-end pieces nodding to the Star Wars saga, so our dreams of donning Princess Leia's medal ceremony necklace may have to remain a fantasy.
But the brand is catering to the female fan more than ever before, Chu says, and she and Makhoulian are intent on creating more stand-out pieces that test the limits of what's come before "for fans that are looking for something a bit more luxurious, a little more feminine as opposed to costume jewelry. For years and years we didn't have anything to speak to that consumer."
Kristin Baver is a writer and all-around sci-fi nerd who always has just one more question in an inexhaustible list of curiosities. Sometimes she blurts out "It's a trap!" even when it's not. Follow her on Twitter @KristinBaver.