From early ideas for the Battle of Hoth to behind-the-scenes antics, four legends of Star Wars special effects get together to share memories from making Star Wars: The Empire Strikes Back.
On May 21, 1980, Star Wars: The Empire Strikes Back made its theatrical debut. To celebrate the classic film's landmark 40th anniversary, StarWars.com presents "Empire at 40," a special series of interviews, editorial features, and listicles.
With the success of the original Star Wars film, production on the sequel, The Empire Strikes Back, was an opportunity for creator George Lucas to grow his own special effects Empire, Industrial Light & Magic.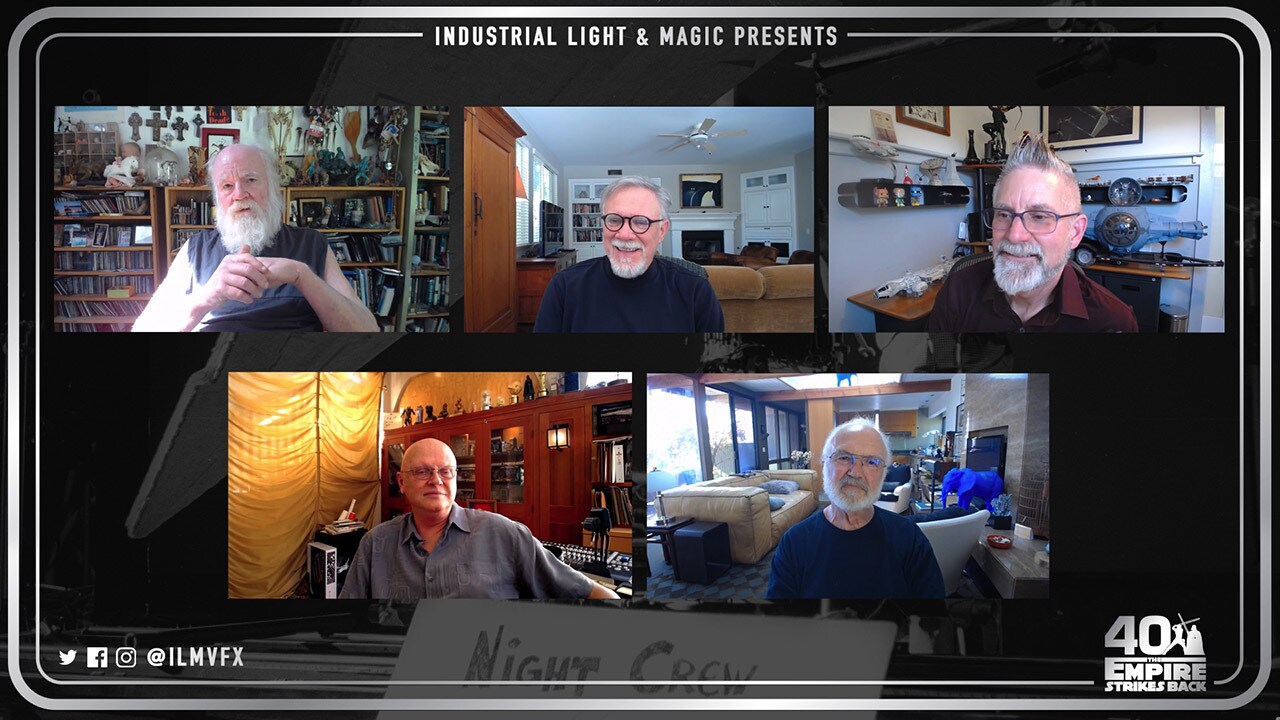 On Thursday, ILM icons Dennis Muren, Joe Johnston, Phil Tippett, and Lorne Peterson got together for a special online panel hosted by ILM model maker and Visual Effects Supervisor Bill George. In over an hour spent reminiscing, the special effects luminaries shared a number of fascinating stories, anecdotes, and memories.
Here are six things we learned while watching.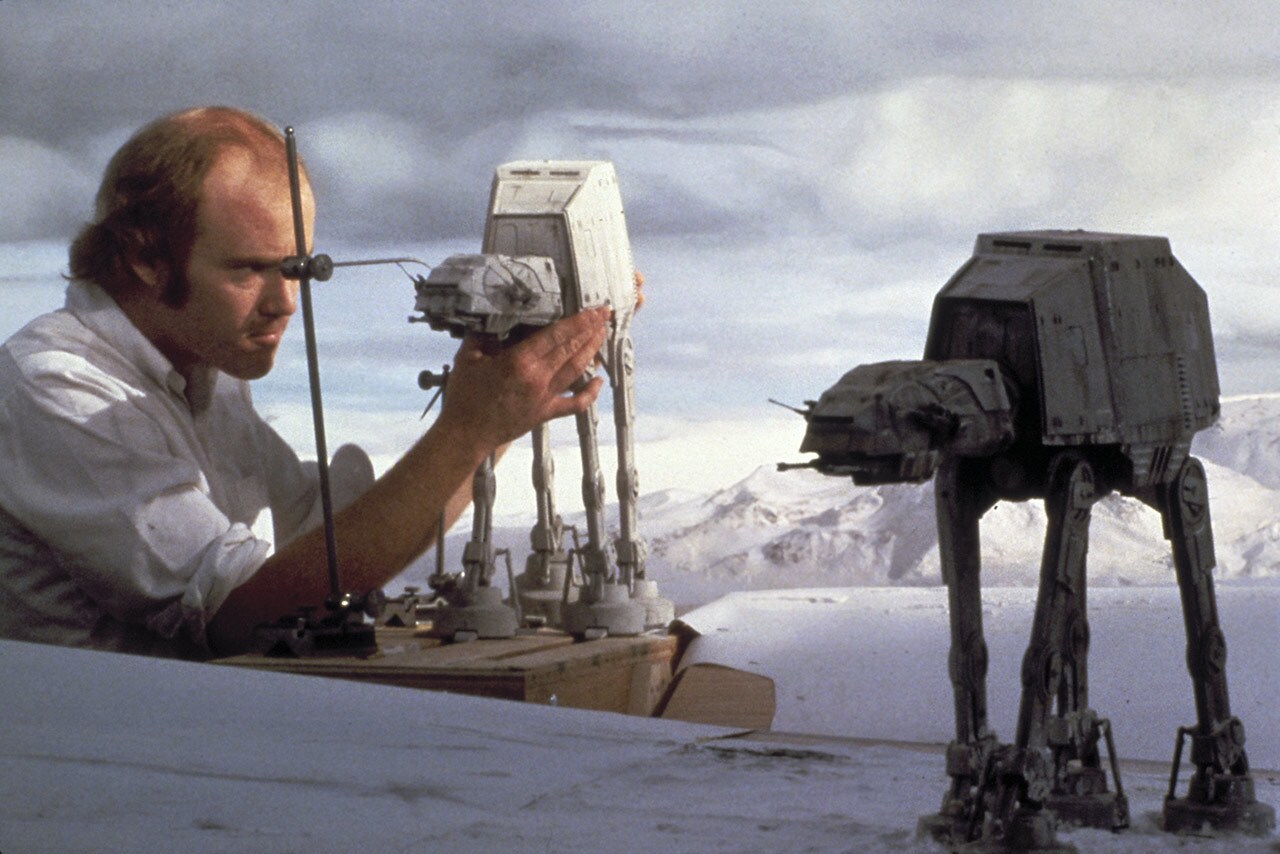 1. At first, suits and mechanical creations were considered for scenes that would eventually be realized in stop motion.
It was Muren and Johnston who convinced Lucas to use stop motion for the AT-AT walkers and the tauntauns on Hoth, Tippett said. But it wasn't the first idea they considered.
"The first thing I heard was, and I don't remember who it was, said 'Well, let's build mechanical miniature walkers that'll actually walk,'" Muren recalled. "And I thought no way is that ever going to happen. No way will it get done for this show." Something that not only looked the part but was fully operational would have taken far more time than the crew had to complete the shots. "To think you could build mechanical walkers?" Muren said. "Couldn't have happened with the budget."
Ultimately, any flaws in the stop-motion process just made the AT-ATs look like they were truly massive mechanical machines lurching as they plodded along. "Which is perfect for the mood and the reality of the show," Muren added. "Those decisions don't often come easy. I seem to remember them thinking they could actually do a running tauntaun in Norway. Full size. And that of course can't work at all."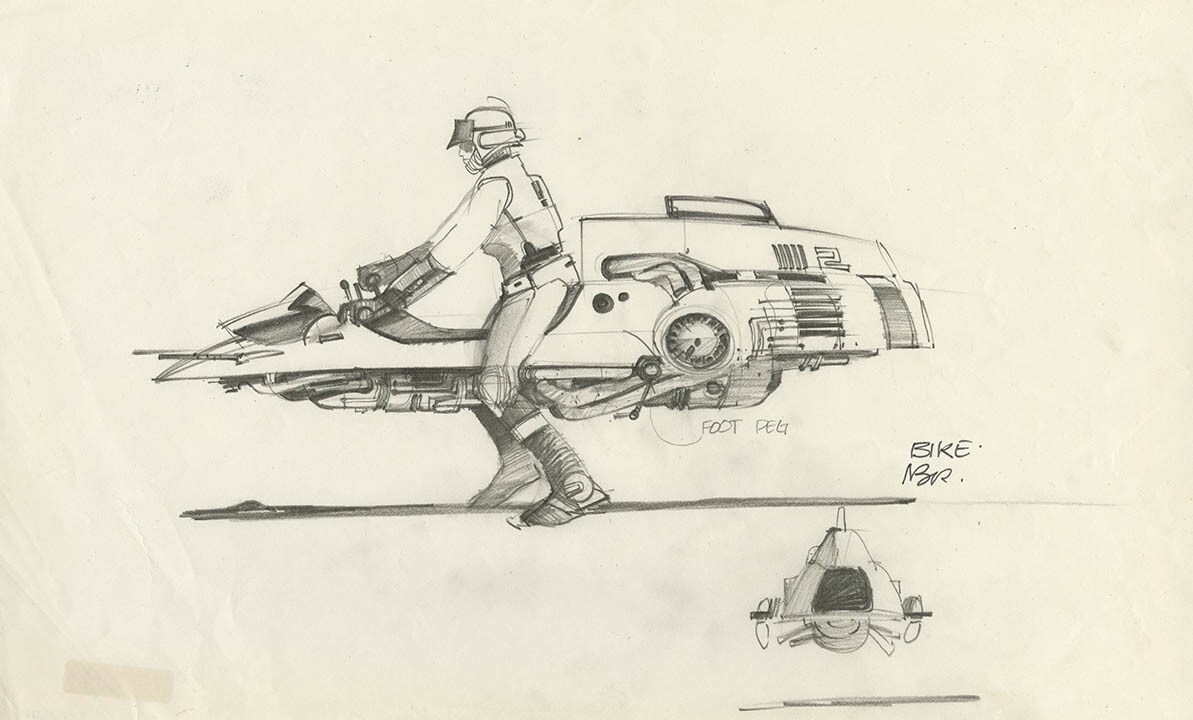 2. To build a special effects crew to make never-before-seen creations, the innovators at Industrial Light & Magic got creative in hiring people outside the film industry.
New hires at the time included a local man living on a houseboat with an affinity for fantasy and stage hands who had worked with the opera as well as the now legendary Nilo Rodis-Jamero and Michael Fulmer. Fulmer was a welder by day who spent his free time making hyper-detailed models, complete with minuscule hinges. Rodis-Jamero's last job before joining the ILM crew was designing heavy equipment, so they knew he could illustrate fictional vehicles that looked like they could actually work. "I always wanted to find an artist that could draw better than I could," Johnston said. "Once I found Nilo it was like -- stop searching!"
"He was working on a military prototype and he was designing toilets and toilet seats to ensure that when you peed into them it wouldn't splash back," Tippett added.
"It was really neat," Muren said of the hiring process. "They gave them a chance if they had a wide range of interests and some sort of idea they could follow directions and it wasn't going to be just a bunch of people getting together and having a good time and laughing and stuff like that. But we actually had to work. And if they had the ability to learn something and follow through on it then we'd pretty much give them a chance."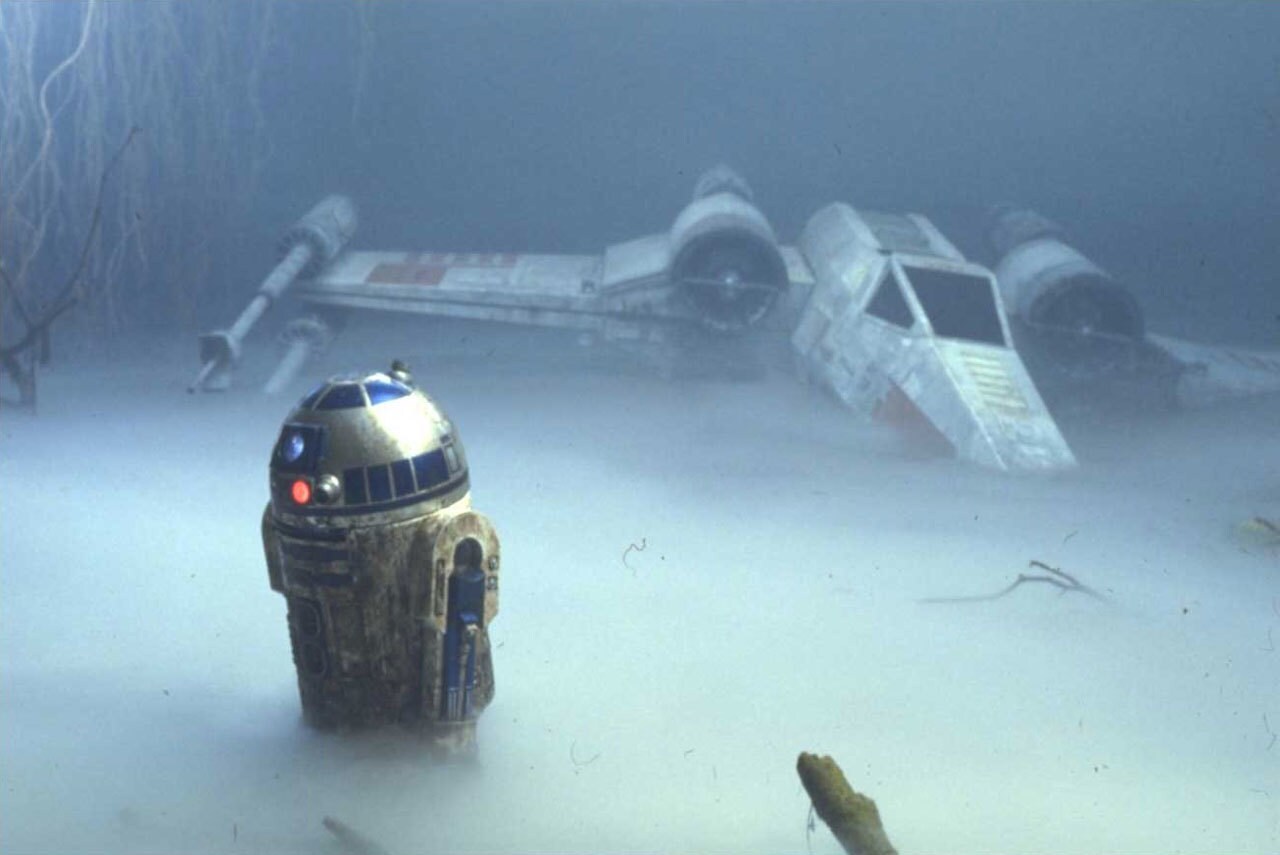 3. George Lucas essentially acted the part of R2-D2 when it came time to translate the character's emotions into sound effects with sound designer Ben Burtt.
"George would sit down with Ben, and Ben had a tape recorder, and George would do all the little beeps and boops by himself, because each one has got an expression," Muren said before launching into his own impression of the astromech. The final sounds were translated into electronic effects, but the emotion was all Lucas. "People don't know that," Muren added. "That show and so many of these trippy shows really are going through a filter, through a mind that is making decisions that are consistent with an overall feel."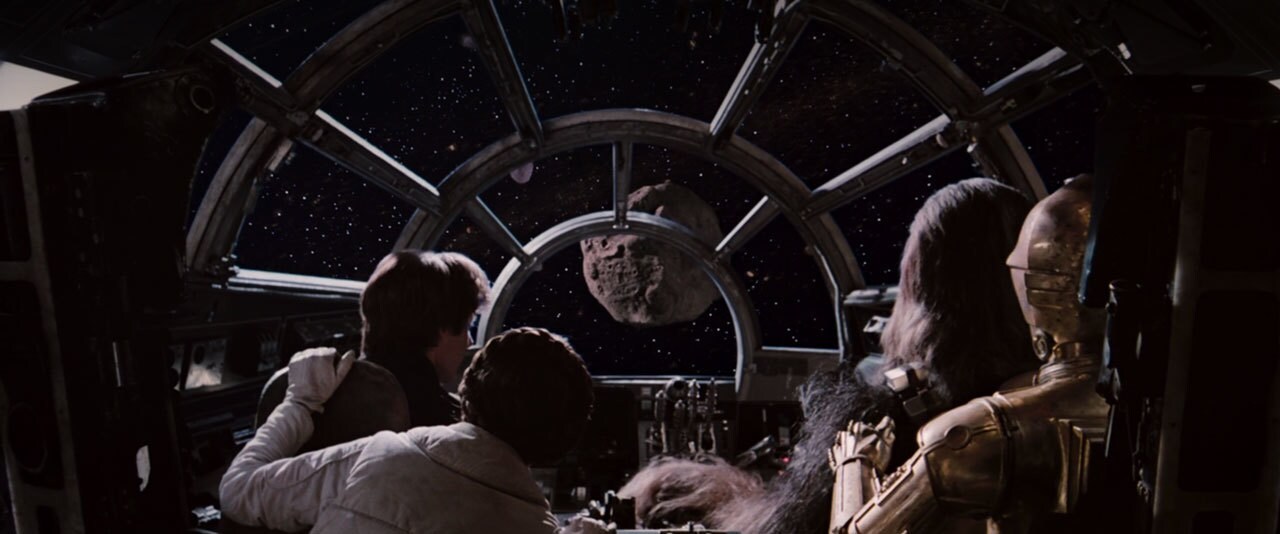 4. The score during the asteroid sequence is Johnston's favorite composition in the film, but before this week he hadn't seen it in three decades.
Between tales of floating potatoes, tossed in by bored special effects crew members who were tasked with the tedious work of building the asteroid field, Johnston revealed he had just rewatched The Empire Strikes Back for the first time in 30 years to prepare for the chat.
5. There were still changes being made after Empire was in theaters, which meant projectionists had to dry the prints.
"It was the hospital ship that was added," Peterson recalled, "when Luke and Leia were on the hospital bed, you know, when he lost his hand." The change was made in response to a confused test audience that didn't understand where the Millennium Falcon was in relation.
That meant some of the prints were being delivered to theaters still wet, Tippett added. "The projectionist ends up having to get a hair dryer and as it's coming off the reel they would have to dry it."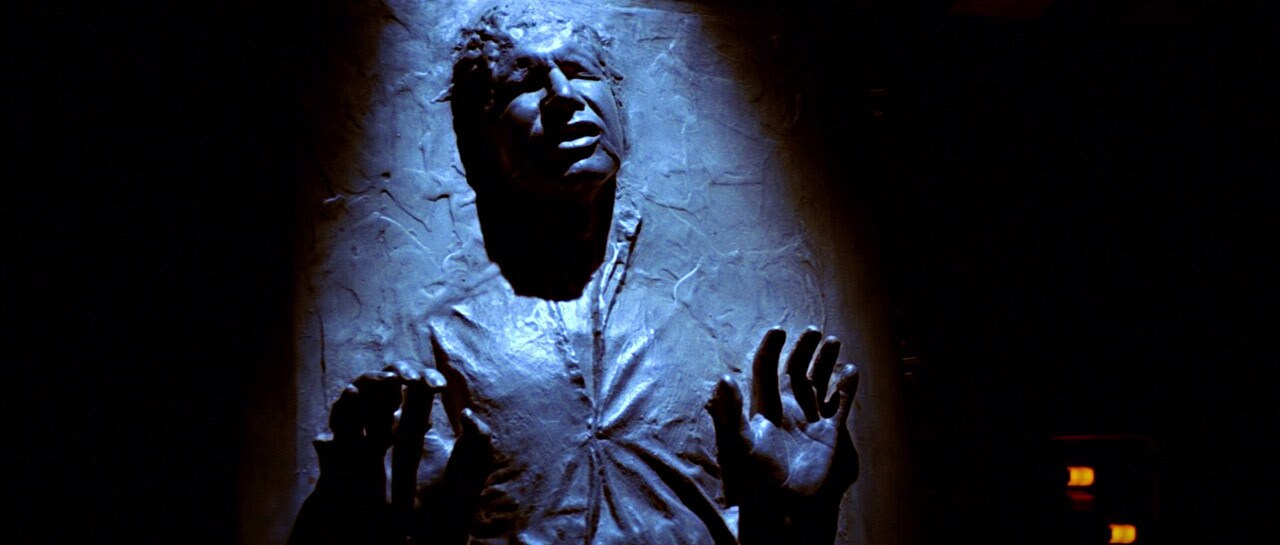 6. After the long hours of hard work were done and the movie was out, the crew made time to relax.
"We had a lot of fun and blew off a lot of steam," Tippett said. Among the gags and goofs, Tippett recalled finding a new way to utilize a casting of Harrison Ford's face created for the carbonite prop. The pliable mold had an opening at the mouth. "At Christmas we made a bunch of videos and I did a lip sync of Han Solo's face singing to Maurice Chavalier's 'Thank Heaven for Little Girls.'" Now there's a home video we'd love to see unearthed.
For more on the panel, read Lucasfilm's coverage on these visual effects pioneers and check out the full discussion below!