Writer Cavan Scott and artist Megan Levens reveal the spine-tingling secrets of "The Horned Devil!"
The Star Wars Adventures: Tales from Vader's Castle series from IDW brought readers to Mustafar for some terrifying tales -- but with a Star Wars twist.
Now, in the spirit of the Halloween season, it's time to return to the lava world and the haunting place that Darth Vader calls home.
Star Wars Adventures: Return to Vader's Castle #1 arrives tomorrow, October 2, kicking off a weekly five-issue series of new spooky stories in a galaxy far, far away. Original series writer Cavan Scott is back, complete with an all-star stable of artists including Nicoletta Baldari, Nick Brokenshire, Francesco Francavilla, Kelley Jones, Megan Levens, and Charles Paul Wilson III. To mark the launch of Return to Vader's Castle, Star Wars Reads (a month-long celebration of Star Wars and reading), and the creepiest time of the year, StarWars.com spoke with Scott and issue #1 artist Levens; like keepers of an ancient and evil Sith tomb, they eagerly opened the door and took us behind the spooky scenes of the series' first installment. See Levens' process from layout to final page below, along with insights from both artist and writer on a tale dubbed "The Horned Devil," in which a hapless crew is sent to Lotho Minor, where they must survive the junk planet's surface -- and the crazed Sith Lord that lurks beneath. (You may want to keep the lights on...)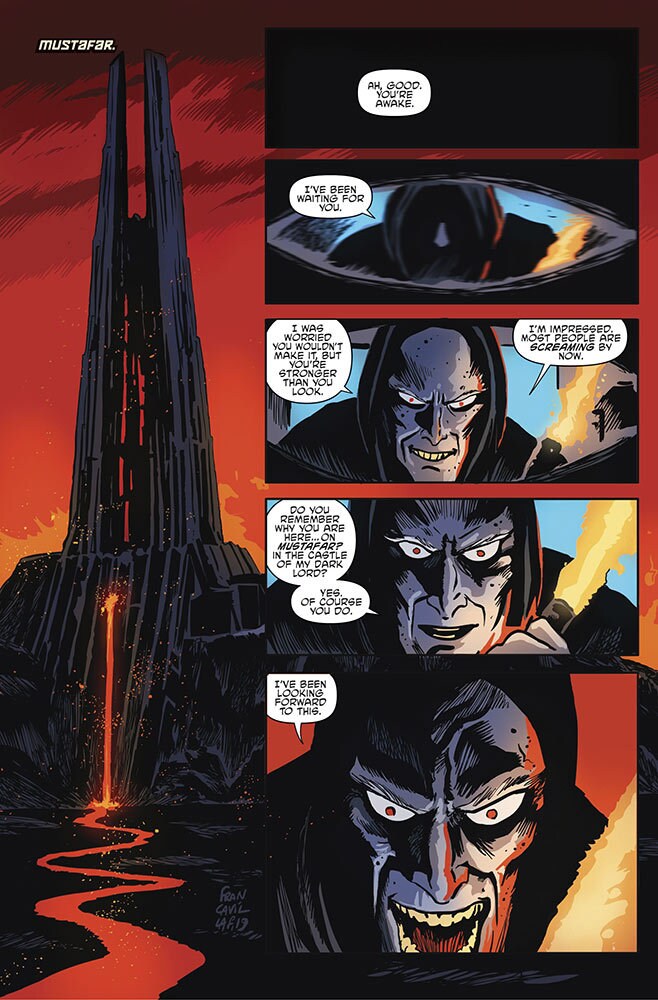 [Editor's note: Pages 1-2 of each issue in the series are illustrated by Francesco Francavilla.]
Cavan Scott: I'm really excited to be working with Francesco Francavilla on the framing story of this series. The inclusion of Vaneé went down really well in Tales From Vader's Castle so we decided to place him front and center here. Vader's sinister Sith servant becomes our very own sinister storyteller and Francesco portrays him perfectly here. I love that flaming staff. That was Francesco's idea. I first had Vaneé clutching a staff ending with vicious blades, but the flames are far more effective.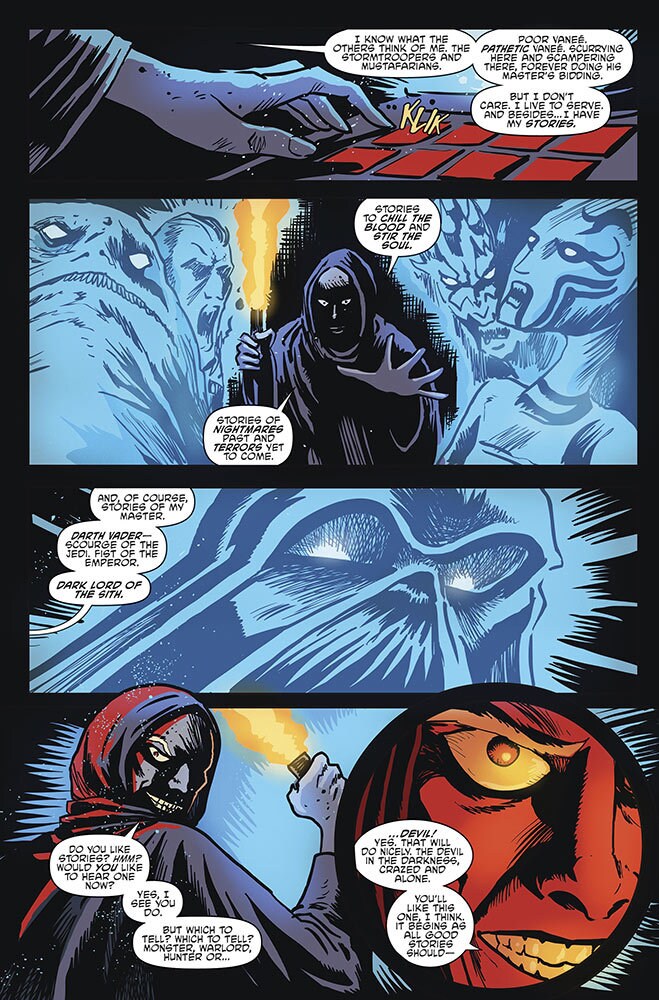 Cavan Scott: Just look at those twisted, spooky holograms, which give us a little glimpse of the villains we will be meeting in future issues -- Jabba, Tarkin, Ventress, and, of course, the Fist of the Emperor himself. That's a phrase I picked up from Greg Pak, Ramón Bachs, and Stéphane Paitreau's brilliant Star Wars Age of Rebellion : Darth Vader #1.
Cavan Scott: And we welcome our first guest artist to the series, the amazing Megan Levens with colors by Charlie Kirchoff. I came up with the idea for this particular idea sitting at breakfast at Star Wars Celebration in Chicago this year. I had just that morning received word that we were doing the series, news that would be announced just a few hours later at the IDW panel!
Megan Levens: This page introduces our crew of hopeful young pirates, and the vicious Captain Spikewheel. Spikewheel was my first opportunity to design an original droid character in the Star Wars universe, and Cavan wrote such a great description of her that I had a lot to work with. I thought it would add a creepy dimension if the damaged half of her face actually revealed parts of her inner workings, like her "skin" was burned and peeled away to reveal her robotic skeleton. Brennar, Riki, Seles, and Gritz were designed a bit more on the fly as I drew the layouts, and I just tightened them up as I went to pencils. Since the kids are being tossed out rather than jumping from the ship, I used the figure of Gritz to break the panel border, to suggest a less controlled fall into their confrontation with Maul.
Cavan Scott: When I pitched the idea of focusing on Maul for issue one, I knew I wanted to set the story on Lotho Minor, the location of one of my favorite Clone Wars stories, "Brothers." Crazy, cackling spider-Maul is just so disturbing and the horror fan in me felt we never saw enough of him. This was my chance to redress that balance! He is so much fun to write.
Megan Levens: I was a huge fan of the Clone Wars series long before I got this project, and I was familiar with the look of planet Lotho Minor, but for the story I went back to closely examine the world as it's depicted in the episode "Brothers." To keep the junkyard setting from overpowering the characters and their action, I took a cue from the series' design choice to show the piles of junk and debris as vague, jagged shapes. It doesn't really take a lot of detail to suggest that these are mountain ranges made up of years and years of garbage pileup, ready to topple over on themselves or crush anyone who disturbs them.
Cavan Scott: And we descend into the depths of Lotho's tunnels, lair of the titular Horned Devil. From this point on things get dark, both figuratively and literally. Will all of our scavengers survive a night beneath the surface of Junkworld? Well, you'll have to read on to find out…
Megan Levens: I imagined this environment of the sinkhole and tunnels beneath as the carcass of an old structure or ship that had decayed under centuries of heavy garbage and environmental stress. The tunnels were either former corridors or giant ducts, and in some panels you can see that under the buildup of junk and dirt, they have some man-made structure to them.

One of the perks of drawing a Star Wars comic is that the alien characters' faces can emote in ways a prosthetic mask can't always do on screen, which really helps sell the impact of a punch on Gritz's face, or the fear in Seles' eyes when he hears the clicking of Maul's spider-legs.
What other horrors await you in Return to Vader's Castle? Cavan Scott offers some terrifying teases below:
"Tarkin's Imperial shuttle, which bears a registration number that has a special meaning for the actor who brought the Grand Moff to life."
"A creature design (brilliantly realized by Kelley Jones), which pays tribute to both Hammer Horror and Doctor Who's versions of Frankenstein's Monster."
"The pun-tastic title to issue three."
"My chance to return to Ventress at a slightly more settled period of her life than Dooku: Jedi Lost."
"A scene that was inspired by episode one of the latest season of Stranger Things (and drawn wonderfully by Nick Brokenshire)."
"The introduction of a new member of the Desilijic Clan brought to treacherous life by Nicoletta Baldari."
"B'omarr Monks!"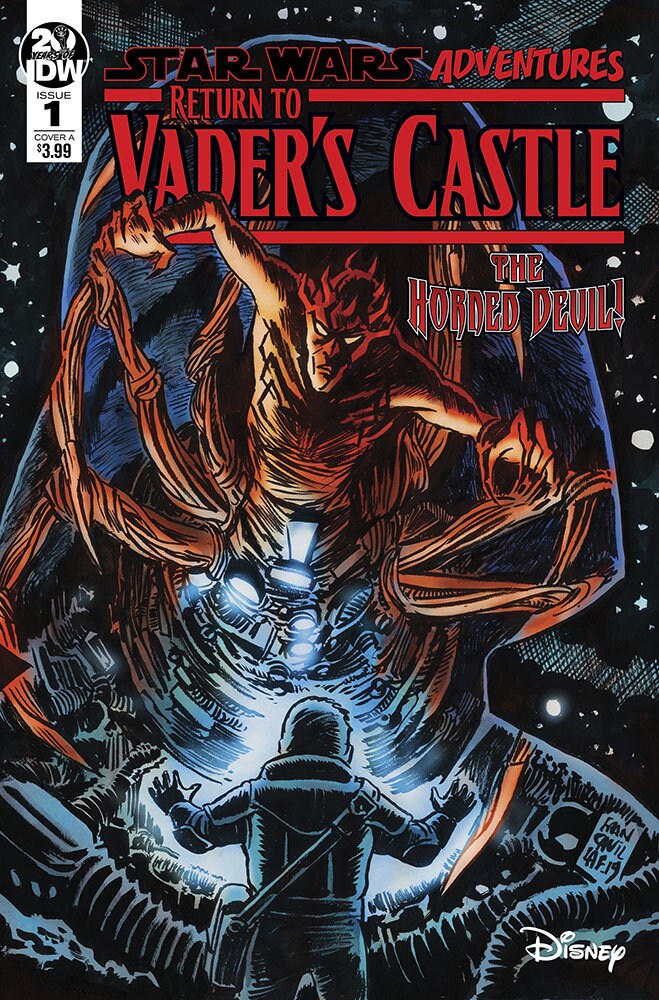 Dan Brooks is Lucasfilm's senior content strategist of online, the editor of StarWars.com, and a writer. He loves 
Star Wars
, ELO, and the New York Rangers, Jets, and Yankees. Follow him on Twitter @dan_brooks where he rants about all these things.
Site tags: #StarWarsBlog, #StarWarsHalloween