This Halloween, members of the creative team tell StarWars.com about some of their favorite pages from the comic book project arriving soon!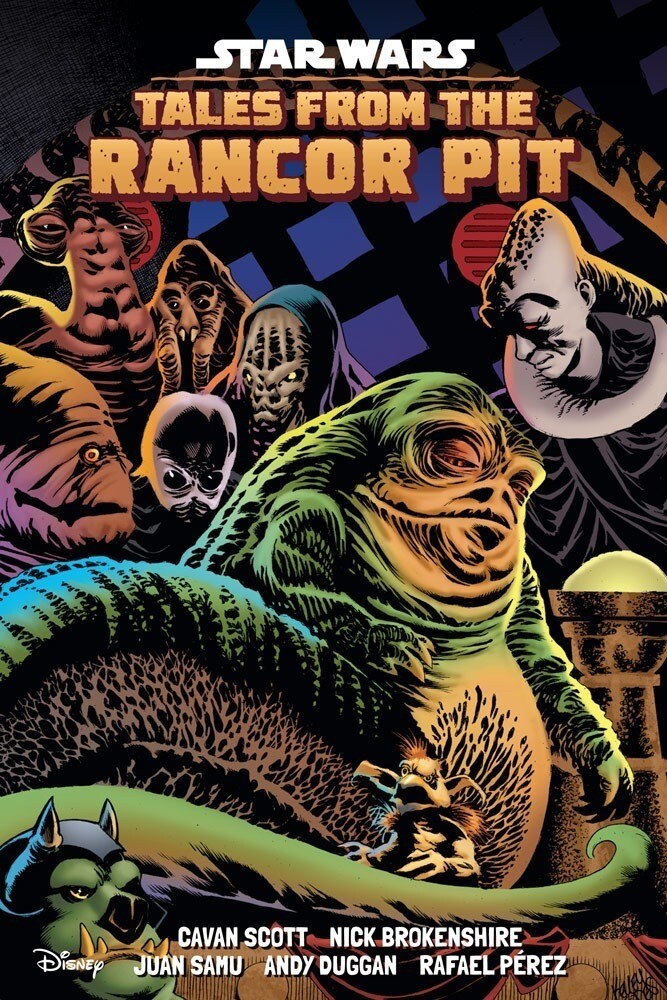 After spending several scary seasons inside the chilling halls of Darth Vader's castle, this year's galactic take on the Halloween season has found a new haunt: Jabba the Hutt's Palace.

More specifically, dangling over the trap door that leads to the rancor pit.
Writer Cavan Scott could think of no better setting to incorporate the fear factor of his previous titles and his affinity for the creatures and aliens of the original trilogy. Styled after the 1960s-era portmanteaus from Amicus Productions and other horror movie houses, the first Star Wars Halloween one-shot from Dark Horse departs from Mustafar for the second scariest place in the galaxy: the Dune Sea of Tatooine.
"There's a sort of a Pit and the Pendulum type thing going on there as well," Scott tells StarWars.com, although his main reason for the new locale was purely from his love of Star Wars: Return of the Jedi. "We've been to Vader's castle a lot in the last few years. And any chance to do anything Return of the Jedi I will take!"
This year's terrifying trifecta of tales includes a framing story illustrated by Nick Brokenshire as well as individual stories from three distinct eras of storytelling drawn by three different artists.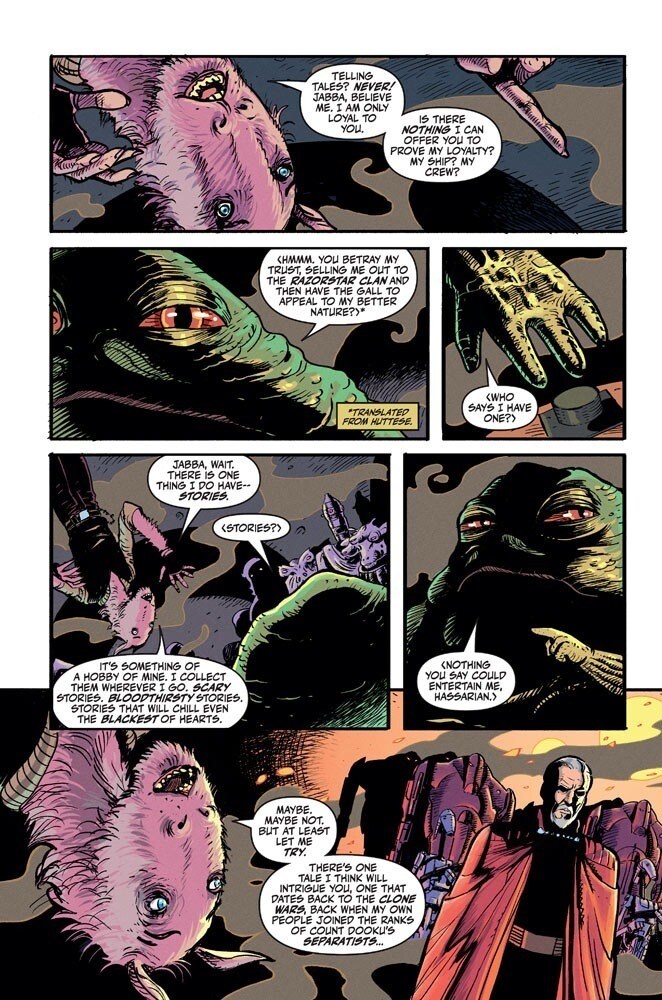 In "Ghosts of the Machine," Scott and artist Juan Samu take us back to the Clone Wars conflict for a story featuring the undead droids left strewn across the battlefield. "The idea of doing ghosts just really appealed to me, especially because I knew at some point I could get a phantom gonk in there," Scott says. "I had no idea how he was going to do that, but oh, I loved the result."

The tale follows a newly created separatist general who finds himself haunted by the ghosts of every droid he's sent into battle to date. "Looking back at those Amicus movies of old, they were horrific and they were funny," a tone that lends itself well to the shambling ghosts of battle droids, Scott says. And having worked with Samu on a Transformers comic, he knew the artist was more than up to the task of capturing the humanity in the robotic antagonists. "I knew what he could do with robots. I knew how much pathos he could get into them, so, it was a chance to really play to his strengths," Scott says.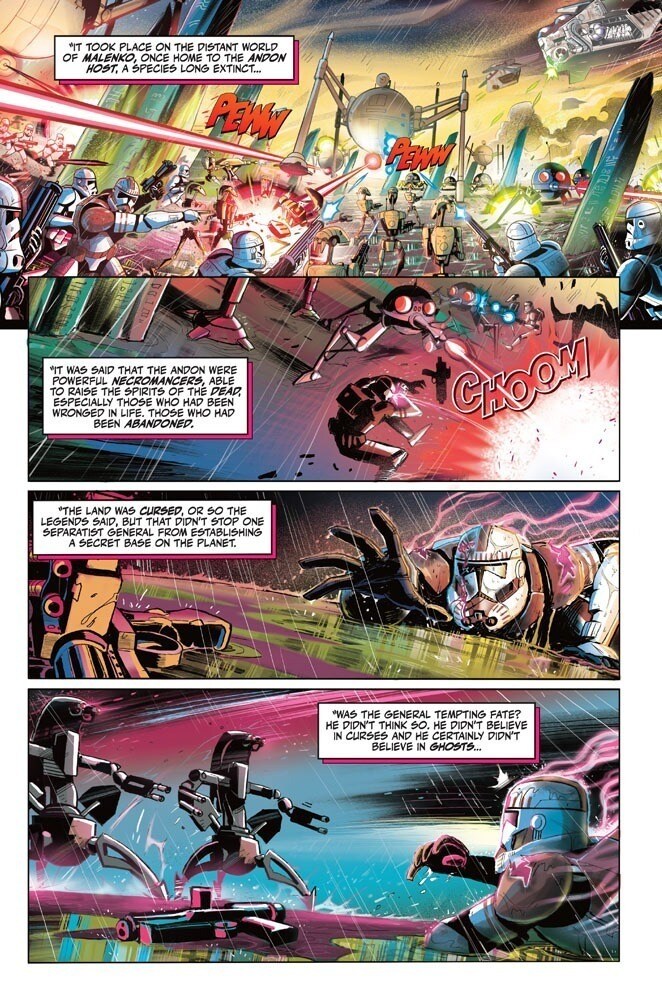 The general's rabbit droid was a particular bright spot for Scott. "With how much emotion Juan got into that little droid, I think you fear for him more than anyone else in the story. It's something I knew he'd be able to do and he just brought it in spades. It was brilliant."
"I love working with Cavan and I love working in the horror genre for younger readers along with the science-fiction elements," says Samu, a first-time Star Wars artist. "I get to really be stylized in the strange or scary moments while always keeping it believable for the audience and mix it with the Star Wars aesthetics and themes. I always want to make it respectable enough for the saga so that the fans can also enjoy it." That includes Samu himself. "This project blew my mind! I'm such a big fan of Star Wars. I loved the original trilogy as a child. In fact, I would be doing this all the time, if I could!"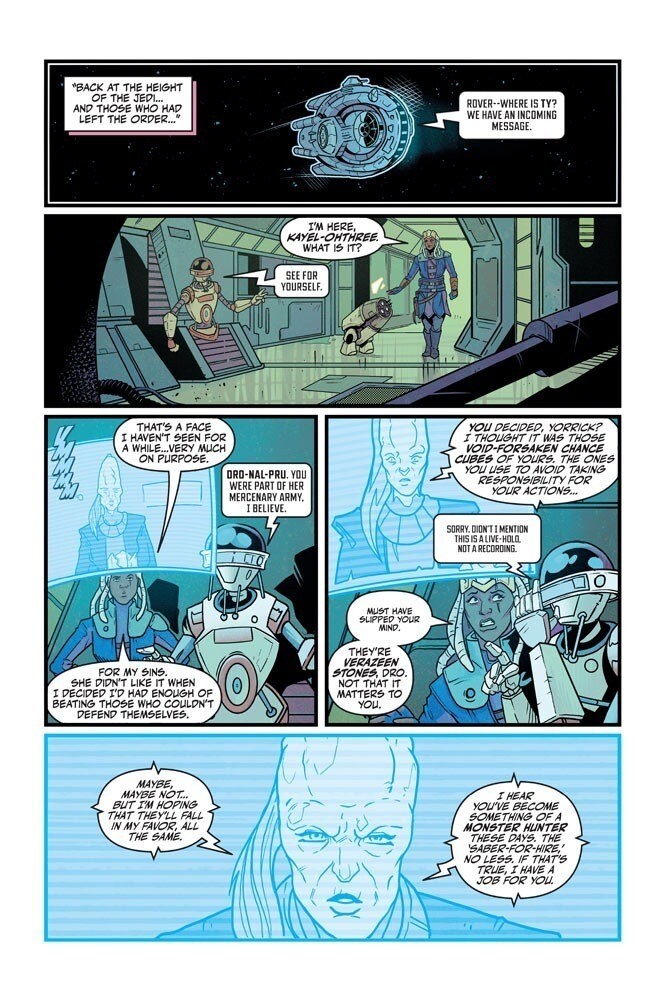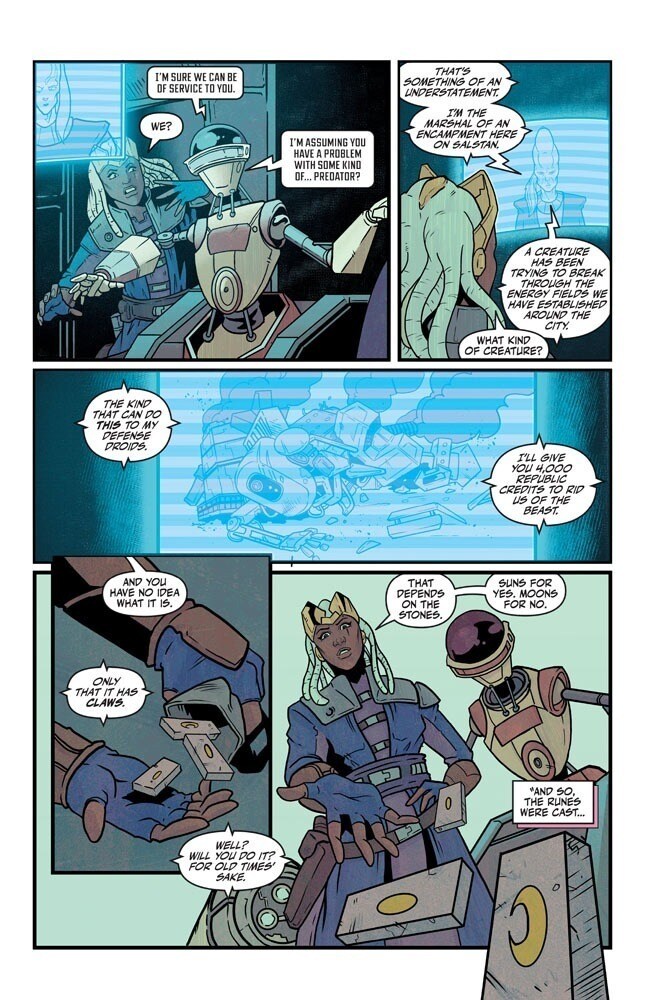 In "Undead of Alive," Scott and artist Andy Duggan take us back to the era of the High Republic to reunite with monster hunter Ty Yorrick. "I knew that every story needs to have a link to a new monster or an old monster, which is why Ty immediately came into it being our resident monster hunter," Scott says. "It's not only just a rollicking monster story, you know, there are more hints about who Ty Yorrick was before she became the of Saber for Hire that we know."
Getting the call to do the art for the tale was a pinch-me moment for Duggan. "Star Wars has always been a huge part of my life and what made me want to become an artist," he says. "A big part of that was growing up with the re-releases of the movies, and Dark Horse was where I went to continue the story, with books like Tales of the Jedi, Dark Empire and later Republic and Legacy. I considered Dark Horse Star Wars just as important as the films when it came to my love of the Star Wars continuing story. I'm so excited for them to be back with Dark Horse and this time I'm actually working with them? Dream come true!"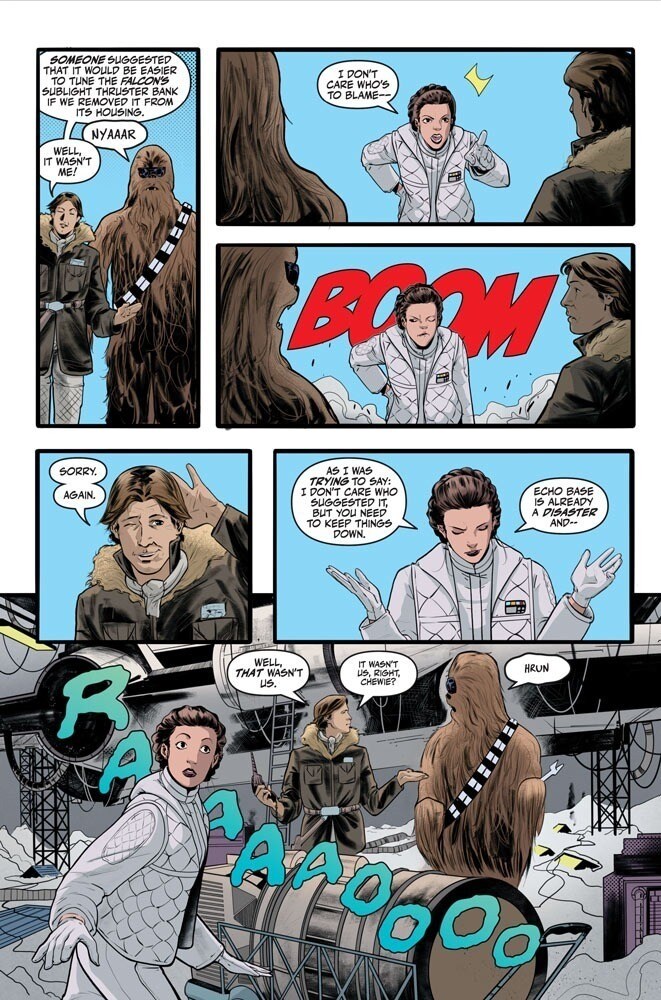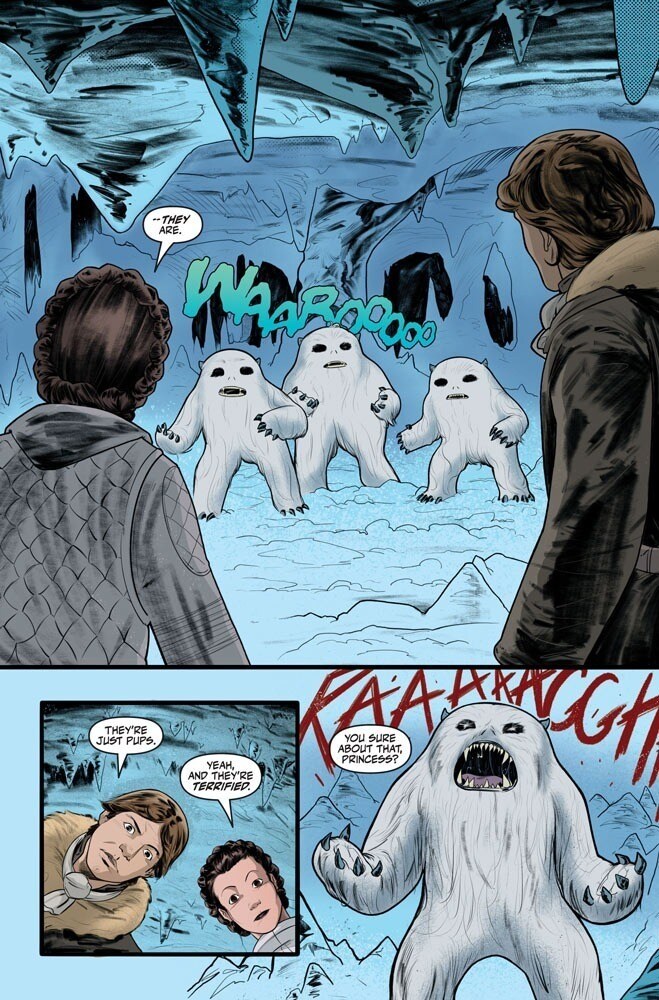 For the third tale, "In the Lair of the Dragon Slug," Scott and artist Rafael Pérez took a page from the Legends canon to create a new species of a previously seen creature, then built a story in the era of Star Wars: The Empire Strikes Back, complete with a litter of toddling wampas. The tale was part of Scott's original pitch for his first foray into Star Wars Halloween crossovers, Tales from Vader's Castle, more than five years ago.
"I love writing Leia, Han, and Chewie more than anything, and I don't get enough chance to do it," Scott says. "Especially at this point in their relationship, it's just really nice to see Han showboating and trying to make out he's far braver than he actually is." Plus, Scott incorporated tearful wampas, which he describes writing with a laugh as "me sitting in my study alone crying out as if I was a baby wampa and my wife coming running upstairs."
The whole thing culminates in the wrap-around story of hapless Captain Vaclav, dangling over Jabba's trap door, with art by Brokenshire.
"As a lifelong Star Wars devotee, I absolutely relished the opportunity to sneak around Jabba's throne room during the despicable doings," Brokenshire says. "I loved trying to capture the light, the smells and the oppressive atmosphere but most of all the looming presence of the mighty one himself. What a dastardly delight!"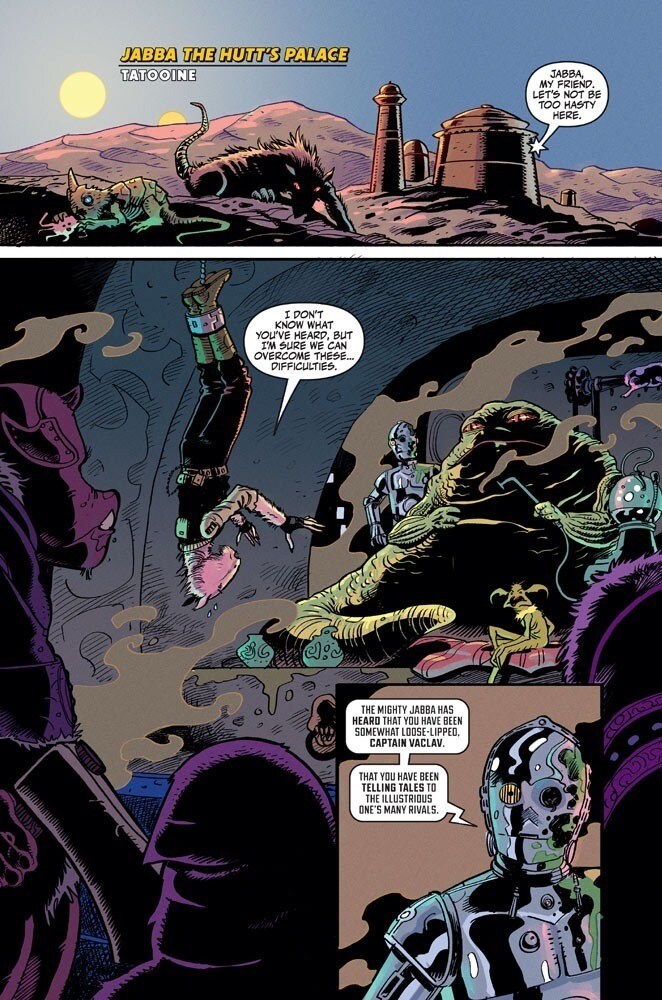 Brokenshire even amazed longtime collaborator Scott by sneaking in details and reference points. "Nick surprised me right on day one with the first page," he says, with an artistic interpretation of Jabba's latest protocol droid. "He was just described as an interpreter droid in the script. And he's come back and he's covered in green sludge. He's got an eye missing. He looks a bit like a zombie from the off. So you know, from the beginning you have that sense of the uncanny and the Halloween inspiration. And I loved it."
Pre-order Star Wars: Tales from the Rancor Pit, available at your local comic shop in the coming weeks and wherever books are sold later this year.