Turn off your mind, relax and float downstream with Dak...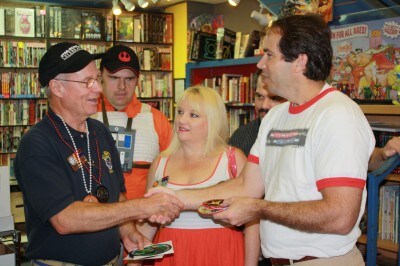 Last time he was in Lake Charles, Louisiana, Dak had just escaped from Kalist VI and was on the run from the Empire. Eastbound on a Greyhound out of Houston on US Route 90, he was making for an unintended rendezvous with a hurricane in the Big Easy. If you don't get part of the reference in the title, put on some cans, click on Levon Helm, turn up the gain, and as you read on, enjoy the ride.
It was a dark night in August '69. Camille was in the Gulf, bearing down. Dak and a little Bessie girl he once knew dismounted at a roadhouse bus stop. Inside, the local lads were at the pinball machines, making like wizards and Bally table kings. In this crowd, after several weeks in Mexico donning bandoleros and feeling nearly faded as his jeans, Dak figured he and his mate had alighted inconspicuously. But -- in retrospect, not surprisingly -- they struck the local gendarmes as faded bounty hunters and in a New York minute were invited to get right back on the bus and keep on truckin'.
This past June, Dak comes in by day, from the east, in the company of number two daughter and a Cajun sports reporter, Eric LeBlanc, who knows his way around and has connections from Lake Charles to Metarie. On the side, the mild-mannered LeBlanc runs the Sci-Fi Actor Appearances website. You see, it's he who arranged the bookings, setting up a Friday appearance in NOLA at Jason Grazulis' BSI Comics in Metarie. The weekend gig in Lake Charles is at the Southwest Louisiana Science Education Foundation's fifth annual BayouCon. The organizer, Justin Toney, is a media guy like LeBlanc. By day, he works for the local Fox TV affiliate. As I like to note, we all have multiple identities, and since Dak is in the company of journalists, he opts to put on his reporter's hat for the weekend.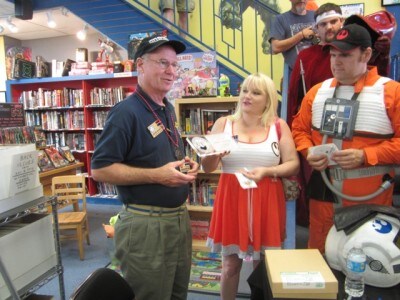 So LeBlanc picks us up at the airport in his modified Millennium Falcon, taking us first to Metarie, the first suburb of the Crescent City on the shores of Lake Pontchartrain, and Parran's, the local hot-spot for po'boys, before throwing us into the BSI appearance where Dak is again inducted, this time into the Rebel Legion. Among the presenters is the most attractive Karen Thomason, the PR person wearing an Ashley Eckstein Rogue Squadron sun dress. A beautician originally from East Texas, she sports one of Ashley's charm bracelets on her wrist. After the signing, Dak sits around with a score of fellow Rebels from Dagobah Base trading 'cane stories from Betsy and Camille to Katrina, before LeBlanc completes the load-out and speeds us westward on US I-10 through bayou country. Daughter naps in the back. She opens a wary eye on that 18-mile stretch of highway on elevated pillars between Lafayette and Baton Rouge. We're at warp speed over the Atchafalaya Swamp, the largest wetland/swamp in America, horizon-to-horizon bayou and bald cypress. West of Lafayette, she blinks at the sugar cane along both sides of I-10. The road kill is alligator. "Toto," she murmurs. "I've a feeling…."
Lake Charles is an unrestricted culture, somewhere between Texan and Cajun, with a whiff of the paranormal. (Just to the west over the Calcasieu River Bridge, the name of the town is Sulfur.) Old money is in petrochemicals. New money is in casinos. The rest of the locals are into cosplay, turning and facing the strange. Ch-ch-changes.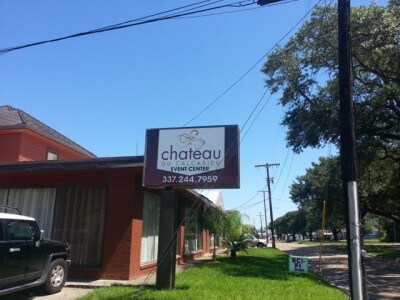 So here we are at BayouCon. The venue is another roadhouse of sorts, the "chateau du Calcasieu Event Center," a former furniture warehouse and showroom on Enterprise Boulevard. Though nondescript, it's known by local flat track roller derby fans as The Grindhouse where it's BYOB and your own chair. The local team is Lafitte's Ladies. Their motto comes from the "permission marketer" and "sneezer" with the "IdeaVirus," Seth Godin: "If it scares you, it might be a good thing to try." This weekend, I try sneezing at my table on the far corner of the track.
At the pre-con Friday night meet-and-greet, we rendezvous with Cousin Amanda, a transplanted New Yorker with Locust Valley lockjaw who has driven with Ginger, her petit chien, from Shreveport where she now lives. Amanda and Ginger are chatting up some NOLA Steampunks at their booth they call their base camp. They are the Steampunk Adventurers League of G.E.A.R.S., for Gentleman (and Lady) Entrepreneurs of Airship Reconnaissance and Sundries. Amanda fits. Led by SkyCaptain Christopher Hamilton, in this life Ken Sharky Braden, their number includes Cora Callahan, otherwise known as Erin "Jade" Crowley, and Prof. Jonas Richards, aka James Fail. Crowley, in this galaxy the lighting director at the Ellis Marsalis Center for Music in the Upper Ninth Ward, tells Amanda their motto: "We behave poorly, so you don't have to!" For Amanda, that's an invitation. Anyway, their schtick is that they sail on the Airship Sky Shark (you might call a Steampunk Millennium Falcon) as adventurers for hire, transporting goods or persons or doing jobs with which a proper lady or gentleman may not want to be associated. Amanda wants to be associated. In the course of their jobbing, they drink a lot of tea, avoid the law and report paranormal activities in the Crescent City to League W.A.T.C.H. Over a cuppa, we talk Star Wars which leads to a discussion on Boba Fett and John F. Strangeway, otherwise known as Steampunk Boba Fett. They know their stuff. For Mardi Gras, the trio cosplays as Steampunk Han, Leia and Chewie.
Next day, I'm on the flat track signing next to the highly entertaining Emmett Plant, Star Trek audiobook producer for CBS/Paramount and the audio engineer for Chronicle Books' How To Speak Klingon. I teach him how to say "He's no good to me dead" in Mandalorian. He's not paying attention. Four gorgeous aliens in full green body paint are all over him. They are Orion's Envy, regional celebrities who run a belly dancing studio in nearby Lafayette. Their manager, Jenni, who is volunteering at the con, notes my open-mouth interest and comes to my table. A sociologist and onetime Goth, she helps me with a comprehensive interpretation of the styles and music from the late '80s and early '90s. Streampunks, she observes, are happy Goths.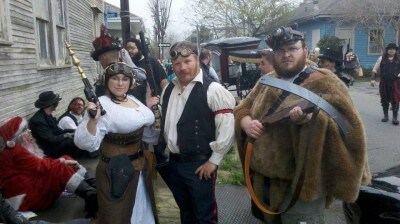 Along comes a 17-year-old fan with his Air Force father. I recognize an aura about him. Still thinking airships, I ask if he wants to be a pilot like his dad. "No," he replies, "I want to be a paranormal researcher." Later in the day, I see him sitting in the front row for a presentation by Bernadine Leblanc (no relation to Eric), the founder of the Louisiana State Paranormal Research Society. Bernadine is talking about her work documenting and scientifically proving the existence of ghosts. With her is her cousin who looks past me as we chat. He sees the spirit of my namesake Uncle John in his Welsh Guards uniform who was killed several weeks after Normandy. Uncle John wants me to know he's ok, I'm told. The con is warping into alternate realities. That whiff of sulfur is again in the air. I need food to ground me -- boudin, fried alligator and a Clif bar. I wash 'em down with Louisiana blue milk, an Abita Purple Haze. Behind me, a voice rhythmically intones, "Lately things just don't seem the same." I turn and face the strange. I see no one…but Dak still hears ya, Jimi.
John appeared as Dak, Luke Skywalker's back-seater in the Battle of Hoth in The Empire Strikes Back. He also appeared in the film substituting for Jeremy Bulloch as Boba Fett on Bespin, when Boba utters his famous line to Darth Vader, "He's no good to me dead." Follow him on Twitter @tapcaf.