This is what the popular kids flashed around in the 1970s and '80s.
How things change. Back in 1978, when the official Star Wars Fan Club was formed, the mind-blowing news that the Star Wars sequel was in production had just been announced. Flyers hyping the fan club promised news of fan events and conventions (none came until 1987 and the 10th Anniversary event). Star Wars on television consisted of the one and only showing of the Star Wars Holiday Special and guest appearances made by the the actors on a variety of TV shows. Del Rey had just released the second Star Wars novel, Splinter of the Mind's Eye, while Brian Daley was hard at work writing his magnificent Han Solo trilogy. No internet. No podcasts. Just one dozen iconic 12 backs. We had poster magazines and Marvel Comics, but then along came something that would soon become a big deal: Bantha Tracks.
Let's start this retrospective and take a look at some of the various items of clothing and decals that were available through the Official Star Wars Fan Club, starting with a T-shirt that any fan worth their salt will recognize immediately.
BANTHA TRACKS: CLOTHING
Official Fan Club Bantha Tracks T-shirt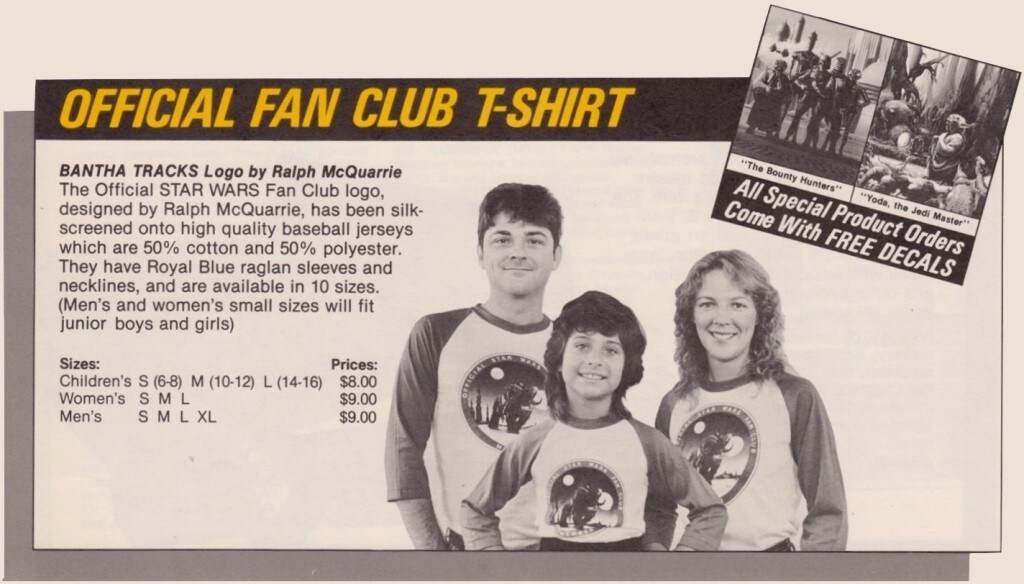 The Official Fan Club Bantha Tracks T-shirt was first made available in Bantha Tracks No. 15 back in February 1982. The issue centered around an interview with the late, great Ralph McQuarrie as he discussed his galaxy-building designs for the original Star Wars, his groundbreaking work on The Empire Strikes Back, and his excitement for what was then still known as Revenge of the Jedi. Fittingly enough, the T-shirt's iconic logo was designed by McQuarrie and its name was chosen by competition winner, Preston Postle, in issue No. 4 back in September, 1978.
For $7.00 to $8.00 depending on the size of the shirt plus postage and packaging, you could wear your love of Star Wars loud and proud for all to see. Sure, even back in 1982 there were hundreds of Star Wars T-shirts available, but how many let the world know you were a member of the official fan club? The design was resurrected for 2015's Celebration Anaheim and Rancho Obi-Wan's Rancho Recruiters campaign -- which in turn was based on the OSWFC's Rebel Recruiters, first seen in Bantha Tracks No. 10 back in November, 1980.
Luke Skywalker Rebel Fatigue Jacket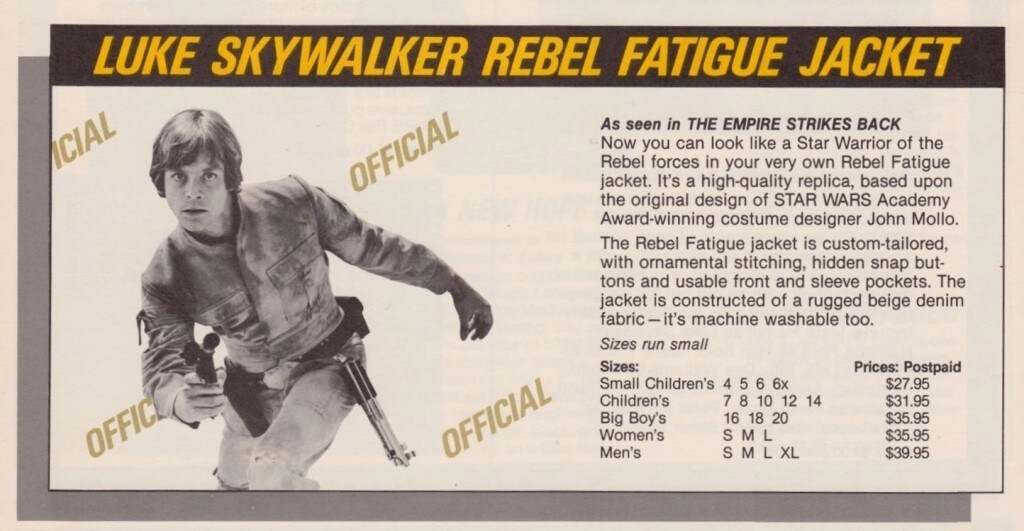 First appearing in Bantha Tracks No. 11 back in February 1981, this is the jacket that every kid wanted. Who could resist? "Now you can look like a star warrior of the Rebel forces in your very own Rebel fatigue jacket." Darn tootin' you could! It gave kids the chance to dress like their hero and save the galaxy. It cost between $23.95 - $35.95, came in sizes from children's S right up to men's XL, and best of all, it was machine washable.
Han Solo Utility Vest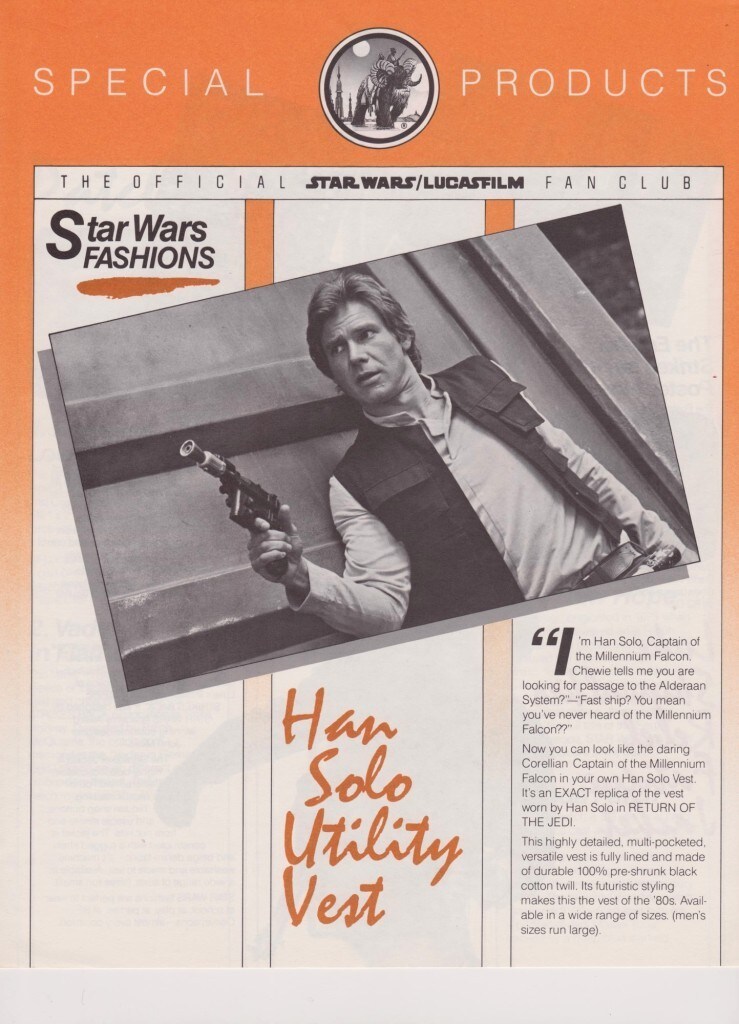 This first arrived in Bantha Tracks No. 25 and immediately hopped its way to the top of my Christmas list. Sadly, Santa didn't have much fashion sense as I never managed to get one, but anyone with $27.95-$39.95 could own this and be the coolest smuggler in the galaxy!
Temple of Doom T-shirt and Sweatshirt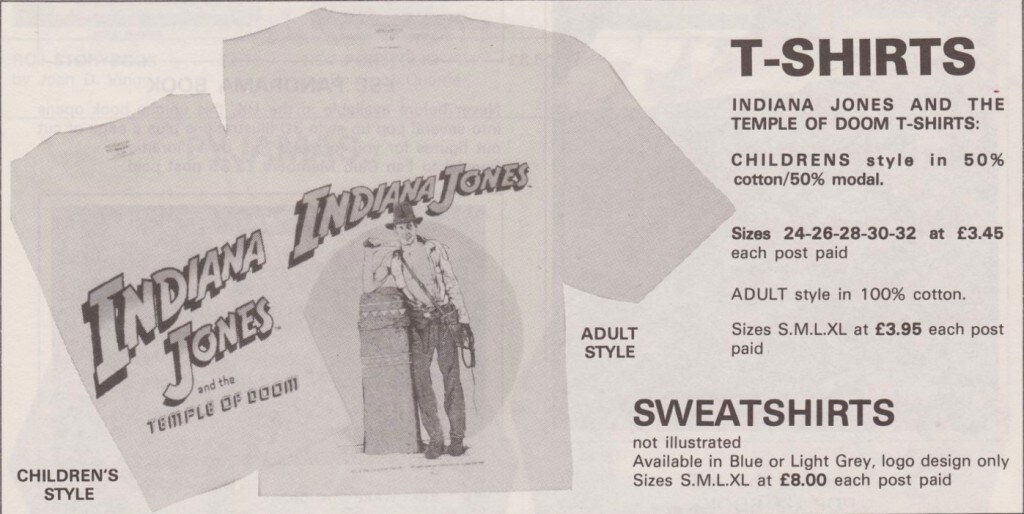 After the colossal success of Raiders of the Lost Ark, the world's greatest archaeologist swiftly made it into Bantha Tracks. With a large portion of the Indiana Jones crew having worked on Star Wars, it made sense to include updates and news on the production of the 1984 sequel, Indiana Jones and the Temple of Doom. Here in the UK, while Bantha Tracks was the same as it was in the States, the flyers and associated paper material often had different UK mailing addresses and offers -- one of them including Indiana Jones T-shirts and sweatshirts emblazoned with the now familiar logo.
The shirts went for £3.45 in kids sizes, £3.95 for adults, and £8.00 for the sweatshirt which wasn't illustrated -- another mystery for Doctor Jones to unearth...
Return of the Jedi Pyjamas and Dressing Gowns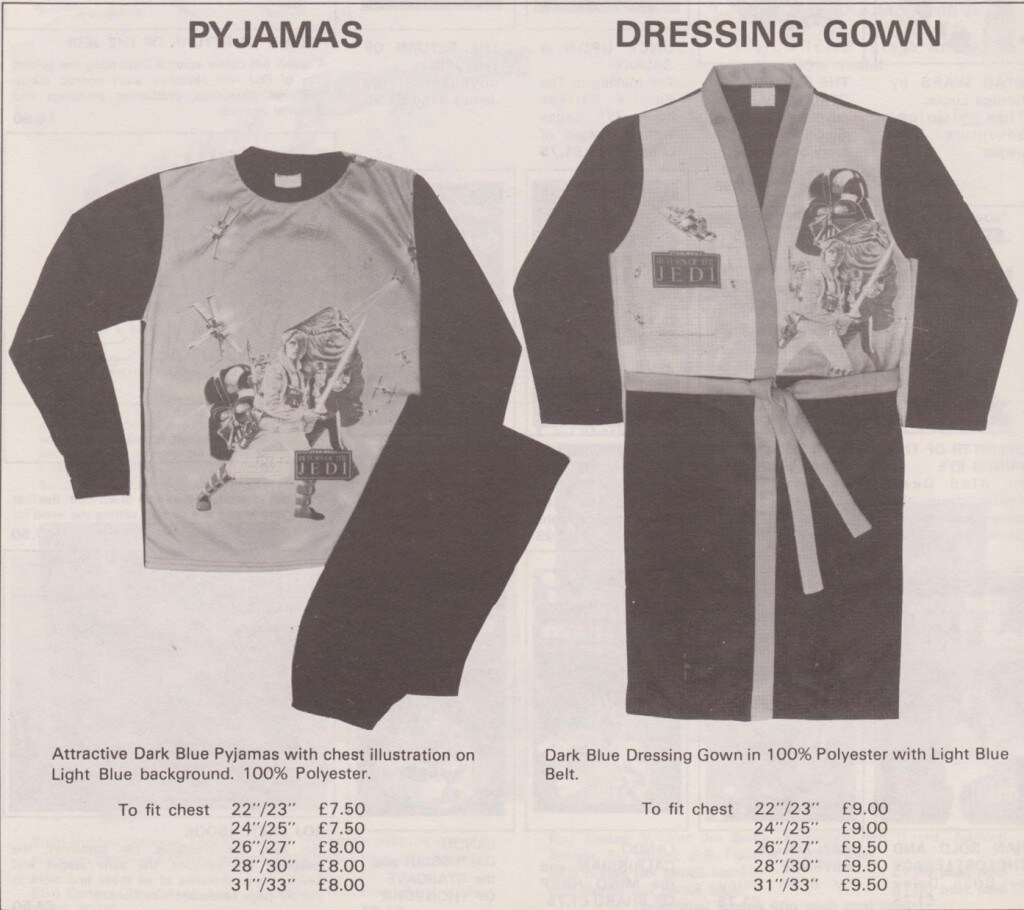 Also available in the UK was this very swish set of pyjamas and dressing gowns. With collage art from Return of the Jedi, this set of nightwear meant little Lukes and little Leias everywhere could rest easy knowing they were being protected by a Jedi, a smuggler, a Sith, and a Hutt.
BANTHA TRACKS: DECALS
 The Star Wars Decal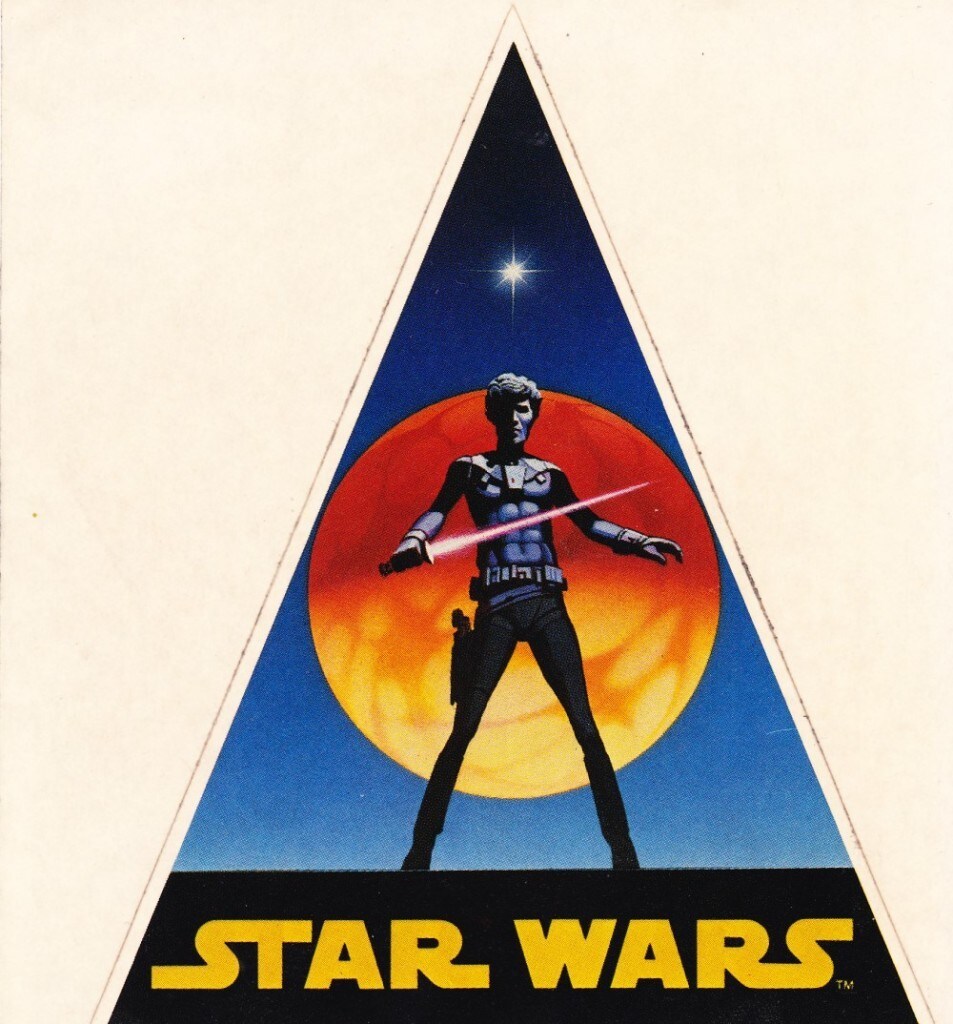 The quintessential image to identify Star Wars, as painted by Ralph McQuarrie and included in that very first fan club membership kit. Even then, back in 1978, LFL was keen to stress the sense of history and significance that not only the images bore, but that being a member of the fan club brought along with it.
Note the original title -- Star Wars -- which was changed to Star Wars: A New Hope by the time the patch arrived in Bantha Tracks No. 13 in August of 1981. Later releases bore the original movie title of Star Wars.
Luke Skywalker Decal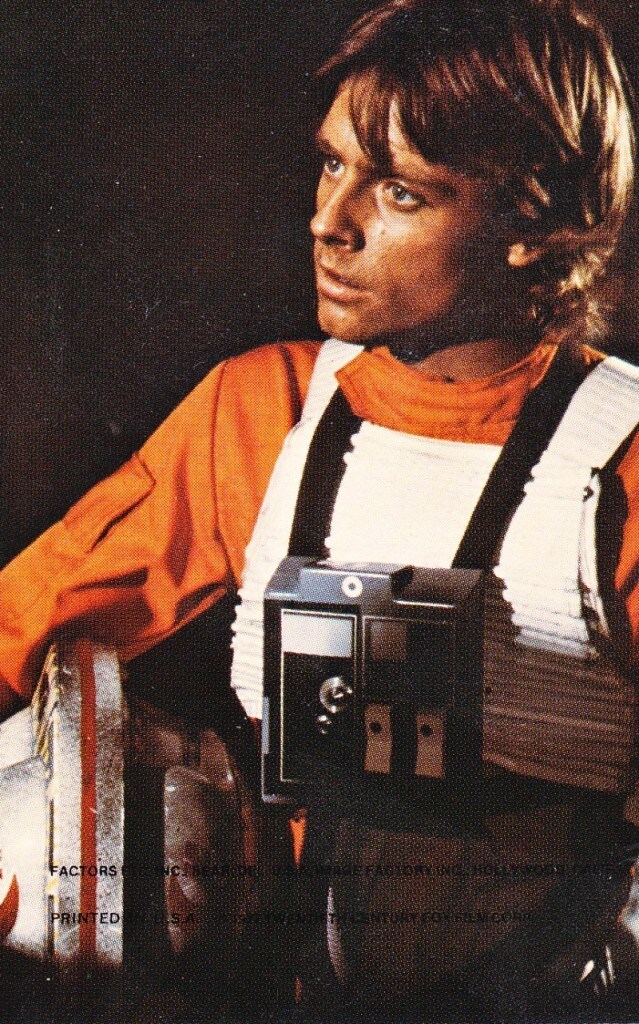 Also part of the first fan club kit, this image of Luke in his X-wing gear was designed to fit handily into your wallet or purse.
Bounty Hunters and Yoda Decals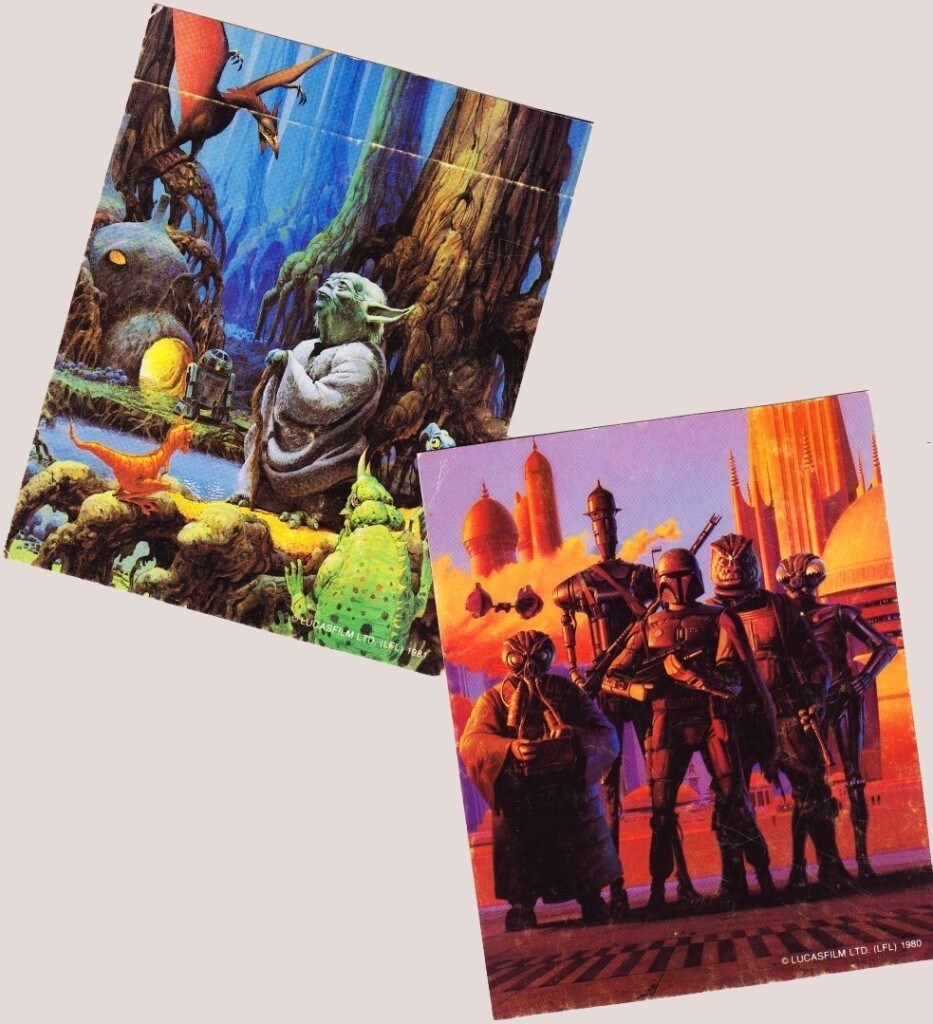 Bantha Tracks No. 15 also made free decals available with every purchase. Before they were only available as a part of the Empire membership kit, but now folks buying items on the order forms could own both the Yoda and Bounty hunters decals with beautiful art by Ralph McQuarrie.
Vader In Flames Decal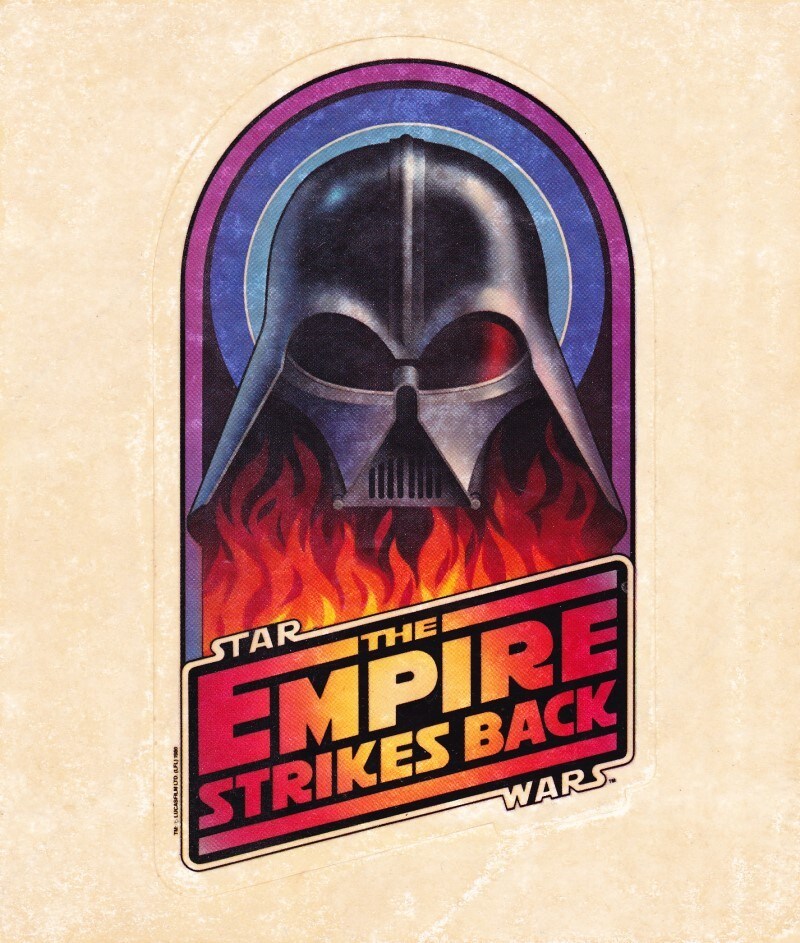 Part of the Empire fan club kit in spring 1980 and first mentioned in Bantha Tracks No. 8, this was a decal used as the cast and crew image for The Empire Strikes Back.
Yoda Decal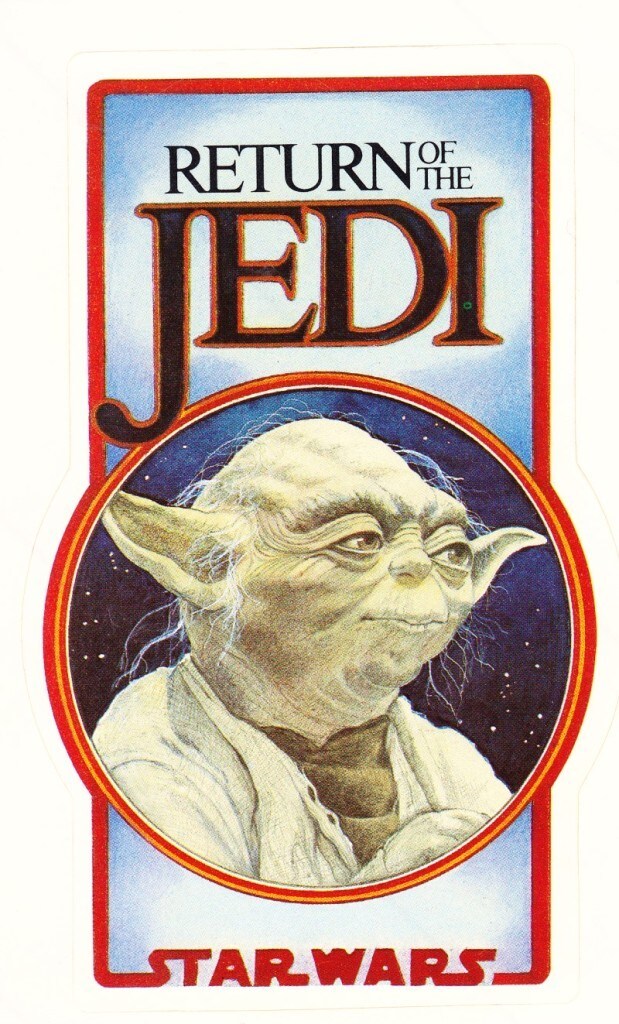 First mentioned in Bantha Tracks No. 19 as part of the Return of the Jedi membership kit, this cast and crew image of Yoda was only available as a Return of the Jedi patch, unlike its patch cousin which came in Return and Revenge variants.
Sticker Set Decal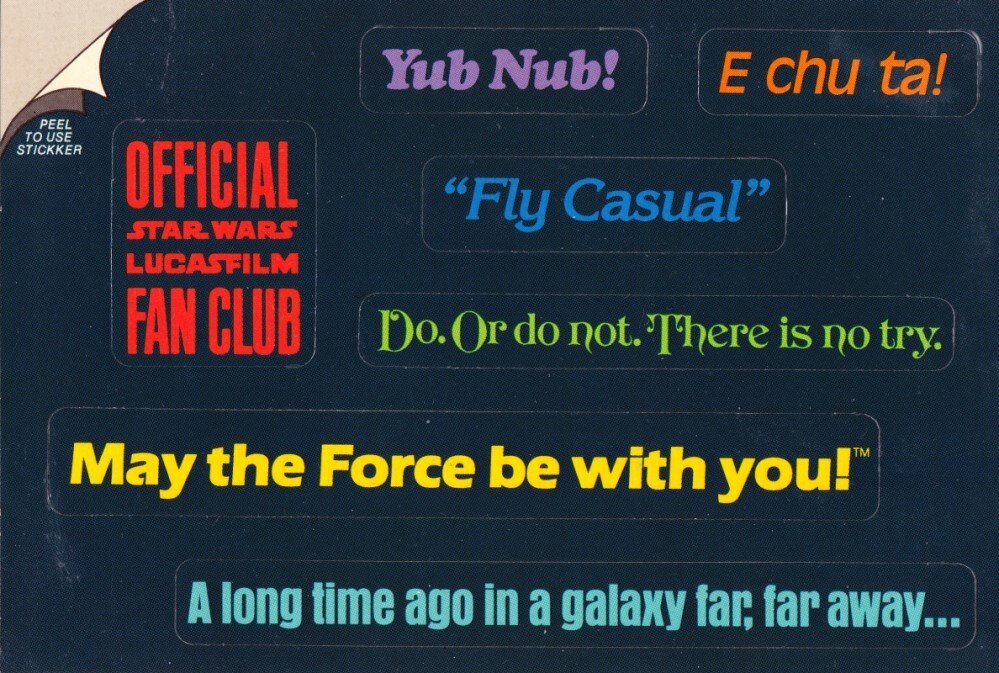 Summer of 1985 brought us a refresh on the fan club membership kit and the last original Bantha Tracks decals. First described in Bantha Tracks No. 29, the kit had a series of seven individual stickers with useful phrases like "Fly Casual!," "E chu ta!" and the ultimate Star Wars quote, "Yub Nub!"
Mark has contributed to Star Wars Insider for almost a decade, is the owner of Jedi News, writes for DeAgostini's Build The Millennium Falcon partwork magazine and the UK's largest free newspaper The Metro, and co-hosts RADIO 1138. He's an honorary member of the UK Garrison, a friend of the Rebel Legion, and when he's not talking, tweeting, or writing about Star Wars, he can usually be found sleeping where he'll most likely be dreaming about Star Wars.