Kevin Doyle, 501st stormtrooper, will walk 1,260 miles to raise funds and honor his late wife.
When the love of your life -- your soulmate -- dies much too young, you feel cheated. You go through all the stages of grief -- slowly -- until a powerful idea grabs you, shakes you and just won't let go. Which is why Minnesota artist, Star Wars fan and member of the 501st Legion Kevin Doyle is setting out on a 630-mile walk down the California coast to San Diego Comic-Con International dressed as a stormtrooper, and then back again.
The walk is a tribute to Kevin's late wife and muse, Eileen Shige Doyle, who passed away at the age of 45 in November 2012 after a heroic battle against pancreatic cancer. But it's also a fundraiser to keep alive her spirit, fanciful art, and giving nature through the production of gift bags using Eileen's art to be distributed to children fighting cancer.
The walk is scheduled to start the weekend of June 6-7 and end at Comic-Con on opening day, July 9. No, he doesn't have a ticket to the convention, which has been long sold out. So after a brief rest, he plans to turn around and walk back, for a total of 1,260 miles. The 501st will maintain a flow of information on its Facebook page and on Twitter with the hashtag #501MileWalk. His fundraising page is www.crowdrise.com/501MileWalk.
Eileen and Kevin met in July 2008. She was a 501st "handler" who helped costumed members get suited up, made sure they had refreshments, and took breaks when necessary. They had similar likes and temperaments and they connected on many levels. "I proposed to her in October 2009 wearing a fellow member's Darth Vader costume to try to throw her off, but she knew it was me," Kevin recalls. They married a year later.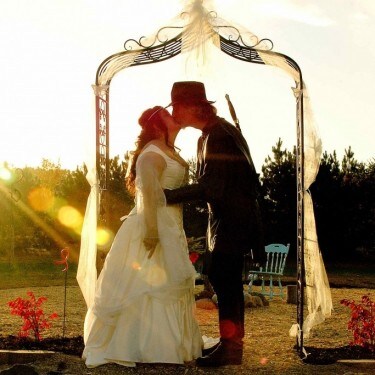 The couple -- Eileen now had her own stormtrooper costume -- attended 501st events and fan conventions together, set up at a joint table working on and selling their art. "Eileen was so popular at the shows," Kevin says. "She created so many adorable characters reflecting her own personality and fans of all ages always surrounded her with big smiles on their faces. They all seemed to consider her their friend, and she felt the same."
Kevin loved their near daily ritual of sitting side by side and drawing for hours, inspiring each other. "She was my guiding angel," he says. Kevin had known that Eileen was a cancer survivor -- she had spent nearly a year in the hospital after a large stomach tumor was discovered right after she graduated from high school -- but a year after they were married her cancer had returned.
"Having gone with my wife to all of her treatments, I realized what cancer patients have to go through, adults and kids," Kevin says. "She always took what she called her 'chemo' bag filled with her iPad, bandana, blanket, snacks and her sketchpad. And that's where I got the idea of doing something similar for kids."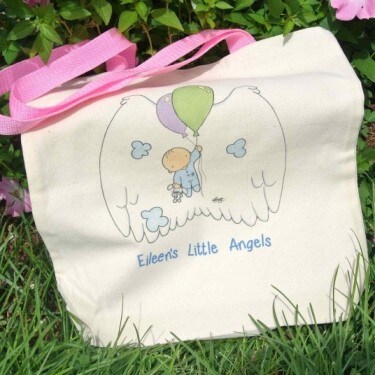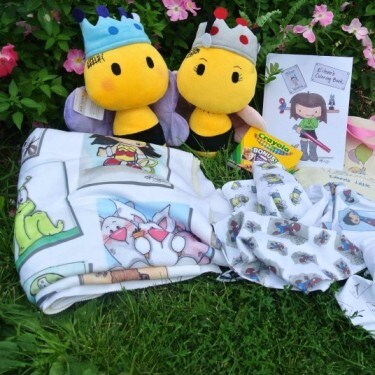 Kevin is forming a nonprofit called "Eileen's Little Angels" and hopes to raise at least $10,000 to $15,000 to kick-start his idea of always having a supply of "chemo" bags for kids filled with blankets, coloring books, plush toys, and small bandanas -- all decorated with Eileen's whimsical art. The bags, at least at the start with low production, would cost around $300 each to produce.
To raise the money Kevin was inspired by another member of the 501st, Scott Loxley, who has been walking around Australia for more than 400 days in his stormtrooper costume with a goal of raising $100,000 to help fund the new Monash Children's Hospital in Melbourne. By the time he completes his journey, he will have walked the equivalent of the distance between San Francisco and New York City -- three and a half times!
"Scott has been a tremendous inspiration and quite a mentor," Kevin says of his fellow stormtrooper with whom he's talked on the phone several times. Thinking about using a fan convention as a stopping point he googled the distance between San Francisco and San Diego -- and was amazed it was 501 miles. A sign! The extra 129 miles comes because of the meandering California Coastal Trail -- a walk actress Reese Witherspoon took on the Pacific Crest Trail in the 2014 film Wild.
Also, Kevin is starting out north of San Francisco, at Rancho Obi-Wan, home of the world's largest Star Wars collection. Kevin and I have been friends for nearly two decades. We first met at a convention in Minneapolis in 1996, my first year as Star Wars "Fan Ambassador," when I went around the country giving fellow fans an advance look at the Star Wars Special Edition films. He showed me some of his art, which I admired, and asked me who my favorite Star Wars character was. A few months later a package arrived with a wonderful pencil drawing of me as a smiling Obi-Wan with Luke Skywalker and C-3PO in the background. It still hangs over my desk.
Kevin has gone on long walks before for charity, although he concedes he'll be pushing himself this time. He's taking a three-wheeled "pet jogger" for his camping equipment, supplies, and first-aid and armor repair kits. As a concession to reality, he's eschewing stormtrooper boots for sturdy but comfortable hiking shoes. He expects to walk 25 to 30 miles a day, but has built in contingencies for bad weather or unexpected problems.
He hopes to meet other Star Wars fans along the way, raise money for the cause, and perhaps move on with his life without his loving partner. "I've struggled so much in the last two and a half years," Kevin confides, "even though I've had the help of family, friends and support groups. This will be my first real break from local reinforcement, surrounded by people and places that were familiar to both of us."
Kevin and I have talked about the walk for months, but I was shocked to hear just recently that he plans to walk back. That seemed punishing and I wasn't sure there would be sustained public interest. "You have to understand," he says quietly. "The walk down is for Eileen. The walk back will be for me. I'm hoping that will help me heal."
Steve Sansweet is chief executive of Rancho Obi-Wan, the non-profit museum that houses the WLPCoSWM. To find out about becoming a member or taking a guided tour, visit www.ranchoobiwan.org.