Twenty-six miles in stormtrooper armor for a good cause. Even the Emperor would be impressed.
One of the most attractive elements of the worldwide Star Wars fan community is its unerring ability to do good things. From the charity work of the 501st and the Rebel Legion to individual fans raising money for causes across the planet to Lucasfilm's associations with Make-A-Wish and Force For Change, the desire to raise both funds and awareness is hardwired into the fandom. Here in the UK that is no different. The UK Garrison of the 501st Legion recently donated £20,000 to charities nominated by its members, and that's just a portion of the money raised (and we're not talking puny Unkar Plutt quarter portions, either).
Jez Allinson, Royal Air Force officer and reenergized collector after seeing Star Wars In Concert back in 2009, decided that this year he was going to do something challenging and eye-catching. He announced that he would run the London Marathon in full stormtrooper armor. No small task. StarWars.com recently caught up with Allinson -- who is also set to appear at Celebration Europe's Star Wars Legion of Military Comrade panel -- to discuss his training journey, the big day itself, and being mistaken for Darth Vader.
StarWars.com: So Jez, whatever gave you the crazy idea of running 26 miles in full stormtrooper armor?
Jez Allinson: I'd completed a couple of charity runs in 2015 including the London Marathon, which I absolutely loved. So I thought I'd do it again, but I knew I'd need to up the ante in order to get people to sponsor me again. I needed to make it a challenge, and what could be more challenging than running it in stormtrooper armor? I chose to run for Make-A-Wish.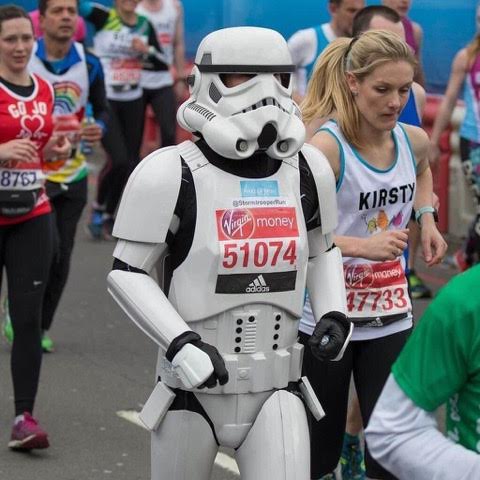 StarWars.com: Why Make-A-Wish?
Jez Allinson: They are an absolutely wonderful charity who grant magical wishes to children and young adults fighting life-threatening conditions. As a parent, I can only imagine how heart wrenching it must be for the mums and dads of these poor children to put on a brave face every day for the sake for their child, whilst they deal with continual hospital visits and medical procedures. Make-A-Wish make such a difference and I wanted to help them, so I set myself a fund raising target of £2000.
StarWars.com: So you had your charity in place but how did you get the costume?
Jez Allinson: I remember approaching you in July 2015 at Dave Tree's Farthest From vintage Star Wars show in Fordingbridge and asking if you'd be able to help me make connections with the UK Garrison. It was much later in the New Year that you and I spoke about it again. You went away and did some fact finding and put me in contact with Steve Buckley from the UKG, who has a retired TK armor which he has slightly modified for running, with the thigh pieces adjusted and trimmed. Steve was extremely generous and loaned me his armor for my training and the event and has been fully supportive ever since.
StarWars.com: Okay, costume in place, charity chosen. Now just the small matter of training for the run!
Jez Allinson: I set up the Just Giving and Facebook pages and started to train in the armor. It was in February when things really got going, as someone had filmed me running through my local village from their car, added music and a funny caption and posted it on Lad Bible, the social media viral group. This was shared on Facebook and other social media forums and it went wild. It had 1 million views in five hours and has since settled at around 2.18 million views. This brought extra interest. Radio interviews and local newspapers got in touch and, as such, my Facebook page got some much-needed extra publicity. My sponsorship was boosted by strangers who had viewed the film and decided it was worth donating a few quid. Someone from New Zealand sponsored me £100! In addition to the standard Just Giving page, I've done tin collections, bucket collections. My wife and my twins held a cake sale and I've held a prize draw.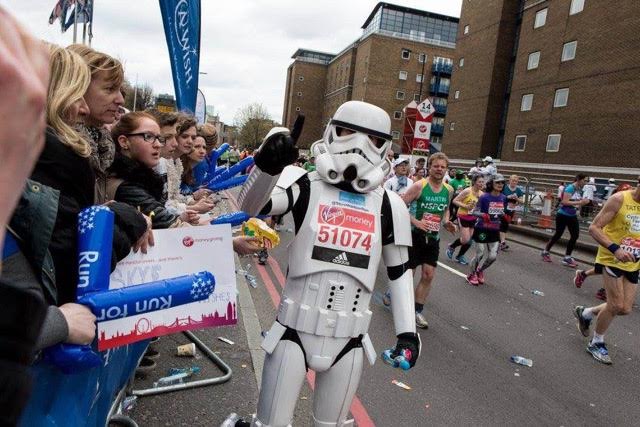 StarWars.com: Why was it necessary to do your training in the armor, given that you had 26 miles ahead of you in the suit?
Jez Allinson: The purpose of the training in costume was two-fold. The first was to raise awareness for the run and to bring in as many sponsors as possible. The second was to figure out where the suit was going to cut, rub, and chafe, and believe me it did!
As a dry run on the 3rd of April, I ran in the Reading half Marathon as a warm up which was great fun but extremely hot!