In Star Wars, romance means a kiss inside a space slug and changing the fate of the galaxy.
Valentine's Day is approaching, and love is in the air -- whether you want it to be or not. Expressing mushy sentiments may not be for everyone, but even those with a heart as cold as a crisp morning on Hoth can usually appreciate romance. Stories set in the Star Wars universe are often fraught with danger; a backdrop of endless battles and seemingly constant war doesn't exactly set the scene for love. However, the perilous times make any slice of happiness that much more precious. In no particular order, here are seven of the most romantic moments in the films, animated series, books, and comics.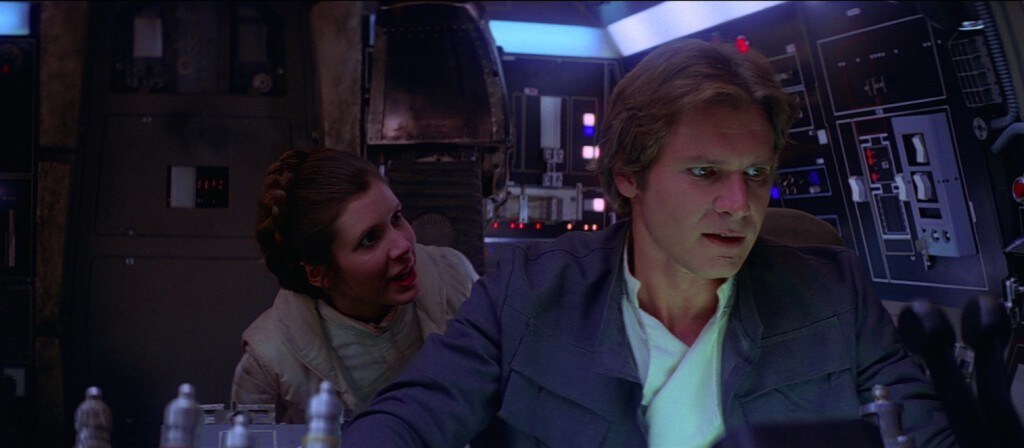 1. Love on the Millennium Falcon
I said this list wasn't in any particular order, but let's be real. Han and Leia take home the prize for the most swoon-worthy moment of all with their first kiss in The Empire Strikes Back. All their flirting and tension culminated in a setting that was far from romantic. Han and Leia were working to get the Millennium Falcon back into flying shape, one thing led to another, and they kissed and became the best couple in the galaxy.
2. An Unlikely Development
Dark Disciple brought together Quinlan Vos and Asajj Ventress. What began as a no-nonsense business interaction transformed and led to something else. They were broken in different ways and helped heal each other. Their relationship took a turn when Quinlan told Asajj he was willing to leave the Jedi Order in order to be with her. After Asajj agreed, Vos kissed her hand and pressed it to his heart. Awww.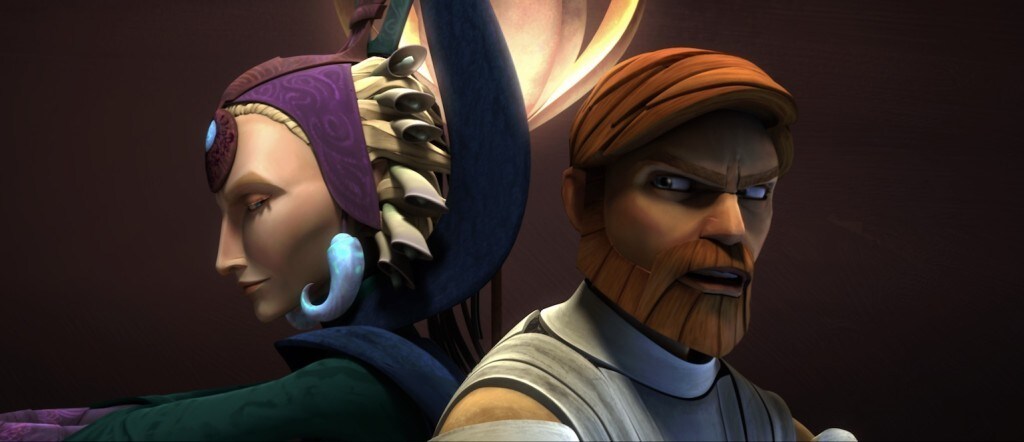 3. Not Quite Unrequited
Star Wars: The Clone Wars showed us another side of Obi-Wan. He struggled with the whole forbidden attachments problem, too. He had a strong connection with Satine. She confessed her feelings when she was kidnapped by Merrik in "Voyage of Temptation" and told Obi-Wan she'd loved him since he first came to her aid many years ago.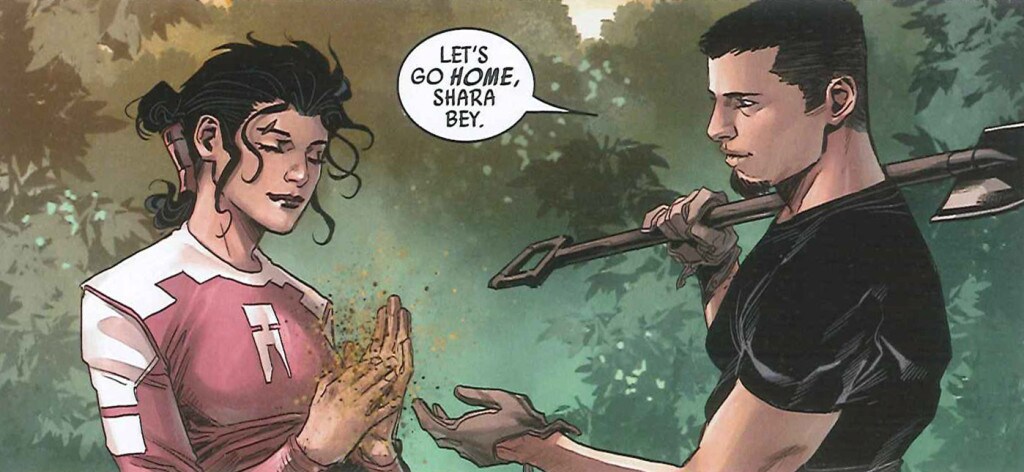 4. Starting a New Life
We got to see Poe Dameron's parents interact before the release of The Force Awakens, as the comic book Shattered Empire introduced us to Shara Bey and Kes Dameron. The married couple fought with the Rebel Alliance, Shara as a pilot and Kes as a soldier. After the Battle of Endor and other missions that kept them apart, Shara and Kes settled into a new home in a colony on Yavin 4. One panel in particular featured Kes reaching out his hand and said, "Let's go home, Shara Bey." It was a simple but incredibly sweet gesture.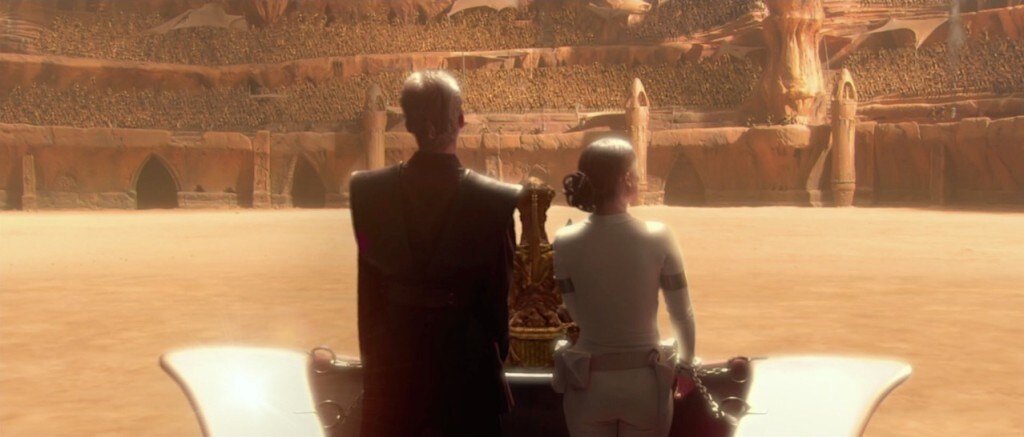 5. Under the Threat of Death
Anakin and Padmé's relationship was tumultuous to say the least; it started and ended with drama. Anakin made his affection for Padmé clear in the beginning of Attack of the Clones, but she tried to ignore his advances and to stifle her own emotions. She couldn't keep them in any longer when they were faced with the prospect of death in the Petranaki arena and told Anakin she truly, deeply loved him.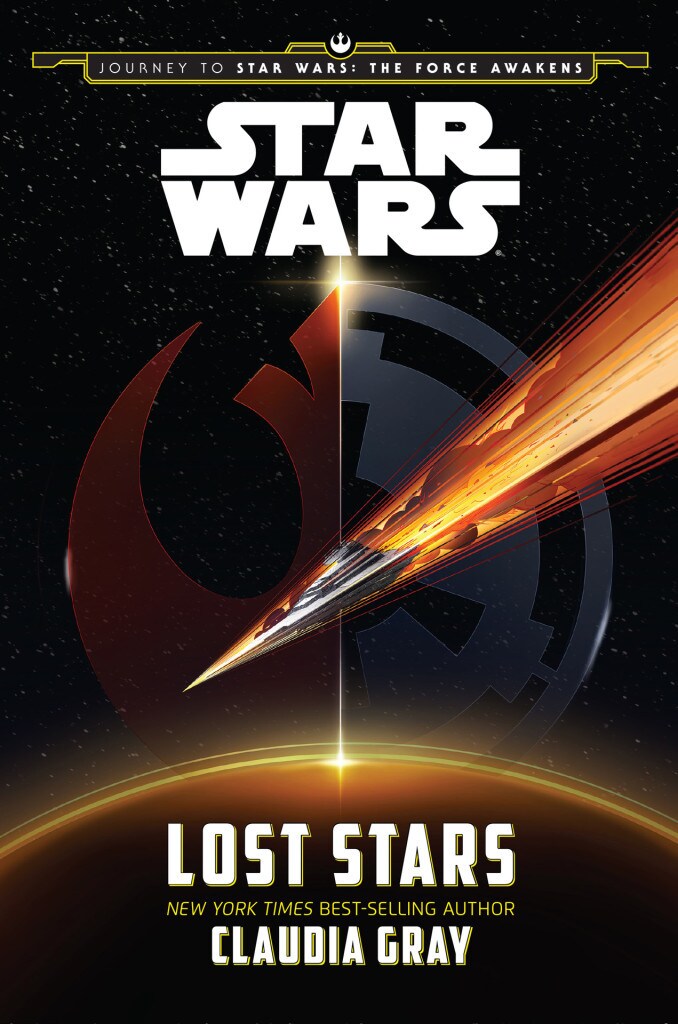 6. Going Against Allegiances
The very existence of Thane Kyrell and Ciena Ree's relationship in Lost Stars is romantic. The duo grew up side by side, longing to join the ranks of the Empire. Eventually, their beliefs diverged with Thane on the side of the Rebellion and Ciena remaining loyal to the Empire. They didn't let war tear them apart, and Ciena went above and beyond by hiding Thane from her Imperial cohorts.

7. A Warm Embrace
Romance comes in different shades. There's the exciting rush of first getting to know someone and a deeper connection that can only come with years and years together. When Han hugged Leia at the Resistance base before leaving for Starkiller Base in The Force Awakens, it was the latter sort of experience and it was touching.
Which romantic moments would you add to the list?
Amy Ratcliffe is a writer obsessed with Star Wars, Disney, and coffee. Follow her on Twitter at @amy_geek.