See the results of our Force Friday II weekend mission -- featuring photos with augmented-reality BB-8, Kylo Ren, and more.
Force Friday II gave Star Wars fans their first looks at merchandise from The Last Jedi. We hunted for porgs, we picked up books with history for characters such as Leia and Phasma, and we made room on our shelves for collectibles. Those of us who participated in Find the Force, an augmented reality (AR) scavenger hunt, did more than snag new products; we had the opportunity to score up close and personal encounters with 15 different characters -- including some we'd never seen before. Retailers participating in the event hosted graphics displaying the Find the Force logo. Scanning the image with the Star Wars app led to some joyful and sometimes scary meetings with faces from The Last Jedi. I had a few run-ins...
Friday
I decided to ease into my Find the Force scavenger hunt with a stop by Build-A-Bear. Though I was surrounded by cuddly toys, I was confronted with an intense First Order stormtrooper executioner. I barely made it out of the store in one piece.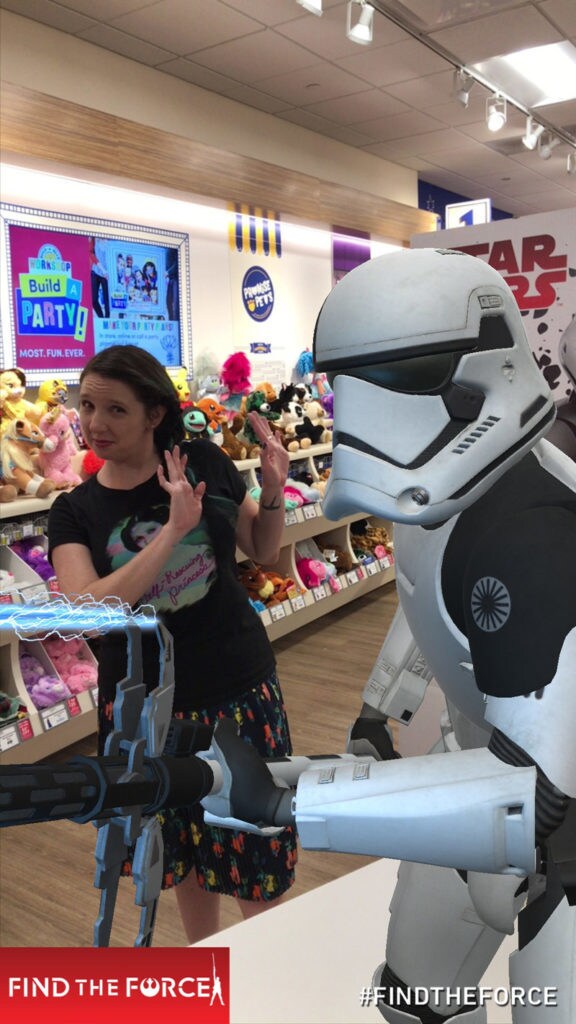 Next, I went to the Disney Store. Once I pulled myself away from watching The Last Jedi trailer on the shop's big screen, I got to work. This time I was bound to see a friendly face, right? Not quite. I met BB-9E, a First Order astromech unit. I gave him a stern talking to.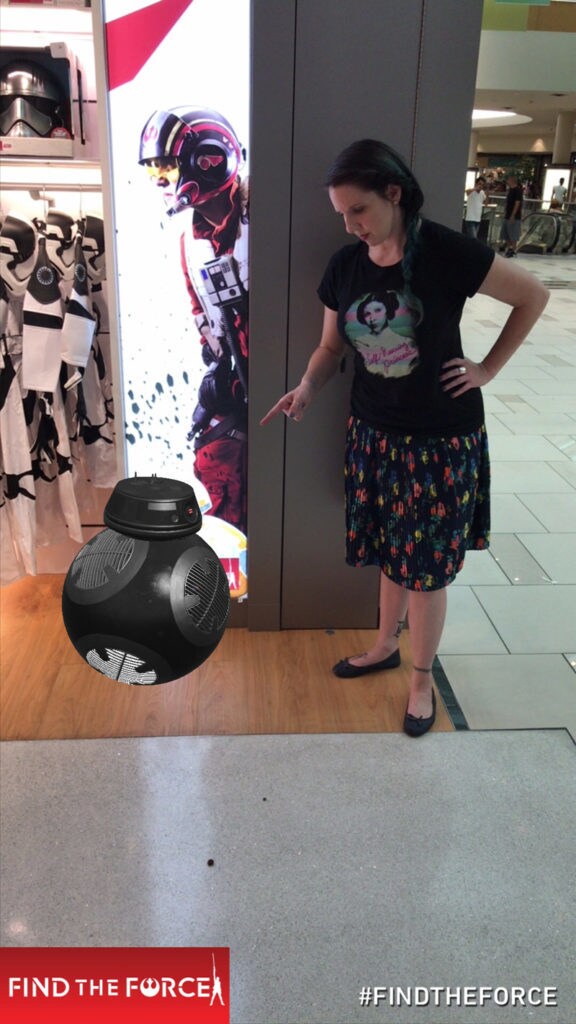 With my next scan, the situation got even more dire. I found one of Supreme Leader Snoke's elite Praetorian guards. I did my best to look tough.
The Disney Store was a hot spot, so I decided to give the place one last look in hopes of locating an ally. Success! I was all smiles over this little Resistance droid, 2BB-2.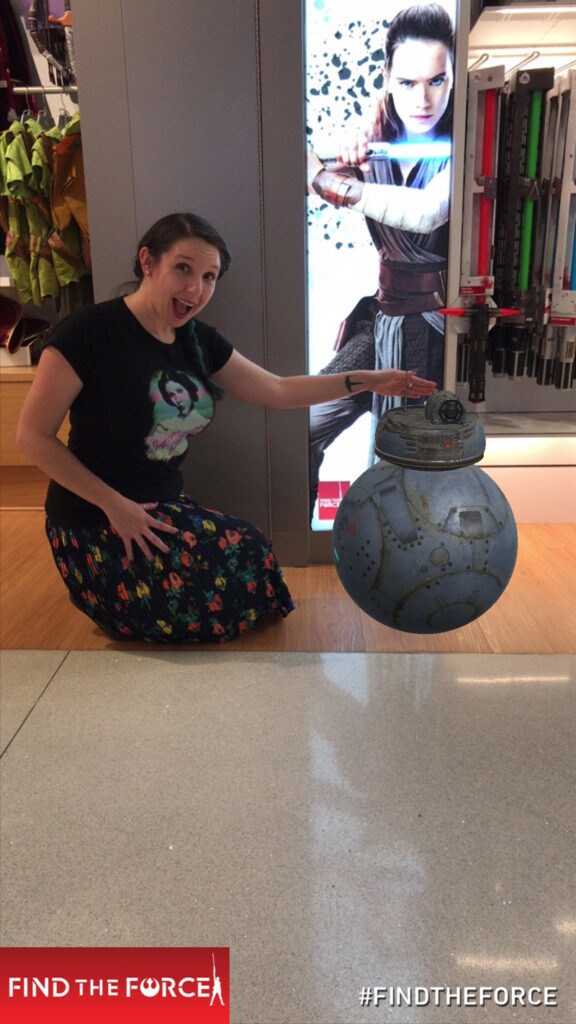 I continued my search for the final character of the day and got lucky at Hot Topic. Greeting Chewbacca made my day.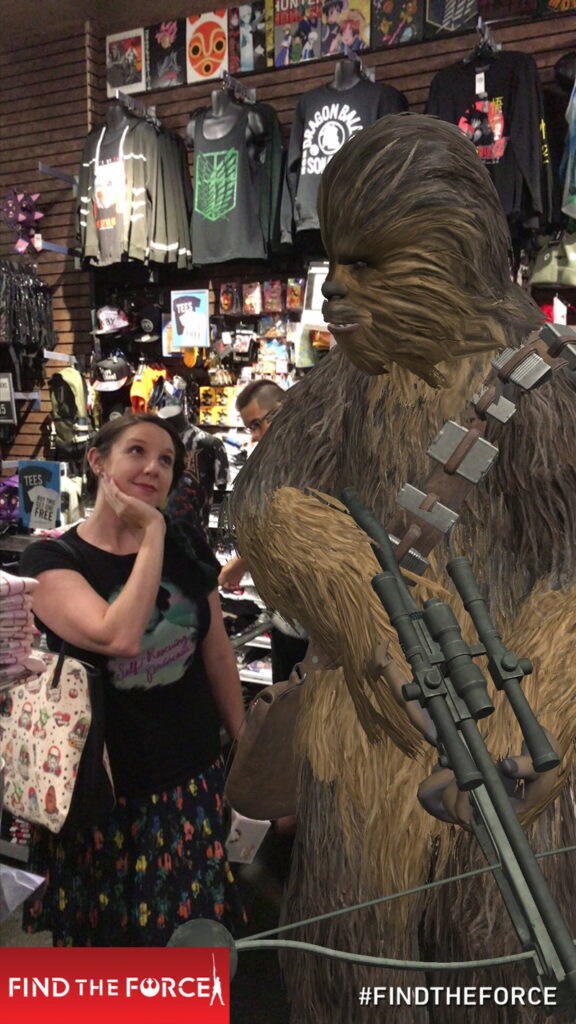 I like that Wookiee. Don't tell Maz.
Saturday
Inspired by my victory on Friday, I took myself to Toys "R" Us in hopes of more Find the Force wins. I'm pleased to report I nailed it. However, I did have to start my day by listening to C-3PO drone on about my poor manners.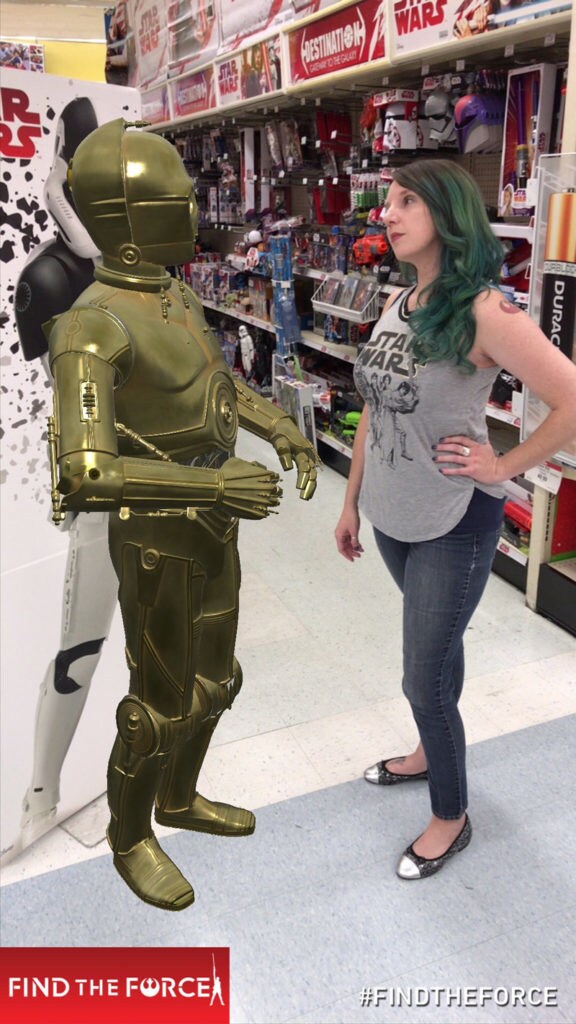 Then, Kylo Ren frightened me. He might have been a hologram, but it was still enough to make me nervous.
The situation improved momentarily when I found my girl Rey. She was in the middle of a lightsaber battle, but I'm sure she didn't mind my fangirl moment.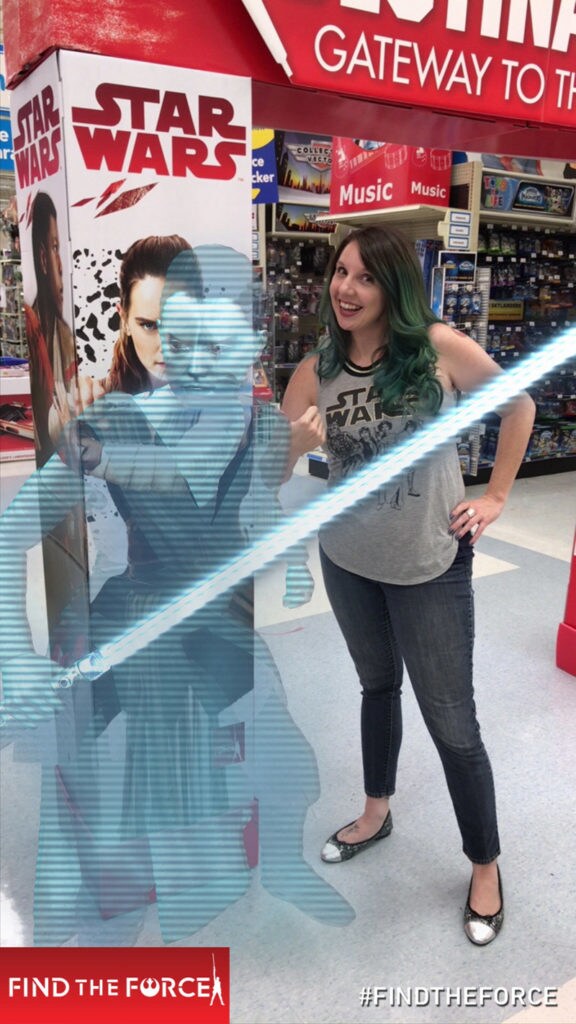 After a long walk around the store considering the merits of all the toys around me, I stumbled upon another Find the Force graphic. It was then that I met the original astromech, R2-D2. He told me all the secrets about the upcoming films, but my lips are sealed.
I didn't have the words to tell BB-8 how much I appreciate him, so I sat down beside him for a chat.
Sunday
Short on time with the clock ticking down, I dropped by my local Target to see who or what I'd find. Imagine my surprise when I walked into none other than Admiral Ackbar. This time it wasn't a trap.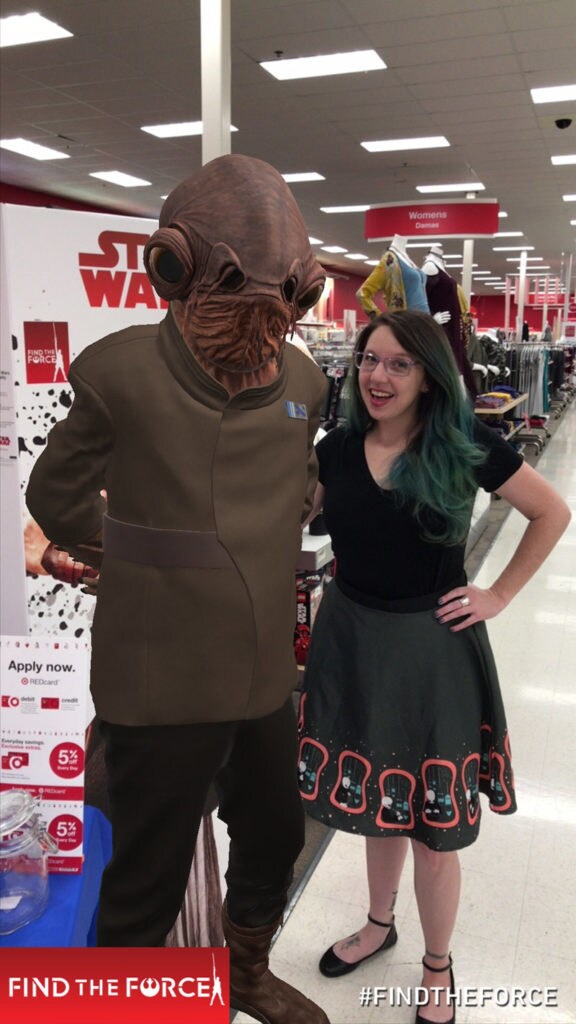 Then, I had a serious discussion about possibly questionable business with Maz Kanata.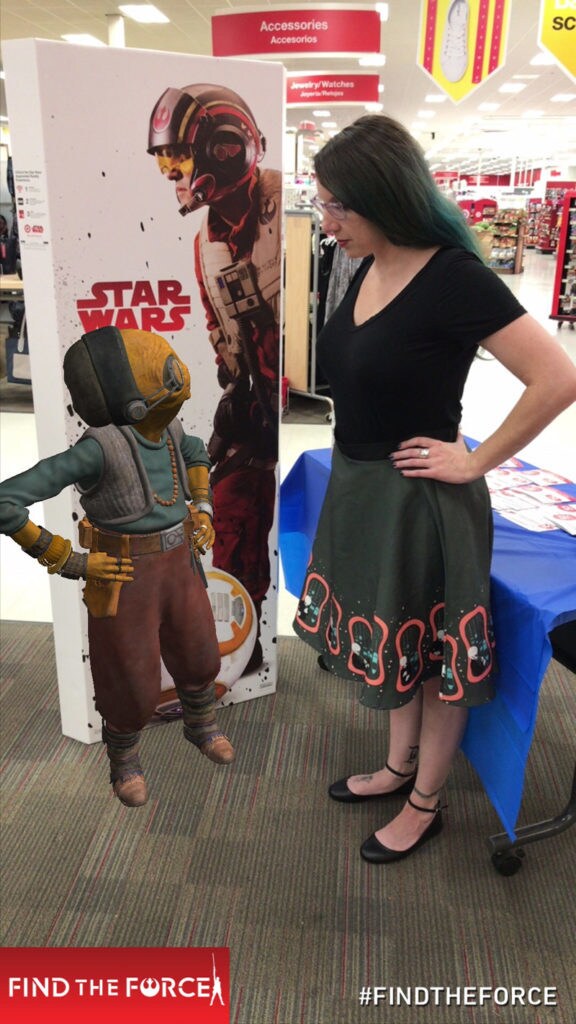 Before I launched back into hyperspace, I discovered porgs! I couldn't hug them, but I like to think I managed to express my adoration of them.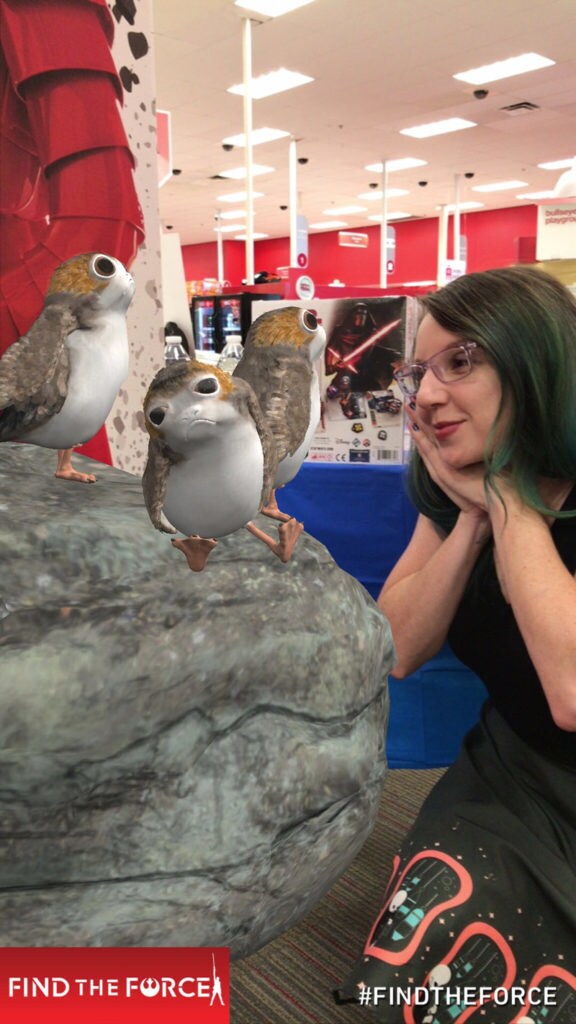 I finished Force Friday II weekend by seeing John Williams conduct the Los Angeles Philharmonic orchestra at the Hollywood Bowl. While I was there, I was able to cap my Find the Force mission with the ultimate find. I pointed my phone towards the sky above the Hollywood Sign and found an Imperial occupation.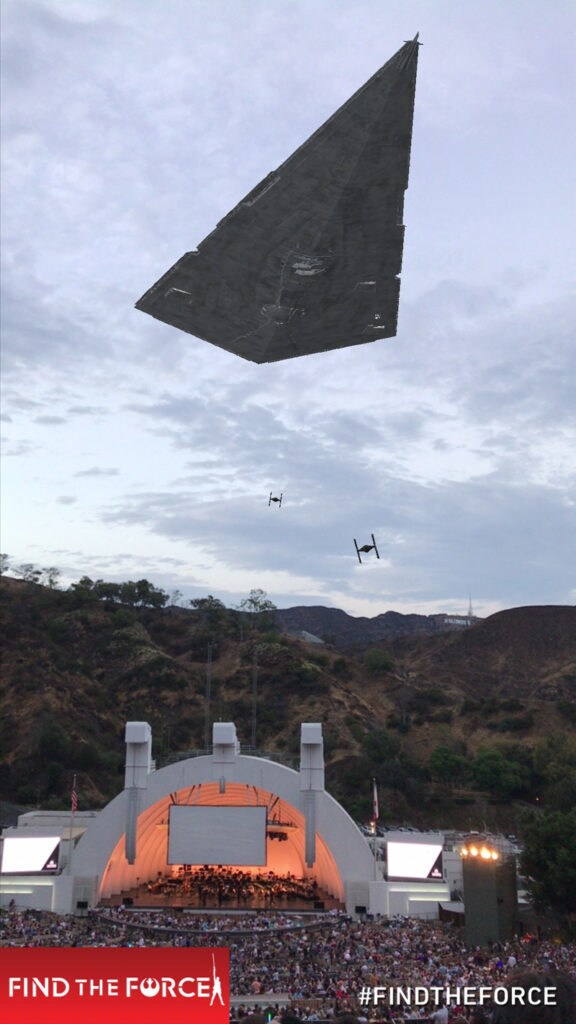 It turns out they were hanging around for "The Imperial March" encore.
Did you participate in Find the Force and complete the scavenger hunt to collect all the coins? Set your coordinates for the comments and tell us about which character you were most excited to meet, and remember to share your AR photos using #FindtheForce!
Amy Ratcliffe is a writer obsessed with Star Wars, Disney, and coffee. Follow her on Twitter at @amy_geek.