Get a sneak peek at some new items arriving in our galaxy on Force Friday II!
New Star Wars products -- including many inspired by Star Wars: The Last Jedi -- hit stores on Force Friday II. And if you're wondering what you might find, fear not: StarWars.com has the intel you need. Check out the guide below to see some of the toys, clothing, and other Force-powered items arriving in our galaxy tomorrow!
Bioworld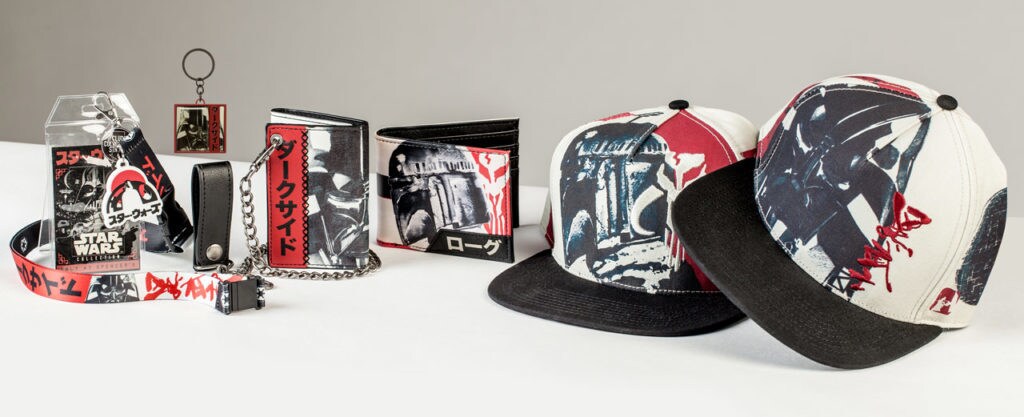 Star Wars Collection, exclusive to Spencer's.
Campbell's Star Wars: The Last Jedi: Campbell's is celebrating Star Wars: The Last Jedi. Collect the new villains and heroes from the First Order and the Resistance including Rey, Finn, BB-8, Captain Phasma, and the Praetorian Guard as the perfect addition to your Star Wars and Campbell's collection.
Rebel Insignia Cufflinks: Available at Nordstrom and Nordstrom.com.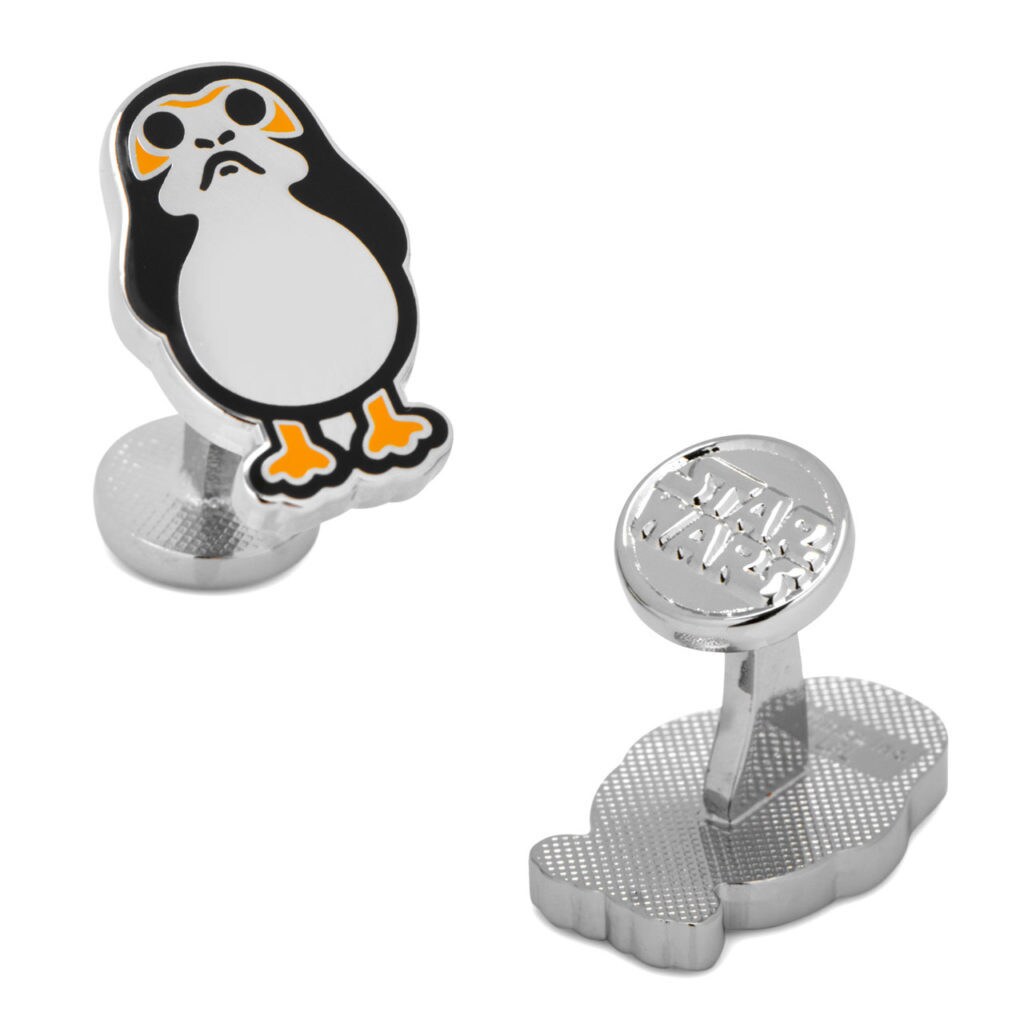 Porg Cufflinks: Available at Cufflinks.com.
Disney Parks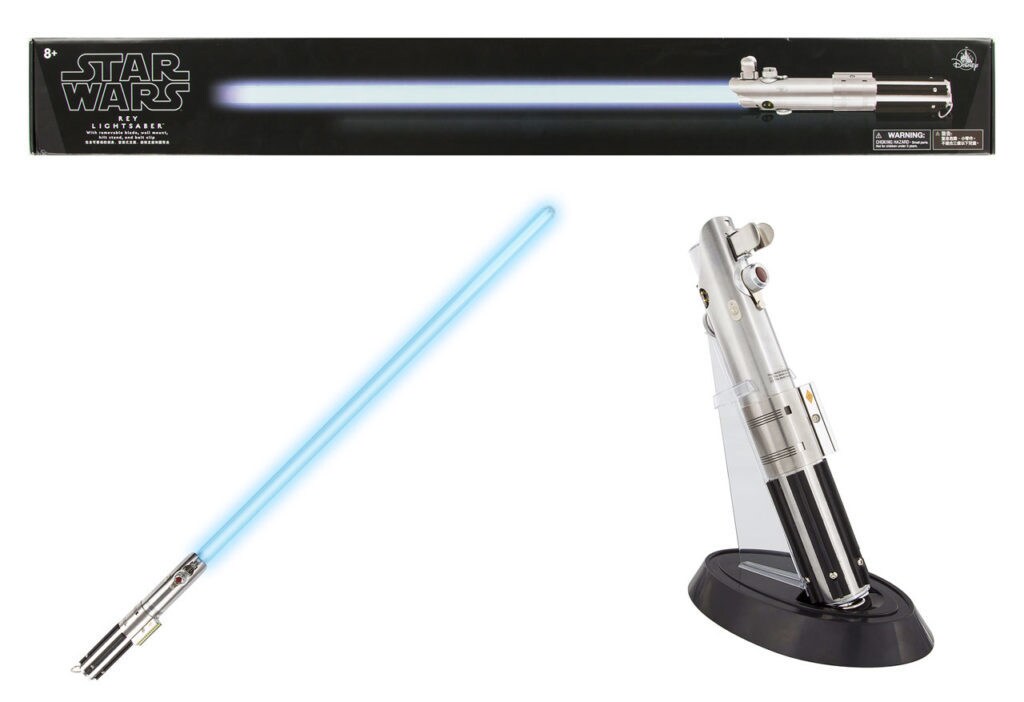 Premium Rey Lightsaber – Parks Exclusive: This collectible lightsaber features authentic lights and sounds and includes a removable blade. This product also includes a belt clip, a hilt display stand and a wall mount display. The lightsaber includes 3 "AA" batteries, which make this saber ready for instant action.
Disney Store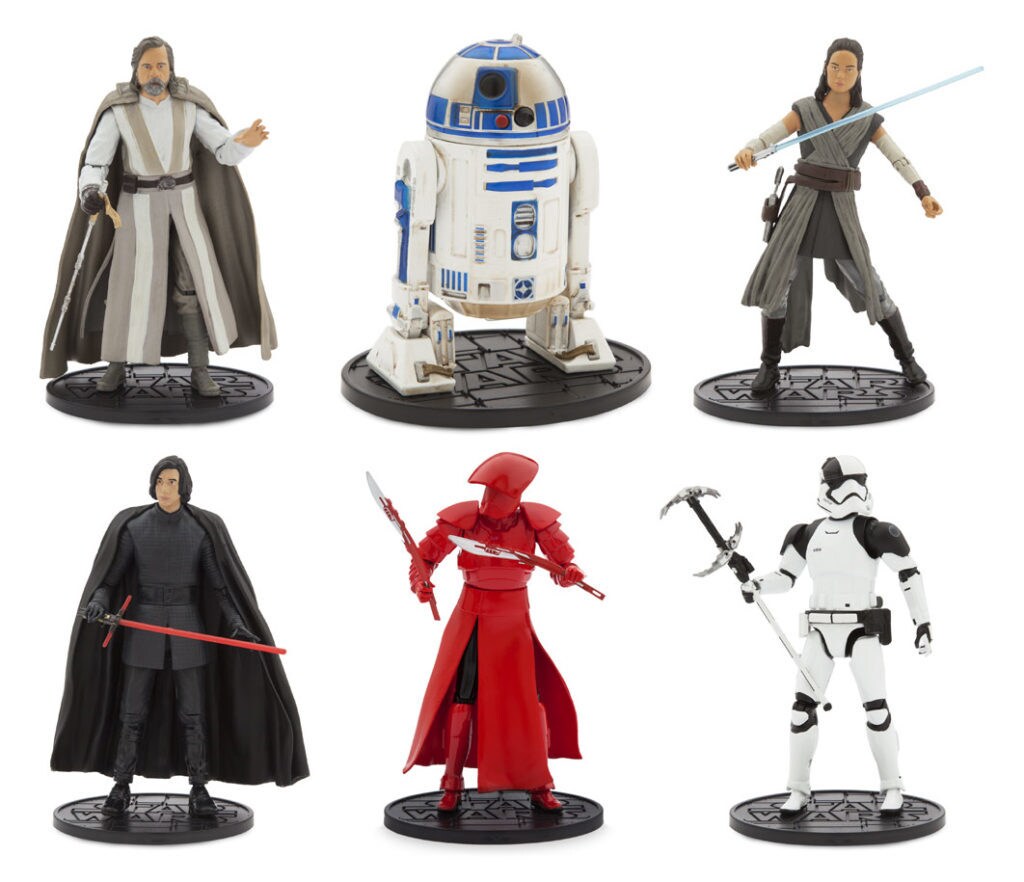 Star Wars Elite Series Die Cast Action Figures: Star Wars Elite Series Die Cast Action Figures inspired by Star Wars: The Last Jedi (characters included: Kylo Ren (unmasked), Rey, Luke Skywalker, First Order Judicial Stormtrooper, Praetorian Guard, R2-D2). A premium line of die cast action figures featuring characters inspired by Star Wars: The Last Jedi. Available exclusively at Disney Store, DisneyStore.com, and Disney Parks.
Fifth Sun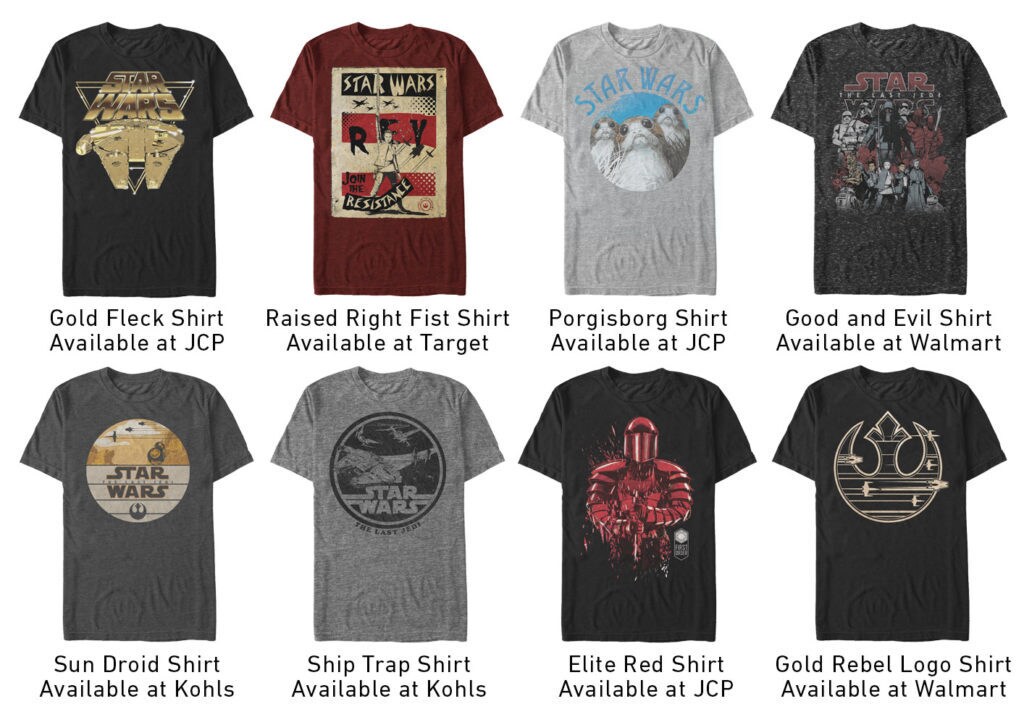 Star Wars: The Last Jedi Shirts: Available at various retailers.
GAP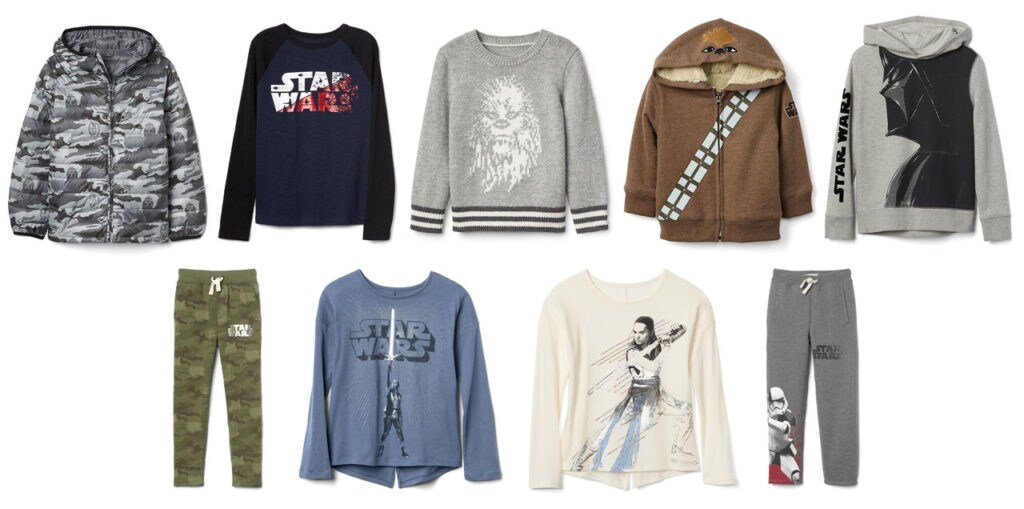 Star Wars and Star Wars: The Last Jedi Clothing: Available at GAP.com.
Hallmark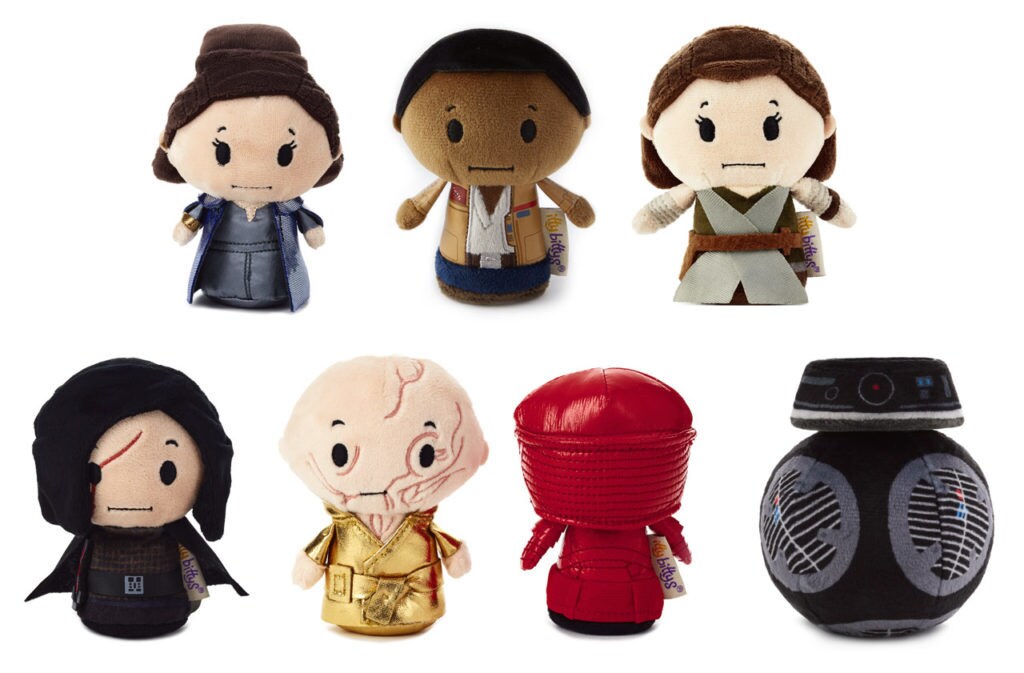 Itty Bitty Plush: Limited Edition General Leia, Finn, Rey, Limited Edition Kylo Ren, 2 pack Supreme Leader Snoke & Praetorian Guard (Limited Quantity-Hallmark.com exclusive), and BB-9E.

Home/Keepsake Ornaments: BB-8 Mug with Sound, Rey Keepsake Ornament, and Praetorian Guard Keepsake Ornament.
Star Wars Force Link BB-8 2-in-1 Mega Playset: Activate amazing Force Link sounds, phrases, and lights in the BB-8 2-in-1 Mega playset, including Force Link wearable technology! BB-8 easily opens to reveal a multi-level playset including 3 Force Link activation areas with lights and sounds, as well as 6 areas of play and awesome play features including trap doors, firing projectiles, and more! The BB-8 2-in-1 Mega playset also includes two 3.75-inch scale Force Link-activated figures -- Supreme Leader Snoke and Elite Praetorian Guard (with Single Blade) -- so kids can immediately imagine recreating their own Star Wars action!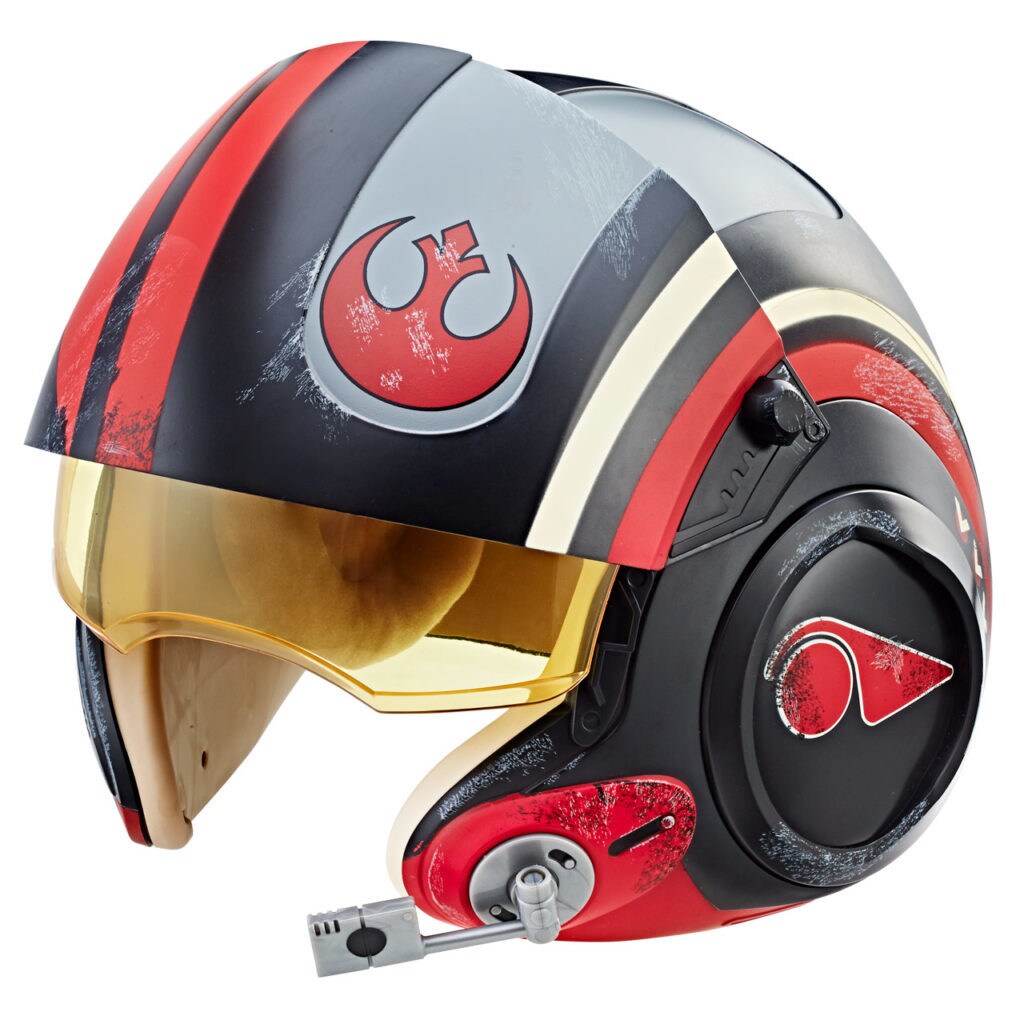 Star Wars The Black Series Poe Dameron Electronic X-Wing Pilot Helmet: 
Kids and fans alike can imagine the biggest battles and missions in the
Star Wars
saga with helmets from The Black Series! With exquisite features and decoration, this series embodies the quality and realism that
Star Wars
devotees love. An ace X-wing fighter pilot, Poe Dameron is a leader in the Resistance's fight against the evil First Order. Imagine soaring into battle alongside the Resistance with this Poe Dameron Electronic X-Wing Pilot helmet that features an internal microphone that activates battle sounds and interaction with Poe's right-hand droid, BB-8! Helmet also features a retractable polarizing visor and speech projector, so kids can imagine gearing up like Poe Dameron and blasting into the fight against the First Order.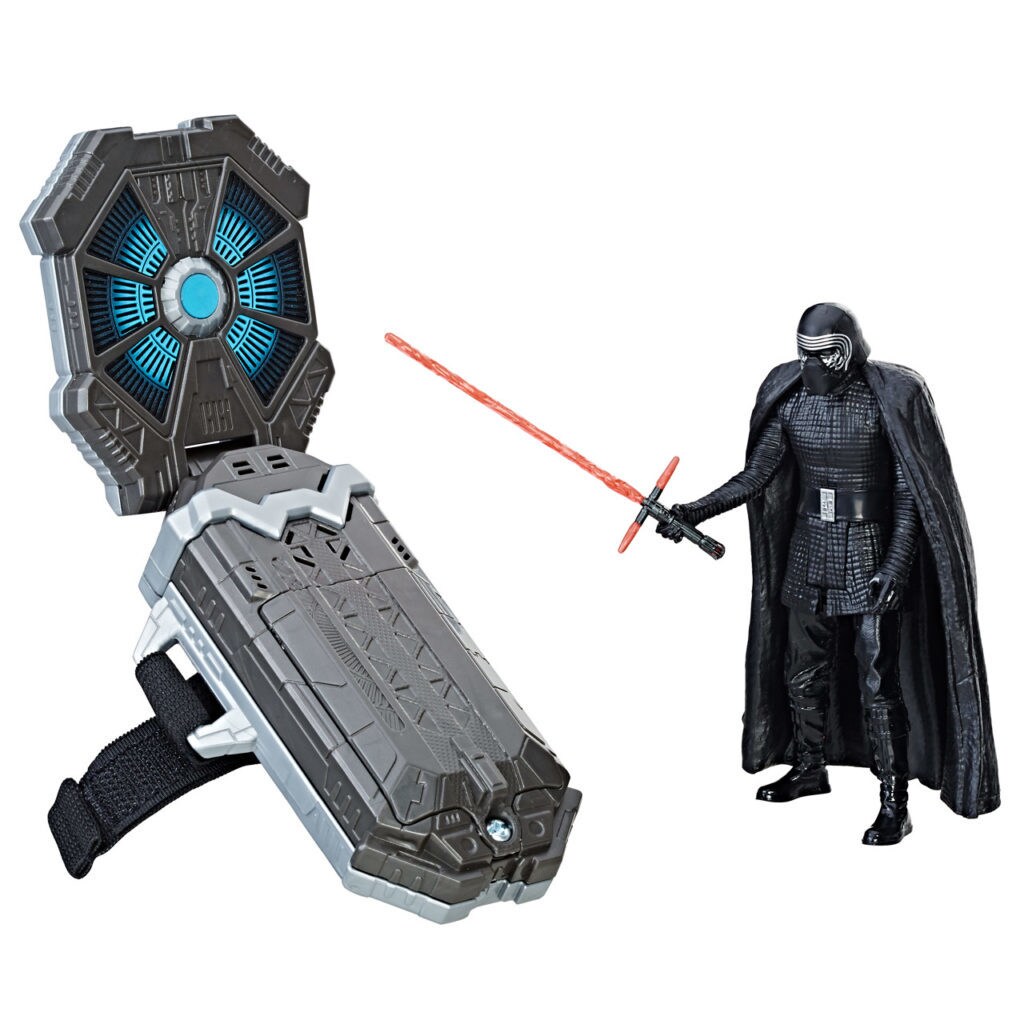 Star Wars Force Link Starter Set: Bring the galaxy to life with Force Link! Recreate the adventures of a galaxy far, far away with Force Link, a new interactive play system from Hasbro that gives kids the sound effects and phrases from the Star Wars movies right in the palms of their hands! Wear Force Link wearable technology to activate lights, sounds, and phrases in Force Link-activated figures, accessories, vehicles, and playsets! With Force Link, kids can bring some of their favorite Star Wars adventures to life! When kids wear the included Force Link wearable technology and pick up the included 3.75-inch scale Kylo Ren figure, they can activate authentic sounds and phrases! Kids can imagine sending Kylo Ren into fiery battle with the included Lightsaber accessory, and imagine recreating their favorite scenes and adventures from Star Wars.
Her Universe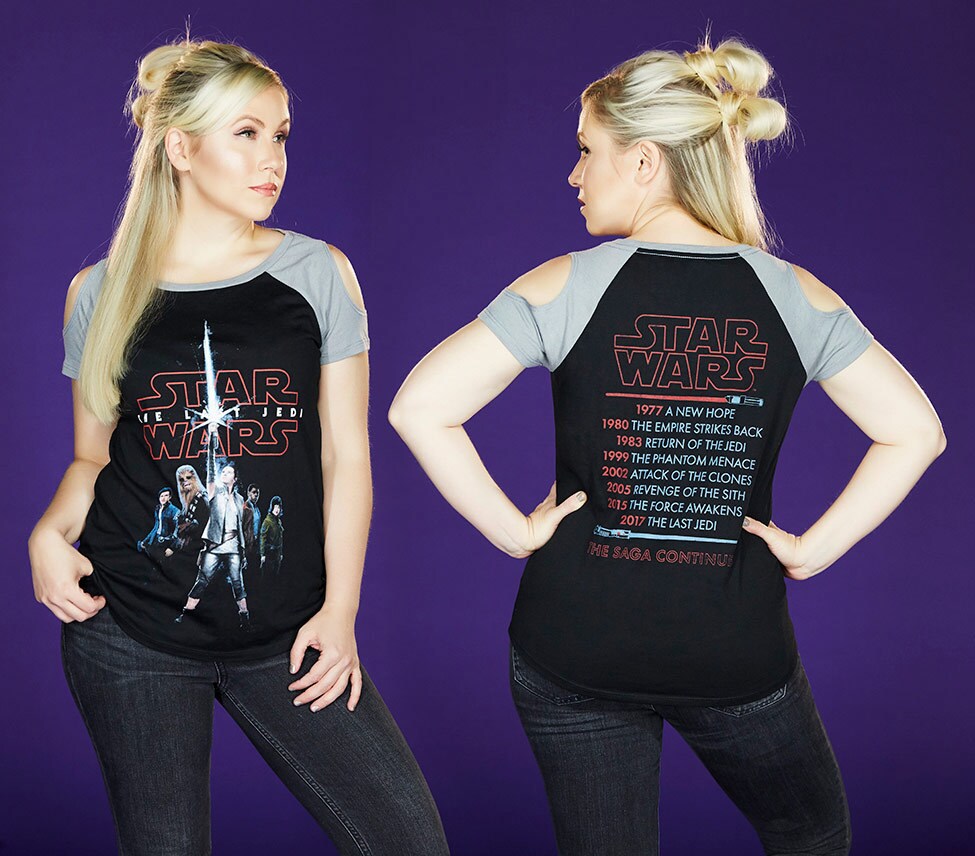 Star Wars: The Last Jedi Tour Tee: Cold shoulder raglan style tee with The Last Jedi artwork on the front and a "tour" style list of each Star Wars film in chronological order on the back.
Jay Franco
Star Wars Forces of Destiny May The Force Be With Us Twin/Full Comforter: Features artwork and designs from the hit animated series.
LEGO
First Order Heavy Assault Walker: Grab the First Order Heavy Assault Walker and lumber into battle against Poe, Rey and the Resistance allies. Fire the head-mounted spring-loaded shooters and take aim with the rapid-fire stud shooter on top. When you run short on ammo, open the compartments and reload. If the Resistance fighters get too close, drop the mines at the back to give them a big surprise! Can the Resistance defeat this tough walker? That's for you to decide…
littleBits
Droid Inventor Kit: Kids can create their own droid and bring it to life using littleBits electronic Bits! With the Droid Inventor app, they'll give their droid new abilities and take it on 17+ missions. Then they'll level-up their inventor skills, reconfiguring parts to design any droid they can dream up.
Northwest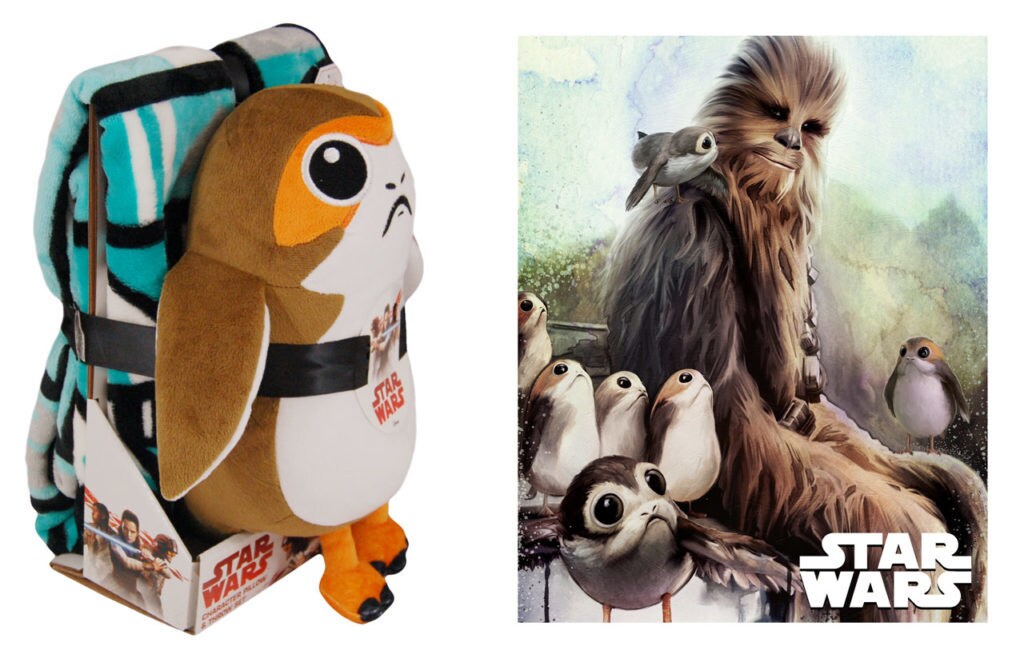 Porg Pillow & Throw Set and Chewbacca & Porgs Throw: Features the iconic Chewbacca with his new, adorable porg friends. Fuzzy blankets and cuddly pillow buddy sets are as cute as the porgs!
Pendleton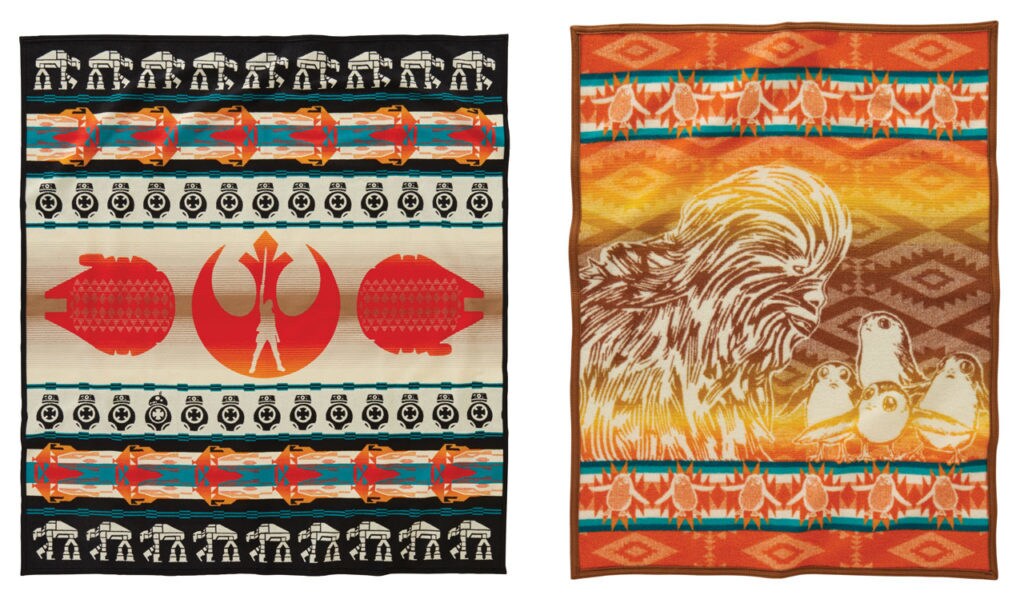 Star Wars: The Last Jedi Blanket: Flanked by the Millennium Falcon, Rey stands at the center, raising her lightsaber in a gesture of defiance against the First Order... This exclusive Pendleton design is available in a hand-numbered edition of 1,977 with a custom Star Wars label and Certificate of Authenticity.
Star Wars A New Alliance Blanket: The perfect gift for your favorite young Padawan: a child-sized blanket featuring Chewbacca and his new friends, the porgs.
Petco
Petco strikes again with their The Last Jedi collection of pet toys! There's vehicles to tug on, BB-9E and the Praetorian Guard to fetch, even a Chewie and porg set to snuggle with!
Pottery Barn Kids