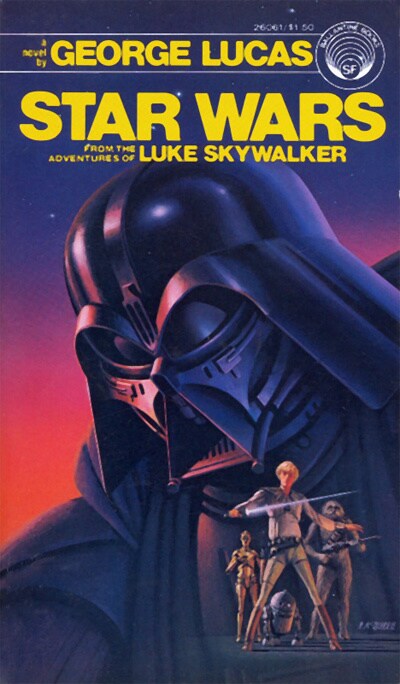 Star Wars Reads Day is October 6 -- book publishers will be staging events in bookstores and libraries across the United States, with raffle prizes, promotional giveaways, and other surprises. It's a Star Wars event like no other, and you don't want to miss it! Be sure to Like the official Star Wars Reads Day Facebook page as well!

"The Road to Reads Day" will be your one-stop-shop for everything related to this exciting event: links to original new posts on the Star Wars Blog by Star Wars authors like Timothy Zahn and Ryder Windham, coverage from around the web, and lots more.
STAR WARS BLOG AUTHOR POSTS
In celebration of Star Wars Reads Day, many of the most popular Star Wars authors are writing special posts on the Star Wars Blog. Here's a rundown that will be updated as new posts are written:
Chris Alexander, "Star Wars Novelizations: How They Fuel the Imagination"
Ryder Windham, "You Don't Have to Be a Jedi to Be a Hero"
Daniel Wallace, "Official Endnotes for Star Wars Book of Sith: Secrets from the Dark Side"
Lara Starr, "Making Wookiee Pies & Exclusive Bar2D2s Recipe"
Tom Angleberger, "DK Star Wars Books: Essential reference for writing, doodling and paper folding"
Steve Sansweet, "From the Hobart Street News to Star Wars: The Ultimate Action Figure Collection - Part 1"
J.W. Rinzler, "Laying Out Jedi" and "Star Wars Art Series: Illustration Out Now, More to Come"
VIDEO INTERVIEWS
We've also had some video interviews about Star Wars Reads Day with several Star Wars authors and personalities, including Jeffrey Brown, Ashley Eckstein, and Timothy Zahn.
STAR WARS READS DAY COVERAGE
Sally Lodge of Publishers Weekly talks to DK's Rachel Kempster and Star Wars author Ryder Windham.
Whitney Matheson of USA Today discusses Reads Day in her Pop Candy column.
Eric Geller at suvudu.com writes the aptly titled, "Why I Love Star Wars Reads Day (And Why You Should Too)."
PUBLISHER EVENTS
Dark Horse Comics lists events it will be attending.
DK Publishing also provides a list of events its authors will attend.
Chronicle Books discusses Reads Day and is also taking part in some events.