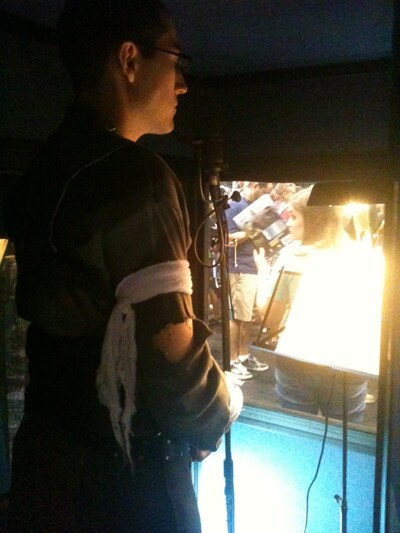 Random House Audio, publisher of the Star Wars audiobooks, has set up a recording studio right on the convention floor for Star Wars Celebration VI this week, inviting fans to come by their booth and record excerpts from Timothy Zahn's HEIR TO THE EMPIRE. The first day brought a steady stream of readers, with the most popular choice being a scene featuring Obi Wan and Luke, and some excellent interpretations, including this Sith at the mic!
Readers can get a sense of what it's like to be in the booth recording the audiobooks, choosing to narrate one of four short excerpts featuring Luke, Han, Leia, Obi Wan, C-3PO, Lando Calrissian, Grand Admiral Thrawn, and more. After the show, all narrators will receive an mp3 file of their reading (all the better to show off their vocal skills to fellow fans!).
No advance sign-up is necessary, just stop by the Random House booth 914 between 11am-1pm and 2pm-6pm each day to select your script and get recording!
Fans of the audiobooks can hear more about what goes into producing them and hear some exclusive clips at the "Star Wars Audiobooks: Behind the Scenes" panel Saturday at 5pm in room W300, featuring narrator Marc Thompson, director Kevin Thomsen, and producer Aaron Blank, moderated by Keeper of the Holocron Leland Chee.
Random House Audio is also looking for feedback on what listeners want to hear next--you can vote in the booth for which previously unrecorded Star Wars classic (Knight Errant, Death Star or Allegiance) you'd like them to produce next!