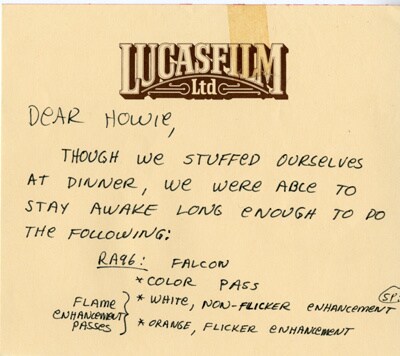 This one's going to be short, as I'm on little sleep these days. Mornings and weekends, I continue to do the book map of The Making of Return of the Jedi, and am up to the ILM chapters. I'm really trying to use photos as large as I can. I feel that The Making of The Empire Strikes Back had too many photos on a page and the result was, often, a lot of clutter. Some of these photos for Return of the Jedi are so great, I want readers to be able to dive into them: George Lucas and Dennis Muren at ILM; Harrison Ford and Lucas together for the Ewok location shoot; Carrie Fisher on Jabba's throne room set, etc. And as they say, a picture is worth…
But above is an image that won't make it into the book. I'm not sure who wrote the message, but it seems to be addressed to Howard (Howie) Stein, visual effects editor. The note refers to RA96, or Rebel Attack (on the second Death Star), shot #96 in the sequence, and to several enhancements needed on the Millennium Falcon. This would've come toward the end of postproduction, probably circa December 1982. But what's great about the note is the window you get into the night crew's life and the rhythm at ILM at that time: "Though we stuffed ourselves at dinner, we were able to stay awake long enough to…" There was a sense of humor about the work, even though, as you can imagine, the pressure was on. And ILM was doing arguably the best work yet of its short existence.
When I was talking to Selwyn Eddy III about his time on the night crew camera team, he mentioned that they started a tradition of midnight barbecues, which caught on with the other departments working late nights: Optical et al. Don't know if this refers to a midnight meal or not, but these little pieces of arcane info help an author to imagine what it was like back then…
Next blog: Sleep.
Lucasfilm executive editor J. W. Rinzler is the author of The Making of Star Wars and The Complete Making of Indiana Jones. He is now writing The Making of Return of the Jedi (and really looking forward to finishing it) for a fall 2013 release. You can visit jwrinzler.com for more info.