LucasBooks' senior editor runs down the highlights from this year's panel on Star Wars books!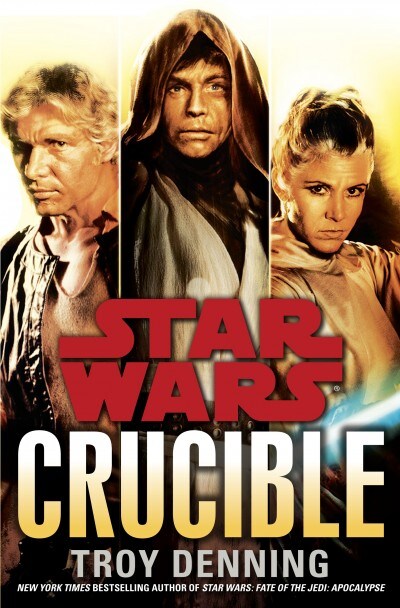 We were lucky to have four talented and versatile authors on our Star Wars Books panel: novelist Troy Denning; novelist and comic book writer John Jackson Miller; writer and illustrator Jeffrey Brown; and nonfiction writer (and Lucasfilm editor) J.W. Rinzler. Frank Parisi from Del Rey and I represented for the editorial side, and the panel was moderated by the Keeper of the Holocron himself, Leland Chee. Leland kicked things off by pointing out that Lucasfilm has been undergoing an exciting period of change, and due to so many things developing right now (always in motion is the future), we couldn't really address much about where Star Wars fiction is heading. But we can talk about the great releases we have coming up! Troy Denning talked a little about Crucible, which is on sale now, while John Jackson Miller talked about Kenobi, coming in September. Kenobi, John explained, is basically a western set in space, and I commented on the brilliant approach John took of showing us Obi-Wan through the eyes of strangers who have no idea who this mysterious newcomer is. Frank and I took turns talking about the forthcoming Razor's Edge by Martha Wells, which focuses on Leia and how she reacts when she meets up with a crew of Alderaanian pirates; Maul: Lockdown by Joe Schreiber, which is an intense, violent thriller with ties to Darth Plagueis; and Honor Among Thieves by James S.A. Corey, which I boldly proclaimed as a possible successor to the Brian Daley Han Solo novels.

Then J.W. Rinzler talked a bit about the extensive archive searches he undertakes when writing a book like The Making of Return of the Jedi, which comes out this fall. He had a real treat for us: some clips that he unearthed during some of these extensive searches. The first clip showed us early footage from the battle of Hoth in Episode V, using animatics in place of the AT-ATs. The next clip was of Richard Marquand (and George Lucas) attempting to direct the main action scene at the bunker in the Battle of Endor, with chaotic results. And then there was the real jewel: a gag reel from Episode IV that had not been seen by other eyes in over 30 years. These are the kinds of clips that readers will be able to find the coming enhanced e-book editions of Rinzler's Making Of books. I can't wait to get copies for my iPad.
Jeffrey Brown talked a bit about his inspiration for Darth Vader and Son ("I think about Star Wars and what my son did that day") and shared some early pencil drawings from his latest bestseller, Vader's Little Princess, and gave us a sneak peek at Jedi Academy, a middle grade novel coming in September from Scholastic. It follows the story of a young boy named Roan who shares his adventures in the form of journal entries and notes.
Frank Parisi reminded everyone that the second annual Star Wars Reads Day is coming soon! It's on October 5 and you can find more information at starwars.com/reads/.
As part of this "writers' roundtable," Troy Denning talked a bit about his early work for West End Games and how he had the opportunity to create identities and backstory for many of the alien species featured in the Episode IV cantina scene. John Jackson Miller talked about switching from comic book scripts to prose and the challenges therein.
We unfortunately didn't have much time for audience questions, but when asked if there was ever any talk of killing off Luke Skywalker at the end of the Fate of the Jedi series, Frank revealed that he's been trying to kill off Luke for a while! So you can take that up with him on the Star Wars Books Facebook page.
We wish we had had more time for questions, but you can always hit us up on Twitter at @DelReyStarWars or @jenheddle. We're happy to answer questions when we can.