Designers behind the latest additions to the Pop! line discuss the evolution of the bobblehead.
Fans of the Frog Lady from The Mandalorian, rejoice! The new mom and patient Grogu sitter is joining the next wave of Star Wars Funko Pop! bobbleheads based on characters and moments from the second season of the Disney+ series.
And she's not alone. The new lineup of collectibles includes both a Dark Trooper and Luke Skywalker holding Grogu, Cobb Vanth, the Child deep in meditation, and versions of Fennec Shand and Boba Fett, including the duo perched on a throne in the palace formerly known as Jabba's.
Recently, StarWars.com sat down with Lucasfilm's senior manager of product design Brian Merten and Funko's creative director Reis O'Brien to talk about the challenges of capturing Boba Fett's scars, replicating Fennec Shand's fox-like hair, and capturing Grogu's full range of emotion.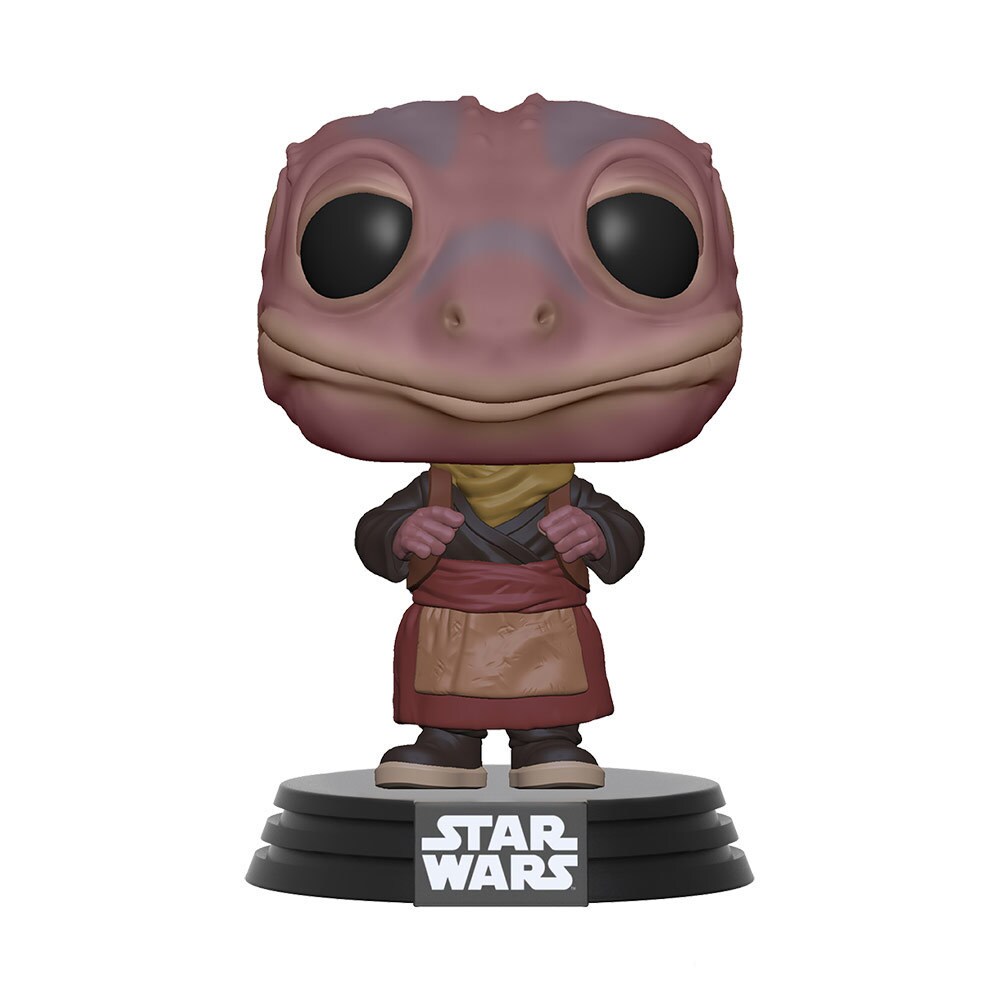 StarWars.com: First of all, thank you for making the Frog Lady figure of my dreams. For this newest wave of Funko Pops!, how did you decide which characters and moments you wanted to include from Season 2 of The Mandalorian?
Brian Merten: Thanks for taking the time to interview us! Some characters are obvious first choices that rise to the top; with others, we like to keep the offering fresh and exciting.  Maybe even throwing in a little unpredictability, surprise and delight as they say.  That's where characters like the Frog Lady and the Gamorrean fighter come in. For this, we did have a little bit of conversation and easily landed on the Frog Lady.  I would imagine that you're pleased that we didn't land on an ice spider.
StarWars.com: You're not wrong.
Reis O'Brien: Personally, when I first saw her, I immediately thought she'd make such a fun Pop! Then, when I noticed the fan reaction online, I knew right away that we had a fan-favorite on our hands. So I'd consider making her into a Pop! a classic "no brainer." It just had to be done.
As far as the other characters are concerned, we always know who the main heroes and villains are going to be, so they get chosen automatically. But we often discuss those breakout characters that may not have the biggest role, but will resonate with fans and collectors. And in the Pop! world, characters like that make for a perfect collectible. I always like to have at least one character per wave that makes people say, "Oh wow! I can't believe they made that one! I gotta have it!"
StarWars.com: Let's walk through the sculpts of each one so you can call out some of the fine details or highlight areas that were challenging. 
Brian Merten: While we're on the subject of Frog Lady, I'll say that getting the color right on the face presented a larger challenge than usual with the undertone and blends.  Reis and I usually have some back-and-forth conversations with characters but this one took a lot more than that and we're relieved that you like it.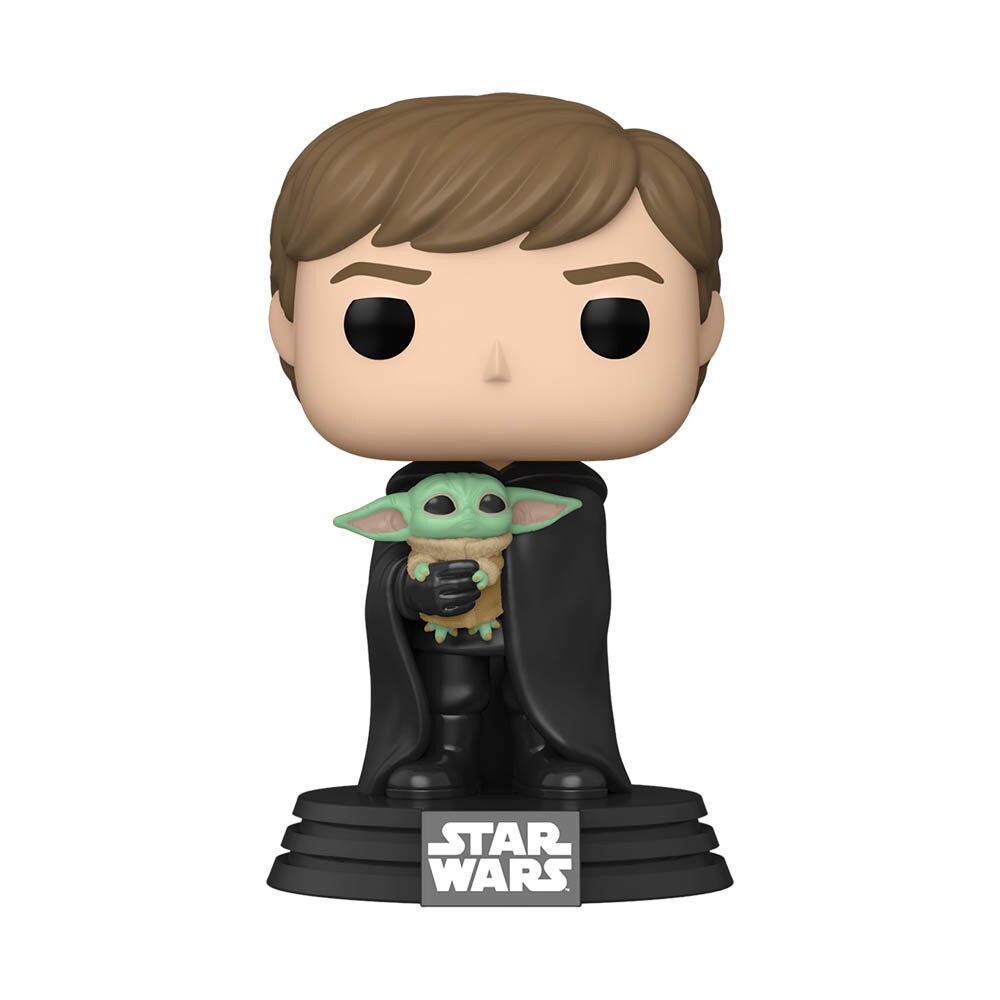 StarWars.com: That Luke and Grogu is positively irresistible. When you're creating a likeness like Luke Skywalker here, which so many people recognize and know and love, in this stylized representation, what are the essential elements for you that tell you you've nailed the look and feel of the character?
Brian Merten: I think one of the hardest parts of designing and working on Pop! is the form itself, especially for un-helmeted characters. In terms of the normal cues that help us identify an actual character likeness, Pop! is quite limited. With Luke's likeness, you really only have eyebrows and hair style to work with so those need to be spot on. The designers out there know how hard it is to simplify things and still have them deliver the message that you want them to.
Reis O'Brien: Characters like Luke, being human in a world of droids and aliens, we have to take extra care in capturing their character's likeness when first designing them. So we look for styling cues in their outfits, common traits in their poses, and paying special attention to the smaller details. Another thing that really helps define a character is to give them context. That really helps in a deluxe Pop!, because we can add some scenery to help plant them in a memorable moment. In the case of this particular Luke, holding Grogu in his arms was a massive help. But that didn't mean we could slack on his other details. So we made sure that every square inch of the figure got the same amount of attention.
We also had to pay close attention to Grogu's expression. It's such a hopeful scene, but probably a bit scary for the little guy, so capturing that was our main goal.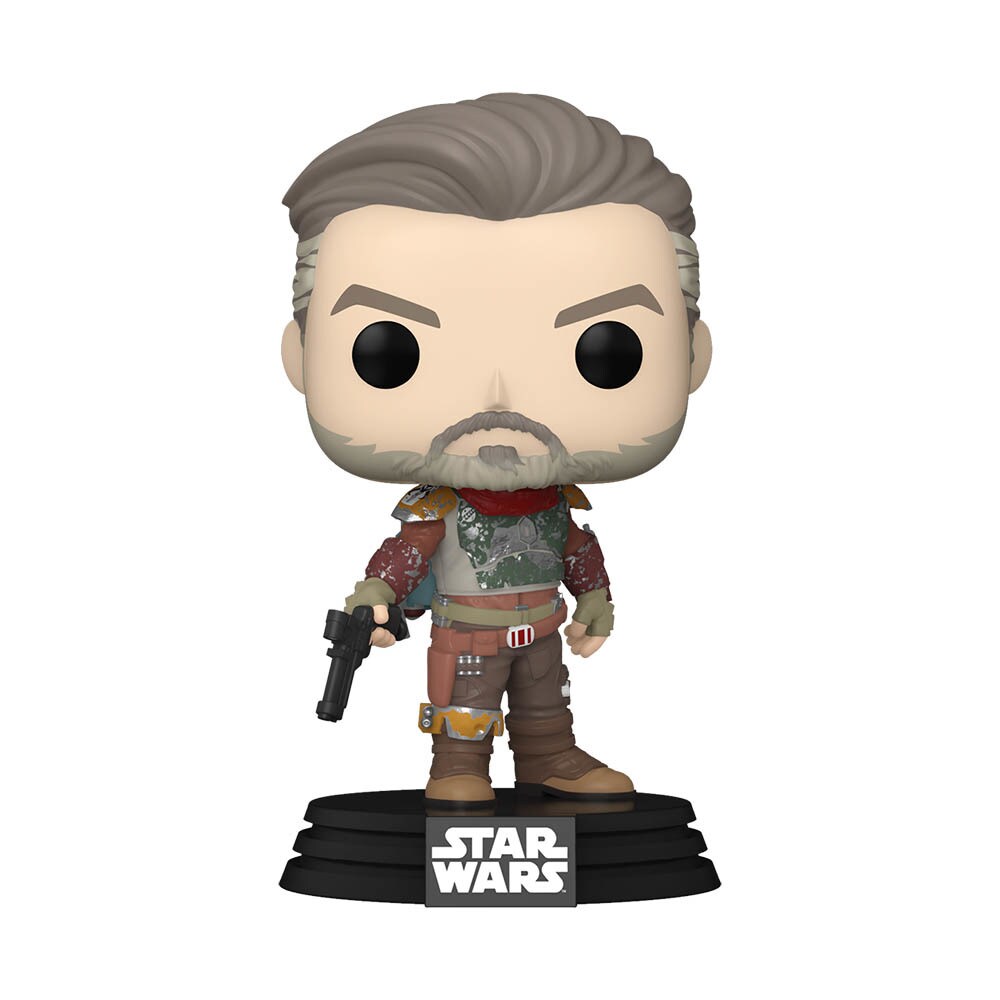 StarWars.com: And I love that we're getting a Cobb Vanth!
Reis O'Brien: I knew that Cobb Vanth was going to be a hit with the fans. Seeing that armor on another person was such an "wow" moment. One of my favorite aspects of the Pop! is how we made his body just a touch taller and leaner. And of course his amazing hair in the unhelmeted chase had to be perfect.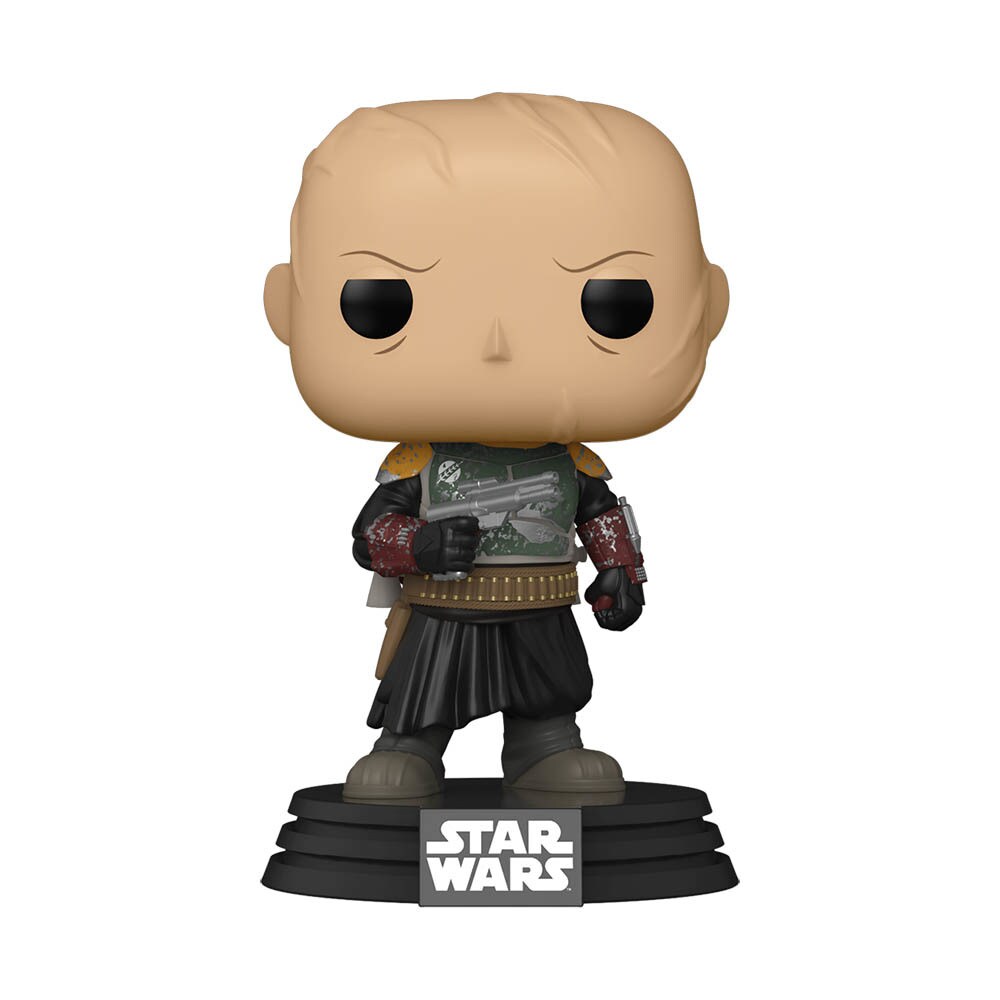 StarWars.com: This wave has me extra excited for The Book of Boba Fett. What were some of your favorite parts or sculpting challenges for Boba and Fennec?
Brian Merten: The one with the scars was by far the hardest of the three Boba Fett Pops! With the un-helmeted version it really came down to how prominent and noticeable the scars should be -- this one also took multiple revisions to create.
Reis O'Brien: Too much and it's a bit gory, too little and you lose some of the personality of the character. Those scars speak of an untold story, so they needed to be represented perfect in the Pop!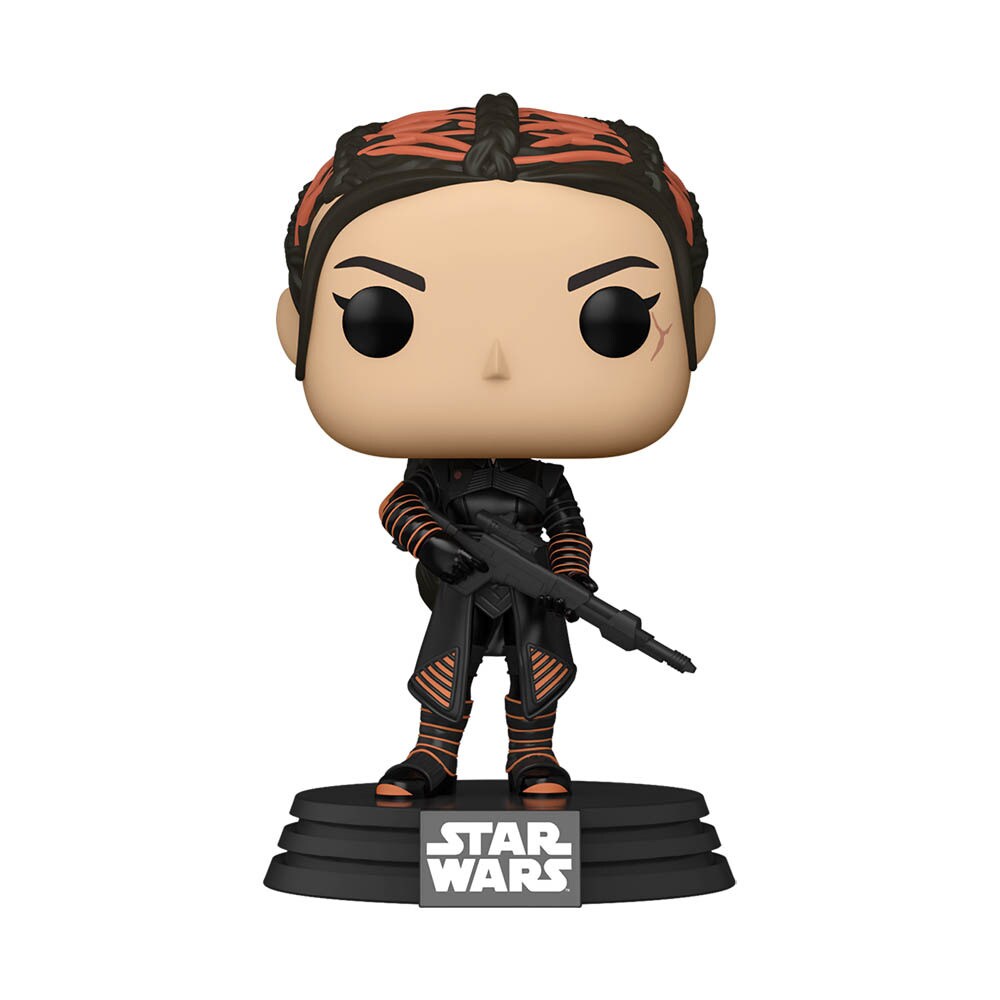 Fennec was another fun one to work on, because all of her attitude needs to be relayed in her pose. You have to find a delicate mix of calm but dangerous. And Fennec's hair was extremely challenging from a production perspective.
Brian Merten: This is one of the spots where the collaboration between Reis and I really pays off.  We're able to play off of one another's energy and drive for excellence. Each of us can bring different ideas and solutions to the table because of our experience and backgrounds.
Reis O'Brien: We got it sculpted just fine, but the real trial and error came with getting the factory to nail the paints on that zigzagging pattern of the orange strips woven into her hair. But after a few tries, we finally found a great solution.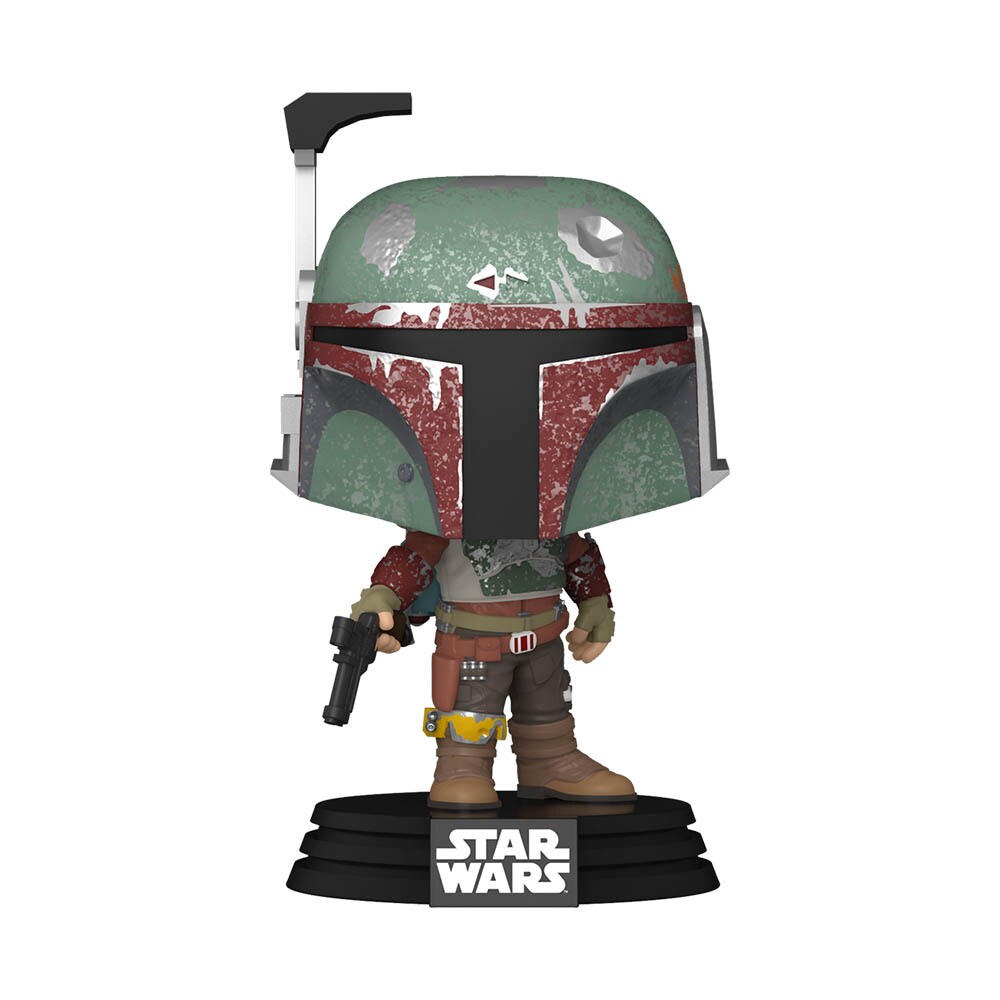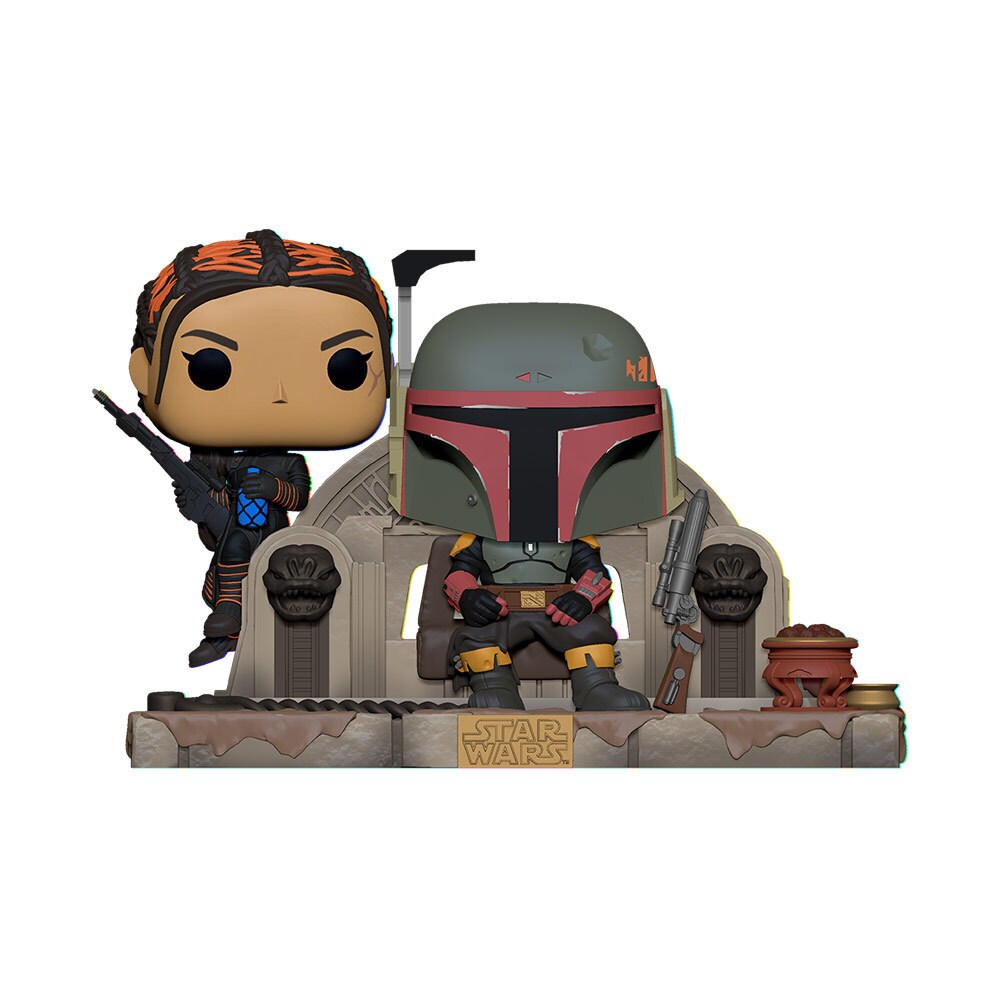 For Boba Fett in his armor, we found ourselves really striving to capture the look and feel of old armor that just got a new paint job. So it needed to look freshened up, but it's still an old set of armor that's been through countless scrapes and battles. That's where careful color callouts come in, knowing just how much and where to place those dings and scratches.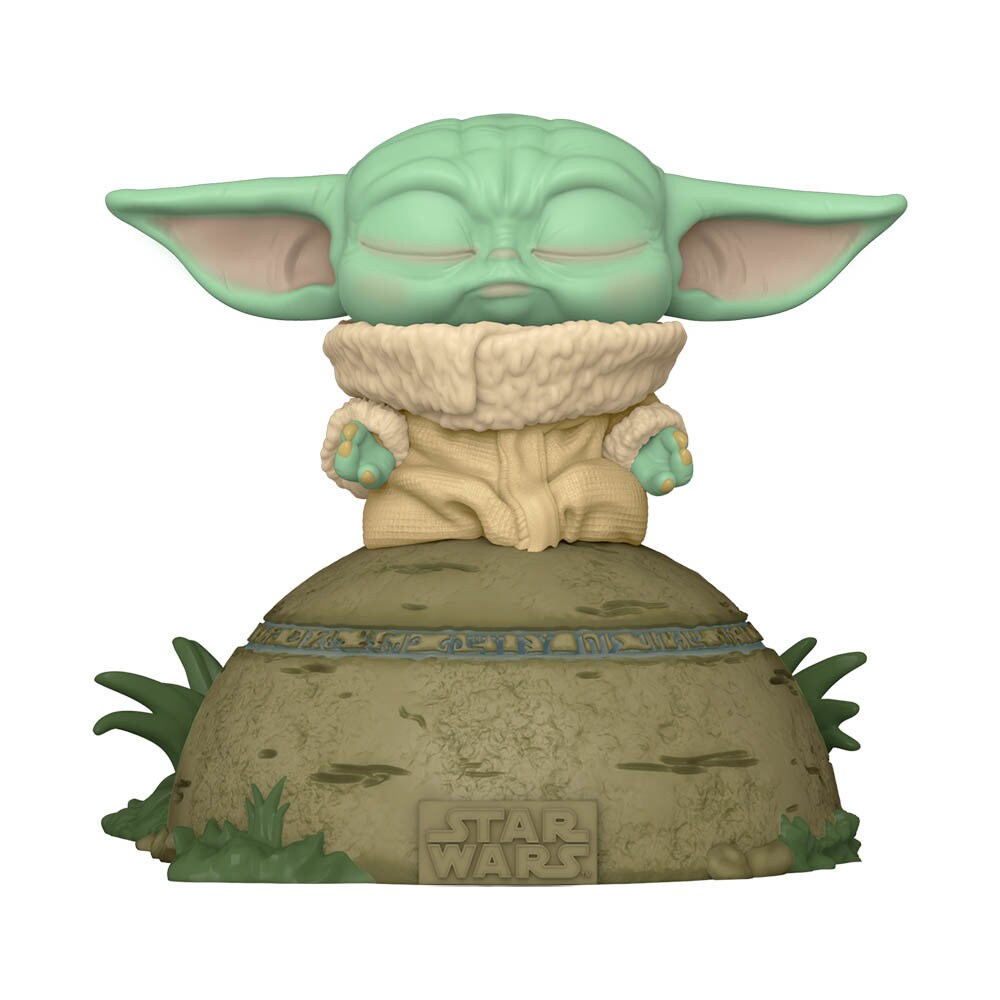 StarWars.com: Tell me about the decision to do another lights-and-sounds piece with Grogu on the seeing stone. Why this moment and this character for that specialized treatment?
Brian Merten: Well, a funny thing happened on the way to the seeing stone...just before our touch bases we each told the other that we had a great idea to share. Turns out we each had a Grogu topped seeing stone in mind. This is the way, right? I think when it comes to lights and sounds in Pop!, we both wanted to top the previous Vader and Kylo, which were so awesome. Grogu on the seeing stone is such an important story moment and we both knew it would make a great Pop!, especially adding the lights and sounds.
Reis O'Brien: This moment in the show was extremely powerful. This brave little guy connecting with the Force as the stone began to glow and the mysterious hum arose. This was one of those scenes where I instantly thought "lights and sounds!" Then, at my next meeting with Merten, we both realized we were thinking the same exact thing at the same time. Another "no brainer." It just had to be done.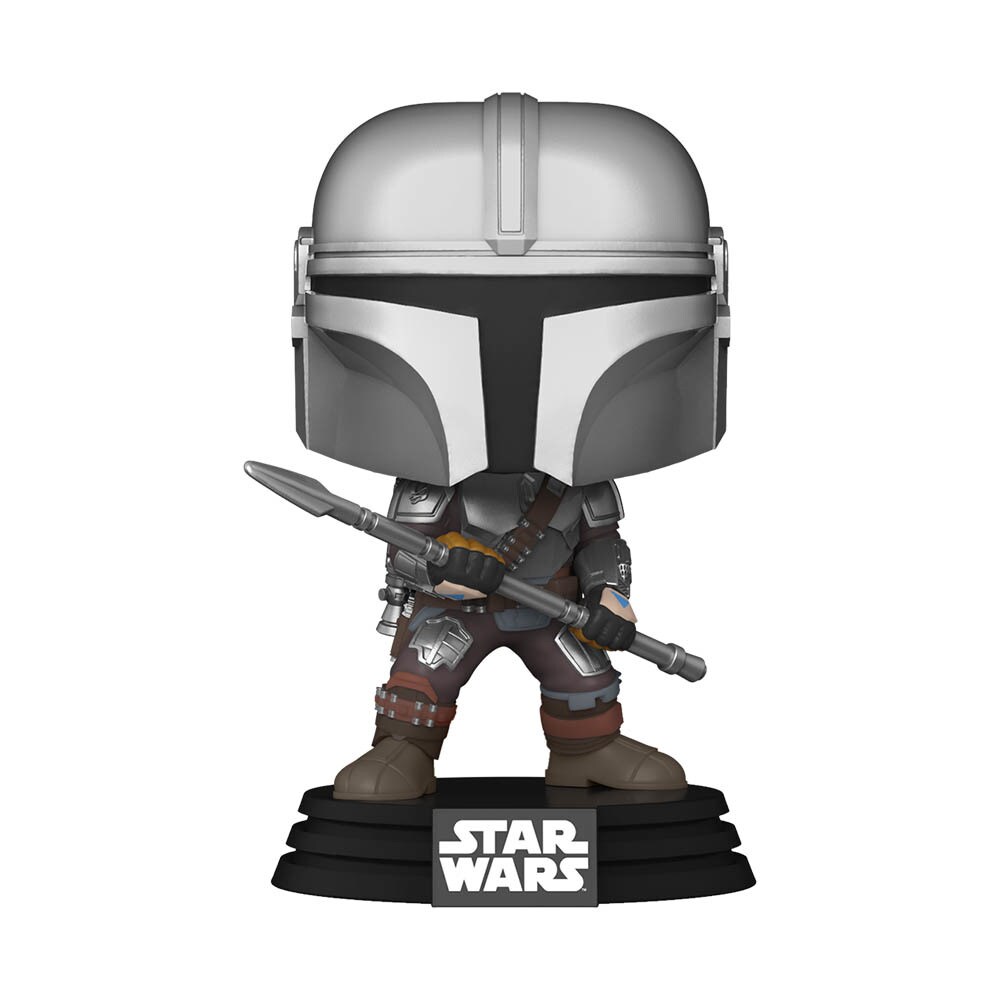 StarWars.com: There's also a Funko exclusive Mando in a special pose. What sets this sculpt apart from other Mandos that have come before?
Brian Merten: When Reis and I re-pose a Pop! we try and bring out a new aspect of the character, whether it's personality or story.  With a pose like this you can tell a different story by changing the weapon; Mando fights very differently with the weapons in his arsenal so we need to make sure the whole pose makes sense and is believable.
Reis O'Brien: We had already done several Pops! of him, so the real question was "How are we going to make the new ones stand out?" There were some minor armor changes, but what you really want to do is capture an entire new facet of his personality. I think we came up with the perfect "ready to rumble" pose with him holding the beskar spear.
StarWars.com: And I love the glow in the dark pairing of Mando and the Dark Trooper. How do those elements add to the piece for you?
Brian Merten: Glow-in-the-dark is a shining example of the kind of fun we can have with Pop! as an expression of bringing pop culture and toyetic cues to Star Wars.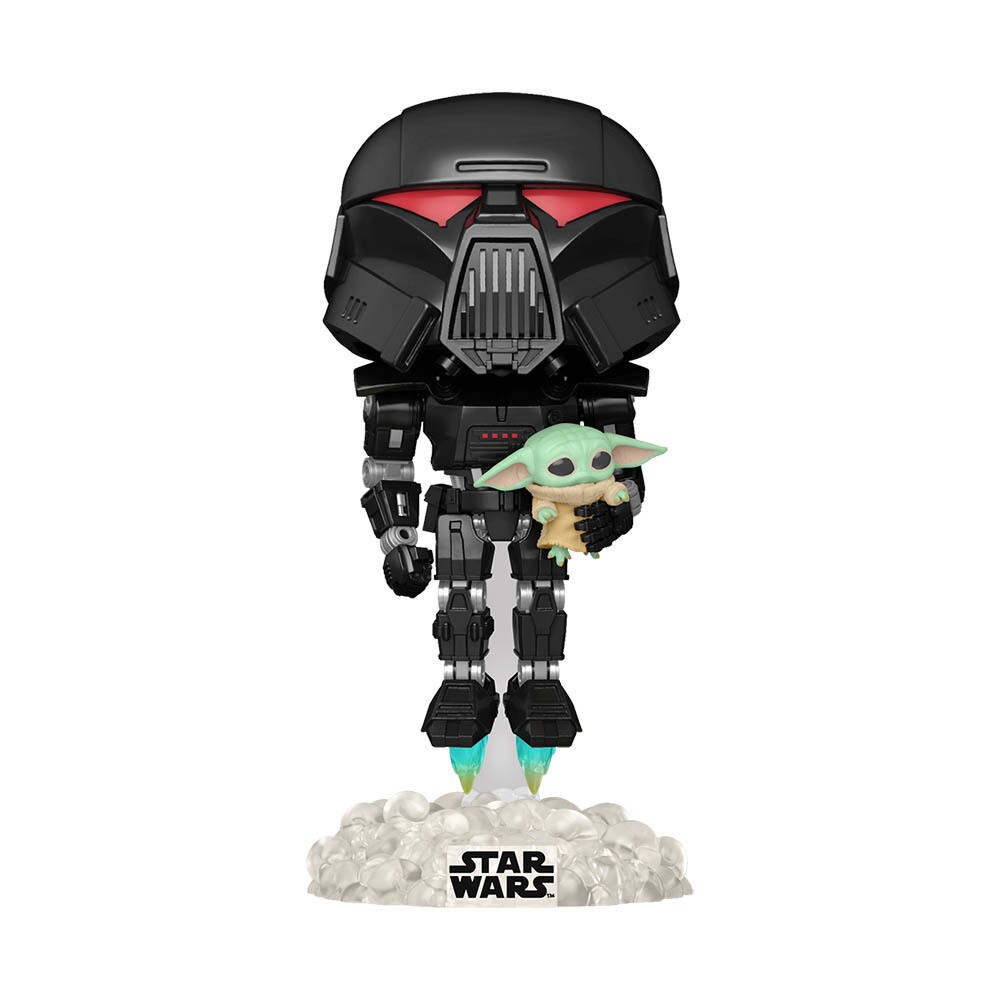 Reis O'Brien: For the flying Dark Trooper, beyond the excellent sculpt, what really needed to be captured here was the sad little face on Grogu, with his little baby hand reaching out to Mando. When I first saw it, my heart almost broke!
For Pop! collectors, glow-in-the-dark details or full figures are almost a tradition at this point. Everyone loves glow! It's such a beautiful effect on Pops! and collectors go crazy trying to collect them all, so we're always keeping our eyes out for opportunities for adding the effect. Star Wars is great for this because they often use the hologram effect for communications in the movies and shows. So that gives us a great reason to add glow to an entire figure. Couple that with a plethora of lightsabers and glowing droid parts, such as eyes, and we have plenty to choose from. Which is a good thing!
StarWars.com: You've created so many fantastic Star Wars Funko Pops! over the years. How do you keep evolving the sculpts and techniques to keep things fresh and make the latest line even more detailed with each successive wave?
Brian Merten: Reis and I have been challenging each other with pushing the boundaries for the past seven years we've been working together. We see it as our duty and mission to continually raise the bar of how we evolve and improve the Star Wars Pop! for fans. The first part of that is character choice, which can be pretty easy since the Star Wars galaxy is rich with interesting characters and great stories. We use tricks like finding the right pose that emotes the part of story we want the  Pop! to tell. Then we shift our attention to details as small as getting the eyebrows right. We will talk about using the lay and folds of the fabric to bring the Pop! to life. We even joke about making sure that the hair doesn't look like upside down cartoon fire which is harder to do than you might think. Truthfully, we both realize that a fan's perception of the Pop! really is in the sum of every one of the details from large to tiny and we both hate to disappoint.
Reis O'Brien: The evolution of Pop! is always in the back of my mind, and both Merten and myself are united in constantly striving to get the character's likenesses as perfect as possible. And I know there are collectors out there that truly appreciate our attention to detail. Just because Pops! are a "simple" form factor, that doesn't mean that we can't or shouldn't strive for perfect pitch.
Pre-order the Marshal, Fennec Shand, and the Pop! Moment featuring Boba Fett and Fennec on the throne at Target now. You can also pre-order Luke Skywalker with Grogu and the Pop! Deluxe of Grogu on the seeing stone at Entertainment Earth, which has exclusive versions of the Dark Trooper and the Mandalorian hologram as well. And pick up Boba Fett without his helmet exclusively at Walmart now. The Frog Lady will be available exclusively at Walgreens with the Mandalorian and beskar staff launching only at Funko.com later this year.