Fans got their first look at footage from the new live-action series coming to Disney+.
The Mandalorian has strolled into our lives, a mysterious figure in a gleaming helmet, a man with no name, his identity hidden by a mask. On Sunday, fans at Star Wars Celebration Chicago were among the first to see finished footage of the character from the forthcoming show, the first live-action Star Wars series slated to premiere on Disney+, responding with cheers and a standing ovation for the gritty and immersive world of bounty hunters, scum and villainy.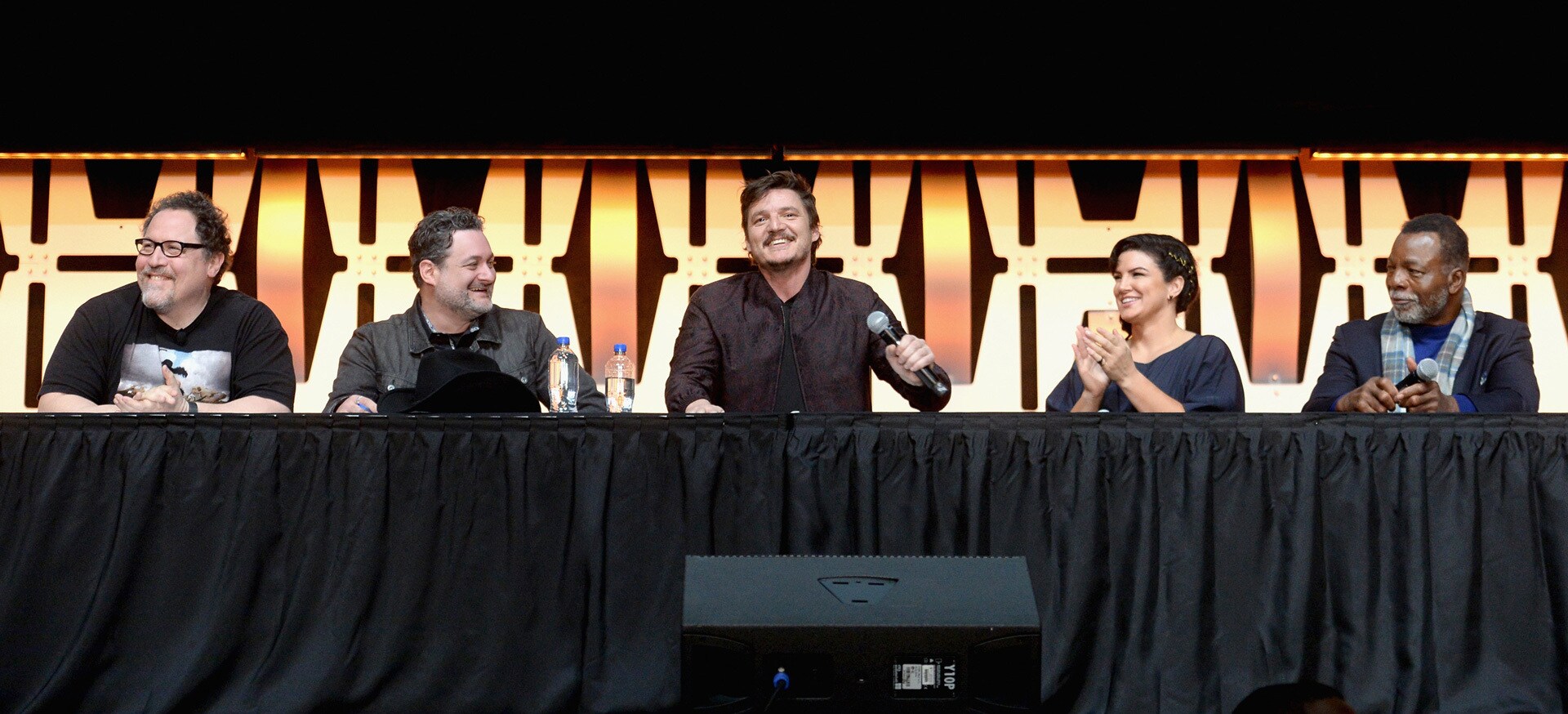 Showrunners Jon Favreau, who wrote and executive produced the series, and Dave Filoni, who directed the first episode, were joined by actors Pedro Pascal, Gina Carano, and Carl Weathers as they answered a few questions about their characters and what the series has in store.
Here are nine things we learned during the panel celebrating the arrival of The Mandalorian.
1. The main character's ship, the Razor Crest, was a practical model, not a computer-generated effect. For the completely new ship, ILM model maker John Goodson built the craft using old-school techniques combined with cutting-edge 3D printing and LEDs for the engine lighting effects. Meanwhile, special effects legend John Knoll crafted a special motion-control rig in his garage so the model could be used for composite shots. It was important to pay homage to the tradition of using practical effects to ground Star Wars in reality but, like each Star Wars film that's come before, taking advantage of the most current technology available, Favreau said, although the idea for the miniature began "for lighting reference."
"For your desk," Filoni corrected.
The show is the product of new technology, including virtual reality storyboarding, game engine software, and video walls, Favreau said, "but Star Wars at its core has to feel handmade and like a practical show."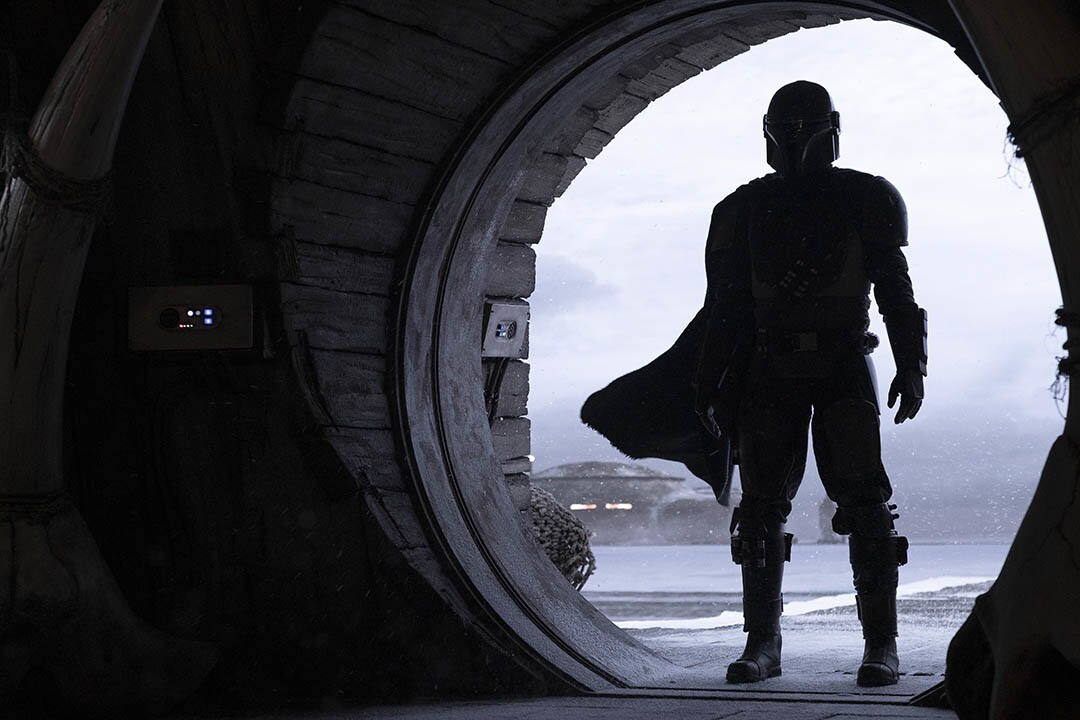 2. You can expect a mix of new aliens, planets, and starships, plus plenty of familiarity. In exclusive footage shared only with fans in the arena, the crew revealed that the story takes place about five years after the events of Return of the Jedi. In the footage, Favreau promised new planets, new alien races, and other completely unique creations, "but if you've been a fan, there's a lot of care that's gone in to all of the details," he added. "We wanted it to feel completely connected and familiar" for fans who have been along for the ride for decades, he said, and that means peppering in recognizable aliens, droids, and stormtroopers. In a separate clip introducing a montage from the series, fans glimpsed a Kowakian monkey-lizard roasting on a spit, an IG unit, and other familiar aspects of the Star Wars galaxy we know and love.
3. Fans were invited in to be a a part of filming behind and in front of the camera. Favreau said one of the prerequisites he set out before hiring directors was that everyone leading an episode had to have been a Star Wars fan first.
At one point during filming, he realized they didn't have enough sets of stormtrooper armor to complete a shot. He and Filoni made some calls and members of the Imperial fan cosplay group the 501st Legion answered, arriving on set for filming much to their surprise. Normally when the group is called in, it's for a parade or another event. "It's not normal that you show up on a planet where there's a Mandalorian," Filoni said.
Carano was impressed by the level of detail they achieved in their costuming. "These people are legit," she said.
"And what was really crazy about it was they worked really hard," added Weathers. "They were on point the entire time."
Now those fans have a coveted collectible. "The minute they left that day all their armor was screen-used," Filoni said. "So that was pretty cool."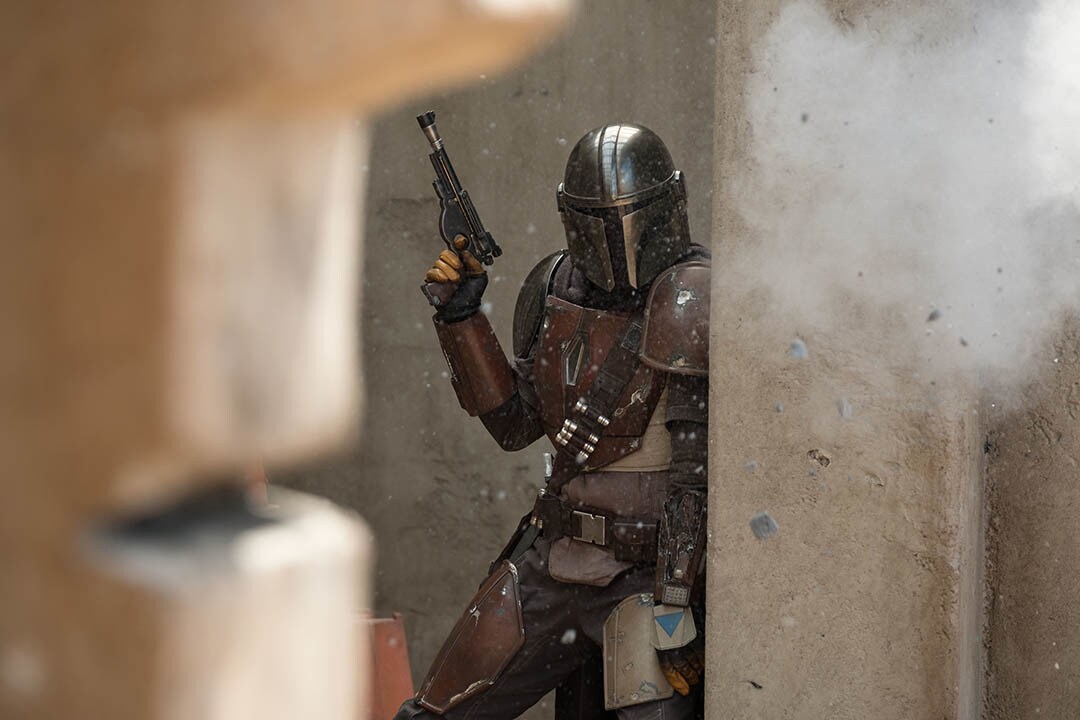 4. Pedro Pascal was inspired by the actor behind the Man with No Name in creating the titular "incredible, iconic" character. "He's got a lot of Clint Eastwood in him," Pascal said, in the style of western heroes and samurai. The star of the new show was a devoted student ahead of filming, calling Favreau for tips on what to watch and getting a list of homework including classic gunslinger flicks and Akira Kurosawa films. But honestly, Pascal said he would have auditioned for any role in the series, dramatically resting his head on the table in front of him as he talked about what it felt to be told he had the lead. Star Wars was an important part of his upbringing and he had trouble putting into words how it feels to be a part of the franchise he's loved for so long. "I was shaped by these movies," he said. "Fantasy fulfillment. That's what it's like."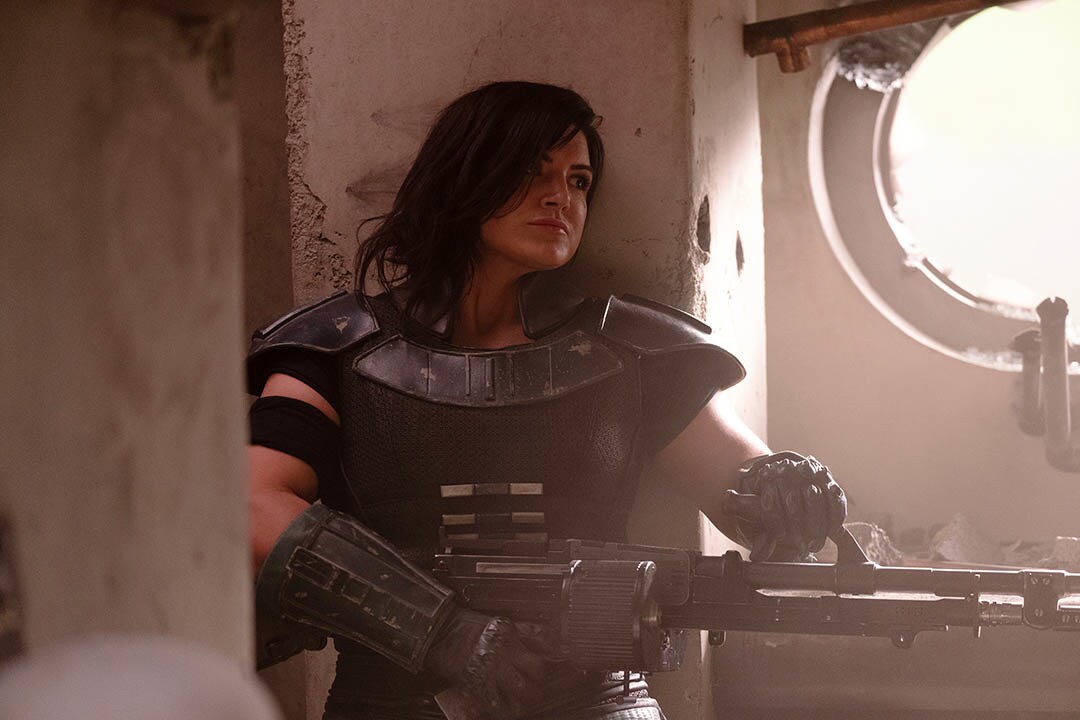 5. Gina Carano plays a former shock trooper named Cara Dune. "I know, not what you were reading online," she quipped to the audience. "I was watching all of you." The production called for the most secrecy of any job in Carano's career, she said, finally getting to describe her character to the public as "a bit of a loner, which isn't a far stretch" who struggles with reintegrating into society.
It's the opposite of how she felt upon being welcome by the Star Wars crew. "Oh my gosh I get to be a part of a whole other family."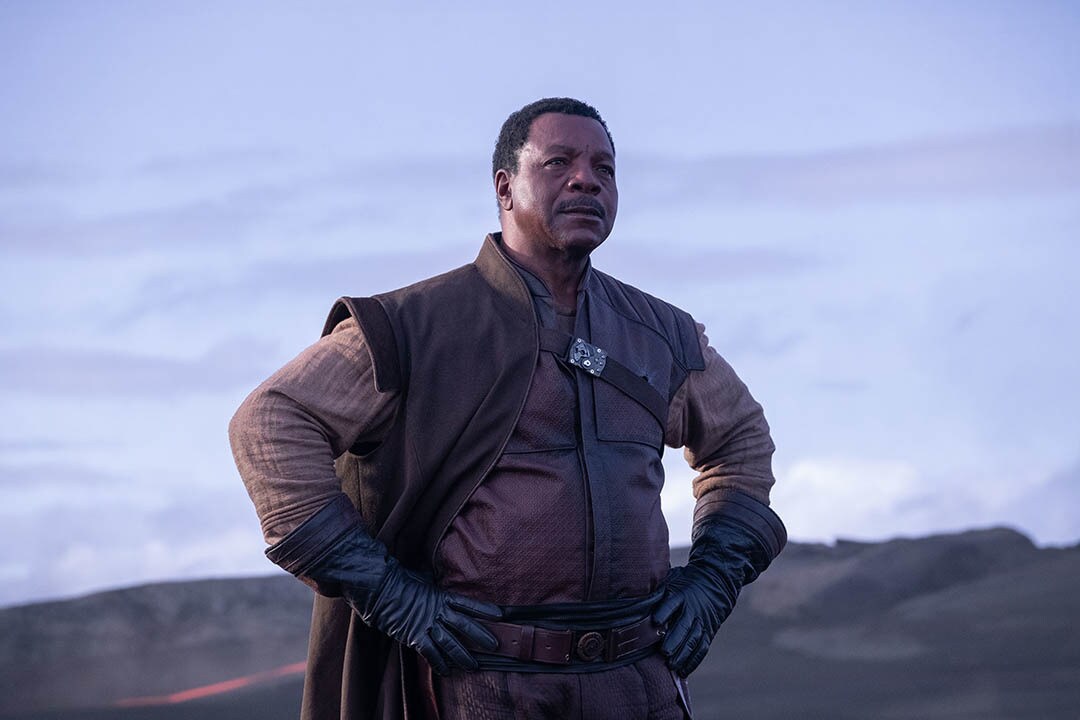 6. Carl Weathers plays Greef Karga, the head of a guild of bounty hunters. And in the grand tradition of Star Wars lore, it all starts with a job. "He's looking for someone to go after a product he wants to bring to a client that's worth a lot and that's very valuable. And guess who he finds?" Weathers said. "He finds a bounty hunter named "Mandalorian…and the Mando does what needs to be done."
"Of all the things I've been involved with, I don't think anything has come close to this," Weathers added about the experience. "This is insane, OK?"
Sunday was the first time Weathers had seen finished footage of the show. "How can you not react to that?" he said afterward. "It's beautiful hearing the fans react to it."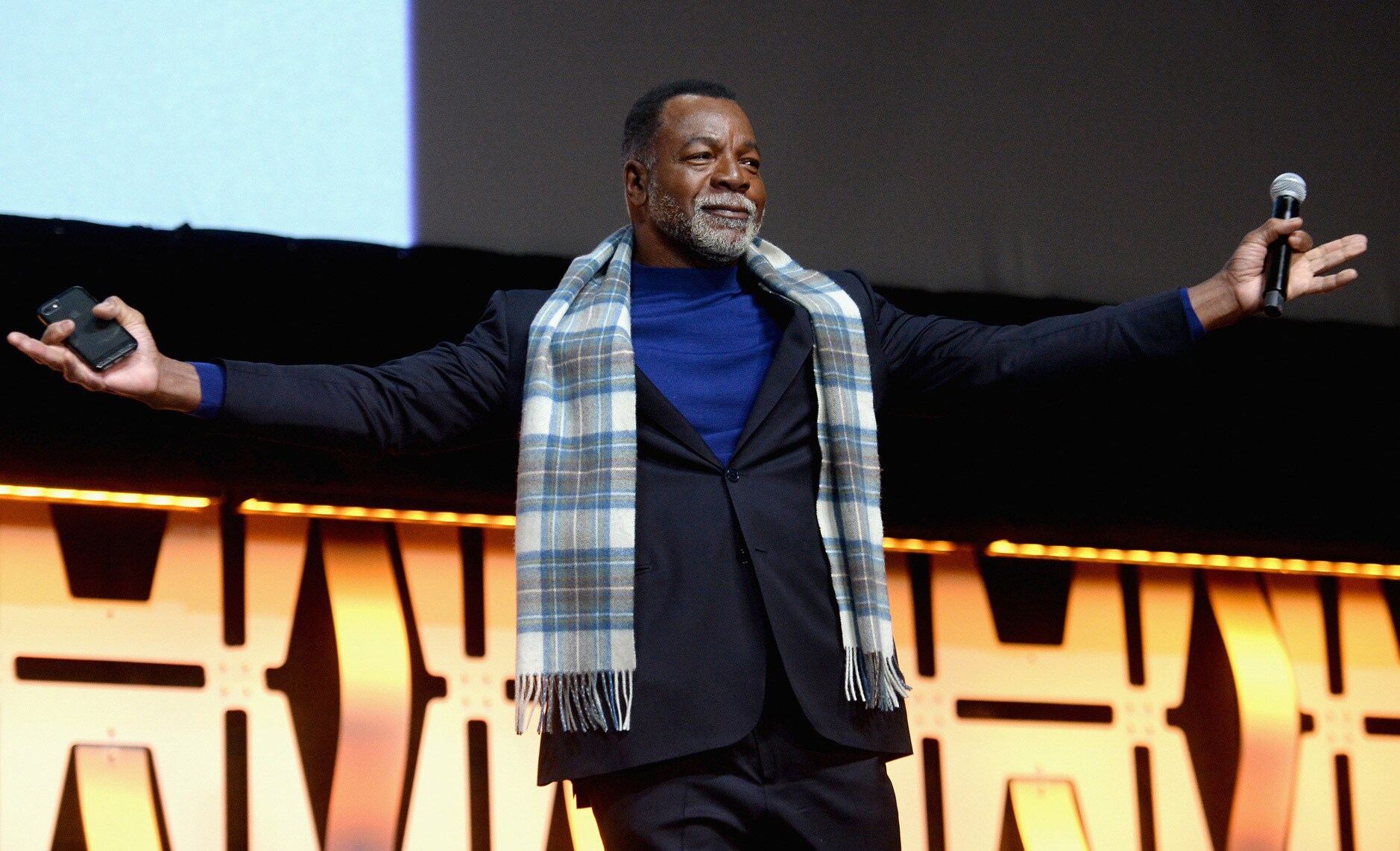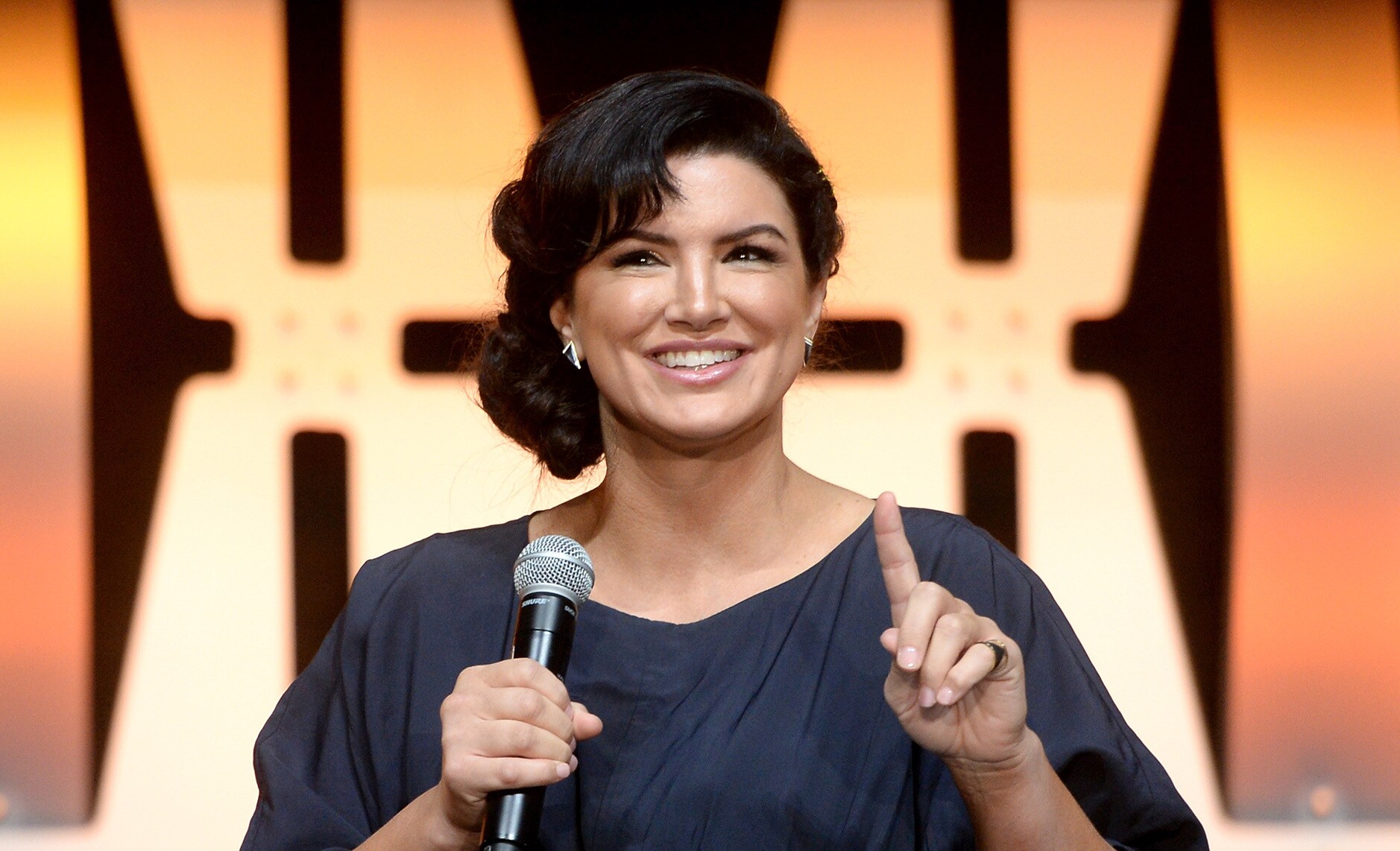 7. Both Weathers and Carano did many of their own stunts. "The only person that didn't have any fun was Gina's stunt double," Favreau joked, because they hardly got to work. Instead, when a scene called for Carano to carry a wounded comrade off a battle field, she did it herself, moving a real person, not a dummy, much to the surprise of some bystanders on set. "I've been doing my squats so this is good," she said.
8. The show will mark many firsts. It's the first live-action Star Wars series, and the first time Star Wars has been filmed in the United States, with production on set in Los Angeles.
9. But it's not the first time Filoni and Favreau have collaborated — they were each other's test audiences for Iron Man and Star Wars: The Clone Wars, respectively. The two revealed they met working at Skywalker Ranch and called upon each other to be the first to review these projects more than a decade ago. Favreau went on to voice the character of Pre Vizsla, a fearsome Mandalorian warrior wielding a dark saber, on the animated series. Now they're almost ready to reveal their newest collaboration to the world.