L0-LA59 gets the spotlight, HasLab makes a triumphant return, and much more!
Spoiler warning: This article discusses characters from Obi-Wan Kenobi, now streaming on Disney+.
The unofficial theme of Star Wars Celebration Anaheim 2022 seems to be "Hello there." And this year's highly-anticipated Hasbro Star Wars panel kept the theme going, introducing fans to fresh spins on classic characters and a wave of new products inspired by upcoming Star Wars entertainment.
In a panel discussion, Patrick (brand director, Hasbro Star Wars), Vickie (sr. design director, Hasbro Star Wars), Chris, (LucasFilm), Chris (product design manager, Hasbro Star Wars), Jing (brand manager, Hasbro Star Wars), Emily (sr. product designer, Hasbro Star Wars), and Eric (product designer, Hasbro Star Wars) introduced fans to a slew of upcoming releases, complete with a few surprises. Here are seven highlights.
1. L0-LA59 is here to steal our hearts. Speaking of Obi-Wan Kenobi, it's clear that L0-LA59 (affectionately called "LOLA"), is sure to join a long list of fan-favorite droid companions. And Hasbro must agree, because she's set to launch across several product lines, including the Black Series and the Vintage Collection (along with respective versions of Wandering Jedi Obi-Wan Kenobi), the Bounty Collection, and two interactive editions: electronic and animatronic. Speaking on the animatronic edition, Vickie shared it's the "most visually true to entertainment." Which was a feat, as the team had to work with limited information on the character during development, receiving show-official sounds just in time for production.
2. Ralph McQuarrie inspires Star Wars: The Black Series. In partnership with Disney Parks and shopDisney, Hasbro proudly announced its first-ever Black Series two-pack -- an Obi-Wan Kenobi and Darth Vader figure set based on the work of the legendary concept artist. "Obviously Obi-Wan Kenobi, Darth Vader, you know, a little relevant right now," Patrick noted, commenting on the release of the Disney+ Original series, Obi-Wan Kenobi.
3. The Inquisitors are on the hunt. Continuing the Obi-Wan Kenobi reveals, the team announced the introduction of several new Inquisitors from the show to the Black Series. While Reva was introduced earlier this week during Obi-Wan Wednesday, she'll be joined by fellow baddies The Grand Inquisitor, The Fourth Sister, and The Fifth Brother. Each figure comes with a unique lightsaber hilt, complete with dual removable blades. "Each one of these sabers are actually completely uniquely sculpted," Eric pointed out.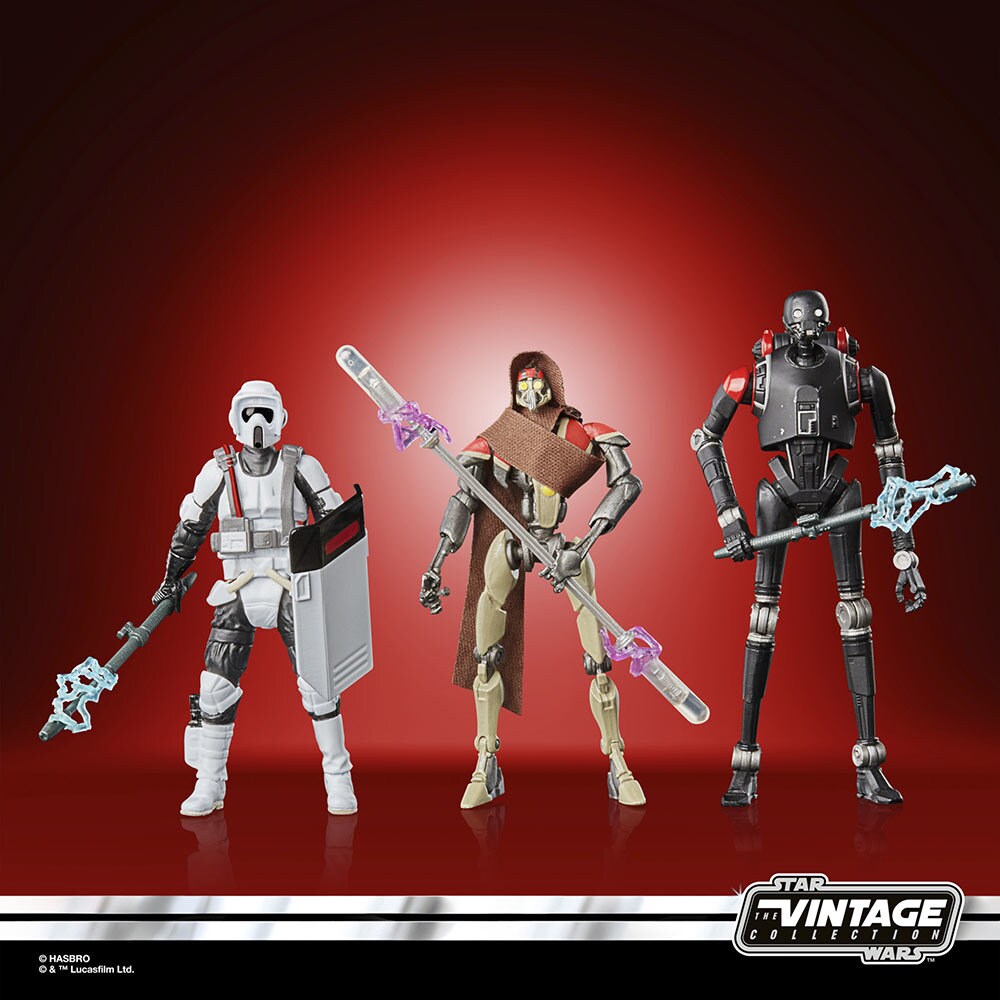 4. Star Wars Jedi: Survivor storms the Vintage Collection. Timed with the teaser debut and title reveal of the Star Wars Jedi: Fallen Order sequel, the Vintage Collection will sport an individually carded three-pack of some of the enemies players can expect to encounter in the upcoming game. The set will include a Riot Scout Trooper, a MagnaGuard, and a KX Security Droid, complete with their respective stun weapons and electric deco. As Vicki joked, there are a "shocking amount of figures here!"
5. The Dark Side remains strong! Two of the reveals receiving the loudest cheers from attendees were the Star Wars: The Clone Wars Season 7 Black Series Darth Maul and The Mandalorian Vintage Collection Dark Trooper. The Dark Trooper comes with its charging locker and features unique light piping for the eye lenses, mimicking their ominous glowing gaze. "This was a feature I was so excited to add," shared Emily.
6. Star Wars: Knights of the Old Republic -- Remake figures and more are in the pipeline. While pipeline reveals are often years off, they're a great way to get fans excited about what's to come. And Hasbro didn't disappoint: for the Black Series, fans cheered for new versions of Darth Malak and Bastila Shan, based on their upcoming looks in the remake of the beloved game, Knights of the Old Republic. In addition, Paz Vizsla, Starkiller, and Hunter are in the works for the Vintage Collection.
7. Hasbro Pulse's HasLab is back -- and more than 6 feet long! Fans were treated to a sizzle reel of the Hasbro's latest crowdfunding project: The Black Series Reva's double-bladed Inquisitor Lightsaber. This Force FX Elite blade features never-before-seen battle sequence effects across both blades, making for a unique and immersive experience. And backers won't have to worry about unlockable tiers. "This is it. We put it all here," said Chris as he showed the audience a working prototype. "I'll talk to you all day about this!"
Check out even more reveals in the gallery below!