Collectors, movie buffs, gamers, cosplayers, and more -- Star Wars Celebration brings them all together.
Star Wars Celebration is named "celebration" for a reason. Fans of the galaxy far, far away come from all over the world to share in the joy and community of Star Wars. There's always something exciting to see, new friends to make, and screams of delight echoing across the show floor.  And that was the case this year at Star Wars Celebration Anaheim 2022.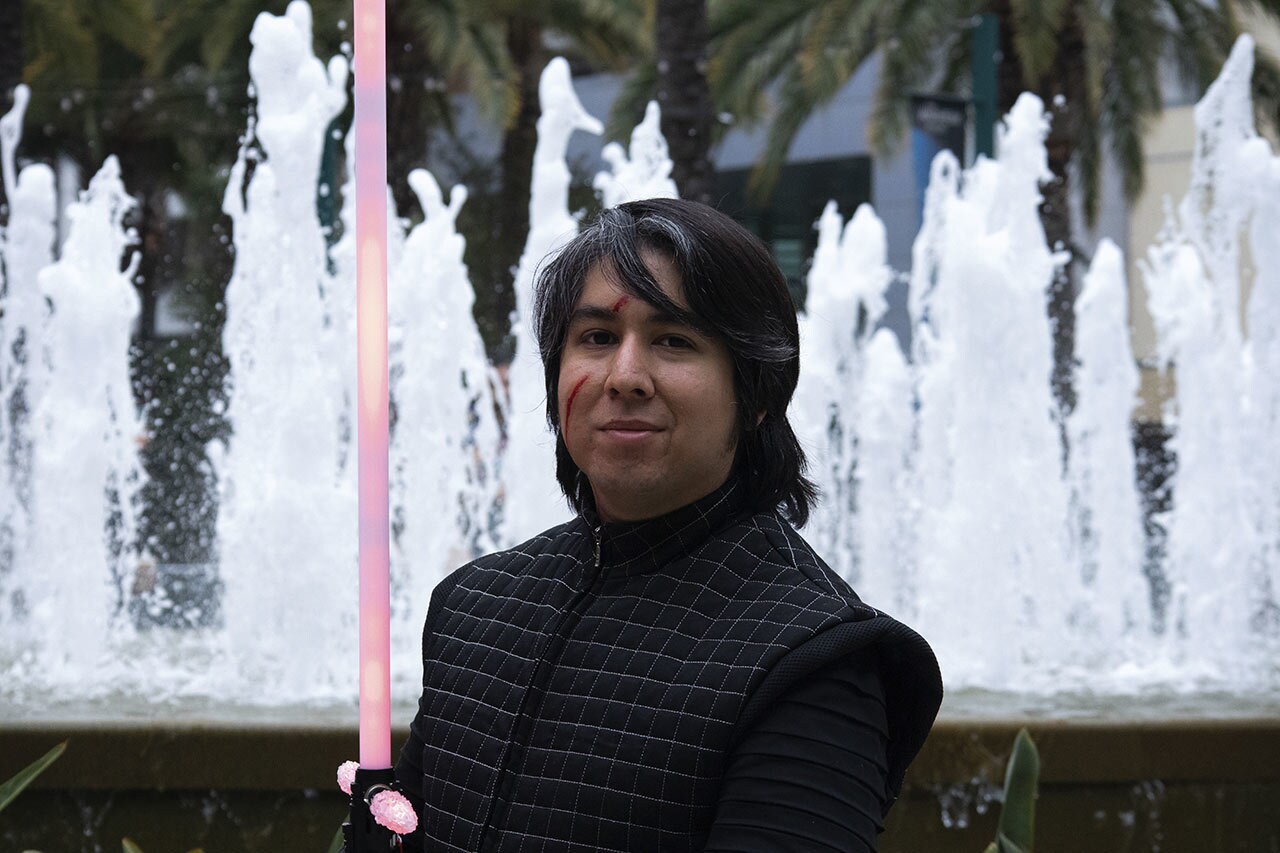 Isaias Ramirez came from Phoenix, Arizona, for his very first Celebration. Ramirez might have been impeccably dressed as Kylo Ren, scar and all, but he couldn't help smiling. His favorite part of the show was the friends old and new he'd already discovered there. "[I've been] meeting friends, essentially internet friends, for the first time at this convention," he tells StarWars.com. "It's been amazing. I honestly don't know how to describe [it] -- I feel like I've had butterflies this whole weekend."
He's looking forward to The Mandalorian's next season -- aren't we all! -- and that's not the only hero he's excited to see again. "I loved seeing the trailer for Andor," Ramirez says. "I loved yesterday's announcement and trailer for the Jedi: Survivor video game, the sequel to Fallen Order. I was over the moon for that."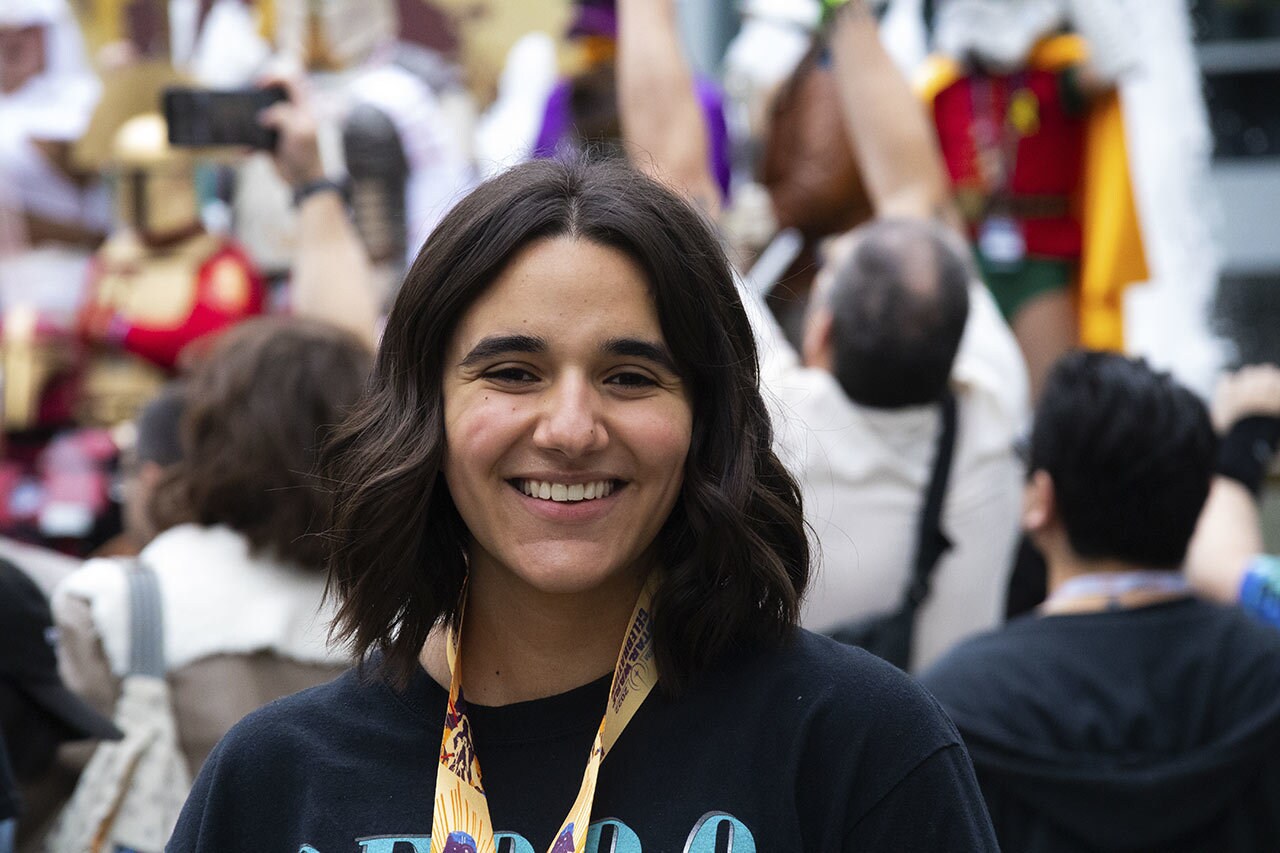 Maralisa Ortiz from Las Vegas was also at her first Celebration and ready to spot her favorites. "If I see Ewan McGregor, that will be the best day of my life," she says. "This is my first convention ever. I'm super excited just to see all the cosplay, hear Jon Favreau, and go to the panel."
As for what Maralisa is looking forward to, it's the animated adventures that have her attention. "The Young Jedi Adventures looks like it's going to be amazing!" she says. "I'm so excited for that one. It's going to be cool to watch little younglings in the High Republic era. I can't wait."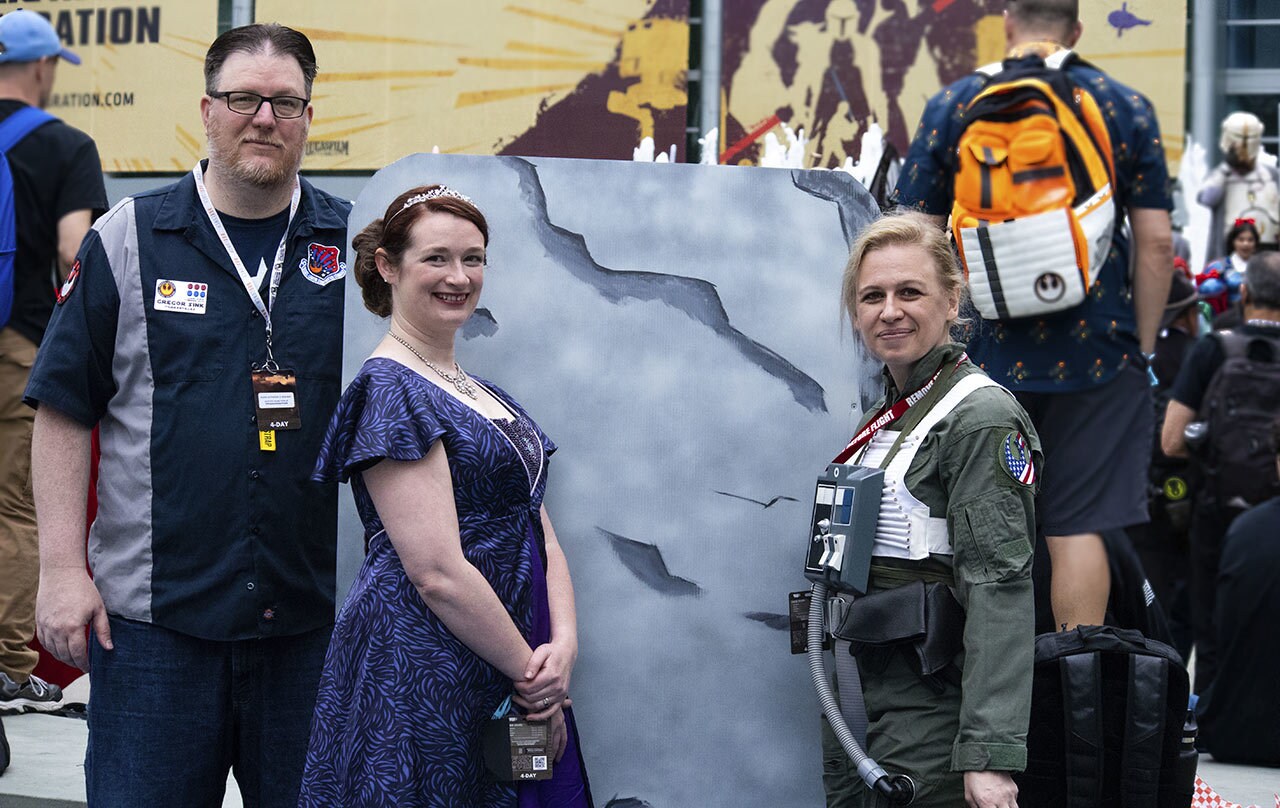 Fellow High Republic fans and husband and wife Lisa Liebig and Gregor Sink were easy to spot among the crowd with their huge Geode costume. "We've been to all the High Republic meetups, so those have been a lot of fun," Liebig says. "Doing this costume, [High Republic author] Claudia Gray freaked out when she saw this, and it was wonderful. I've never had a celebrity ask me for a picture before. So that was pretty freaking great." 
Their close friend, Lisa Curtis Saunders, dazzling in a purple Padmé Amidala-inspired dress, was thrilled to hear about the return of Cal Kestis. "I'm really excited for the new Jedi: Fallen Order sequel," she says. "I wasn't expecting that. I looked up at the screen and there it was! I was like, 'Ooh, all the Cal [cosplayers] are very excited right now.' The first game is so pretty, I'm so glad they're doing another one." 
Liebig was looking forward to a video game as well. "The one I wasn't expecting…was the Switch version of Knights of the Old Republic II," she says. "My very first costume I made for the Rebel Legion was Atris, so I have wanted to see that game get the justice it deserves for a very long time."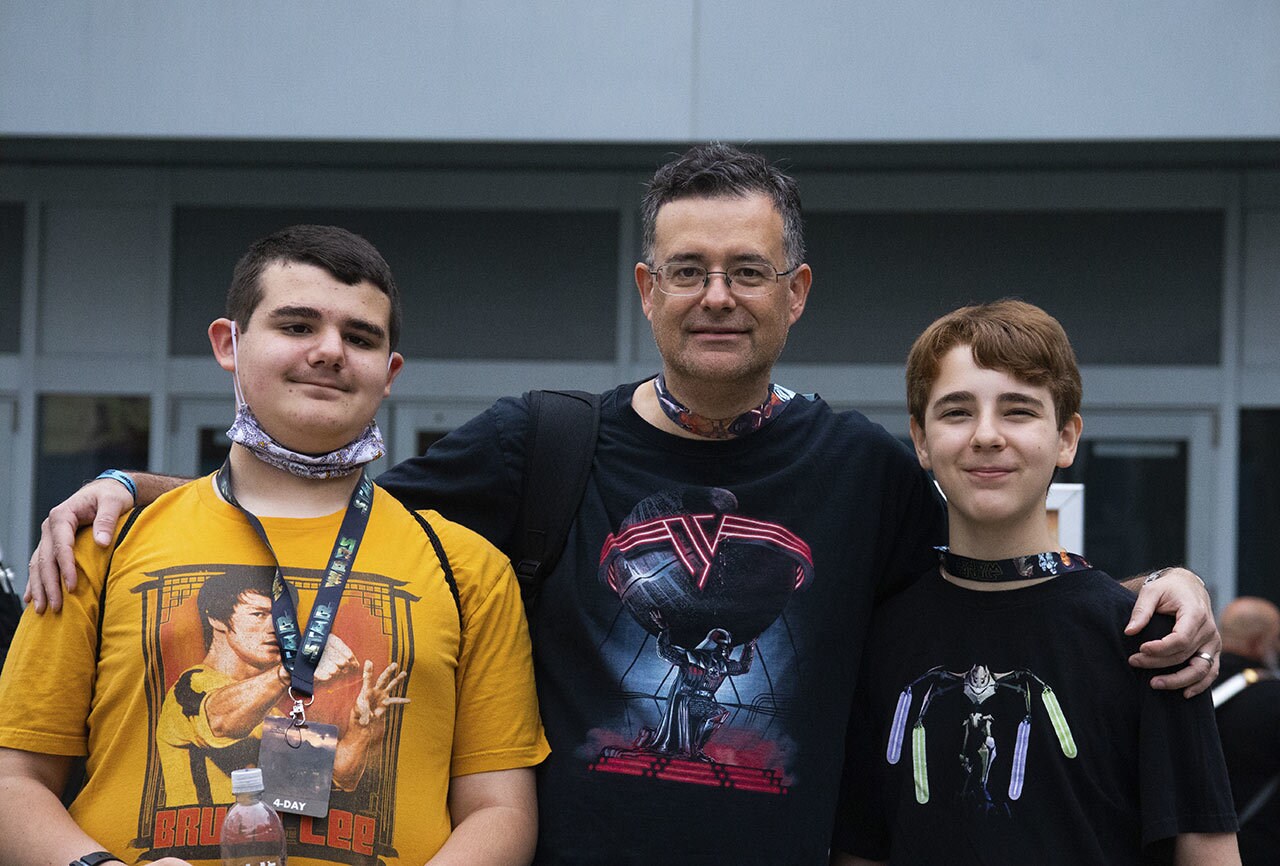 Tony Agudelo and his sons Alec and Aramis flew across the country from the Boston, Massachusetts, area to see the sights of Celebration for the third time. And the show started with a high point for them. "We were very lucky to get into the panel on Thursday that had Harrison Ford and John Williams," says Agudelo. "That was incredible. After that, it was like, whatever happens is gravy. To see that was amazing." 
Fourteen-year-old Aramis was also thrilled to attend the Light & Magic panel and is looking forward to catching the series soon on Disney+. "I really like the Andor show that's coming out in August," he says.
His brother Alec was enjoying seeing the other show attendees as much as the panels. "I like getting to see people dressed up in costume and give out some of our swag," he says. 
"One of the things we like the best is that you never know what to expect," adds Agudelo. "You just turn the corner and there's something awesome. They had three animatronic Grogus walking around with the people moving them, then Chewbacca came in. You just have these things that you don't expect, and they're amazing."