The popular artist discusses the original character portraits created for Lucasfilm's official fan event.
One of the best Star Wars Celebration souvenirs has always been the very item that gets you inside: the badge. That's because Lucasfilm has made it a tradition to commission artists to create original badge art for Star Wars Celebration, adding a little galactic flair to something that, at most conventions, is little more than an afterthought. Being part of that tradition is especially meaningful for Alice X. Zhang, the digital artist behind Star Wars Celebration Europe 2023's badge paintings — a beautiful collection of character portraits that StarWars.com is excited to reveal.

"Well, it has absolutely been a huge honor! I have never been to a Celebration, but when I was first approached and researched the history of Celebration badges, I was immediately inspired — not to mention, portraits are my favorite illustration subject," she tells StarWars.com. "So, it was exciting for me to take this on, and I really wanted to do a memorable job."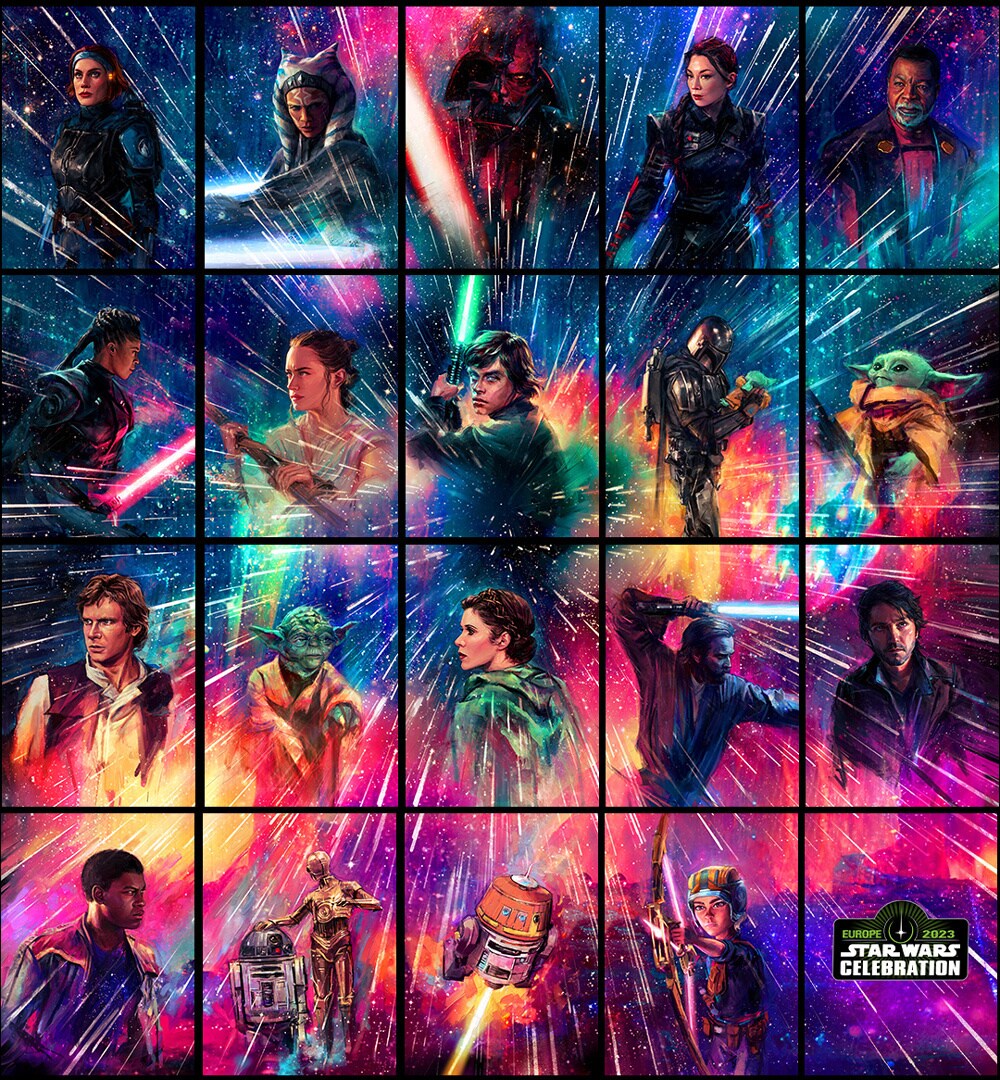 The portraits cover the Star Wars spectrum, with subjects including everyone from Rosario Dawson's Ahsoka Tano, to Star Wars: Return of the Jedi-era Luke Skywalker, to a defeated Darth Vader from Obi-Wan Kenobi. There are a staggering 19 in total, all designed to fit together like a puzzle. "I knew that Celebration has had a long tradition of commissioning a single illustrator to create the art on each badge, and that many collect the badges," Zhang says. "I wanted to do something unique to 'link' the set together, like an Easter egg for those collectors!"

Zhang's Star Wars Celebration art is in the style of traditional oil paintings, but created through modern techniques. "The style just comes from many years of me messing around with brushes that imitate traditional media and overlaying a variety of digital textures and effects. I did a lot of traditional painting back in the early years of my career and in school, and those skills have transferred when I switched to full-time digital painting," she says. For this project, Zhang worked in Photoshop on a Wacom Cintiq tablet, and did early sketches with an Apple Pencil in Procreate. She also occasionally used a program called Rebelle by Escape Motions. 

Though she can't pick a favorite piece from the bunch, one moment sticks out during the review process. Zhang was told that longtime Ahsoka Tano storyteller Dave Filoni "personally approved of the Ahsoka piece, and that's always lovely to hear."

For now, Zhang is just excited for fans to get their badges.
"Even though I know not everyone will keep their badges, I hope those that do will treasure the souvenir and the effort that I (and Celebration for commissioning me in the first place) put in to make them special."
Check out StarWarsCelebration.com for more information. Star Wars Celebration Europe 2023 will be held April 7-10, 2023, at ExCeL London in England.