Fan-crafted costumes inspired by the galaxy far, far away reached new heights in Anaheim.
From a towering General Grievous to kid-sized members of the Bad Batch, cosplayers of all shapes and sizes wowed the crowd at Star Wars Celebration Anaheim 2022. They came from around the world, including Brazil, Peru, the United States, and more, to show off months of hard work to an energetic audience. Judges Steve Sansweet of Rancho Obi-Wan, Krystina Arielle of Star Wars: The High Republic Show, and Kristin Baver of This Week! in Star Wars had the difficult task of selecting the winners.
"I've never seen a better group of costumes than I've just seen now [backstage]," Sansweet said as the competition kicked off.
Each entrant dazzled the judges and audience alike. Cosplayers showed off gorgeously intricate gowns worn by Queen Amidala and Trios (Marvel's Star Wars: Darth Vader), created character mashups like the "Vaderbuster" and "Shogun Vader," and embodied characters like Chirrut Îmwe and Jedi Master Luke Skywalker so flawlessly it felt like they were actually in our galaxy.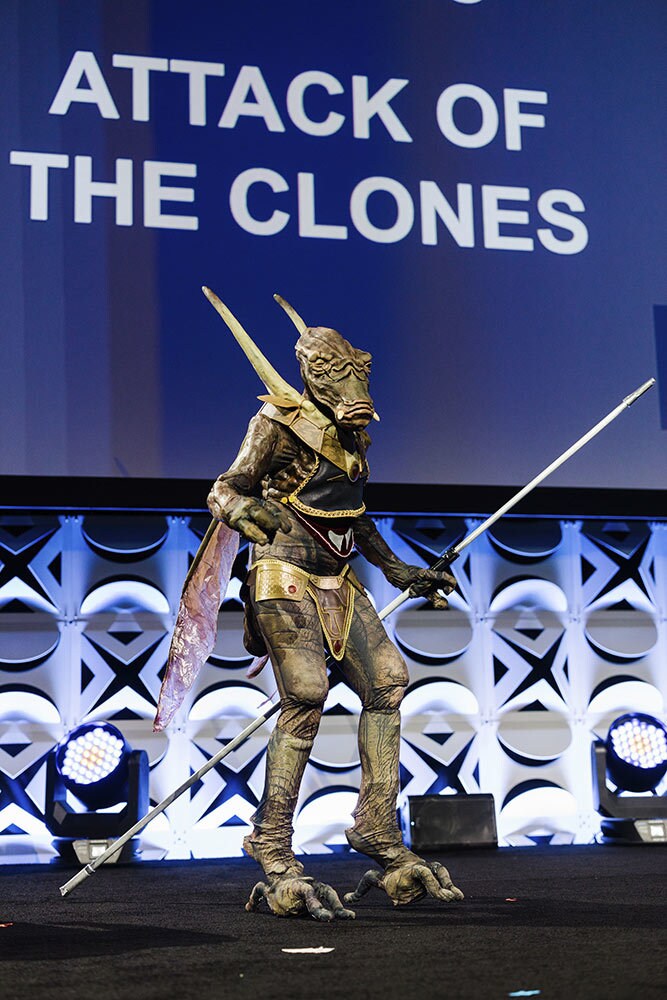 The entire room buzzed when winner of Best in Show Marietta Ivanova stepped onto the stage as Geonosian warrior Sun Fac. Marietta traveled from Finland to bring the completely digital character from Star Wars: Attack of the Clones to life and celebrate the film's 20th anniversary.
The character had only a few moments on screen, but Marietta studied each second carefully to capture every single detail in her build. The entire costume was built from scratch. While she was thrilled to compete, Marietta tells StarWars.com, she just really wanted to create it for her fellow Star Wars fans.
"It's fun to show the other fans the things that make Star Wars so fun and exciting," says Marietta. "I think just seeing this stuff makes people go, 'Wow!' and maybe they'll get inspired, too."
Marietta herself was inspired by the stunning costumes at Star Wars Celebration Chicago in 2019. She was determined to learn new techniques afterward, she said, and learned 3-D printing and modeling. (The collarbone piece alone took four days to print.) The cloth components of the costume were handsewn by Marietta.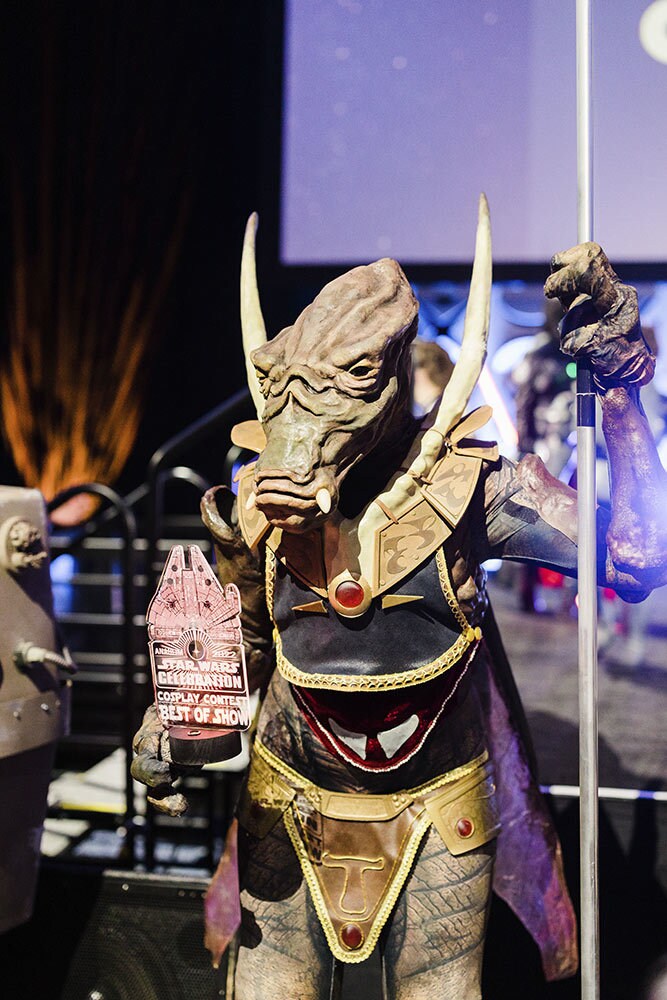 But why a Geonosian, you might be wondering? "[Geonosians] are just such cool aliens!" she says. "It's cool how Star Wars gave these bugs a whole culture, way of life, and language. That's the coolest part of Star Wars -- you can find the space battles and those stories, but you can also dive into these cultures and weird alien stuff." 
Marietta embodied a Geonosian from head to toe, including high-heeled boots without heels to get the creature's posture and gait just right. The incredibly lifelike face and head of the Sun Fac is her favorite part of the costume.
"This is an ugly bug!" Marietta laughs. "For some reason, people find it beautiful. I think that's cool too, that you can find beauty in this gruesome creature which is kind of a cockroach.
"The hardest part, of course, are the feet. This is what I need to be working on. These heels are homemade because I didn't have the funds to buy professional ones. I just made these myself. Maybe I'll upgrade so I can spend more time walking with the fans. That would be fun."