Handcrafted silicone rings feature etchings of your favorite characters to show off your fandom wherever you go.
Stylish silicone rings designed with hardworking bounty hunters in mind? It's not jewelry from a galaxy far, far away. These comfortable bands were made right here on our own planet! Enso Rings' new Star Wars collection features six silicone rings emblazoned with your favorite characters in eye-catching designs.
Aaron Dalley and Brighton Jones, the co-founders of Enso Rings, have been Star Wars fans for most of their lives. "Star Wars got super real for me in the hype leading up to Star Wars: The Phantom Menace," Jones tells StarWars.com. "The lightsaber duels. The podracing. I was into it. I wanted to fly a Naboo N-1 starfighter so bad! Heck, I still want to fly one."
For Dalley, it was a family affair. "The [Star Wars] universe is a huge part of my family culture," he recalls. "The movies, the video games, the books. My parents were passionate fans. They shared that passion with me, and I've passed it on to my kids."
Now the two fans have combined their love of Star Wars with their professional lives. StarWars.com recently spoke with the co-founders as well as senior art director Ian Wambold to learn all about the new Enso Ring Star Wars collaboration.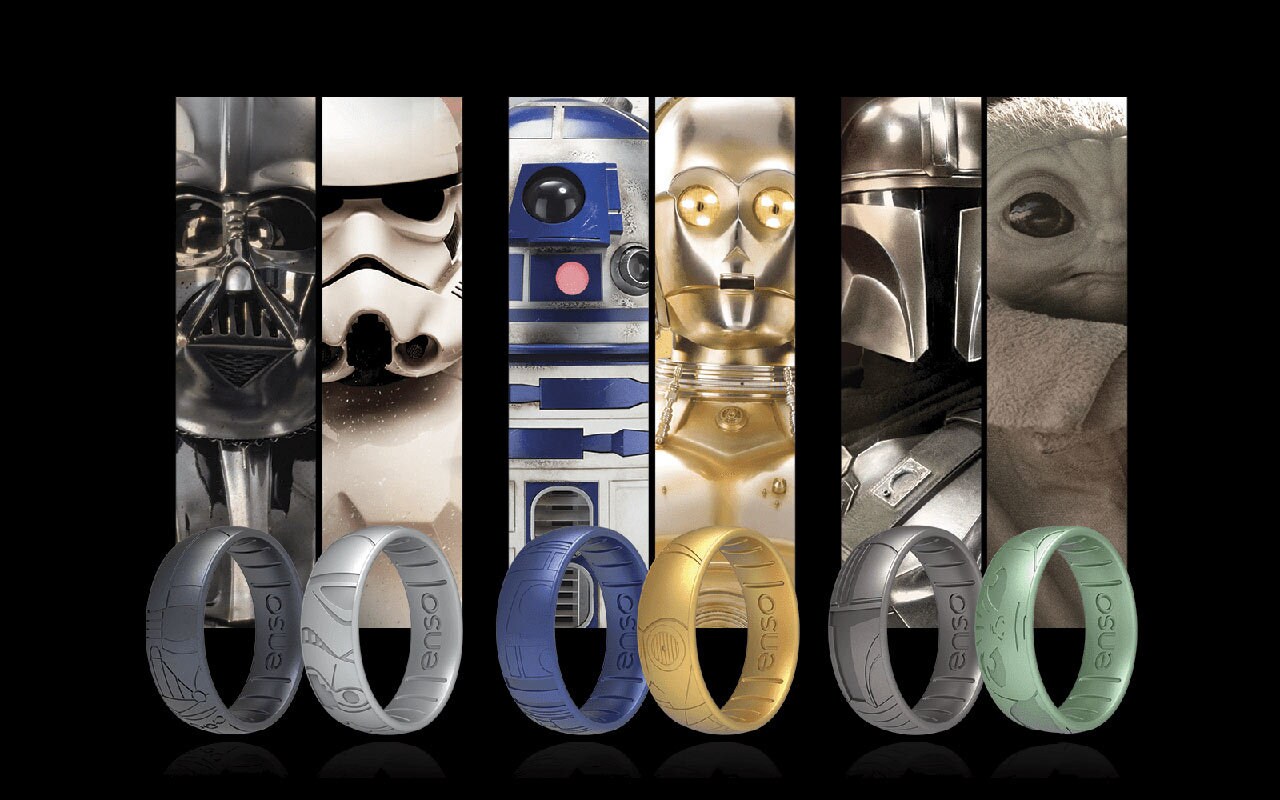 StarWars.com: How did you choose the characters to feature in this ring set? 
Ian Wambold: Brighton fought hard in our early design meetings for a yellow Naboo N-1 starfighter. Which, don't get me wrong, would be awesome. Ultimately, though, we decided we wanted to create a mix of classic and new heroes and villains foundational to the series, plus new characters like the Mandalorian. 
There were major design considerations, too. Our silicone rings are an entirely new medium to express these characters. Characters like C-3PO and R2-D2, the ones who carry us through the Star Wars saga, well, they're made of metal. They're shiny and metallic. When we express these characters in our rings, we get to mirror that metallic look in silicone. So not only did we look into which characters would most profoundly connect with the fans, we looked into which characters would beautifully and uniquely shine with the materials of our craft.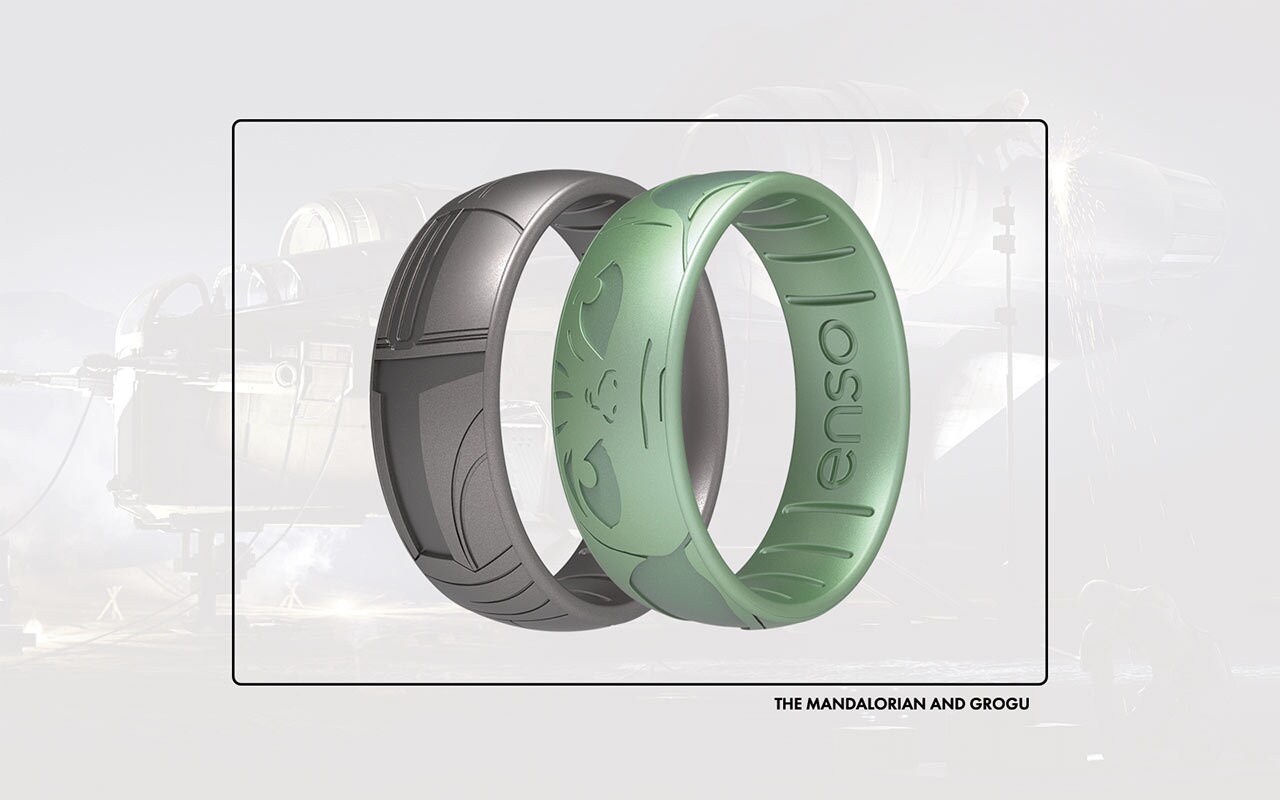 StarWars.com: Is one character a particular favorite?
Aaron Dalley: The Mandalorian! My favorite character is Mando, and his ring was far and above my favorite to work on. A big part of what makes Enso Rings special is our patented process for infusing precious gems and metals into some of our flagship rings. With Mando it's not just print on a ring. It's a handcrafted silicone ring infused with precious metal and laser-etched with Mando's iconic look. Designing his ring was like etching directly into actual beskar armor! It's what makes silicone rings such a cool lifestyle medium to work in. Their form, their function, the style and expression all support each other.
And as soon as our shipment of actual beskar arrives from Concordia, maybe we'll get to play with that, too. (Just kidding!)
StarWars.com: For some Star Wars fans, this might be the first silicone ring they add to their collection. Do you have any tips for taking care of one?
Brighton Jones: The thing is, you actually can't think about silicone rings in the same way that you think about traditional rings. There's no cleaning or nervousness about wear that you need to worry about. Every time you wash your hands, you're cleaning your ring. You really do forget you're wearing it until someone says, "Hey, is that Vader on your ring?" 
A lot of exclusive collectors' items, they're fragile. You've got to put them in a case, be careful with them, show them off every now and again. A Star Wars x Enso collector's ring, though, [is] made for any level of activity. Whatever you're doing, you can wear it.
Aaron Dalley: Welcome to the light side of the Force! And also lifetime warranties! Don't ever be afraid to rock your Star Wars allegiance. Going where you go is at the core of our design philosophy. Silicone rings don't mind water. They're super easy to clean. They're light. We craft them to be low maintenance.

Star Wars.com: You've released a few other collections before. How did this one stand out on a personal level?
Aaron Dalley: Honestly, the creative challenge was what made it personal to me. It's one thing to sit down with your team and build something beautiful when you have no limitations. It's a totally different thing to mesh your creative direction and vision with an established and beloved staple of our culture and apply that to a medium that has some inherent design limitations. 
Brighton Jones: For me, it's been about a chance to create within the Star Wars cultural canon. I was an established fanboy long before the Star Wars x Enso collaboration. Crafting this collection meant that something I'd helped make would forever be an official part of a universe I love, my friends love, my family loves. It was a chance to creatively dip my toe in a history that matters to many of the people in my life.
StarWars.com: What has the response from Star Wars fans been like?
Brighton Jones: So CRAZY! After the first day we knew it was going to be big. The surge of related unboxing videos, of social media mentions, of direct feedback from our customers, has all been so unprecedentedly positive.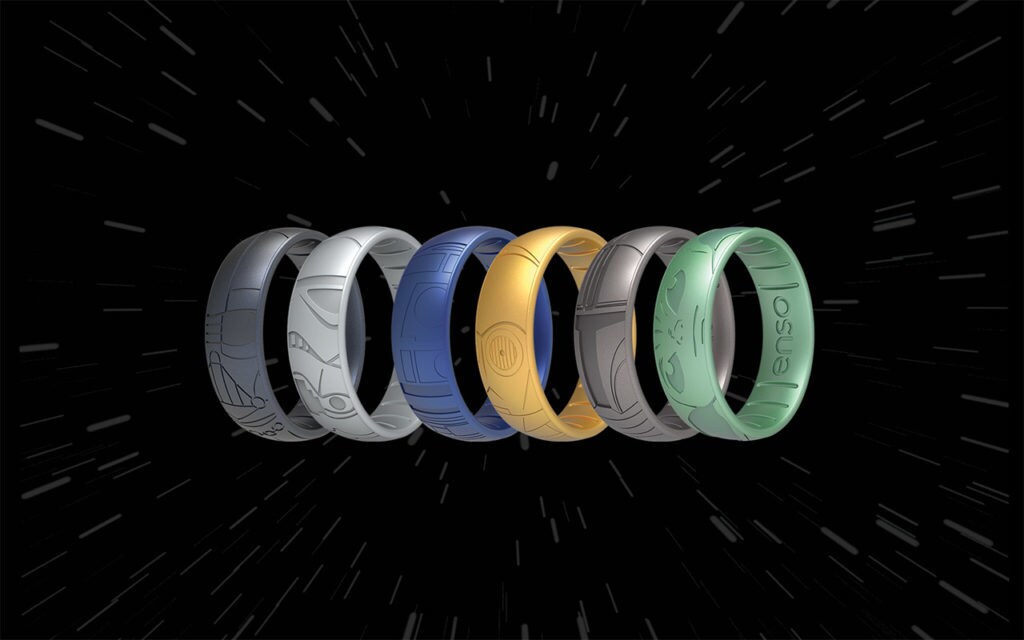 Aaron Dalley: Star War fans in particular have loved the collection, and that was really important to me. As a company, we're first-time guests to this party, and it was important that our vision for a Star Wars silicone ring matched the expectations of a longtime fan on every level, from the color options to the size and style of the character etchings.
We have big plans for the future with more launches on the horizon. The reaction from fans so far has only supported those plans.
The Star Wars collection is available now on the Enso Rings website.