Based on Ahsoka's appearance in Star Wars Rebels, a new ring and earrings show the character's evolution.
She is no Jedi. With lightsabers glowing a brilliant white, the Ahsoka Tano we meet in Star Wars Rebels is older, wiser, and ready to fight for the rebellion.
And a new series of Star Wars X RockLove pieces, made in collaboration with Her Universe, will bring this version of the fan-favorite Togruta into your jewelry box. Designer Allison Cimino and Ashley Eckstein, the voice of Ahsoka Tano in the animated series and founder of Her Universe, have once again joined forces to collaborate on a sterling silver and enamel pair of earrings and matching ring evocative of Ahsoka's montrals.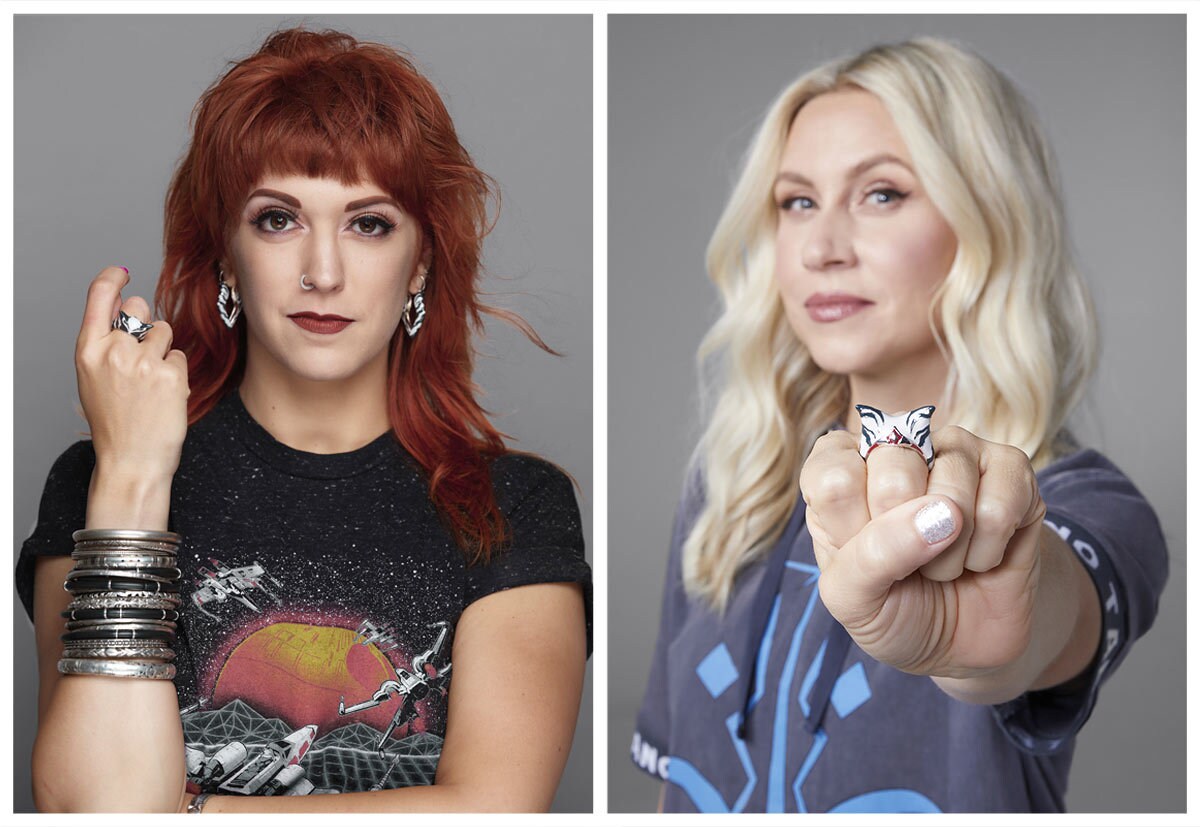 In 2019, RockLove launched its first Star Wars line with an Ahsoka ring sculpted after the younger version of the character in Star Wars: The Clone Wars. Each one was inscribed with a simple hidden message: "Ahsoka lives."
"It was all very kismet; I thought of the ring while dreaming, woke up and sketched it in the early morning, and then sat up waiting until it was an appropriate hour to text the picture to Ashley," Cimino recalls. "We worked together quite naturally and Ahsoka fans loved the ring, so we decided to continue our collaboration together the following year." In 2020, Ahsoka-inspired pieces included a medallion and a bangle in grey-blue and white hand-painted enamel, in a limited edition that sold out fast.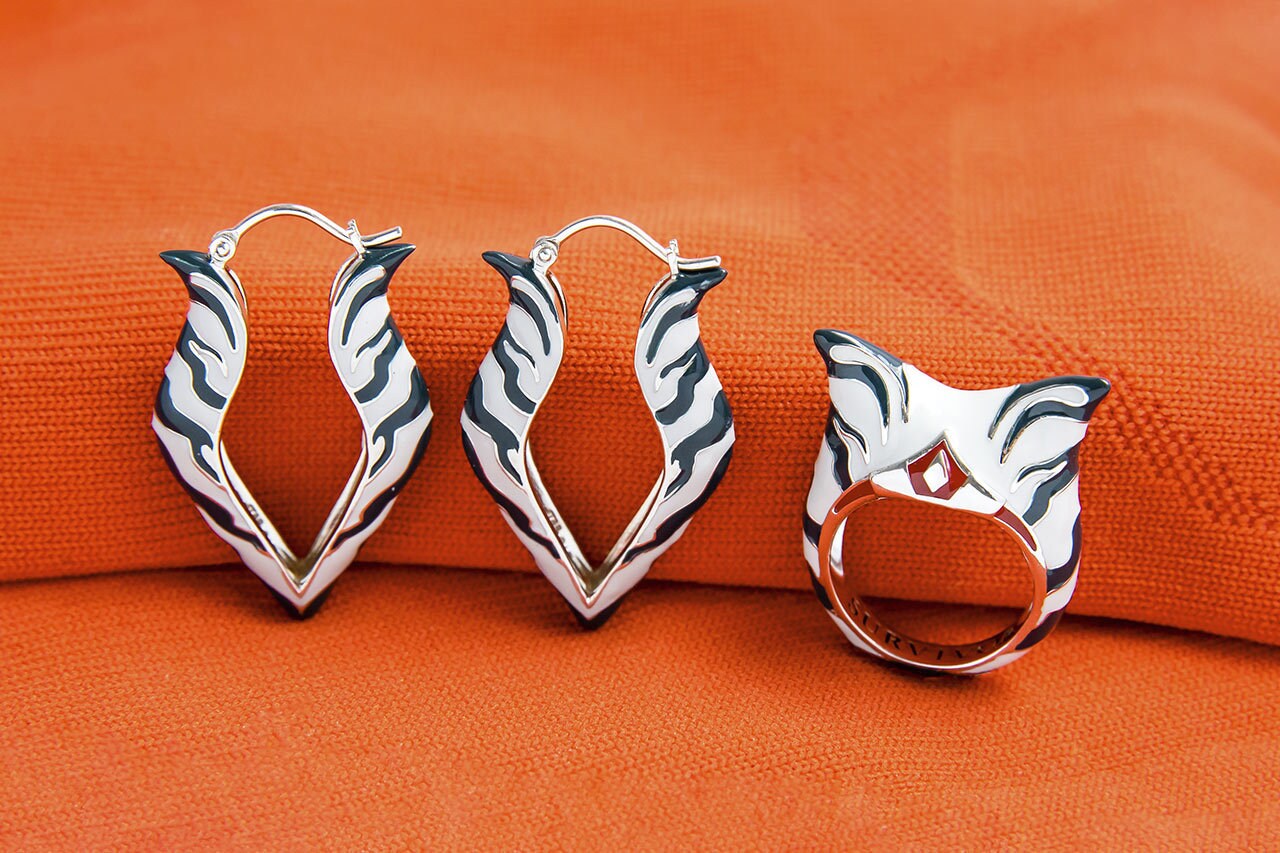 For 2021, the new limited-edition earrings add to the growing collection, a whimsical and sophisticated set carved in sterling silver and featuring the collection's signature pattern. "The silhouette is an elegantly curved V-shape in which both of Ahsoka's montral tips frame the hinged ear wire," Cimino notes. "The body of the hoop depicts a more mature Ahsoka's longer left and right lekku, which meet at the tip, reminiscent of the head-tail that goes down her back."  And each hoop is hollowed so the statement earrings are still lightweight enough for comfort.
The Ahsoka Tano Rebels Ring completes the collection where it all began with an updated silhouette and a new inscription evocative of Ahsoka's character evolution: "Survivor."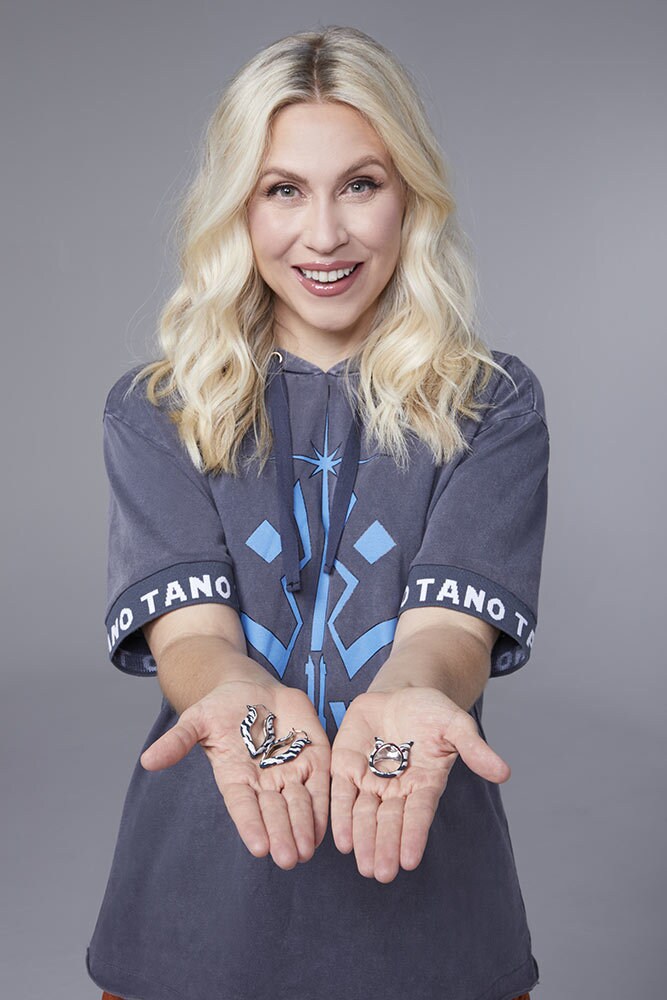 "If I could only pick one word to describe Ahsoka, it would be survivor," says Eckstein, who chose the quote. "Ahsoka's journey has not been easy. It's been filled with dark times, set-backs, devastation, betrayal, loss, and heartbreak. However, Ahsoka always finds hope and light, even in the darkest of times." Ahsoka's perseverance makes her a relatable character. "We all have dark times, but Ahsoka's spirit and wisdom lives on in all of us now, and I chose the word survivor as a reminder that we carry her strength, too," Eckstein says.
The new ring design honors the more mature version of the character. "The pattern on her montrals is thinner and more elegant, and she wears a headdress with burgundy red enamel accents," Cimino notes.  "This Ahsoka is both a seasoned warrior and a mentor."
Learn more about the collection now on RockLove.com. As a launch exclusive across RockLove.com and HerUniverse.com, the first 1,700 Ahsoka Tano Rebels Rings and the first 900 Ahsoka Tano Hoop Earrings include an authenticity card autographed by Ashley Eckstein.