An elegant necklace for a more civilized age.
Completing the construction of a lightsaber is a momentous step on the path to becoming a Jedi. It can take a Padawan years of quiet focus and studying to master the creation of their weapon. Here in the real world, it also takes time, talent, and skill to craft a kyber crystal into a perfect piece.
RockLove Jewelry CEO and designer Allison Cimino has mastered the art of shaping crystals into eye-catching pendants of glimmering metal and exquisite color. RockLove's latest Star Wars pieces, the Kyber Crystal Capsule Collection, honor the Force wielders who originally forged the crystals into graceful weapons. Whether you're a Jedi or Sith, you'll find the kyber crystal that attunes to you in RockLove's stunning collection.
Cimino recently sat down with StarWars.com to talk about how the lightsaber-inspired collection came together and we are thrilled to reveal the first two pieces from the jaw-dropping jewelry line: the Darth Vader and Skywalker Legacy Kyber Crystals launching July 13 at 9 a.m. PST exclusively on RockLove.com.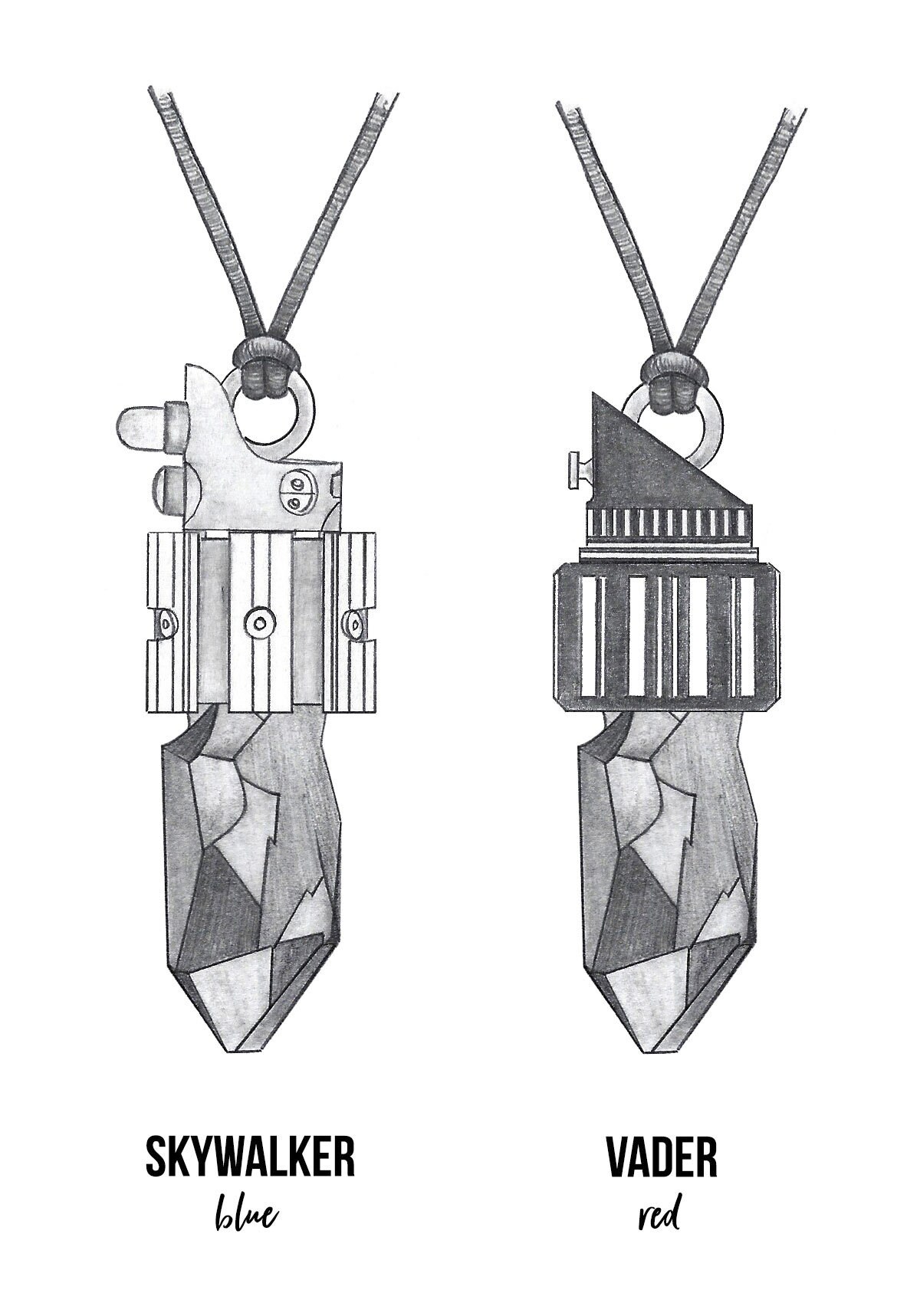 The Kyber Crystal Capsule Collection took over a year to complete, Cimino tells StarWars.com, more than twice the usual time it takes to craft a typical RockLove Jewelry collection. "To capture the shape and signature hues of attuned kyber crystals, RockLove partnered with the finest crystal manufacturer in the world to create the signature crystal elements," she says. "They are exclusively produced for this Star Wars X RockLove series and required a meeting of many creative minds, with additional layers of proposal, approval, sampling, and review."
While lightsabers are works of art on their own, Cimino also found inspiration in the role they play for younglings and Padawans in the galaxy far, far away. "I've always been fascinated by the fabrication of lightsabers -- metal and crystals, my favorite!" she says. "There are various examples of their construction in Star Wars publications of concept art, in addition to episodes of Star Wars: The Clone Wars. In the Season 6 episode 'The Gathering,' Ahsoka Tano escorts a group of younglings to Ilum to undergo a Jedi rite of passage: assembling their lightsaber. Each Padawan must search for their own individual kyber crystal in the treacherous frozen caverns; the rightful crystal glows when discovered. It's a dangerous task that requires intuition, self-awareness, courage, and trust."

In our world, the kyber crystals shimmer with their own kind of glow thanks to the asymmetrical facets and highlights that grace the edges of every piece. Each necklace is based on the blade and hilt of a weapon belonging to a Jedi or Sith. The first two pieces in the collection, revealed here exclusively on StarWars.com, honor the father and son who changed the fate of the entire galaxy: Darth Vader and Luke Skywalker.
With hilts cast in brass with polished plating and enamel details, each handmade piece captures every minute detail from the legendary laser swords. It was important to Cimino to not only pay homage to the lightsabers, but to the Jedi and Sith who wielded them.
"The Star Wars odyssey ponders the mysteries of the Force, and the constant inner battle between the light side and the dark side," she says. "It felt appropriate to include lightsabers reflected across the spectrum."
Cimino has collaborated on Star Wars-inspired jewelry collections in the past, but this one stands out from the rest in both the challenges it presented and how personal each piece will feel to the person who wears it -- just like a Force wielder and their lightsaber.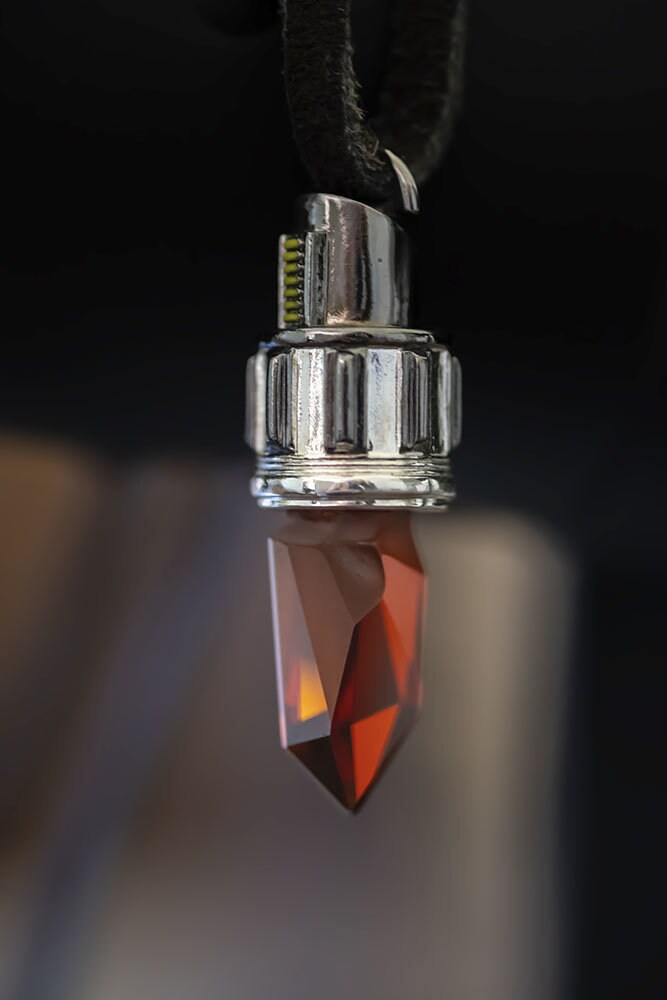 "This collection represents everything we value most at RockLove," she says. "It is recognizable to a fellow Star Wars fan and explores one of the most iconic aspects of the Star Wars galaxy, the lightsaber, in a unique and cerebral way. The partially assembled lightsaber handle and custom-created crystals required engineering and collaboration to create a truly exceptional finished product. Sizes and materials were carefully chosen to fit many personal styles and body shapes, in addition to being durable and adjustable. Even the packaging is specialized; the new Star Wars X RockLove Kyber Crystal Collector's Box is customized to each character and includes a magnetic lid that converts into its own angled display case."
Channel your inner General Grievous to decide which crystals from the eight-piece set will make a fine addition to your collection.
"We are so excited to present the first two lightsabers in the Kyber Crystal Capsule Collection and will continue to unveil and release two more roughly every other month," Allison notes. "There are many lightsaber-wielding characters not included in this series of eight, and we will likely continue to create more designs after this first set is complete. Be it dark side or light side, use the Force and follow your heart when choosing yours!"
The Star Wars X RockLove Kyber Crystal Capsule Collection launches July 13, 2021 at 9 a.m. PST exclusively on RockLove.com with the Darth Vader and Skywalker Legacy Kyber Crystals.