Designer Bryan Benedict on taking inspiration from Marvel's original Star Wars #1 for a new release strong with the dark side -- and gloriously green.
Bryan Benedict has always had only one dream: to design cars. And it's all thanks to his love of an iconic toy.
"Growing up, Hot Wheels was everything to me," he tells StarWars.com. "We didn't have a whole lot of toys. We grew up with not a lot of money. Hot Wheels were a buck then and they're a buck now, and so it was the one thing I could kind of get my hands on. I collected as many as I could and I still have all of those Hot Wheels I had from way back when."
He would achieve his dream and then some. Benedict attended Art Center College of Design in Pasadena, California, and landed a job at Honda straight away. He would work there for five years before moving onto a few different OEMs (original equipment manufacturers). But then something unexpected happened.
"Ultimately, Hot Wheels called me up out of the blue and asked me if I wanted to join the team here. It sounded like a great opportunity. In the back of my mind, it was always like, Hot Wheels would be the ultimate car-design job because you just do wild, crazy stuff. So I decided to jump at the opportunity and haven't regretted it for a second," he says. "It's been an awesome ride."
Seventeen years later, Benedict is the design director of Matchbox and Hot Wheels at Mattel, and surely then envy of his past self. Yet he probably couldn't have predicted that this dream job would take him somewhere else entirely: the galaxy far, far away.
Honoring the first Star Wars comic for Comic-Con@Home
Since Mattel became a Star Wars licensee in 2014, Benedict has been able to combine two of his favorite fandoms. "I love Star Wars," he says. "Now, I kind of got into it later in the game. I never got a chance to see the movies as a kid. So in my adult life I became an obsessed fan. Now I have five kids myself, and we watch the movies religiously. We're definitely a Star Wars family."
With the Hot Wheels Carships and Hot Wheels Character Cars line, Benedict takes characters, vehicles, and other iconography from the saga and turns them into, essentially, the dream cars of any Star Wars fan. So far, Mattel has done everything from X-wings that look like drag racers to a Grogu-inspired buggy, complete with aerodynamic ears. They run the line from the coolest cars you've ever seen to the most adorable, perfect for both display and play. And for Mattel's Comic-Con@Home 2021 exclusive, Benedict and his team wanted to do something different that would speak to the event specifically; a special Hot Wheels Character Cars release that pays tribute to both the history of Star Wars and comics.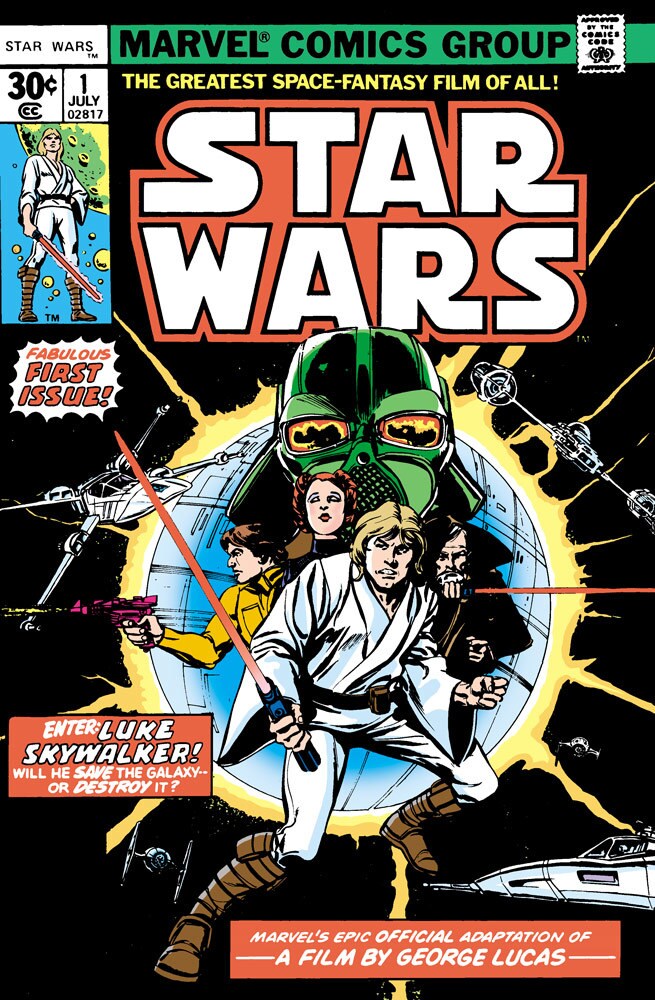 To achieve this, they went all the way back to Marvel's Star Wars #1, originally published on April 12, 1977 -- over a month before the release of Star Wars: A New Hope. On the cover of that landmark issue you'll see a looming Darth Vader, but he doesn't look quite like the Sith Lord we know. Here, most likely due to coloring techniques of the day and limited reference, Vader's armor appears with green highlights.
"For a few years now actually, I've been wanting to do the green Darth. That first issue of the Marvel Star Wars comics with green Darth on the cover, it's so striking because you never see Darth that way. This was the first year we were really able to do it," Benedict says. "It's exciting to finally see it come to life."

In designing this new-meets-retro take on Vader, Benedict strived for the toy to achieve various successes, and all at once.
"I wanted to make sure that it felt somewhat timeless. In my mind, Star Wars is timeless. So I wanted to create a car that would hopefully do that, as well," he says. "I picked up cues from both past cars and future styling, and even tapped in a little bit to Twin Mill, which is our iconic Hot Wheels car. I wanted to give a few little touches here and there just to root it in Hot Wheels. But for the most part, I wanted it to be a strong, foreboding, powerful, menacing car. Something that if you saw it coming in your rearview mirror, it would be somewhat terrifying."
This finished product, officially called the Hot Wheels Star Wars Green Darth Vader Character Car, is both beautiful and beautifully threatening, and a fun interpretation of Vader from this classic comic cover, which StarWars.com is honored to reveal. Vader's helmet and mask form the car's body, and have been adapted in clever ways: the lenses make up the dual windshield; the dome is the hood; the neck guard forms the rear; the grille of the mask, naturally, has become the car's grille. There are other smart details, like Vader's lightsaber doubling as a side pipe, and the armor's control panel acting as a supercharger.
"[George] Lucas made it easy on us because Darth is such an awesome character to start with. And a lot of the elements of his look naturally lend themselves to a cool-looking car," Benedict says. "But there are challenges when you're interpreting a character and you want to make sure that it reads as a cool, authentic, legitimate car, and not too literal an interpretation of a character. It's all about getting the proportions right and working those details in, in a way that feels authentic and relates back to something that's automotive."
Critically, the chrome green paint is downright eye-catching, with black-and-white shading making for a cool comic-art effect.
"That was important to us, to really nail it," Benedict says. "First of all, the paint itself is green Spectraflame. We have this Spectraflame finish that goes all the way back to the beginnings of Hot Wheels in 1968, when all of our cars had this really shimmery colorful finish. We tapped into that to get this effect of an almost chrome-like, colored finish. But even then, we still wanted to do more to really give it that comic vibe. That's where we added the graphics that indicate the harsh highlights and shadows on the chrome finish. I think where it landed is really effective. I'm really happy with how the green turned out. It's a nice match to the comic cover."
And for those looking to see what this new green Vader car can do, they won't be disappointed. "I did intend it to be a track performer," Benedict says. "It's a pretty strong car." Most impressive, one might say.
Another dream come true
While Benedict has designed Hot Wheels cars of all types -- including lots of Star Wars cars -- this release seems to carry extra weight and importance to him. As a nod to longtime fans and early Star Wars history, it was a rare opportunity even for him.
"It's incredibly meaningful to me," Benedict says. "In my adult life, I've gotten so immersed in the Star Wars universe and the lore around it. I love tapping into these little things, and sometimes it's things that are more subtle and things that only the superfans know about. But I just love that kind of stuff. I love Easter eggs and diving deep into characters and all the backstories and things like that. So I always get really, really excited about doing projects like this that tap into something that has real meaning to fans."
The Hot Wheels Star Wars Green Darth Vader Character Car will be available starting Thursday, July 22, at 9 a.m. PST / 12 p.m. EST at MattelCreations.com.