Designer Greg Breeding talks to StarWars.com about the droidtastic new stamps from the USPS, available for pre-order now.
The new Star Wars droids stamps are almost here! Announced earlier this year and going on sale this Star Wars Day, May the 4th, the set of 10 stamps from the United States Postal Service commemorates some of the most popular droids from all of Star Wars, from the iconic duo of C-3PO and R2-D2, to newer heroes like D-O, Chopper, and L3-37. While the United Kingdom's Royal Mail has issued a set of Star Wars stamps every other year since 2015, it has been a long time since the USPS has brought the Force to the upper right corner of our envelopes -- the only previous American Star Wars stamps were issued for the 30th anniversary of Star Wars: A New Hope in 2007. But this year's release of the droids set of Forever® stamps has special meaning: they mark the 50th anniversary of Lucasfilm.
With this new set of stamps beginning pre-order sales today, StarWars.com talked with the designer of the stamps, Greg Breeding, to go behind these scenes on creating these tiny masterpieces.
StarWars.com: What's your role in the design of the droid stamp set?
Greg Breeding: Although I am an art director for postage stamp design, I sometimes collaborate with the executive director, Bill Gicker. We most often work together when we partner with a brand like Star Wars, when he serves as art director to navigate the relationships and provide direction for the project.
I am then free to explore all the possibilities of the actual stamp design and, most often, that means I get to work with other creatives, and they don't get more creative than Star Wars! What's most fun, as was the case with Disney/Lucasfilm, is when I have the freedom to dig through the intellectual property, to mine for a series of images that might best work as stamp subjects.
So my role is very tactical, working with the creatives, exploring the intellectual property, and ultimately providing the design solution for the pane of stamps.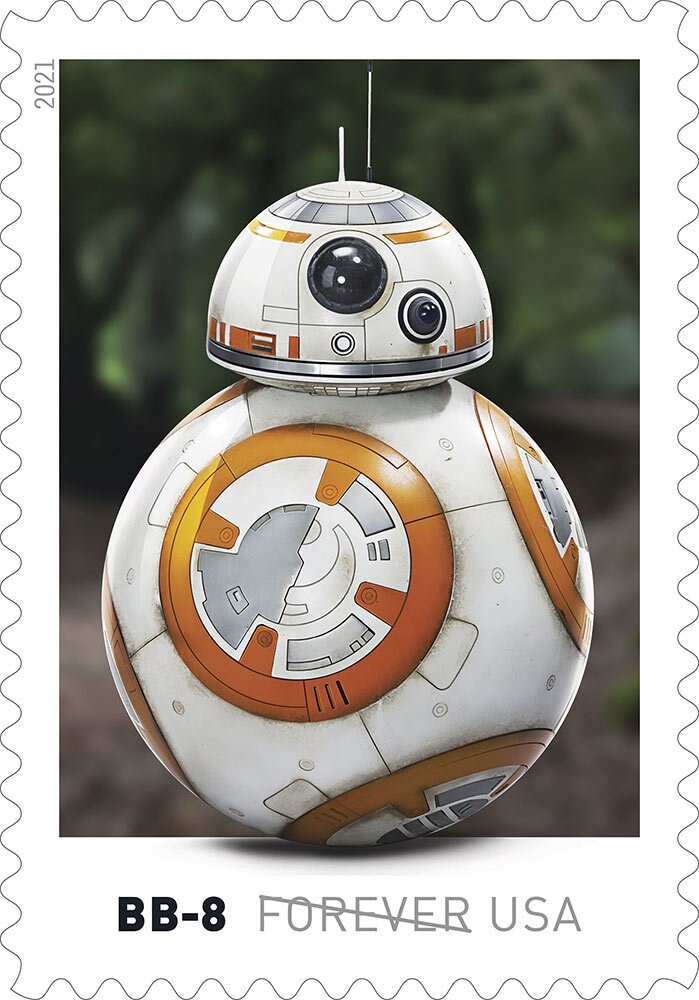 StarWars.com: What is the typical process for making a stamp design? How was the process different for creating stamps based on Star Wars characters?
Greg Breeding: Most of the time, we are working to create original art for stamp design. But sometimes it makes more sense to use existing art. In this case, we recognized early on that we had an opportunity to showcase the incredible computer graphics that bring droids to life, so that became a kind of guiding principle. Because stamps are, quite obviously, so very small, we explored ways to give them as much visual prominence as possible.
What made this process so unique was having such a magnificent starting point, with so many incredible images of droids, each telling a compelling part of the Star Wars saga.
StarWars.com: The theme of droids was selected to highlight Lucasfilm and Disney's continuing commitment to science, technology, engineering, and math (STEM) learning and the ongoing collaboration between Star Wars: Force for Change and the nonprofit organization FIRST (For Inspiration and Recognition of Science and Technology), which seeks to expand access to STEM learning to more young people globally.
What was your role in selecting which droids would be commemorated in this set? Why and how were these 10 droids chosen?
Greg Breeding: We worked closely with the Disney/Lucasfilm team to select the 10 droids for stamp issuance. Having to leave so many great droids out was painful, but we felt that we should try to feature those droids that were considered among the good guys.
We also wanted to select droids that were not only iconic -- like R2-D2 and C-3PO -- but also those that were popular with young audiences, like Chopper and D-O. What's more, we felt it was important to represent the breadth of the Star Wars saga, so we chose droids from across the spectrum. A good example would be K-2SO, who was introduced in the relatively new Rogue One film.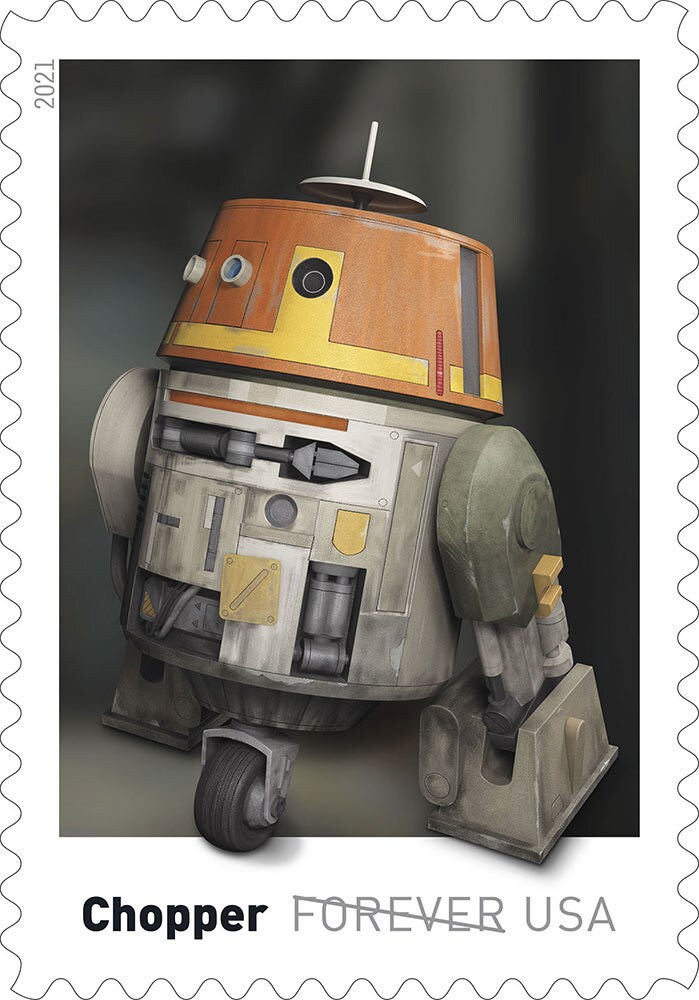 StarWars.com: How did you research the droids so as to best capture their personality?
Greg Breeding: Our partners at Disney/Lucasfilm provided input on research, as did internal sources for USPS, but ultimately it was my responsibility to do the work to learn more about each droid. As my colleagues at USPS know well, I enlisted the informal help of my son to help guide me. Jordan has been a Star Wars fan from childhood, having read dozens of books of the saga, and helped me understand the background for each droid.
StarWars.com: How did you go about developing the individual look for each stamp?
Greg Breeding: Because we wanted to feature each droid as prominently as possible, I created two unique stamp templates. One is quite tall, much more than an average stamp, and works well with characters like K-2SO. The other is much shorter, able to respond to the more diminutive sizes of characters like D-O.
From there, we researched backgrounds that would be true to how each droid would have been portrayed in the films. But we softened and blurred each background so that, even though they were authentic, they would not interfere with the visual impact of each droid. What's more, I pushed each droid beyond the normal margins of the image area to create a sensation of the characters coming toward the viewer.
Although I took the lead on the actual design, the creative team at Disney/Lucasfilm provided invaluable guidance along the way. And, as part of our normative process at USPS, I presented our work-in-progress at monthly art director meetings, where each of us get input from other art directors, as well as USPS staff, on the direction of each stamp design.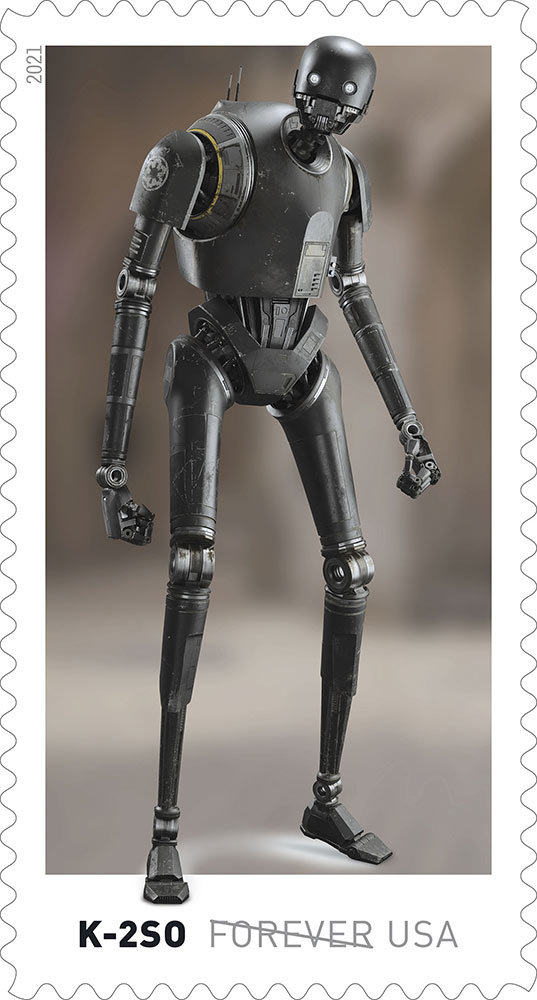 StarWars.com: Which of the droid designs are you most proud of? And which droid is your personal favorite?
Greg Breeding: I think my favorite droid, after all these years, is actually K-2SO from Rogue One. As a droid, there is a light-hearted but substantive quality that brings K-2SO to life, and though new, feels like a character that has always been a part of the Star Wars saga. As to the design, this same character presented a challenge because of his sheer size, but I was delighted by the solution we achieved in the stamp design which, I hope, honors the beauty of this droid design.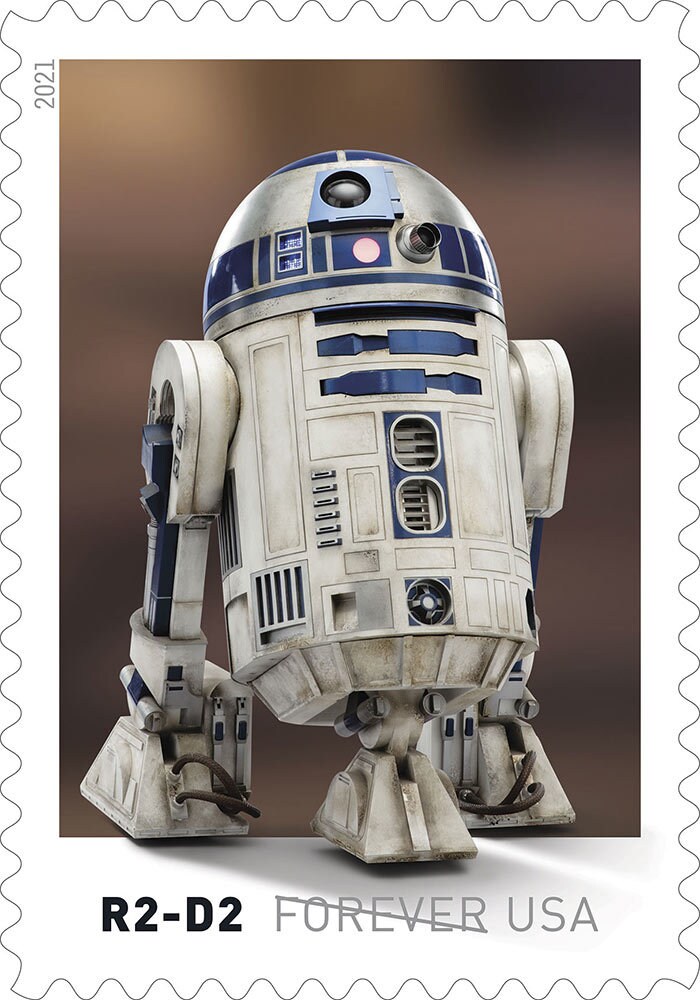 StarWars.com: Which droid inspires you?
Greg Breeding: I've been hesitant to answer this question because my ULTIMATE favorite droid is R2-D2. When I saw the original Star Wars in theaters in 1977, I immediately was impressed with R2-D2. He had human-like qualities, especially expressions of emotions, but he could project holographic messages and repair starfighters in flight!
So I know that makes me old school, but R2-D2 is an all-time classic.
Preorders for the Droids First-Class™ Forever stamps can be made online at usps.com/stamps and by phone at 844-737-7826, beginning April 5. The stamp set will be sold in panes of 20 (two of each droid image) for $11.00.
The first day of issue will be May 4th, 2021, with the official issuance location being Nicasio, CA 94946 -- the post office to Skywalker Ranch. The First Day of Issue ceremony will be carried on the Postal Service's Facebook and Twitter channels. See https://about.usps.com/newsroom/events/star-wars-droids-forever-stamp-ceremony.htm for instructions on how to view the ceremony. Customers may purchase stamps, first day covers, and other philatelic products through the Postal Store at usps.com/shopstamps, by calling 844-737-7826, by mail through USA Philatelic, or at Post Office locations nationwide.