ILMxLAB reveals the first character to join the next installment of its VR experience, and director Jose Perez III talks to StarWars.com about bringing Disney Parks' grumpy antiquities dealer to life in virtual reality.
It was the moment that, for many fans, made Star Wars feel real. Darth Vader walks into the room and stands a little too close to the person he's addressing. Pretty standard stuff for the man in black, sure. Except this wasn't a scene in a movie, comic book, or video game. As experienced in ILMxLAB's Vader Immortal: A Star Wars VR Series, it was fans who stood before the iconic Sith Lord. Vader was towering and imposing, and it brought players into the galaxy far, far away in a way previously unimagined.
"It was huge," says Jose Perez III, director of ILMxLAB's Star Wars: Tales from the Galaxy's Edge. "We learned a lot from that one moment and so we're constantly trying to find ways to lean into it, to lean into the stuff that's really special about virtual reality that you can't get from another medium right now."
That spirit promises to run through Tales from the Galaxy's Edge - Part II. Coming later this year, the release will bring fan favorite Dok-Ondar into the VR experience. Dok-Ondar, an Ithorian treasure dealer, can currently be found running his antiquities shop in Star Wars: Galaxy's Edge at Disneyland Park in California and Disney's Hollywood Studios Park in Florida. He's fine toiling away behind the counter while at work, but in Tales from the Galaxy's Edge - Part II, he'll be a little more active. "When Dok shows up, it's a magical moment," Perez III says. "When you get to see this character walk for the first time, and you can stand right next to him, and he'll walk right by you and look you in the eyes before he sits down -- the vibe of that is really amazing."
Tales from the Galaxy's Edge put players in the role of a droid-repair technician who crash landed on Batuu following a pirate attack. Upon entering a cantina owned by Seezelslak (played by Saturday Night Live's and Star Wars Resistance's Bobby Moynihan), players were swept up into an adventure that found them exploring Batuu and interacting with Star Wars characters new and classic. Part II looks to expand on that, starting with Dok-Ondar.
"His story is just awesome," Perez III says. "He totally hits the vibe that part of Part II is going for, which is the relic hunter-meets-Indiana Jones-meets Star Wars vibe."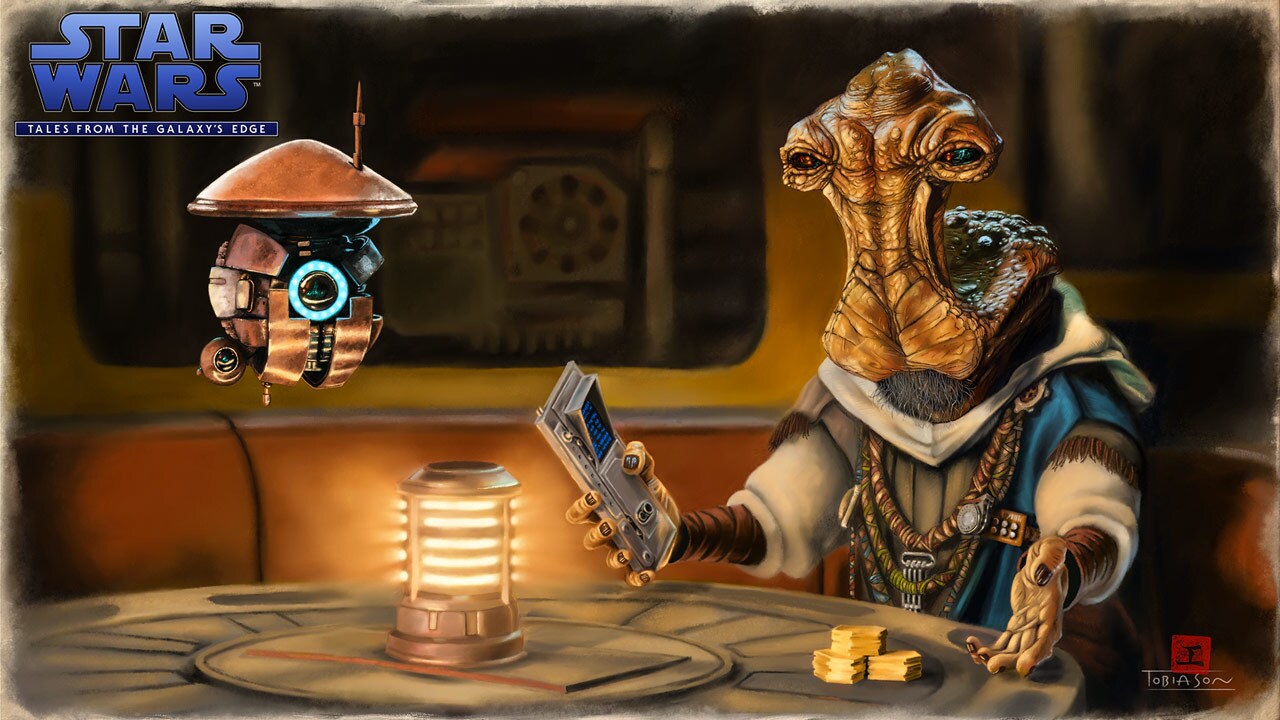 As seen in newly revealed concept art, you'll meet Dok-Ondar in the cantina, and he might have some work for you. "Dok is big on hiring people to help him with some of the shady things going on around Black Spire Outpost. So, seeing him in the cantina, sitting there with his translation droid, is just a glimpse of a lot of adventure that will fall out of that image," Perez III says.
Bringing the grumpy Ithorian into VR was a special opportunity for the Tales from the Galaxy's Edge team, as not every Star Wars character exists as a fully-realized animatronic that you can actually go and see. To start, ILMxLAB scanned the Dok-Ondar Audio-Animatronics® figure, and then worked with Walt Disney Imagineering on details like movement and texture.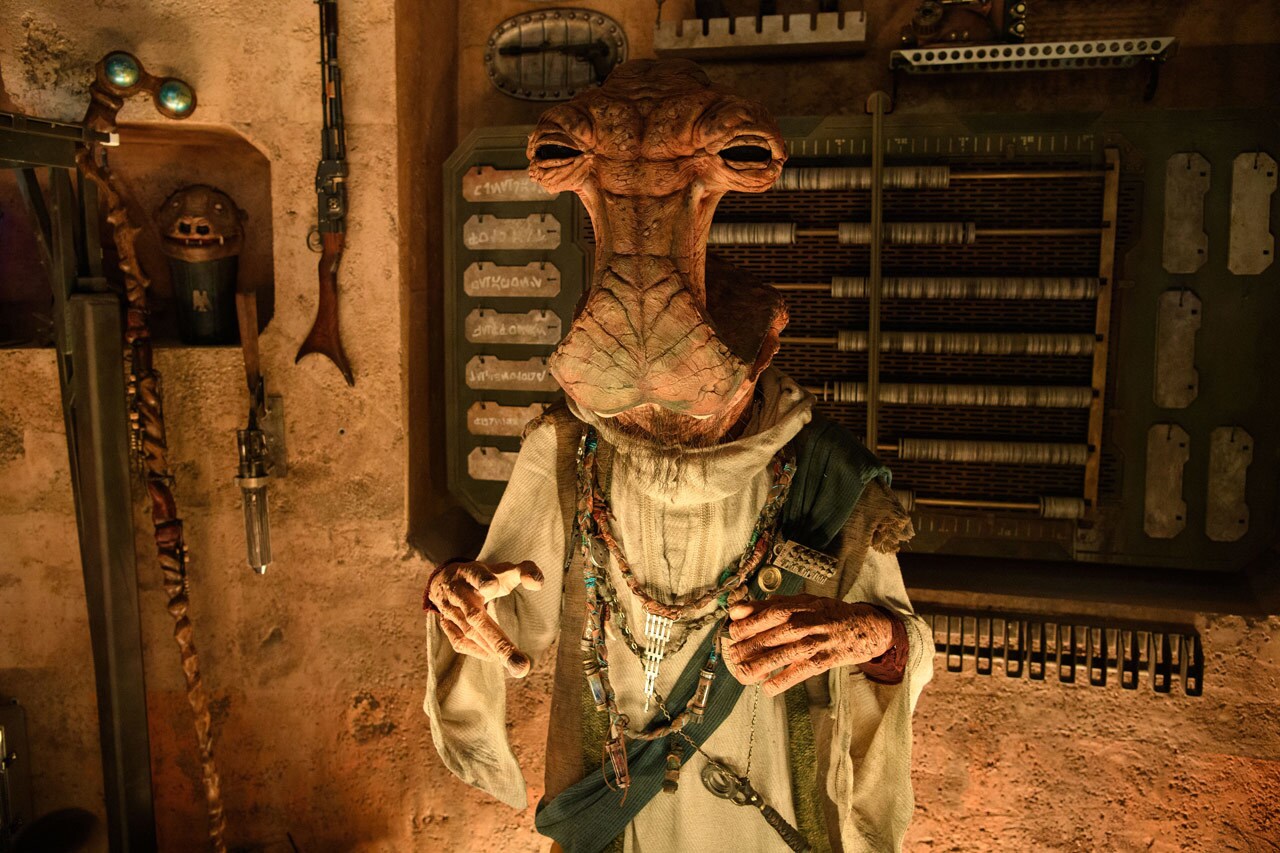 "You have to totally respect that the animatronic in the park, that's Dok-Ondar. That's him right there, at that period of time, moving around. We didn't want to take the animation and go on a crazy route. We have to maintain his character." In the end, Perez III believes they've achieved an especially high level of authenticity thanks to the resources available. "What you're seeing in the game is literally a 1:1 representation of the head that you would see in the park," Perez III says. "Cory Rouse, the Imagineer that voices Dok-Ondar in the park, also voices Dok and his translation droid in our experience."
Tales from the Galaxy's Edge - Part II will also feature two new tales, though ILMxLAB is offering no further details right now. And without revealing much, Perez III says he can't wait for fans to make a return trip to the charming galactic dive bar he and his team have dreamed up.
"I think what's awesome about this entire thing is we're building off of what we've been creating for a couple of years here. We built off of Vader Immortal for Tales from the Galaxy's Edge, and now with Tales from the Galaxy's Edge - Part II we're able to build off of Part I. So, systems are going to get better, feel is going to get better. But the thing I'm most excited about is how our story really ties into Galaxy's Edge and getting to see those connections come to fruition through Dok-Ondar and other characters. This is a whole new era of Star Wars, and to be some of the people on the ground floor who get to develop stories for characters like Mubo, who owns the Droid Depot, and having some of the first digital versions of Dok-Ondar show up, is ridiculously exciting. Because the stories we're telling today are going to impact generations of Star Wars fans."
Star Wars: Tales from the Galaxy's Edge - Part II will launch later this year on the Oculus Quest platform. Follow ILMxLAB on Twitter, Facebook, Instagram, and YouTube for all the latest news.
Star Wars: Galaxy's Edge is at Disneyland® Resort and Walt Disney World® Resort.