Ben Snow, director of Vader Immortal, talks to StarWars.com about what's to come in ILMxLAB's innovative VR experience and looks back at Episode I.
Spoiler warning: This article discusses plot points and details of Vader Immortal - Episode I and Episode II.
If Vader Immortal – Episode I was a first step into a larger world, then Episode II will be a full-fledged leap.
In Vader Immortal – Episode I, the first installment of ILMxLAB's immersive VR experience, players find themselves captured by the Empire and taken to Mustafar, where they come face-to-face with Darth Vader -- and eventually wield a lightsaber. It's a Star Wars experience like no other. In your ship, you can look at Star Destroyers passing above, manipulate controls and switches, and, if you dare, reach out and touch that strange small creature (and this writer jumped back when it tried to bite); when Vader walks into your personal space, you stand guarded and nervously at attention; and igniting a lightsaber and deflecting stormtrooper blaster bolts provides a fantasy fulfillment rarely achieved in interactive storytelling. It's something any Star Wars fan would love and should get the chance to try.
At the surprising conclusion of Episode I, Vader promises to instruct the player in the ways of the Force, as they aid the Sith Lord in his search for an ancient artifact.
Episode II will deliver on that promise, as seen in the artwork below, revealed last week during ILMxLAB's panel at San Diego Comic-Con.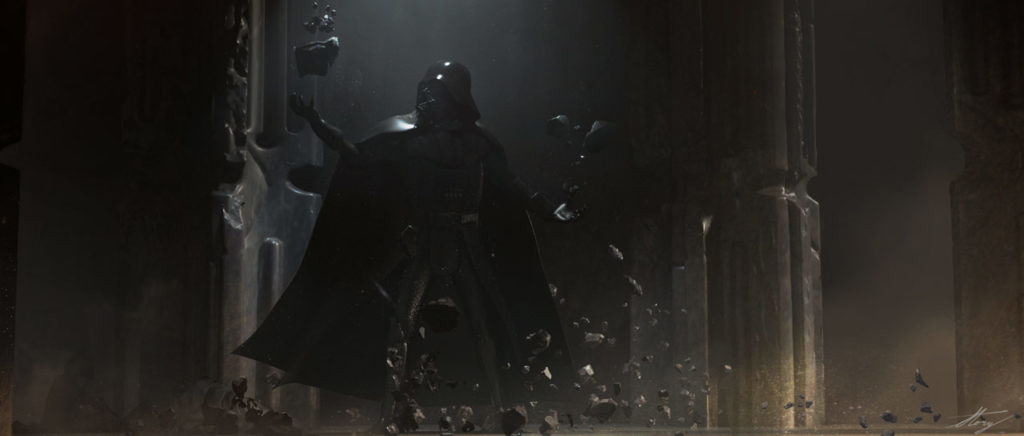 "You will get to use the Force in Episode II," Ben Snow, director of Vader Immortal, tells StarWars.com. "The first image is really part of the training. The way we thought about this was, we wanted to give you the Vader equivalent of Yoda teaching Luke about the Force in Empire Strikes Back. So we wanted it to be slightly darker and more twisted. He talks about the power of the dark side as well as the things you can do with the Force. So in this moment that the concept art reveals, you see him starting to manipulate objects and he's starting to show you how you can use the Force to create something. But then, of course, Vader takes it in his own direction."
At the end of Episode I, Vader draws the player's lightsaber away and destroys it, so the Force, by necessity, will be a massive component of Episode II. "That is something that we're still working really hard on," Snow says, "to make it feel as good as we can." Without a lightsaber, initially at least, the Force will be your only real weapon. "Our goal is to make the Force in Episode II as satisfying as the lightsaber felt in Episode I."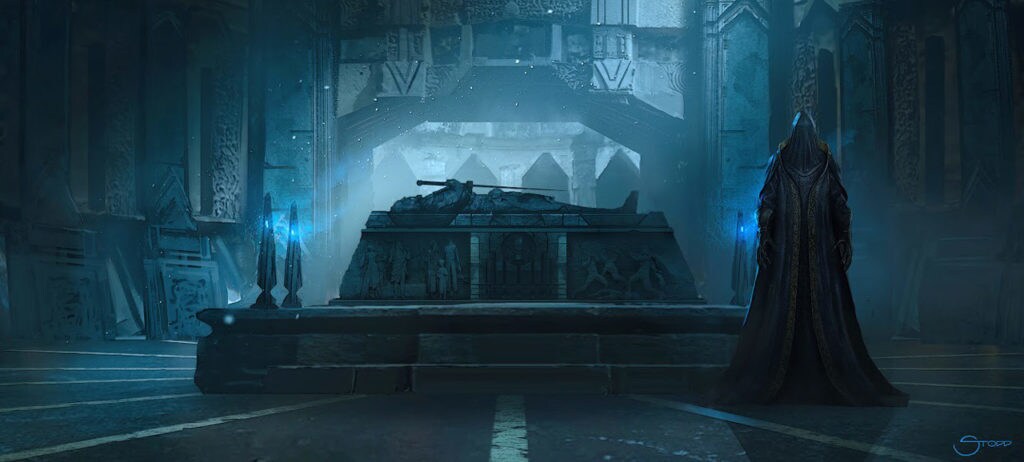 In another piece of new Episode II concept art, the Black Bishop -- a mysterious figure who meets with Vader in Episode I -- appears near a tomb. "He becomes quite important in Episode II, and we learn about his background," Snow says. The tomb will be found within the ancient fortress discovered toward the end of Episode I. "We're trying to make it feel very atmostpheric. This is a hidden area of the fortress that hasn't really been explored. The Mustafarians know of it through legend," Snow teases. "It's a good chance to poke around in an unexplored part of Star Wars."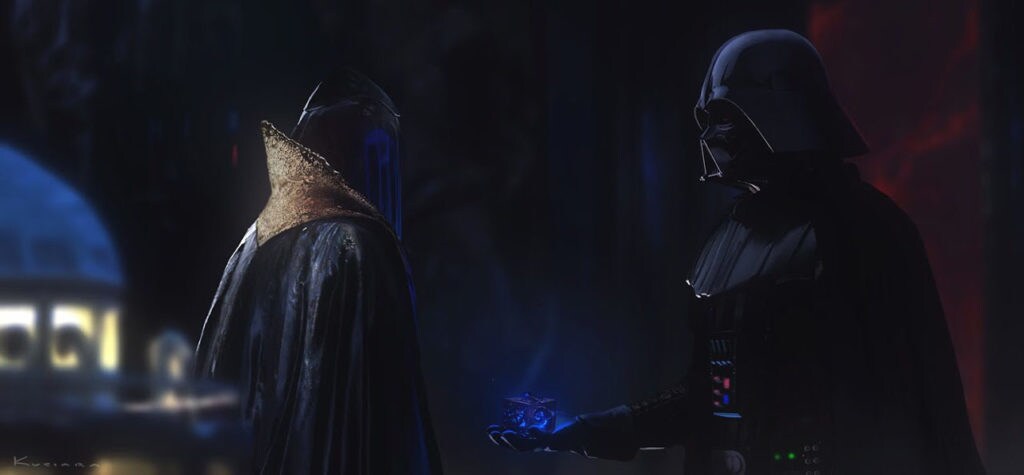 Another piece of concept art was revealed during ILMxLAB's panel, not from Episode II, but rather from a captivating moment in Episode I: Vader's meeting with the Black Bishop, which the player secretly watches from inside a ventilation shaft. It's a key sequence, which reveals that whatever Vader is seeking has to do with achieving some form a mastery over death -- a clear callback to the tragedy of Star Wars: Revenge of the Sith. This leads to a private moment where Vader removes his helmet and calls out to Padmé before erupting in anger. "Pablo Hidalgo [of the Lucasfilm Story Group] had said to me at one point, 'Vader is in constant pain.' That's basically his thing, with everything that happened to his body and all that sort of thing. It seemed to me that you could show that a little bit," Snow says. First, the player watches from a high angle, then descends, ultimately coming to the Sith Lord's level. "You're really close to him when he has the more private moment," Snow says. "The fact that you have to move your head around to look through the vent just helps you feel like, 'Oh, I really shouldn't be here.'"
In the uncharted waters of VR, the makers of Vader Immortal are looking to explore the art form in innovative ways, while still delivering an authentic and worthy Star Wars story. "The reason a lot of us are here working at ILM and at ILMxLAB is because we were huge fans of Star Wars," Snow says. "In this case, we let you be part of your own Star Wars story. You want it to be the dream come true."
Dan Brooks is Lucasfilm's senior content strategist of online, the editor of StarWars.com, and a writer. He loves Star Wars, ELO, and the New York Rangers, Jets, and Yankees. Follow him on Twitter @dan_brooks where he rants about all these things.
Site Tags: #SanDiegoComicCon2019, #StarWarsBlog, #ILMxLAB, #VaderImmortal