Check out the full schedule of official Star Wars panels coming to SDCC!
Looking to experience the full power of the Force at San Diego Comic-Con? StarWars.com has you covered with a complete guide to Star Wars programming, including panels on Star Wars Rebels, Hasbro's action figures, and much more!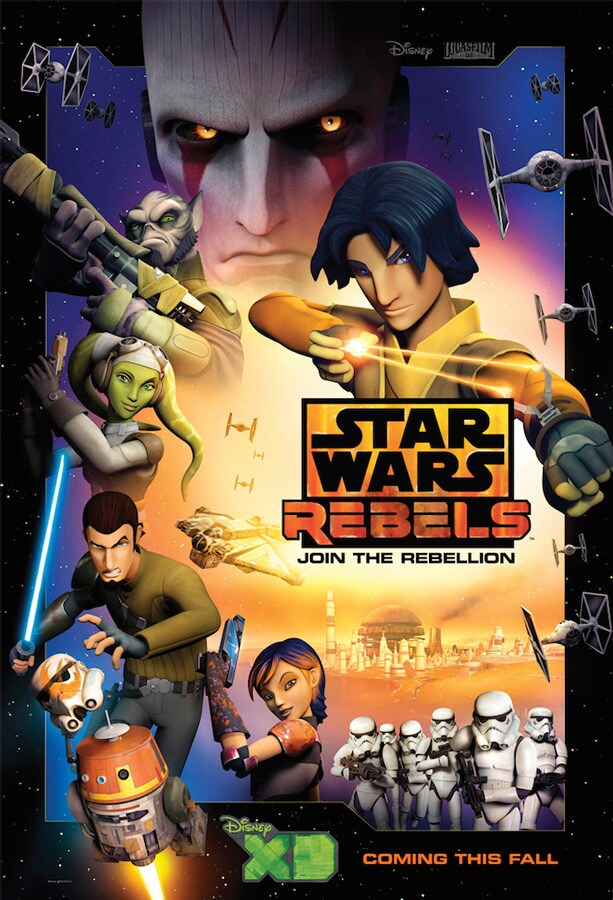 Thursday, July 24
The Heroes of Star Wars Rebels: 6:00 p.m. - 7:00 p.m., Room 6BCF
The Empire. The Rebellion. The Beginning.
Star Wars Rebels
, Lucasfilm's highly anticipated animated series detailing the start of the fight against the evil Empire, is coming this fall -- but fans can get a big sneak peek at San Diego Comic-Con.
Lucasfilm's special panel, The Heroes of Star Wars Rebels, will feature executive producer Dave Filoni, as well as the first panel appearance by executive producer Simon Kinberg and stars Freddie Prinze, Jr., Vanessa Marshall, Steve Blum, Tiya Sircar, and Taylor Gray. They'll discuss making the show and will reveal exclusive content from the upcoming series for fans in attendance.
Star Wars Rebels continues the epic tradition of the legendary Star Wars saga with all-new exciting, action-packed adventures. It is a dark time in the galaxy, as the evil Galactic Empire tightens its grip of power from world to world. As the series begins, Imperial forces have occupied a remote planet, ruling with an iron fist and ruining the lives of its people. The clever and motley crew of the starship Ghost is amongst a select few who are brave enough to stand against the Empire. Together, this ragtag group will face threatening new villains, encounter colorful adversaries, embark on thrilling adventures and become heroes with the power to ignite a rebellion.
Scheduled to premiere in the fall as a one-hour special telecast on Disney Channel, it will be followed by a series on Disney XD channels around the world.
---
With Star Wars: Episode VII creators deep in production in anticipation of the film's December 18, 2015, release, Lucasfilm will not be featuring the movie at SDCC.
Friday, July 25, Star Wars Day
Star Wars Origami: 10:00 a.m. - 11:00 a.m., Room 7AB
Origami Master folder Chris Alexander (author of Star Wars Origami) demonstrates and teaches the master folding techniques to make Star Wars origami figures. Attendees will fold an exclusive Comic-Con model along with other art from the Star Wars universe. Materials included!
Star Wars Storyboards: The Original Trilogy: 11:00 a.m. - 12:00 p.m., Room 7AB
For the first time, Lucasfilm has opened its Archives to present comprehensive storyboards for the original Star Wars trilogy -- the world-changing A New Hope and its operatic sequels, The Empire Strikes Back and Return of the Jedi -- as well as never-before-published art from early conceptual and deleted scenes, in a new book from Abrams: Star Wars Storyboards: The Original Trilogy. Former ILM art director Joe Johnston will discuss the newest addition to the Abrams Star Wars library, and the singular experience of creating the iconic trilogy's storyboards with his stellar art dept team. Johnston won an Academy Award for Best Visual effects for his work on Raiders of the Lost Ark, and has directed Honey, I Shrunk the Kids, The Rocketeer, Jumanji, Jurassic Park III, Hidalgo, and Captain America: The First Avenger. Moderated by Lucasfilm editor J.W. Rinzler.
Hasbro: Star Wars: 12:00 p.m. - 1:00 p.m., Room 7AB
Join members of the Hasbro brand and design team including Jeff Labovitz (director, Global Brand Marketing, Hasbro), Bill Rawley (design manager, Hasbro), and more as they discuss the popular Hasbro Star Wars line. Attendees will also get a sneak peek of upcoming, never-before-seen action figures from the highly anticipated Star Wars Rebels animated series.
Star Wars: Collectibles Update: 1:00 p.m. - 2:00pm, Room 7AB
Join eFX, Gentle Giant Studios, Kotobukiya, and Sideshow Collectibles for product development insights and exclusive previews of the latest in Star Wars collectibles. Moderated by Anita Castellar of Lucas Licensing.
Star Wars: A New Dawn: 2:00 p.m. - 3:00p.m., Room 7AB
The new era of Star Wars storytelling begins in September with Star Wars: A New Dawn. Join New York Times bestselling author John Jackson Miller, Shelly Shapiro (editor, Del Rey), Frank Parisi (editor, Del Rey), Jennifer Heddle (senior editor, Lucasfilm), Pablo Hidalgo (Lucasfilm Story Group), Vanessa Marshall (Hera in Star Wars Rebels), along with Dave Filoni (executive producer, Star Wars Rebels), as they discuss the planning and process of Star Wars: A New Dawn, and present the list of upcoming Star Wars novels from Del Rey.
Star Wars: The Adventures of Luke Skywalker, Jedi Knight: 3:00 p.m. - 4:00 p.m., Room 7AB
Ralph McQuarrie's art for the original Star Wars trilogy is introduced to a new generation of young readers in Star Wars: The Adventures of Luke Skywalker, Jedi Knight. Join New York Times bestselling author Tony DiTerlizzi as he talks about the conceptualization of this project and the process, challenges, and privileges of writing to the works of a legend. Moderated by J.W. Rinzler (executive editor, Lucasfilm).
Jeffrey Brown - Star Wars Insider: Booth #5537
The writer/artist of Vader's Little Princess and other classic all-ages Star Wars books, Jeffrey Brown, will be signing copies of Star Wars Insider #151 for fans at the Titan Publishing booth. Brown created an original cover just for this issue!
Star Wars Rebels: A New Hero Poster Giveaway and Book Signing with Pablo Hidalgo: 4:00 p.m. - 5:00 p.m., Booth #929
Not available in stores until August 5, you can purchase Star Wars Rebels: A New Hero early at Disney Publishing Worldwide's booth at SDCC, meet author Pablo Hidalgo, and receive a free poster!
Saturday, July 26:
Lucasfilm Portfolio Review: 10:00 a.m. - 2:30 p.m., Room PR F
Troy Alders, now art director at Disney Consumer Products, is conducting portfolio reviews, providing critiques, and offering tips to graphic designers. Bring a portfolio selection of your best design work in and see if you have what it takes to create art for the ever-expanding Star Wars galaxy. Graphic Design degrees a plus.
501st Costuming 101: Dressing to Serve the Empire: 11:30 a.m. - 12:30 p.m., Room 8
Learn the essentials for what it takes to create a costume that meets the standards of quality for entry into the 501st Legion. This panel provides an overview of what is involved in creating a costume, the different costume categories, and how much time is involved in creating a costume that is screen accurate. A panel of experts describe, display, and demonstrate tips and techniques used for their costume specialties and share the mission of the 501st legion.
Phil Tippett: Analog and Digital Effects: 7:30 p.m. - 8:30 p.m., Room 24ABC
Academy Award-winning stop-motion and CGI master Phil Tippett (Star Wars, Jurassic Park, Robocop) presents a talk spanning the history of his career in visual effects, including clips and insights on inspirations, experiences, and relationships that have inspired his creative perceptions and contributions to the world of film and animation. Joining Phil will be Corey Rosen (Lost World: Jurassic Park, The Host, Grindhouse), VP of creative development for Tippett Studio, showcasing Tippett's new mobile effects app, Efexio.
Star Wars Trivia Panel: 8:00 p.m. - 9:00 p.m., Room 23ABC
Members of the San Diego Star Wars Society, veteran hosts of trivia panels at Star Wars Celebration III and Comic-Con International since 2002, have prepared an even more challenging contest this year for all fans who think they know the galaxy far, far away. Returning this year will be a game round for kids (12 and under), followed by three adult game rounds (ages 13 and up). All game rounds are conducted in a Last Man Standing format. Come test your knowledge, and win valuable prizes. The trivia panel hosts are Dean Amstutz, Linda Crispien, Leia Hornedo, Brendan Prout, and Jessica Woods.
The Psychology of Star Trek vs. Star Wars: Episode IV: 8:30 p.m. - 9:00 p.m., Room 26AB
Step into the pop culture ring with geeky psychologists Dr. Andrea Letamendi (The Arkham Sessions) and Dr. Ali Mattu (Super Fantastic Nerd Hour) as they bring their popular, intergalactic sci-fi battle back to Comic-Con for round 4! Special guests Sam Witwer (Star Wars: The Clone Wars, Being Human) and Rod Roddenberry (Trek Nation, Roddenberry Entertainment) join the psych pros to debate, tackle, and explain some of the most fascinating aspects of both universes. Pick a side and cast your vote as they crown one the winner! Impartially refereed by Brian Ward (Shout! Factory).
Sunday, July 27:
Disney Publishing Sneak Preview: 12:30 p.m. - 1:30 p.m., Room 8
Hear what's new and awesome in books and apps from Disney Publishing featuring titles from Disney-Hyperion, Marvel Press, and Disney Lucasfilm Press!
Stay tuned to StarWars.com for more on SDCC 2014, including live blogs and exclusive coverage!
StarWars.com. All Star Wars, all the time.