The new Star Wars-themed lounge on the Disney Wish is a must-see for fans.
Aboard the Disney Wish there are amazing experiences behind every door, and with a push of a button you can exit the world of cruise life and enter the galaxy far, far away. Star Wars: Hyperspace Lounge is the first Star Wars-themed lounge on the high seas, where guests can enjoy a panoramic view of space as they taste Star Wars cocktails inspired by familiar planets from across the galaxy. Stay on guard -- you never know when a TIE fighter attack may take place right before your eyes while you're sipping your favorite libation.
With a backdrop of spaceports welcoming ships from across the galaxy, bartenders work to create specialty drinks, like a bright red Berken's Flow reminiscent of Mustafar's lava, which has a secret reveal when a blacklight is shined on it. The Golden One -- a flavorful, fruity cream-topped drink -- is sweet and creamy, its color reflecting the moons of Endor.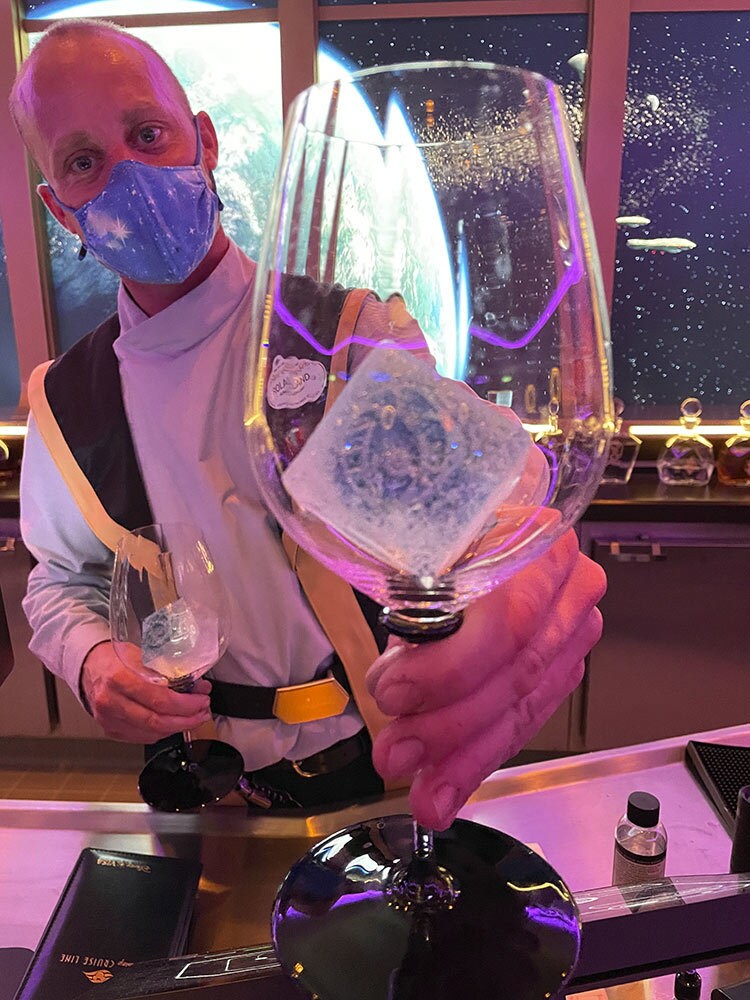 Some liquid refreshments are presented with panache, like the Freetown Reserve from Tatooine. Guests can watch as a special infusion tower takes center stage, using local Tatooine botanicals plus added smoke. It's delicately poured into a glass, the smoky show sure to draw awe-filled glances from across the room. Once the smoke has cleared, the reveal is a sparkling blue Hyperspace logo on a custom ice cube.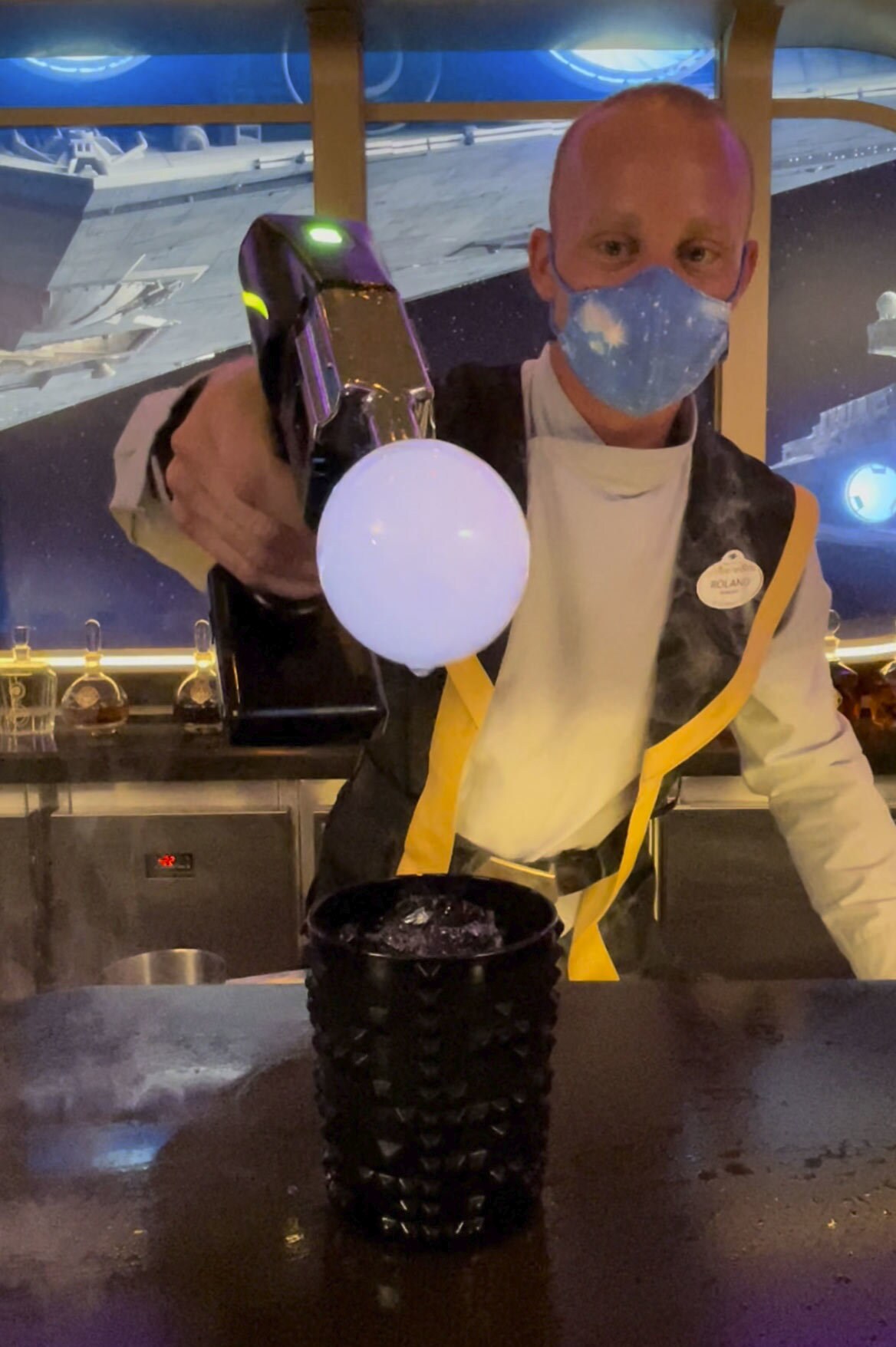 For senate elite members, the drink most worthy of a seat at the table is The Chancellor. This elegantly sinister beverage is topped with an airy smoke bubble which dissipates over the cup, a drink worthy of those with a flair for the dramatic and a desire for power.
Mocktails are available for those who choose, and their visuals are the most eye-catching of all the beverages. The Temple Twist, made with lime and ginger beer, has a distinctive bite and is topped with an irresistible fruit Grogu garnish. The Cloud City oat milk blue raspberry concoction is as refreshing as a respite on Bespin itself, topped with a uniquely shaped cube of Galaxy ice cream.
While leisurely enjoying refreshments, at any moment guests will experience jumping into hyperspace to different iconic planets in the galaxy. At each location familiar ships will pass by the panoramic portal, while the Millennium Falcon, X-wings, and TIE fighters are easy to spot, Star Wars fans will also get to see transports from across the galaxy, with ships from Star Wars Resistance, the Razor Crest from The Mandalorian, and even Star Tours fans are in for a treat when they spot the Starspeeder 3000 zooming by.
The lounge's design is inspired by Dryden Vos' Nau'ur Kalevalen yacht, with definitive lines of gold trim and luxurious ornamentation. Seats and tables are perfect for conversation while booths provide intimate areas to enjoy the scenery. Artifacts on display add to the ambience; lava crystals from Mustafar, a sculpted bust of a Togruta, and a hallisket, the musical instrument from Naboo, are just a few of the items that decorate the cozy sitting room. While this location is available for families to enjoy together during the day, Star Wars: Hyperspace Lounge transitions to an adults only venue every evening.
Cruising is relaxing, but enjoying a nightcap while you cruise through space is next level. Star Wars: Hyperspace Lounge on the Disney Wish is a must-see for Star Wars fans to experience, no space passport necessary.
The Disney Wish, the newest ship in the Disney Cruise Line Fleet, is now sailing.