Imagineer Danny Handke on the look, libations, and locales of a new experience coming to the Disney Wish in summer 2022.
Danny Handke was an '80s kid. As such, he grew up watching the original Star Wars trilogy on VHS. And he liked it well enough. But it would take a little more time, and something beyond watching the movies on a small TV for the galaxy far, far away to truly take hold.
"It wasn't really until The Phantom Menace came out [in 1999] that I became a really huge fan of Star Wars," he tells StarWars.com. "As much as I loved the original trilogy, being in the theater and being part of that event just meant a lot. And so after that, it's been every film and every animated series. Just as much as I can take in."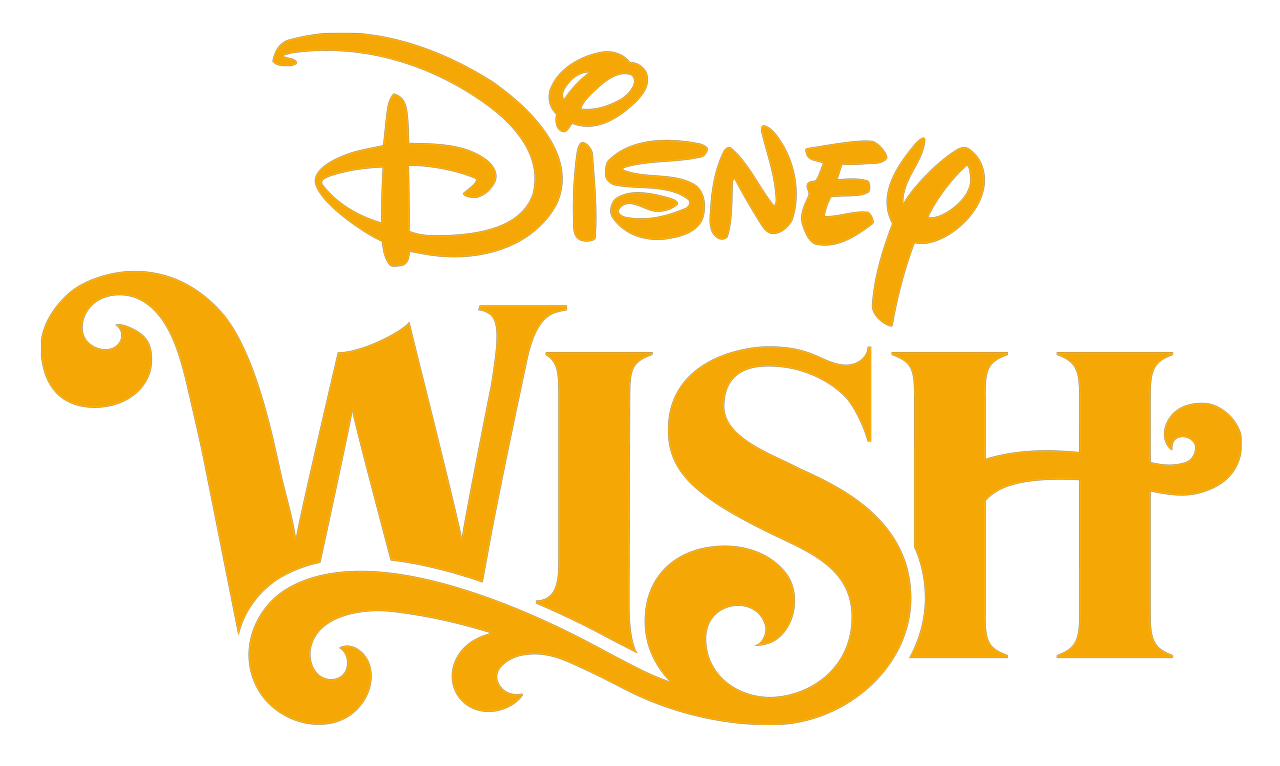 It follows that the experience of seeing Episode I in the theater is what turned Handke fully to the Star Wars side, considering he's a senior creative director of Walt Disney Imagineering, and has devoted his life and career to creating one-of-a-kind experiences. Handke's worked on a few Star Wars projects over the years, but now he's spearheading something that's never been attempted before: Star Wars: Hyperspace Lounge, a high-end, immersive Star Wars bar for adults, coming to Disney Cruise Line's new Disney Wish ship in summer 2022. And the idea came, simply, from wanting to hang out in Star Wars.
"We always talked about the fact that kids get to immerse themselves in Star Wars," Handke says, having overseen the Star Wars-themed kids spaces on the Disney Dream and Disney Fantasy. "But as a grownup, and a parent, I'm jealous that I don't have my own space on the ship where I can immerse myself in Star Wars, since Star Wars is multi-generational. So we pitched the idea, 'What if we did a lounge that's for grownups only at night? It becomes an adult playground for the world of Star Wars.' And everyone just loved that idea." (Parents, don't worry: the lounge will be open to your younglings in the daytime, with plenty of non-alcoholic drinks.)
After getting the green light, brainstorming started almost immediately between Imagineering and Disney Cruise Line. Would the lounge be set in a cantina? On a planet? Somewhere strange in the galaxy? "We decided that since we're on a cruise ship, it would be fun if the lounge is on a Star Wars ship," Handke says. "Around that time, we had The Last Jedi and Solo, and it was kind of the more refined side of Star Wars, like Canto Bight and Dryden Vos' ship. We thought, 'Boy, that's really unique and different. You know, we have Oga's Cantina at Star Wars: Galaxy's Edge. What if we explored, as a nice juxtaposition to that, doing kind of a Dryden Vos yacht ship?' We landed on that, doing something sophisticated, which also matches the design of the Disney Wish."
And as the name implies, hyperspace travel plays a big role in the storytelling and experience.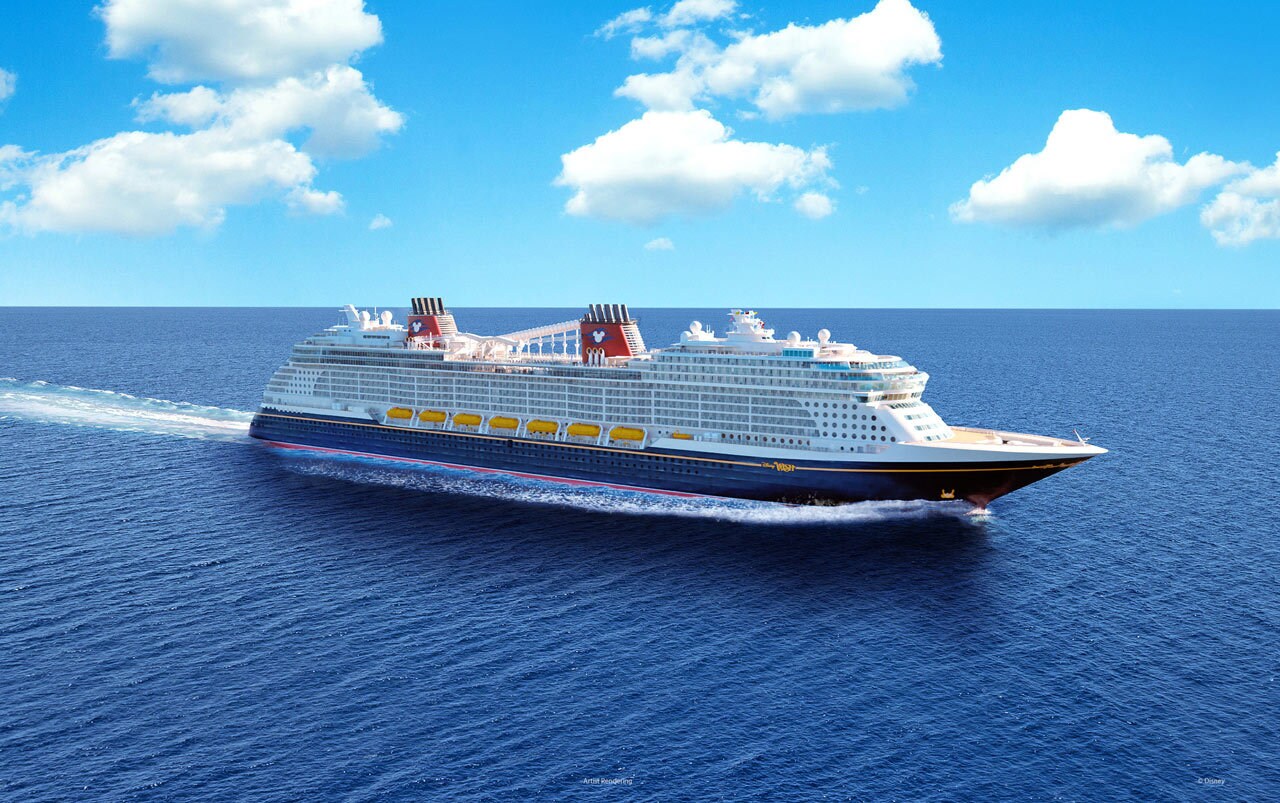 "We came up with this idea, 'the Hyperspace Lounge.' Think of it like a party ship through the galaxy. We're jumping to different locations and getting a tour of space, and sampling amazing drinks from those different planets." In a clever twist, fans will not just be jumping to different planets; they'll be jumping to different time periods, as well.
"We want to see a little bit of Empire-era Star Destroyers and TIE fighters," Handke says. "And we want to see the Resistance from the First Order era, the prequel era, a familiar ship from The Mandalorian, and Rogue One." The illusion will be created via the bar viewport, a widescreen, seven-pane window to the stars.
"The visual effects are all-new for the Disney Wish," Handke says. "We worked with ILM. Each sequence is almost like a mini-storyline that plays out. You'll see iconic ships, you'll see really cool things happen. ILM adds so much eye candy and they take it to a whole other level for us, which is so awesome. They work in all sorts of Easter eggs and little details."
Some of the galactic destinations that fans can look forward to include Tatooine (set during The Mandalorian), Batuu ("almost a day in the life of Star Wars: Galaxy's Edge," featuring the Star Destroyer from Star Wars: Rise of the Resistance and Hondo Ohnaka's ship), and Mustafar (Rogue One: A Star Wars Story era). And Handke reveals one more locale exclusively to StarWars.com: the home of the Ewoks, Endor.
"It's my personal favorite scene," he says. "You see the forest moon from Return of the Jedi and Kef Bir, the water moon from The Rise of Skywalker. When we designed this scene, we were talking about, 'What should it be? Do we see Death Star debris? Let's do the First Order era for that.' So I asked the Story Group and ILM, 'Could we do like, a little bit of Star Wars? What happens if we have some Resistance cruisers, and the First Order shows up? Can we do a little battle?' They said, 'You can do a little skirmish. Not a full-on battle, but a skirmish.' And so we staged this really cool skirmish scene, where the Resistance and the First Order are fighting each other. You get the laser fire, you get the TIE fighter explosion, and then at the very end we have these three X-wings that come down in front of our screen and protect us. I am so stoked about it."
While Handke can't talk about the drinks just yet, he does confirm that all beverages are being created from scratch, from beer to blue milk -- meaning each will be different from anything found at Star Wars: Galaxy's Edge. Then, there's the actual lounge itself.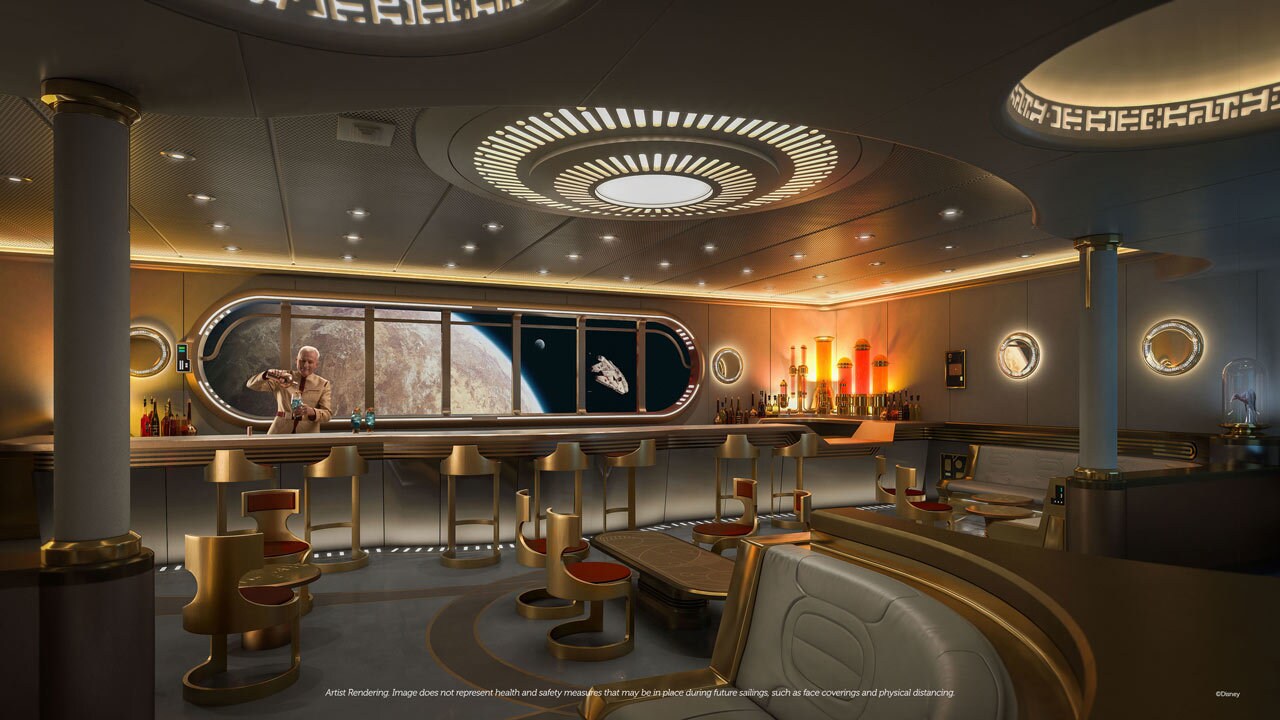 Based on a rendering shown to StarWars.com (see above), it does indeed look like something Dryden Vos would love, if not the brainchild of his personal interior decorator.
Gold features prominently throughout Star Wars: Hyperspace Lounge, from chairs and bar stools to accents on columns to the frame of the large viewport into space (which happens to show a certain bucket of bolts passing by). The vertical lighting, utilized on walls, the floor, and the ceiling, is classic Star Wars. The taps are an elegant cylindrical cluster, again in gold casings. But if you look closely, there are stories to be told...and Easter eggs for keen-eyed fans.
"Just like from Dryden's ship, there's the idea of collected items from around the galaxy. So each of the gallery pieces are from different planets that you see through the viewport. It might be a volcanic crystal from Mustafar. We have an idol that was unearthed from Batuu. We just wanted to have different oddities that bring color to the space, but also celebrate the overall hyperspace story that we're telling." Not seen in the rendering is a holotube, which will play transmissions from different ships that guests will encounter.
From the sound of it, Star Wars: Hyperspace Lounge is surprisingly personal for Handke. "I grew up on Star Wars and Disney animation. Even things like Star Tours," he says. "That combination of Imagineering and George Lucas' vision coming together, that was really inspirational." With Star Wars: Hyperspace Lounge, that inspiration will be made real.
The Disney Wish -- the newest ship in the Disney Cruise Line Fleet​ -- sets sail in summer 2022.