Designers behind the new Millennium Falcon: Smugglers Run attraction discuss bringing the adventure from concept to creation.
Fast ship? We've all heard of the Millennium Falcon, and maybe even imagined what it would be like to climb aboard and settle in behind the controls, pushing the levers to make the jump to hyperspace and see what new adventures await in a galaxy far, far away.
"Finding out that I was going to get the opportunity to work on bringing the Millennium Falcon to life was both the most exciting experience in the world and also the most terrifying," says Asa Kalama, the executive creative director behind the new Millennium Falcon: Smugglers Run attraction inside Star Wars: Galaxy's Edge. "People love, love, love this ship and have spent literally decades imagining the moment when they would have the opportunity to finally step aboard. And that is an incredible responsibility."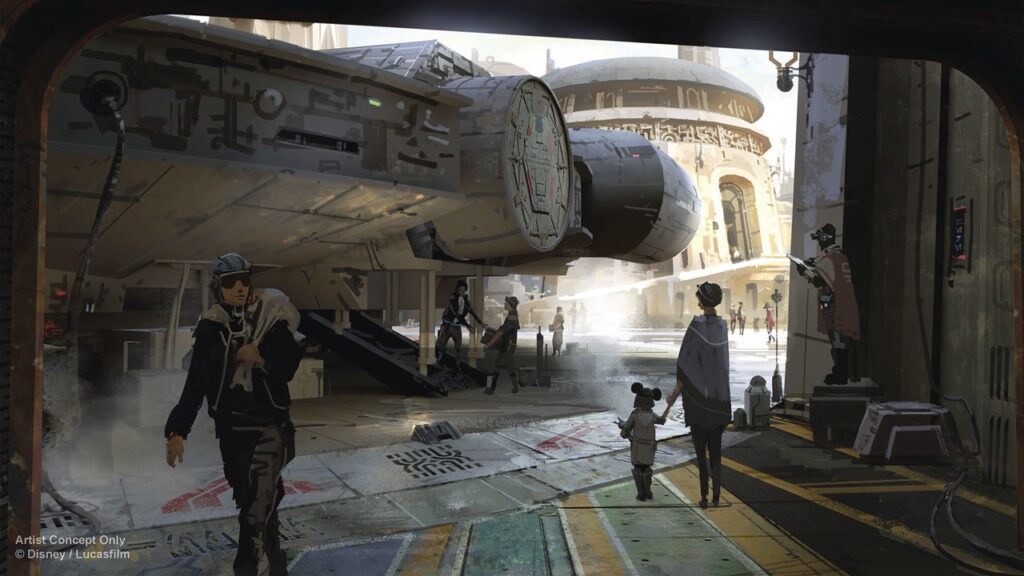 To make the ship that made the Kessel Run a reality in this galaxy, Kalama and his team created what Lucasfilm VP and Executive Creative Director Doug Chiang has dubbed "the quintessential Millennium Falcon." Over the years, the ship has been realized on a number of different sets. "There were many different iterations," Chiang explains. "For the original trilogy, we had an 88-foot version. For our more recent films, they varied between 110- to 112-[feet]. We took all that  information, all those elements and distilled it down into the one iconic Millennium Falcon both in scale and in detail."
Now the definitive Falcon has been entrenched in an immersive and exhilarating adventure that takes you from the first glimpse of the storied ship, broken down once again and in need of repairs at a docking bay on Batuu, to the legendary main hold and finally to take the controls inside the cockpit. "As we know, canonically she's a bucket of bolts," Kalama says. "She's always in a state of disrepair. Today's no different."
"Will the Millennium Falcon be in the land? From the day we started pretty much everybody asked that question," says Scott Trowbridge, portfolio creative executive from Walt Disney Imagineering. "That's kind of a great bit of wish fulfillment to actually sit behind those controls…to truly fly that hunk of junk through the galaxy." 
The attraction, now open at Disneyland Resort and opening August 29 at Walt Disney World Resort, is a never-before-seen fusion of video game technology, cinematic special effects, interactive responses, and a completely tactile and fully operational set of levers, buttons, and other controls that provide a uniquely satisfying ride.
For an audience that had been dreaming of this moment for decades, it was important that the Falcon felt completely real. The team spent three years "making sure that walking into that cockpit, it didn't feel like a toy, it felt like a real, honest spaceship," Kalama says "We spent an incredible amount of time just playing with the feel of the buttons and the switches and the hyperspace handle to make sure it had that heft that made it all feel not like a simulation of being in a spaceship, but an authentic experience."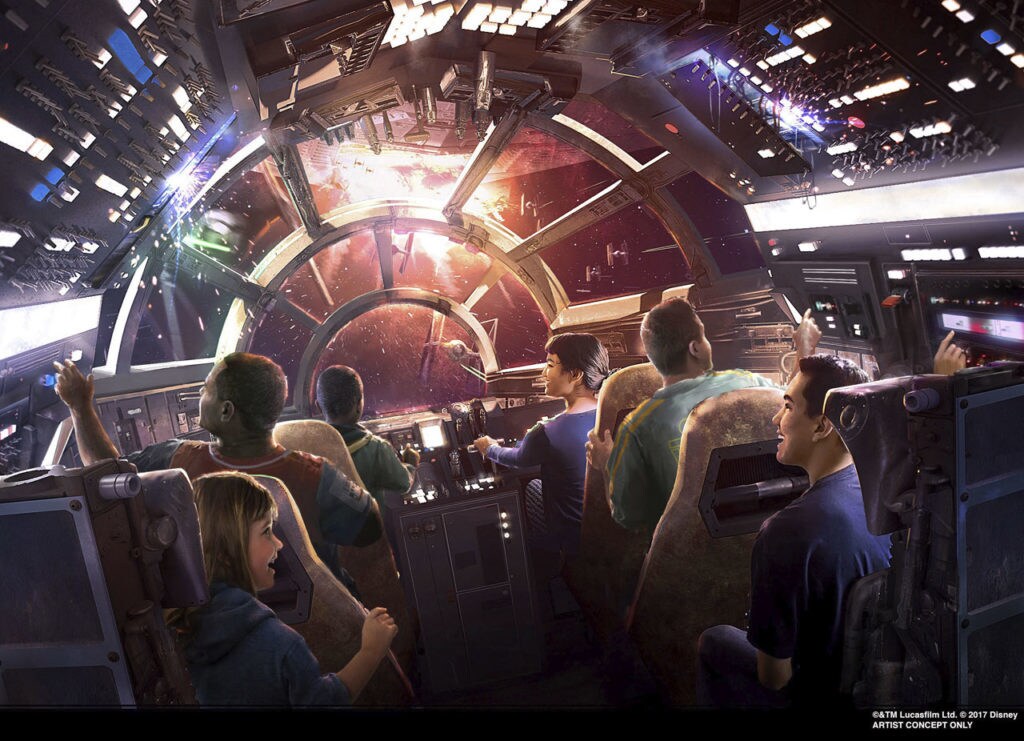 Making it real
Although the Falcon has been realized on film in several incarnations, a full-scale version of the ship like the one now on display at Disneyland Resort had never before been created. Designers combed through reference material and traveled to sets during the filming of the sequel trilogy to perfect the effect. Concept art helped reimagine a slightly upgraded cockpit with a few extra seats and pin down the right version of the storied ship for the era of the sequel trilogy.
"We really wanted to make sure that when guests stepped aboard they didn't have to imagine that they were there; they are there," says Jacqueline King, a producer for the attraction. "They don't have to fill in any of the gaps. You see all of the details for real." 
To get to the cockpit, there's a circuitous route through the Ohnaka Transportation Solutions building, where you'll find engines in various stages of disrepair and evidence of some stowaway porgs making a new home on Batuu. "They tend to get in trouble and we have a little bit of an infestation at the moment," King jokes. 
The queue winds around the back of the ship, for a panoramic view from multiple angles. Even Chiang was impressed the first time he saw the finished version. "I remember him sort of rounding the bend, the cantilever cockpit came into view, and he had the experience that I think everybody has had for the first time…slack jawed, right? It's so amazing to finally get to this ship rendered in its full glory," Kalama says. "It's been a CG model. It's been miniature. They build sections of the ship at shrunken scales for the films, but to actually get to see the ship 1:1 was truly, truly awe inspiring." No detail was too small, from the individual buttons to "making sure all the greeblies, the bits and bobs of gak that appear on the band, are in the right piece. It's not a rough approximation," Kalama says. "It's got all that sumptuous detail that we know people are going to pour over for many, many years to come."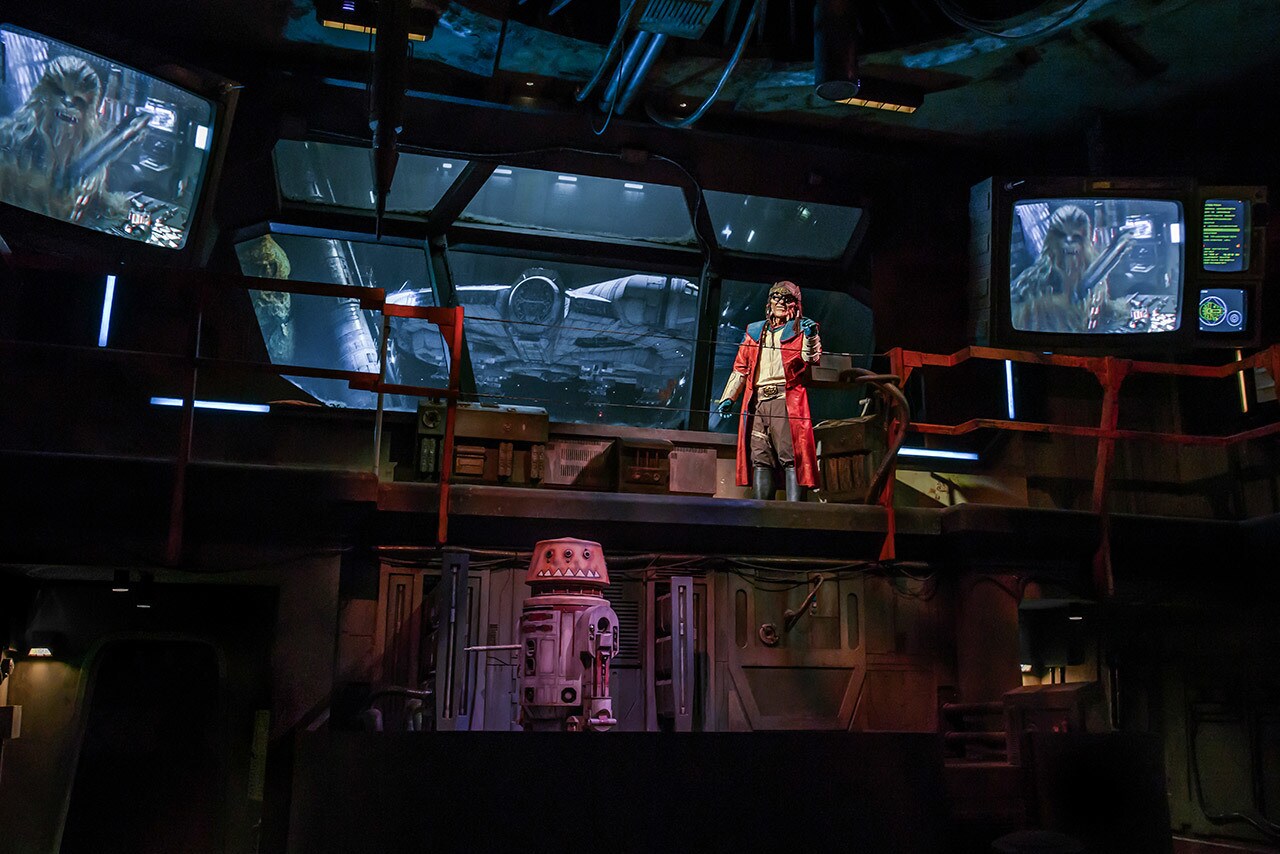 Hondo Ohnaka, a masterful new piece of Audio-Animatronics technology, is there to not only get the ship in working order (thanks to a generous agreement with Chewbacca himself) but also to hire a willing crew for a dangerous job on Corellia.  Kalama says he knew they had perfectly captured the spirit of the previously animation-only character when the creature sculptor added the pupils to his eyes. "All of the sudden he came alive. It was exactly as I had sort of imagined he should look in real life."
"[Hondo]'s invited all of you to come be his crew members," King adds of the immersive story set-up. "We need pilots, gunners and engineers to help get this cargo around the galaxy."
Once aboard, you may spot remnants of the ship's many owners and residents, including the helmet Luke was wearing when he first learned to use a lightsaber inside the main hold.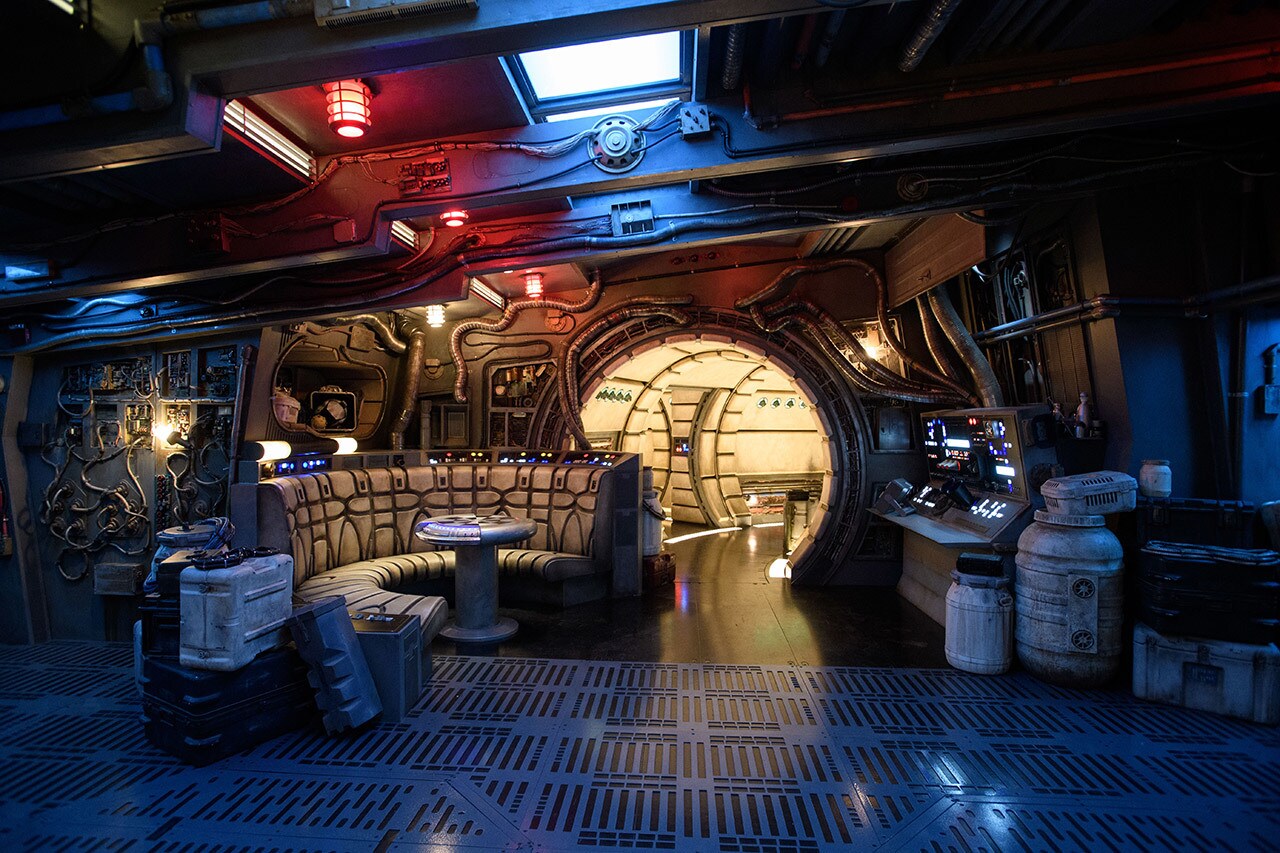 And stepping into the hold is an experience in and of itself. "You're totally and utterly transported," Kalama says. The first time you walk in and see the dejarik table where Chewbacca challenged both R2-D2 and Beckett to a (mostly) friendly game of holochess, it feels surreal. Off to the right is a slim corridor where a rebellious princess may sneak away to try her hand at assisting with the ship's maintenance.
Thousands of possibilities
Because the system is built to respond to the individual crew, there are thousands of ride combinations, with everything from a pilot's skill to a gunner's aim impacting not only how the story plays out but how characters react and what musical pieces are played. "We wanted there to be a sense of variability, a sense of accomplishment," King says. "Depending on the exact moment you hit a blaster, something different could happen so there's somewhat of an infinite possibility. … I don't know that you could ever get through all the possibilities."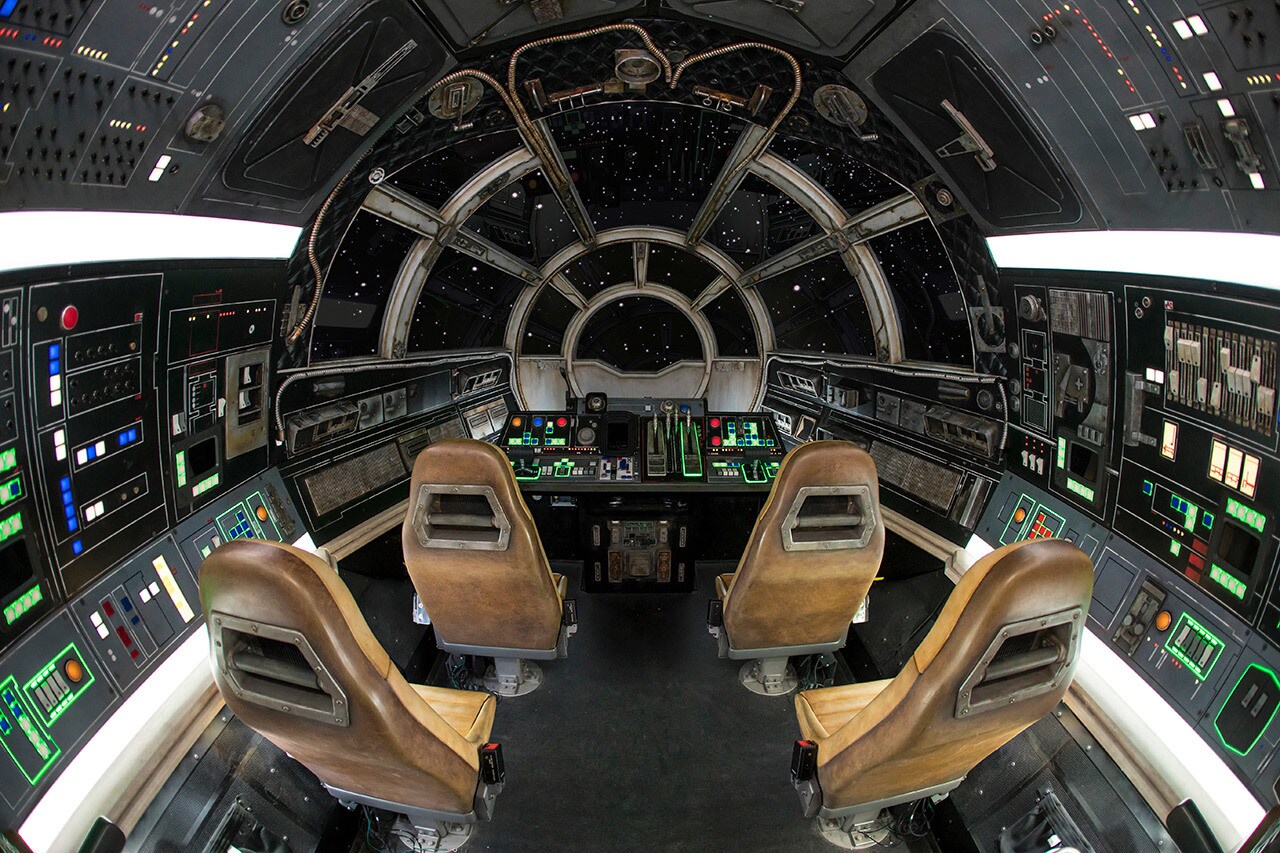 "We know that our guests are going to be crashing into spires," Kalama adds. After all, for most visitors it's their first time flying the storied Corellian freighter. "And the ship literally rattles all around you."
The ride had to be different from any other motion simulator before it, Kalama says, unique because of the level of audience participation and agency in directing the course each individual ride and the intimate scale of sharing the adventure with just five other people. "Regardless of who you are, where you came from, the choices that you make matter and can have an impact on the world," Kalama says, and that philosophy is reflected in the ride. "It was an ambitious idea."
But it also had to live up to the expectations set by the legendary ship on screen.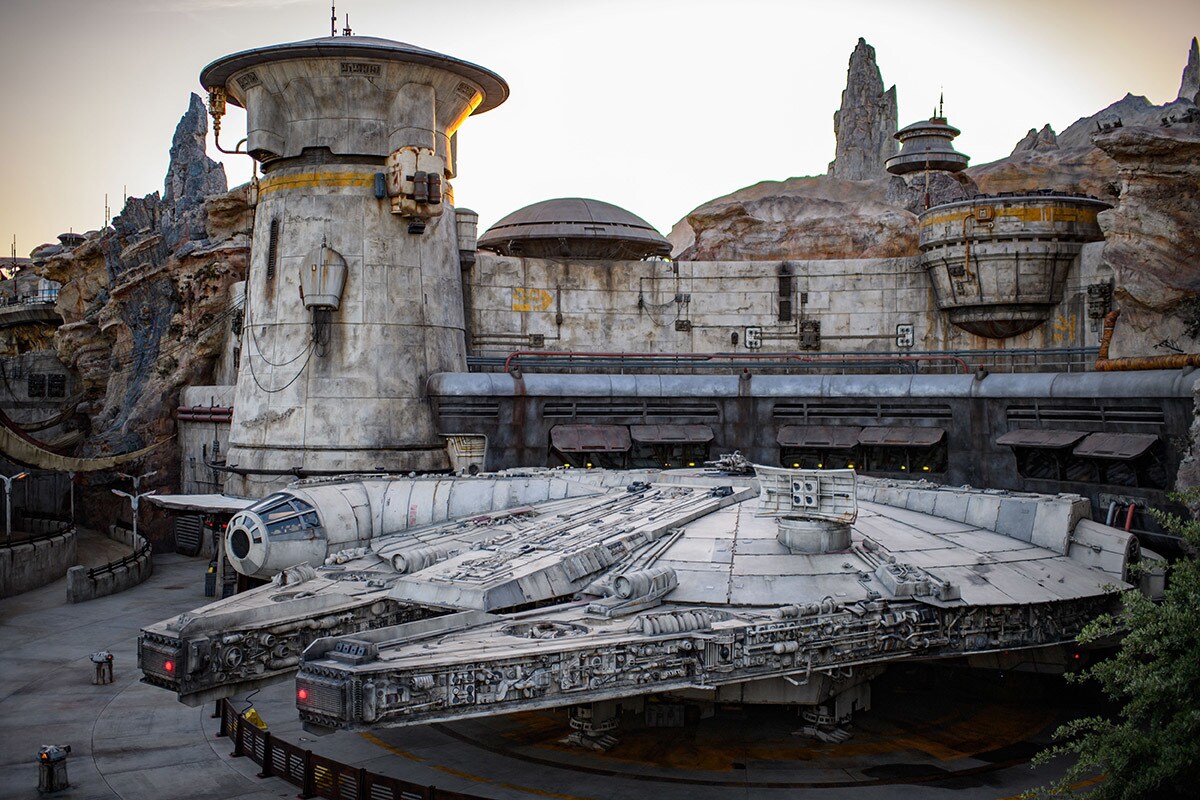 The first visitors to see the ship in all its glory had a mix of wonder, surprise and other more emotional responses. "There have been some tears," King says. "The Millennium Falcon for me is one of my favorite characters within the Star Wars galaxy." So it was personally important to King that "when guests meet her for the first time, they're not questioning whether or not it's the Millennium Falcon. They know it's truly her."
And for King, they've done justice to this beloved bucket of bolts. "This is everything that we wanted it to be."
Whether you've already visited or are planning your own adventure in the future, you can learn more about how Millennium Falcon: Smugglers Run was brought to life this week on The Star Wars Show, which you can watch below!

Featured concept art by Brett Northcutt and Erik Tiemens.
Get details to plan your visit to Star Wars: Galaxy's Edge and more with StarWars.com's full coverage here.
Star Wars: Galaxy's Edge at Disneyland® Resort is now open. Star Wars: Galaxy's Edge will open at Disney's Hollywood Studios in Florida on August 29.
Associate Editor Kristin Baver is a writer and all-around sci-fi nerd who always has just one more question in an inexhaustible list of curiosities. Sometimes she blurts out "It's a trap!" even when it's not. Do you know a fan who's most impressive? Hop on Twitter and tell @KristinBaver all about them.
Site tags: #StarWarsBlog