Galactic travelers talk to StarWars.com about their experiences at the new Star Wars-themed land.
With the opening of Star Wars: Galaxy's Edge at both Disney's Hollywood Studios and Walt Disney World Resort, fans can do something new: they can step into the galaxy far, far away. Walking into Batuu is like taking a transport into a Star Wars story -- only this time, you're at the center of the narrative. You can step inside the Millennium Falcon's cockpit for a thrilling mission, swing by the local cantina for fizzy libations, and observe all the little details that make Black Spire Outpost feel like an aged village that's been hosting visitors for a very long time.
StarWars.com caught up with some fans visiting Star Wars: Galaxy's Edge and asked them to share their impressions of Batuu. One common point of enthusiasm? All the details.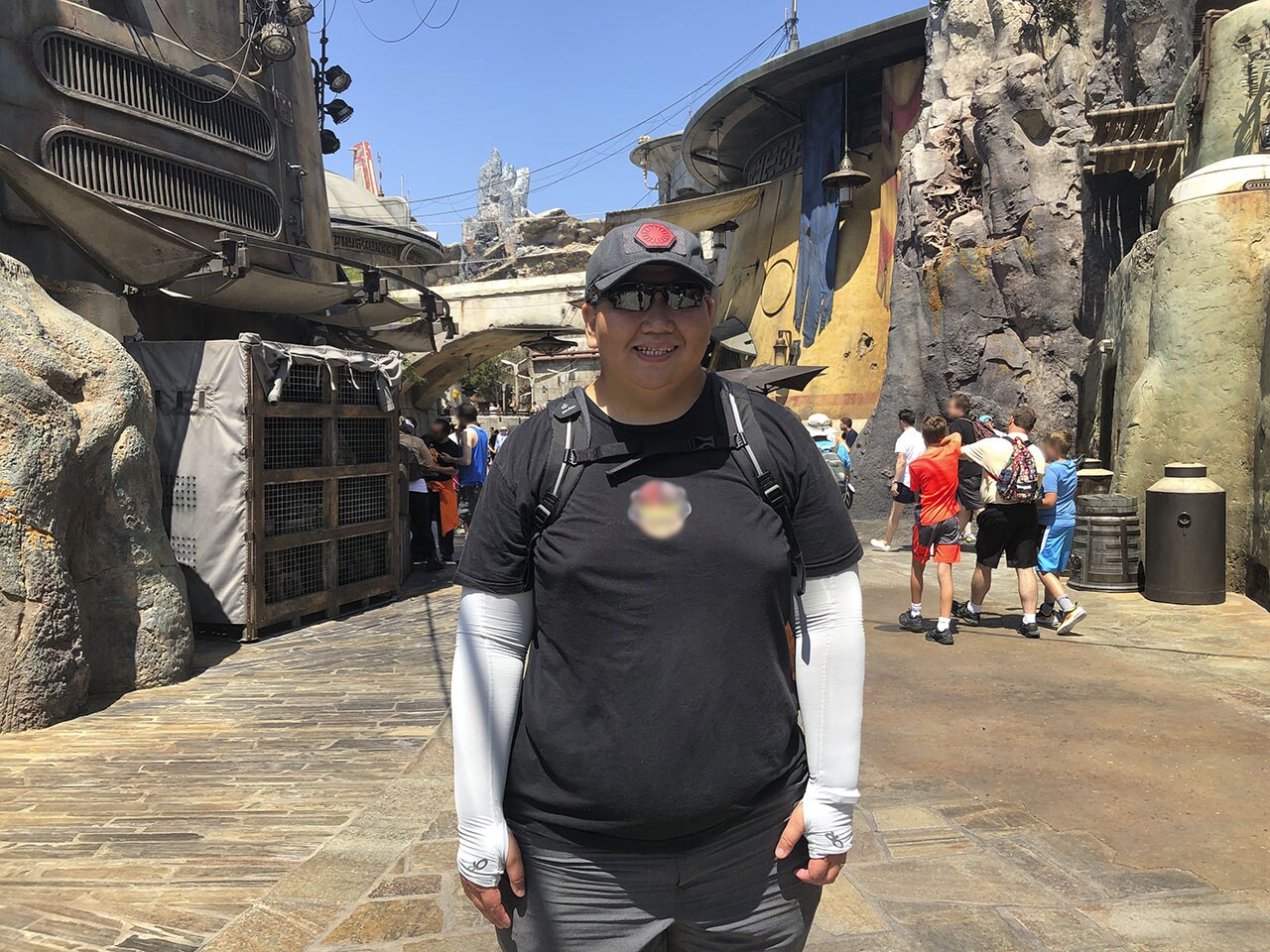 On Xiao's first-ever visit to Disneyland Park, he came to Star Wars: Galaxy's Edge. "It's awesome. Star Wars is one of my favorite movies and seeing, like, Kylo Ren in real life... This is all a dream come true," he says. Xiao went on Millennium Falcon: Smugglers Run and held the gunner position, where he helped eliminate the enemy while he kept his eyes on the action. He had fun on the attraction, but it's the immersion of the land that gets him most excited.
We hear the sound of a TIE fighter overhead, and Xiao exclaims, "Stuff like that! You hear the TIE fighter go by and you're lost in your reaction. You're immersed in Star Wars. You can't hear or see any of Disneyland. It's just perfectly done."
He encourages fans coming to Star Wars: Galaxy's Edge to put aside any distractions, at least for a little while. "Come in with an inquisitive mind. You're here to see all the small stuff that the engineers took their time to put in."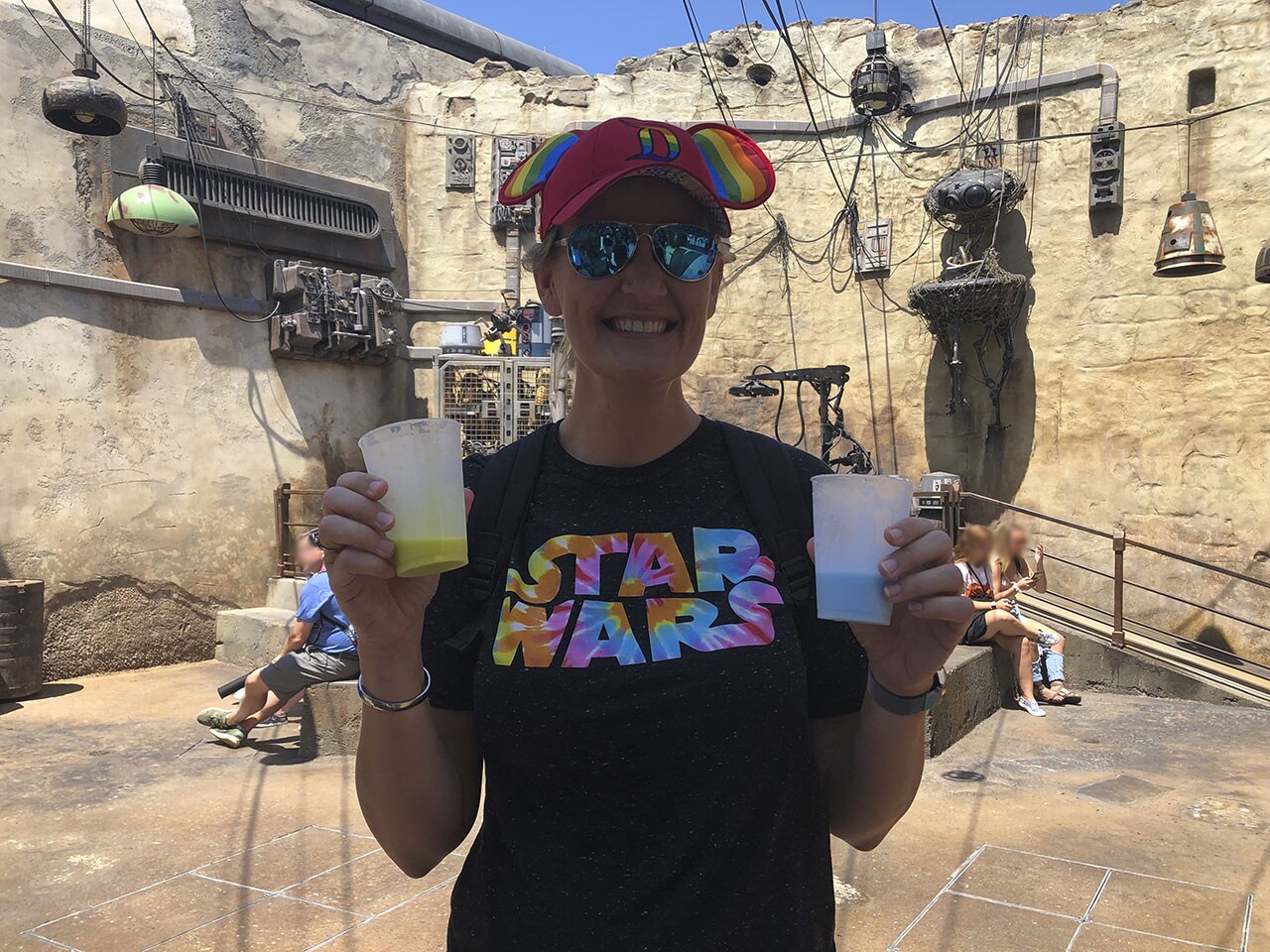 Dana, visiting from Fresno, California, has walked the streets of Black Spire Outpost three times in the past two weeks. Why she decided to visit Star Wars: Galaxy's Edge is pretty straightforward. "I love Star Wars. Anything Star Wars," Dana explains. "But this particular second it was to try the blue and green milk."
Dana and her friends have multiple cups of the frozen treats from the Milk Stand. They sample each flavor separately, and then try blending the two different flavors together with mixed results. 
Between sips of blue milk, Dana shares her initial impressions of the themed land. "The scale of everything was overwhelmingly amazing, especially the Millennium Falcon and all of the detail to it. It exceeded my expectations," she says. She adds the whole Batuu experience is great, but that if you can snag the right-side pilot seat on Millennium Falcon: Smugglers Run, you'll enjoy "the best part of the ride." 
Nan came to Star Wars: Galaxy's Edge for one primary reason: "I wanted to see the art direction and scene elements. I wanted to see what kind of job [the Walt Disney Imagineers] did with the sound design and scenic design," he says as he looks around Black Spire Outpost's marketplace.
The verdict? They nailed it. Nan thinks they did a really good job with the art direction and has nothing but praise for all the different textures around the marketplace and land. He's impressed with the otherworldly environment they've created.
If you're visiting Star Wars: Galaxy's Edge, he advises, "Pay attention to the little details of craftsmanship and the little Easter eggs that tie to all the movies."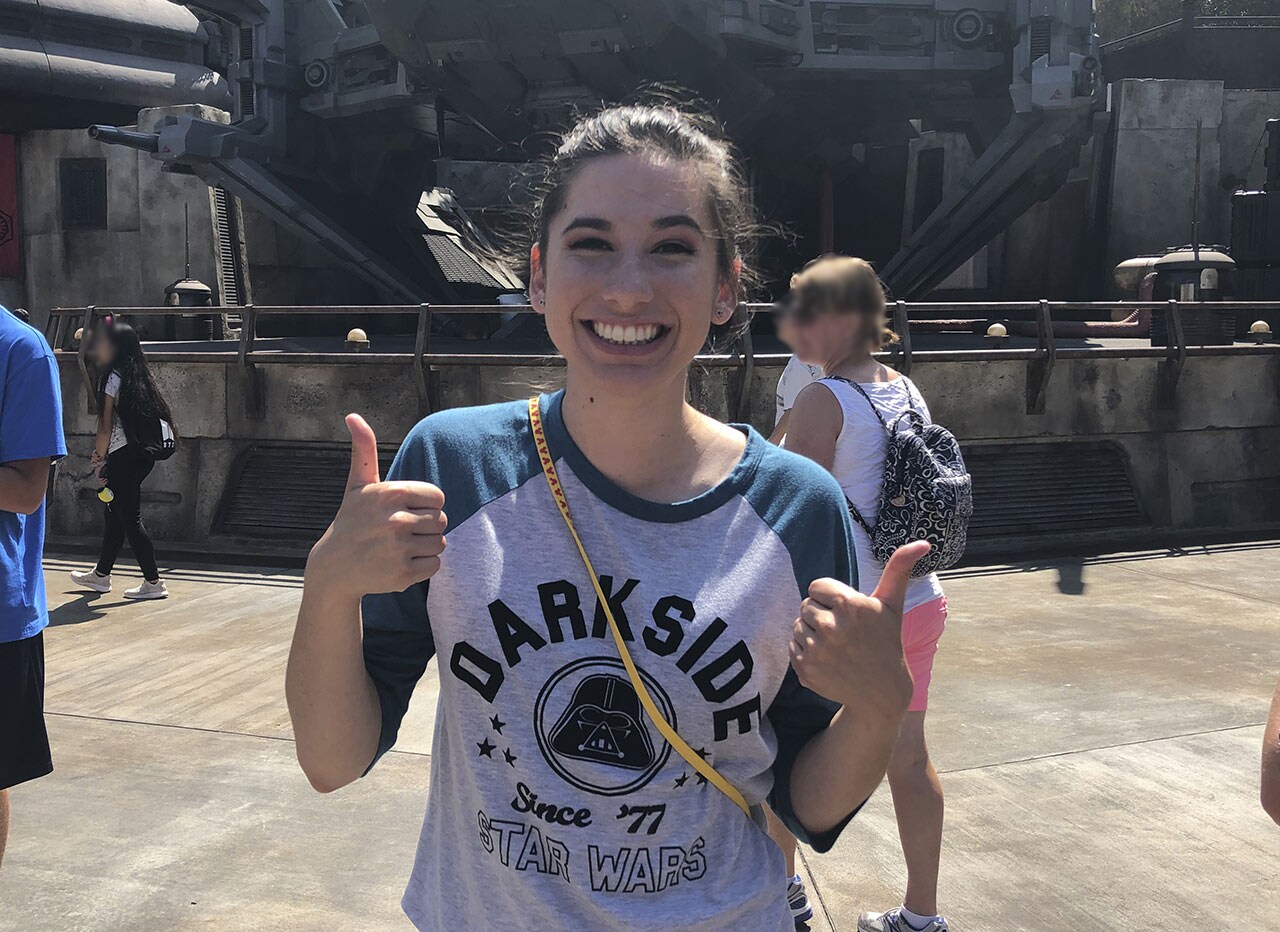 Amber stopped into Star Wars: Galaxy's Edge from Roseville, California. Sporting Rey's signature triple buns, Amber admits she was most excited about spending time in Disneyland Park overall. However, getting to also see Star Wars: Galaxy's Edge? Icing on the cake. "I was really excited when this opened," she says. "I didn't know what to expect, but anything that I was expecting...it's just been exceeded. It's so realistic and you feel very immersed."
First Order stormtroopers hover near Kylo Ren's TIE echelon nearby, interrogating passersby about the Resistance. Though Amber styled her hair like Rey, she's wearing a dark side shirt. Besides wanting to return to Batuu at night to see it lit up, she says she's most looking forward to one thing: "Meeting a stormtrooper, for sure."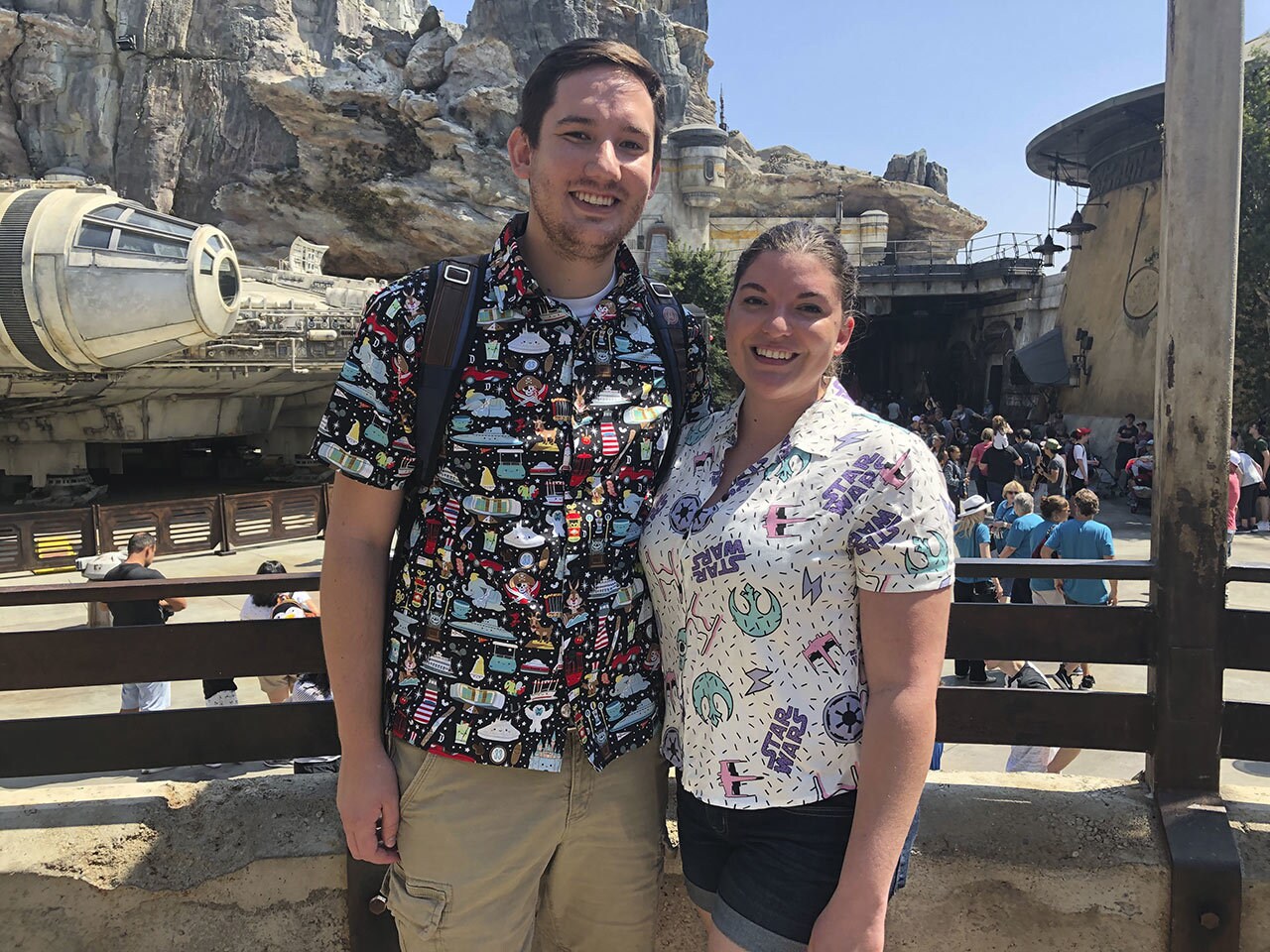 Brianna and Trevor made the trek from Utah to see Star Wars: Galaxy's Edge. There was no question of if they'd visit, it was only a matter of when. Trevor says, "I've always loved Star Wars; I remember growing up and watching all the movies. We've watched The Clone Wars, [Star Wars] Rebels, all the cartoons. So, I've been excited for Star Wars: Galaxy's Edge since it opened!"
Surveying the area near Dok-Ondar's Den of Antiquities, Brianna adds, "We're really excited to see all the architecture and all the details that have come out of this place. It's incredible, all the spires and the amount of work and all of the time."
While Trevor was wowed by the spectacle and scale of the Millennium Falcon, they both pointed out Star Wars: Galaxy's Edge is all about the small touches. They spotted Easter eggs from the animated series inside Dok-Ondar's. And when it comes to the village, "I really liked all of the smaller alcoves in the marketplace," Brianna says. Especially the entry to Ronto Roasters. "It really reminds me of The Force Awakens when they come into Maz's place. That sort of feel. It brings you into the movies."
Star Wars: Galaxy's Edge is now open at Disneyland® Resort and Walt Disney World® Resort.
Amy Ratcliffe is passionate about Star Wars and coffee. She always has her nose stuck in a book. She's the author of Star Wars: Women of the Galaxy and a co-host of the podcast Lattes with Leia. Nerd out with her on Twitter at @amy_geek.
Site tags: #StarWarsBlog