See cruise cosplay featuring formal-wear Sith, homemade tauntauns, and much more!
In Fully Operational Fandom, StarWars.com goes right to the heart of the Star Wars saga — the fans — for insight into their thoughts and experiences surrounding a galaxy far, far away.
Avast, ahoy, and other nautical terms! The first Star Wars Day at Sea Disney Cruise of 2017 set sail in early January, and guests embraced the event with the sort of enthusiasm I've learned to expect from this fandom. As I strolled (and wobbled) my way around the Disney Fantasy over the week-long cruise, I spotted more Star Wars T-shirts and accessories than I could count. Fans didn't reserve their gear for only Star Wars day, they showed their love for the saga throughout the voyage.
The second night of the sailing was formal night. It's a common event on cruises and gives passengers the opportunity to don their finest apparel for dinner. The whole ship becomes more elegant. While breezing through the atrium and admiring the floor-length gowns around me, I noticed a trio of women who put a galactic spin on their fancy attire. I made a beeline towards them.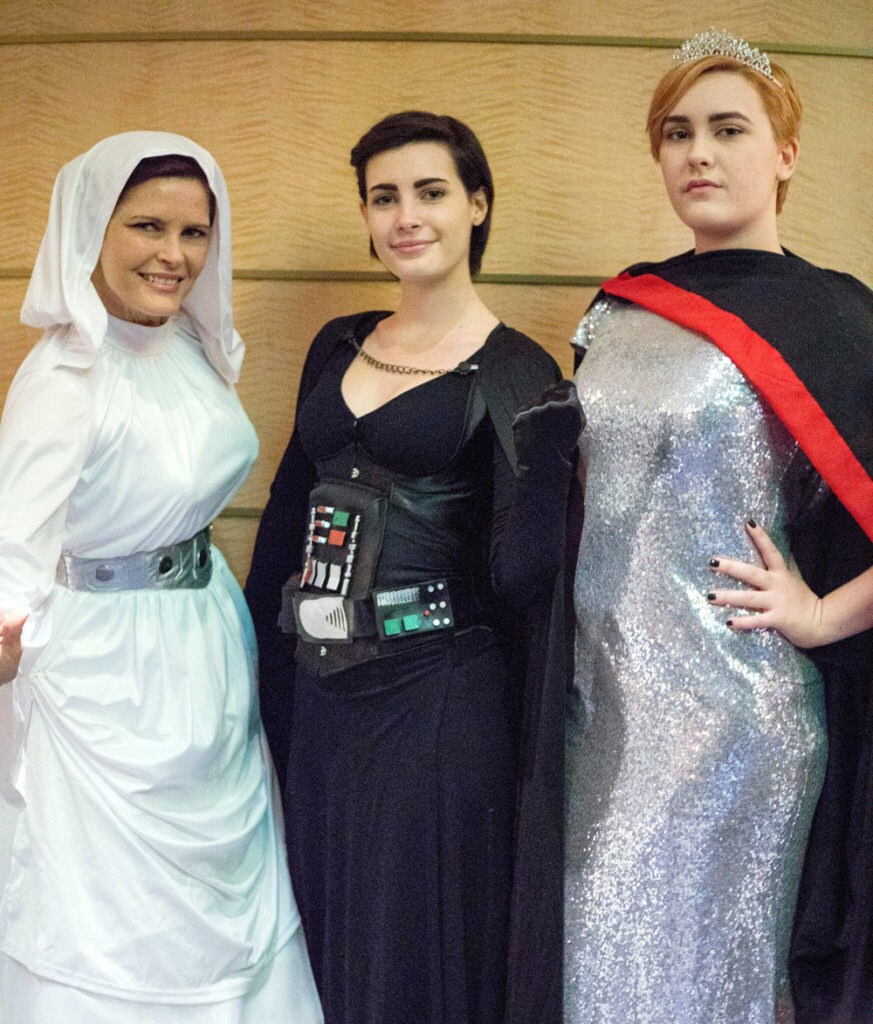 This is what formal dress might look like for the Rebellion, the Empire, and the First Order. The three ladies excitedly explained the crafting of their dresses. Carolyn modified a thrift store wedding dress and paired it with an existing Leia costume to make her gown. She made Darth Vader and Captain Phasma capes for her daughters' costumes. Bridget used a Vader chest piece from a found costume and matched it to a black dress, while Caitlin used a perfect silver outfit to emulate Phasma's armor. She wore a tiara because she wanted something to stand in for Phasma's helmet.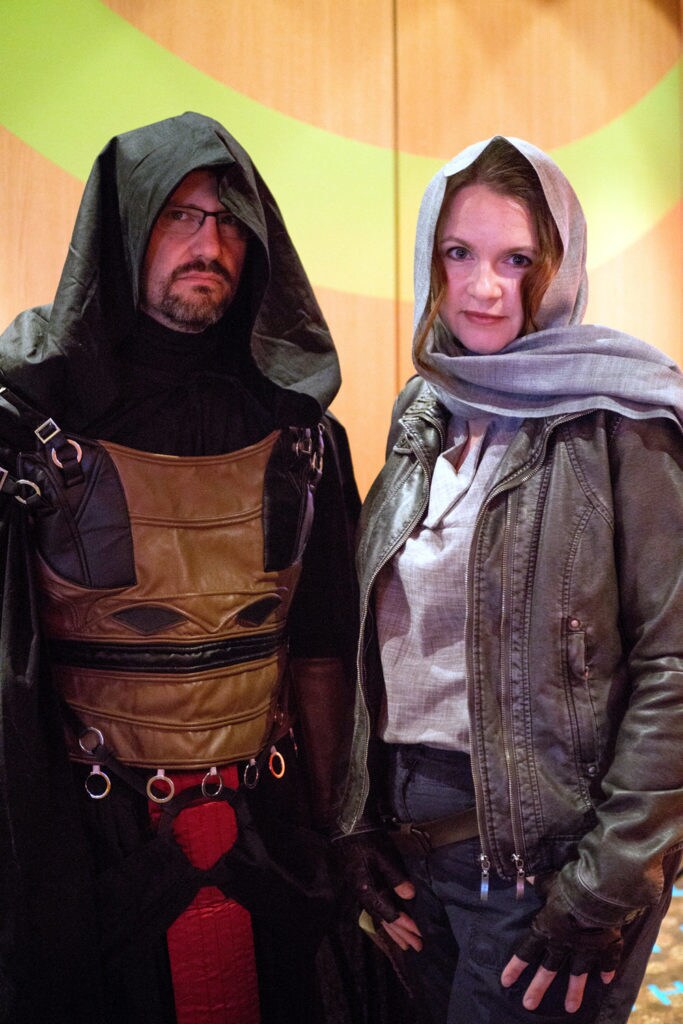 Now, fast forward a few days to Star Wars Day at Sea. My first character meet and greet (with Sabine and Ezra!) was at an early hour, but my eyes popped open when I saw Darth Revan and Jyn Erso waiting in line.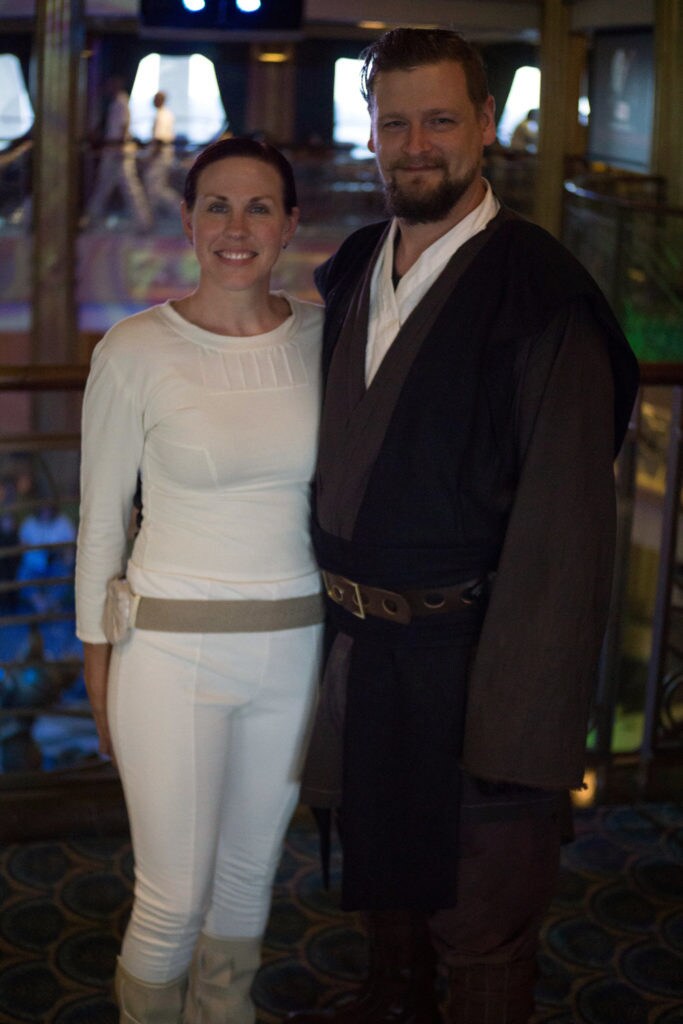 A few hours later, I met the friends responsible for making Chris' and Lisa's costumes. They were, of course, in costume as well, dressed as Padmé Amidala and Anakin Skywalker.
You never know who you'll run into on a Disney Cruise. While I was trying and failing to make a papercraft lightsaber, I ran into a pair of Rodians. Ali and Lili were dressed as Tseebo and Greedo, respectively. Their mother made their alien headbands and said the girls were particularly excited about the sparkling gems. I don't blame them.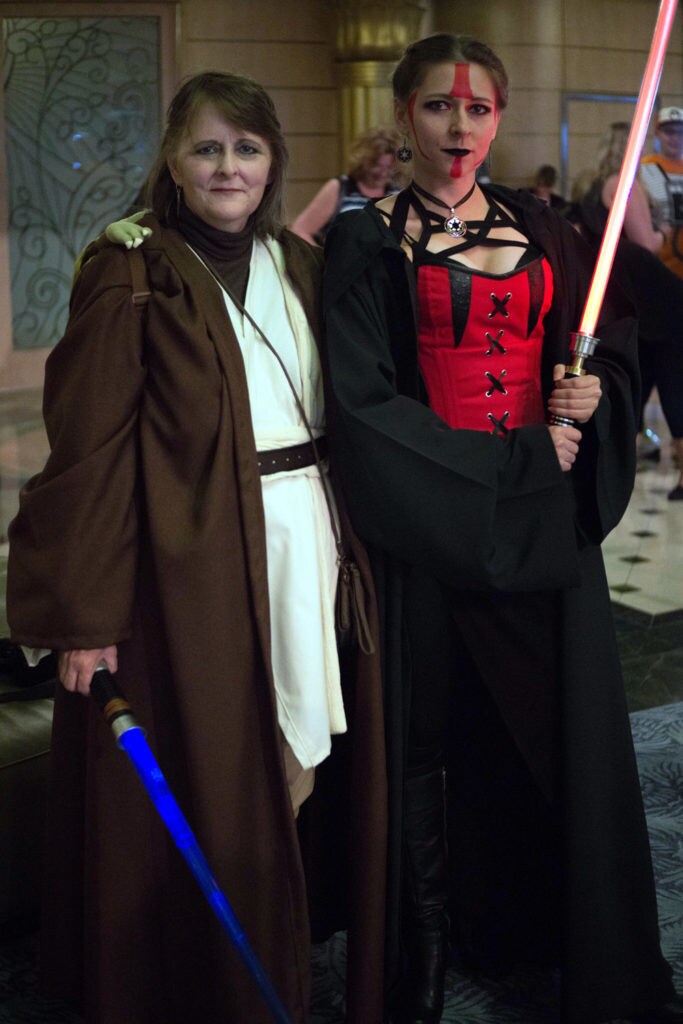 At least one cruise-goer came with an original costume design. Ellen Hudgens, a.k.a. Lady Themis, turned herself into the Sith Lord Darth Themis. Her dark side look was thankfully balanced by her mother Ellen's Jedi ensemble.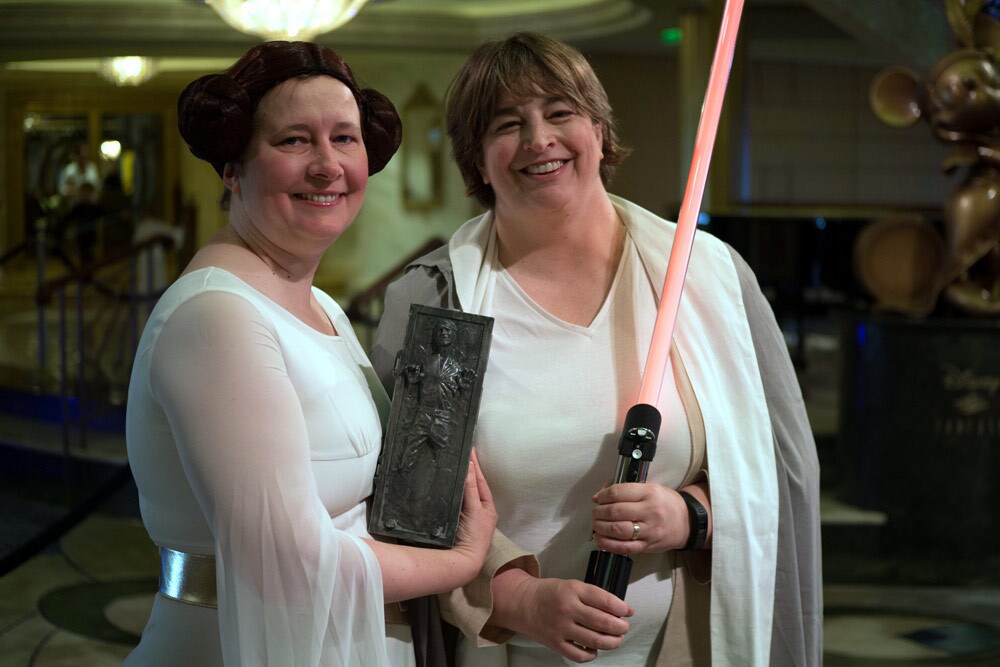 While waiting to view a costume celebration in the lobby, I ran into more fans with stellar taste in costumes. Cindy and Helen put work into making a Leia Organa dress and a Jedi Sith combo -- hey, it's handy to have your toes on both sides of the Force.
The costume celebration featured younglings and adults alike, and it was there where I saw a tauntaun. Well, more accurately, a woman wearing a tauntaun costume. She explained she was a tauntaun trainer. Look: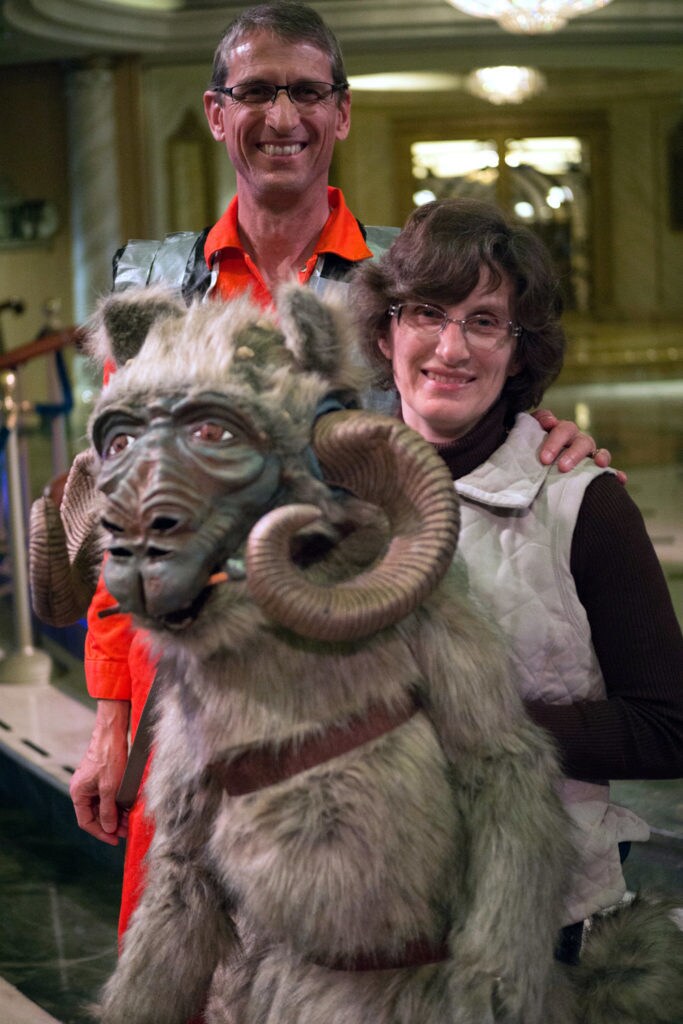 Eric and Jessica both crafted their costumes. Tauntaun construction took about five days, and it was their first time making a costume that elaborate. They took to YouTube to learn how to sculpt the tauntaun's face and make its furry body parts; they binged a series called Monster Makers. Their efforts were worth it, because Tessie the Tauntaun dazzled everyone.
Let's not forget Eric's X-wing pilot costume. He kitbashed the look together using a prison jumpsuit and duct tape. I think the rebels would be proud of his resourcefulness.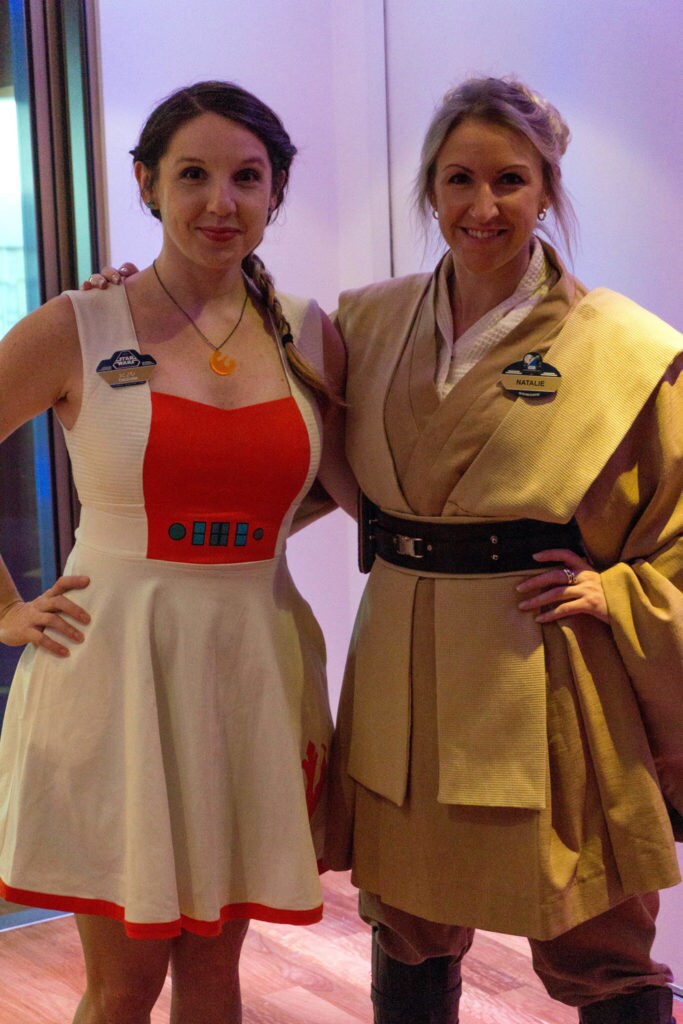 Crew members aboard the Disney Fantasy joined the Star Wars festivities, too. Cruise director Natalie Bailey dressed as a Jedi.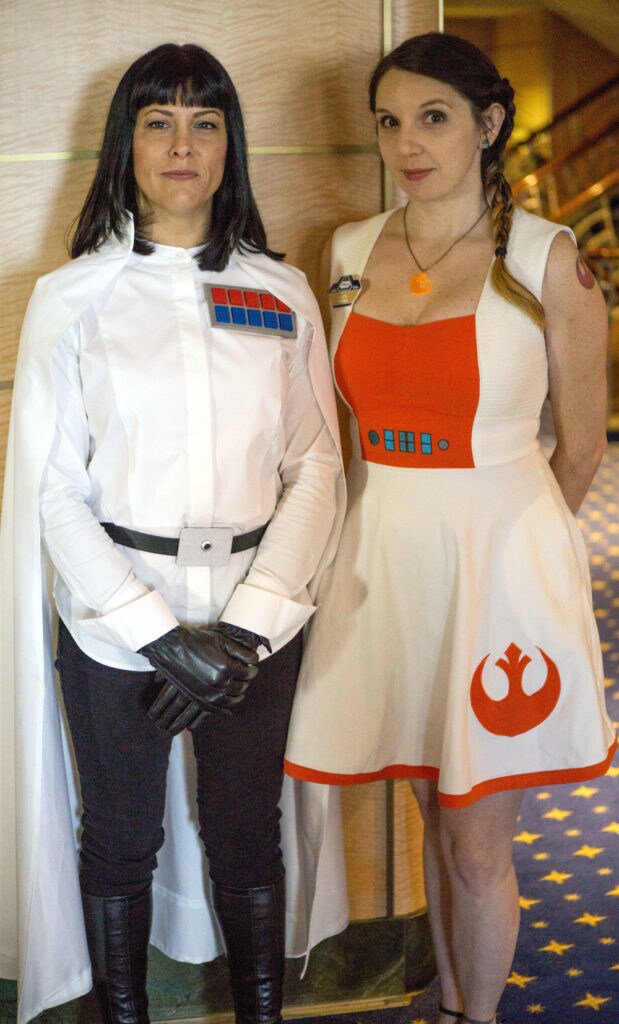 And Cara Allen, part of the Disney Cruise Line public relations team, emulated Director Krennic with a costume she put together (her mom made the cape!).
Looking back at all the costumes guests wore on Star Wars Day at Sea is inspiring me to make some appropriately-themed cruise attire for next time. Rey's outfit can be turned into a sun dress, right?
Star Wars Day at Sea sailings are taking place in 2017 and 2018. Visit Disney Cruise Line for further information.
Photos by Aaron Fairbanks.
Amy Ratcliffe is a writer obsessed with Star Wars, Disney, and coffee. Follow her on Twitter at @amy_geek.