Meet fellow fans who cosplayed as rebels and Jedi, met famous droids, and shared in their love of Star Wars aboard the Disney Fantasy.
For his vacation on Disney Cruise Line, Matt Peczynski made sure to pack his Star Wars "I love you / I know" cufflinks. That might seem an odd choice for a Western Caribbean journey, but he had good reason: this cruise aboard the Disney Fantasy would be Star Wars-themed -- and Matt, a huge Star Wars fan, was getting married on the ship.
"I said, 'We're getting married on a Star Wars cruise, I want to do a little something,'" he told me. In fact, Matt and his new wife, Jody, picked this cruise specifically because it was Star Wars-centric.
I had the privilege of meeting Matt and Jody, hailing from Dearborn Heights, Michigan, and other Star Wars fans while on my own family vacation. They're just two of many fans who celebrated the saga in their own personal way on the cruise and during Star Wars Day at Sea, in which the ship is immersed in Star Wars for one whole day, from morning until fireworks-filled night. With the worldwide (and land-based) Star Wars Day arriving tomorrow on May the 4th, it seemed like a good time to tell their stories.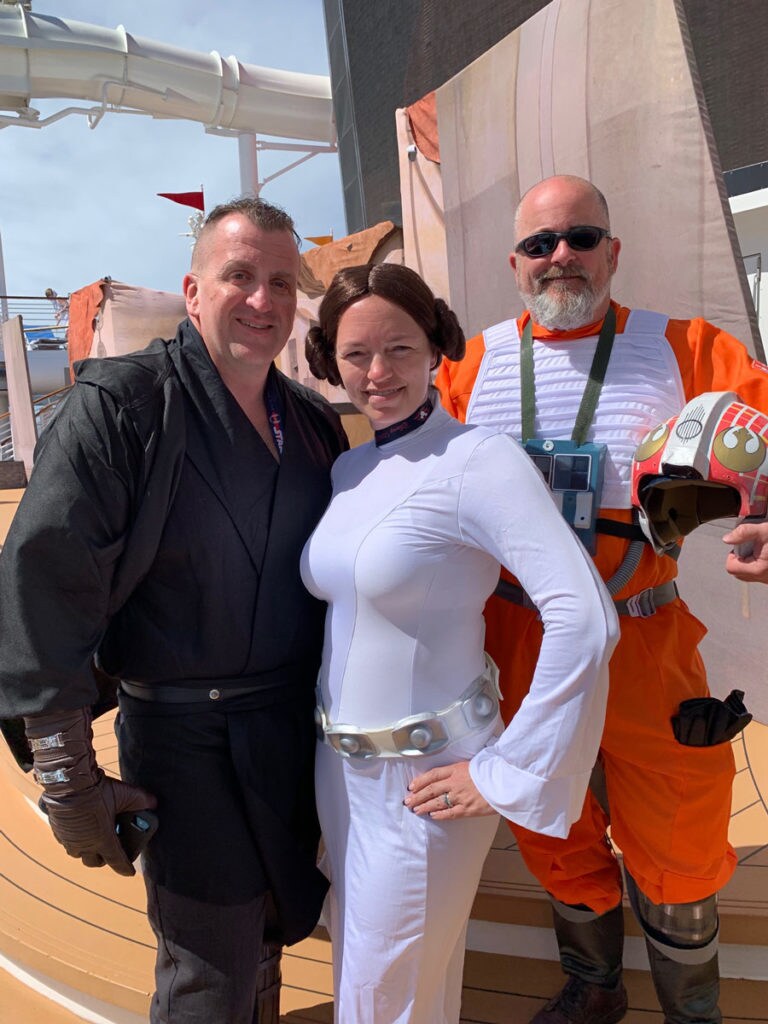 On Star Wars Day at Sea, Matt cosplayed as Anakin Skywalker, Jody as Princess Leia, and their friend Matt Abela, from Simpsonville, South Carolina, suited up as ill-fated rebel pilot Jek Porkins. Abela's fandom goes back to the early '80s, when he was just old enough to watch the movies. "Today has just been phenomenal," Abela said of Star Wars Day at Sea, particularly enjoying the camaraderie with other fans. "When you run into people that are on the ship that know who Porkins is, that is awesome."
"It's fun to see how it makes everyone come together," Jody added. One of the ways fans and family connected throughout the cruise was, appropriately, in movie theaters -- even if it meant breaking bedtime rules.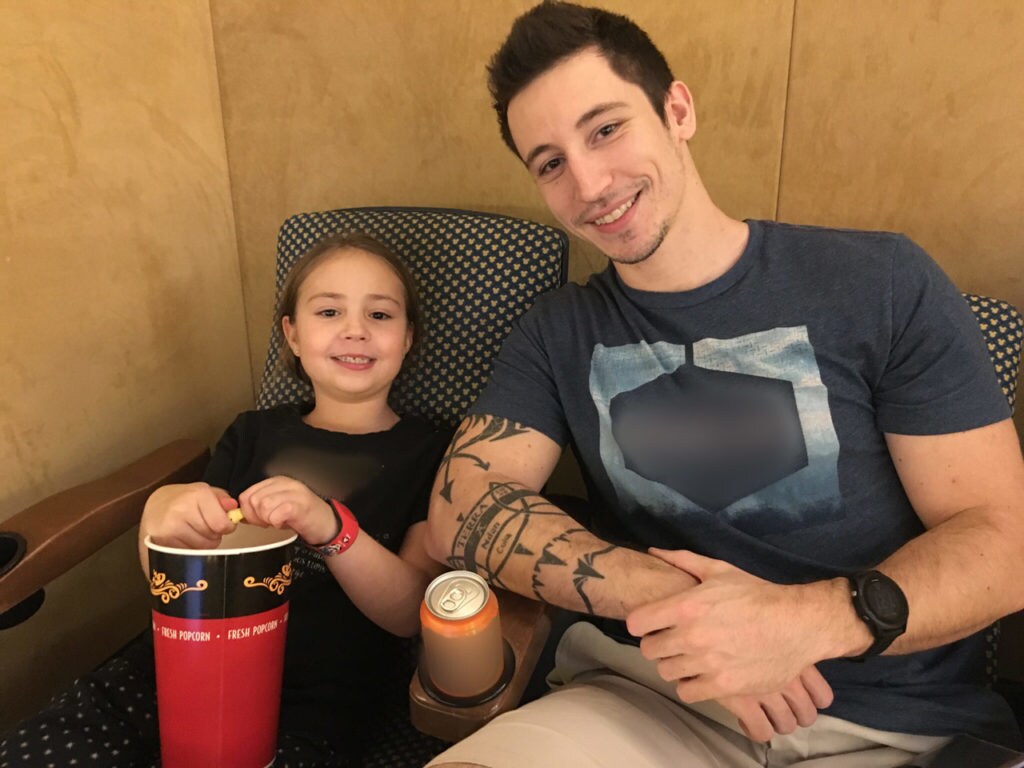 I spoke to Isaiah Dasen and his daughter Eva, from Spokane, Washington, just before a 10 p.m. screening of Star Wars: The Empire Strikes Back. "She's been demanding we go to the late showings," Isaiah said, clearly under some kind of Jedi mind trick from Eva. It was the first time Eva would be seeing Empire on the big screen, and while Isaiah loves Episode V, he doesn't count it as his favorite. "I actually really like Episodes I through III," he said. "And the new Solo movie, I thought, as a Star Wars fan, was fantastic."
"I love Solo," Eva added emphatically, just before the lights went down. While the screenings were impossible to resist, there was tons more to do on Star Wars Day at Sea, and I met even more fans throughout the ship.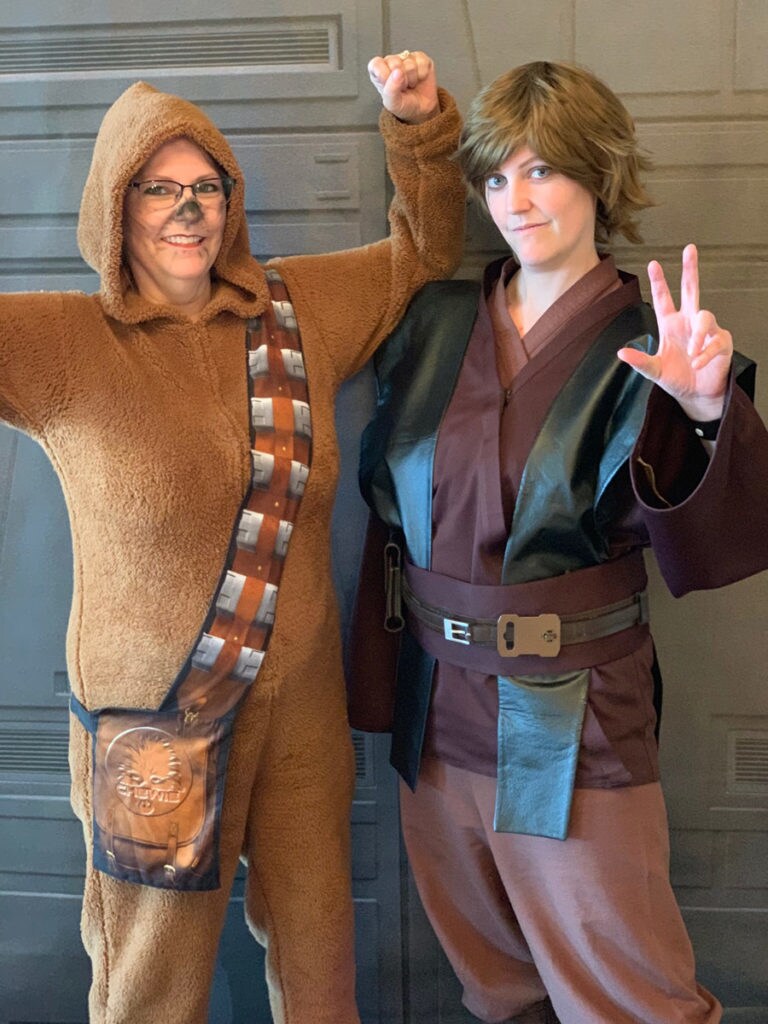 Melanie Gerardi and her daughter Genae, from Colorado, dressed as Chewbacca and Anakin Skywalker, respectively, while Dad (sans beard) did his best George Lucas. "I used to work for Star Tours, and that brought me more into the fandom," Genae said. "I just think it's so great. The representation, the culture." A cosplayer with over 200 costumes, her detailed take on the Chosen One's Episode III appearance was most impressive. "My favorite character is Anakin Skywalker, clearly," she said with a laugh, and cited Star Wars: Return of the Jedi as her number one movie from the saga. (One of the reasons: "There's Ewoks.") While they were not Disney Cruise Line rookies -- this was the third cruise for Melanie, and number four for Genae -- it was their first time experiencing Star Wars Day at Sea. "Oh my gosh, this is awesome," she said. "I am so happy to be here."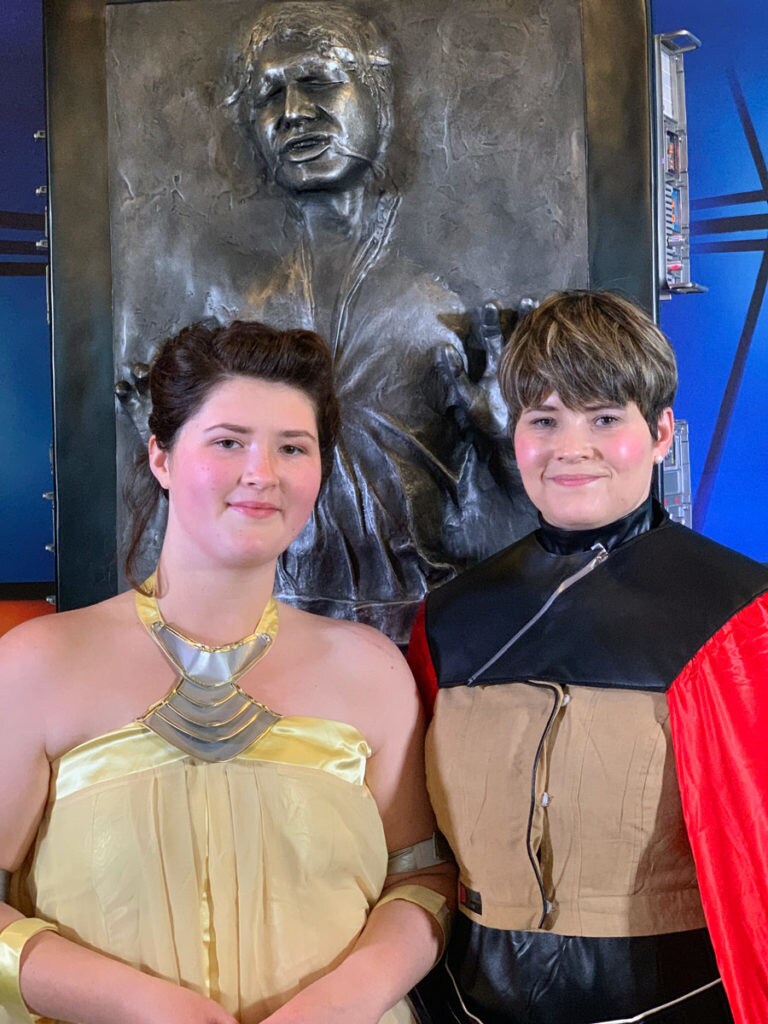 Another mother-daughter team, Erin and Sophia Murray from Washington state, share a love of the saga -- one that has been passed down through the generations. "Well, my dad was into it," Erin, Sophia's mother, said. "We saw Return of the Jedi in the theater, and from then on, it was just…Star Wars!" While Erin cosplayed as Qi'ra and Sophia as Padmé Amidala, Erin secretly prefers the bad guys. "I wanted to be Krennic," she said of the Rogue One villain. "He's the best! He's just ruthless. I hate to say I'd be a bad person in Star Wars, but I probably would be." Disney Cruise Line veterans, they loved taking pictures with characters, and traded pins and other random goods with some roaming Jawas. "They didn't want our hotel card," Sophia said. "But I traded some soap, and they gave me a flip flop. They're picky."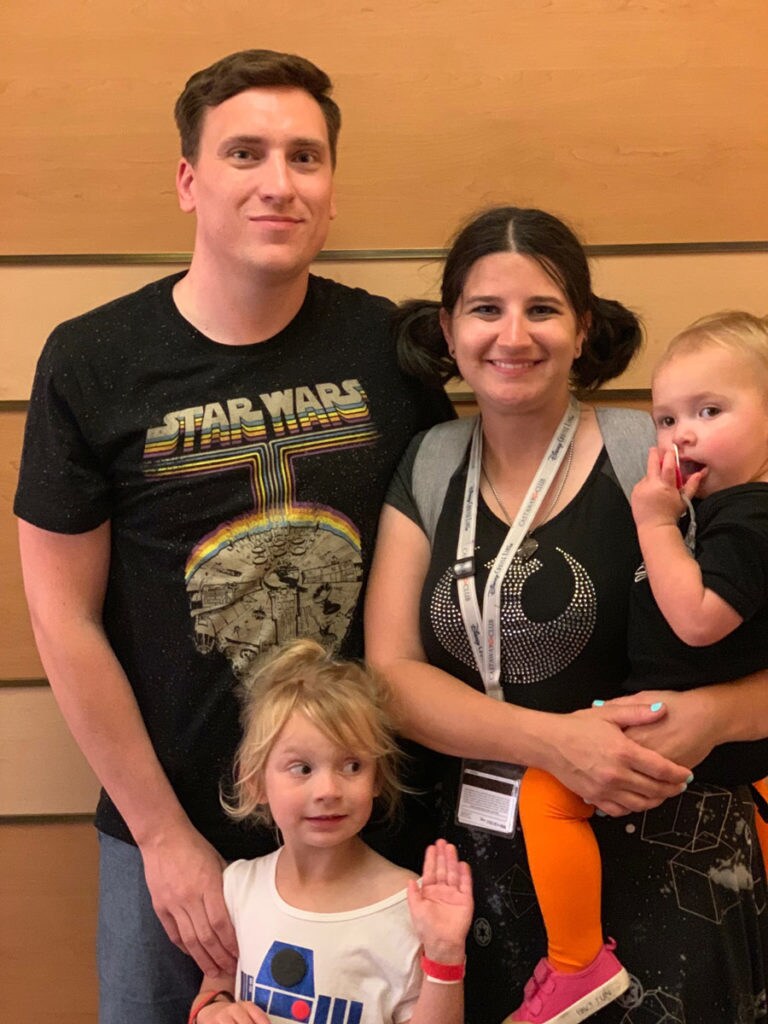 For Todd and Megan Lagerberg and their children, from Oxnard, California, the immersion of Star Wars Day at Sea, from costumed characters to Star Wars-themed food, was a highlight. "It's been fantastic," Todd said. "It's the whole ship." As one of his first theatrical experiences was watching Return of the Jedi with his mother, seeing all the Star Wars films on the big screen with his five-year-old daughter was a big draw. "Having that chance to watch these movies and experience them in the theater is really fun," he said. Indeed, Todd has passed on what he has learned: He was particularly proud that his daughter performed well at Star Wars kids trivia on the cruise. "We have the Star Wars Little Golden Books that we read every night," he said. "They were like, 'Who does the Resistance battle?' She said, 'The First Order, of course!' I was really impressed." Todd and his family enjoyed Star Wars drawing classes, crafts, and Jedi training, and would "absolutely" recommend Disney Cruise Line and Star Wars Day at Sea. "It's been fun," he said. "Especially if you have little ones."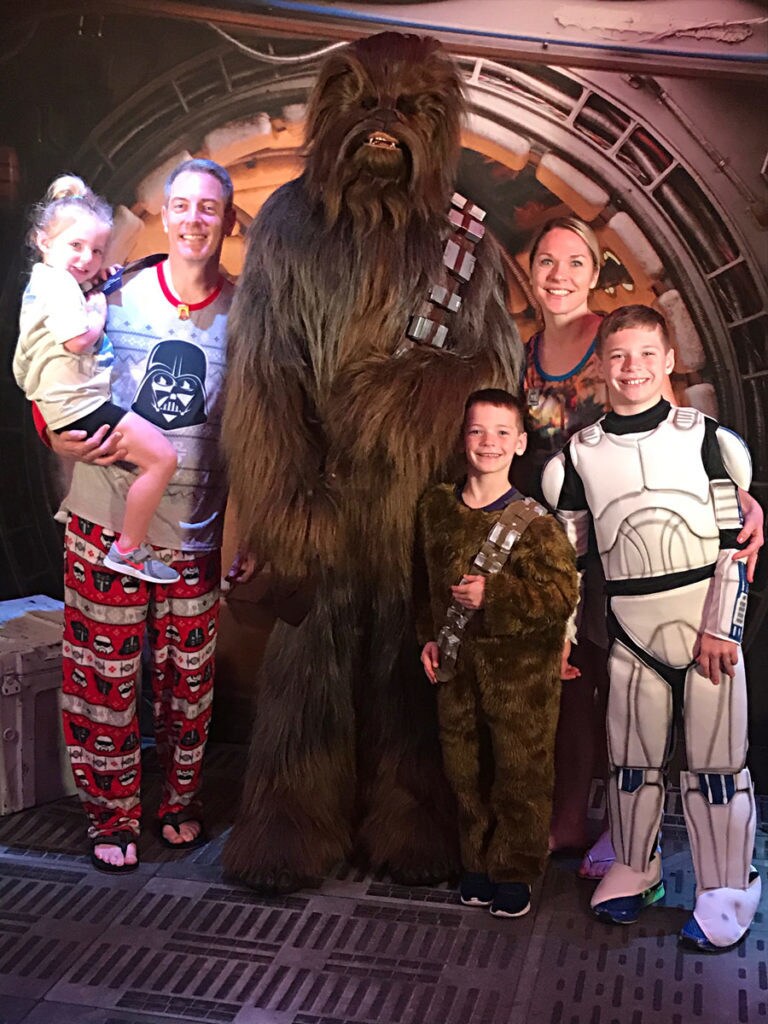 One of the biggest attractions during Star Wars Day at Sea is character meet-and-greets; I encountered the Varcoes, from Iowa, on the line to meet Chewbacca with my own family. "I didn't actually become a Star Wars fan probably until I was a teenager," said Nick, a.k.a. Dad of the clan, who discovered the films through cable TV marathons in the '90s. "I definitely became a huge fan, and it drew me into the books, and then subsequently, the movies, which I've passed on to my kids, as well." Indeed, the Force is strong with Nick's family, to paraphrase Luke Skywalker. On Star Wars Day at Sea, Nick sported Star Wars PJs, his wife Amy wore a Star Wars tank top, sons Evan and Wyatt dressed in their Halloween costumes (Chewbacca and Captain Rex, respectively), and Lucy donned an R2-D2 tee. Amy appreciated the fantasy of the experience, and how that inspired their children. "They're totally into it, and the kids are able to interact with all the characters walking around the ship, and they never break character," she says. "It's fun to watch the kids be as excited as Dad is, and I'm excited because they're excited." Nick loved experiencing the day with family and fellow fans.
"I've just loved seeing everybody in their shirts, I saw a BB-8 dress, I saw lots of people dressed up as Rey," Nick said. "Just seeing other people with the same interests as me has been awesome."
Much like the Force, Star Wars binds fans together -- when you can feel it at events like Star Wars Day at Sea, and on May the 4th this weekend, it's truly special.
Visit the official Disney Cruise Line site for more on Disney cruises and Star Wars Day at Sea.
Dan Brooks is Lucasfilm's senior content strategist of online, the editor of StarWars.com, and a writer. He loves Star Wars, ELO, and the New York Rangers, Jets, and Yankees. Follow him on Twitter @dan_brooks where he rants about all these things.
Site tags: #StarWarsBlog, #FanInterviews, #StarWarsDay