Get a first look at this stunning take on the galaxy's most feared bounty hunter, available only at SDCC 2013!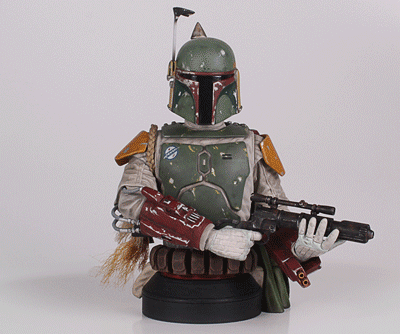 San Diego Comic-Con attracts thousands of attendees each year. They go for the costumes, first looks at movies and TV shows, the chance to meet comic book artists and writers, and panel discussions. But there's another big draw: exclusive collectibles created just for the show. Gentle Giant, purveyors of finely-crafted maquettes and busts, has some exciting exclusives planned for this year -- one of which celebrates a certain bounty hunter who successfully tracked the Millennium Falcon to Cloud City. StarWars.com is proud to reveal it here first.
For this year's SDCC (July 18-21), Gentle Giant has created the Boba Fett Deluxe Mini Bust, a highly-detailed depiction of one of Star Wars' most popular characters. Based on Boba's appearance in Return of the Jedi, each bust is hand-painted, individually numbered, packaged with a certificate of authenticity, and comes with multiple interchangeable arms allowing for a wide range of poses -- including his classic rifle cradle. The attention to detail is stunning, from battle damaged armor covered in film-accurate scrapes and scratches to Fett's trophy scalps, which are woven and not sculpted. The bust comes packaged in a handsome green tin emblazoned with the Mandalorian insignia, and protect by a slip cover.
Look for the Boba Fett Deluxe Mini Bust at Gentle Giant's SDCC booth, available for $150 and limited to 2,500 pieces. Check out a special preview below!