Menacing Maul, home décor fit for a Hutt, and more collectibles are coming from a galaxy far, far away straight to you.
Star Wars collectibles are a powerful way to uniquely celebrate what the saga, and its most enduring characters, mean to generations of fans. "It helps make it feel real to you," said Lucasfilm's senior manager of product development, Brian Merten.
On Friday, Merten was joined by designers and other representatives from a handful of high-end collectible manufacturers to talk about the future of Star Wars collecting and showcase some exceptional designs you'll soon be able to see for yourself.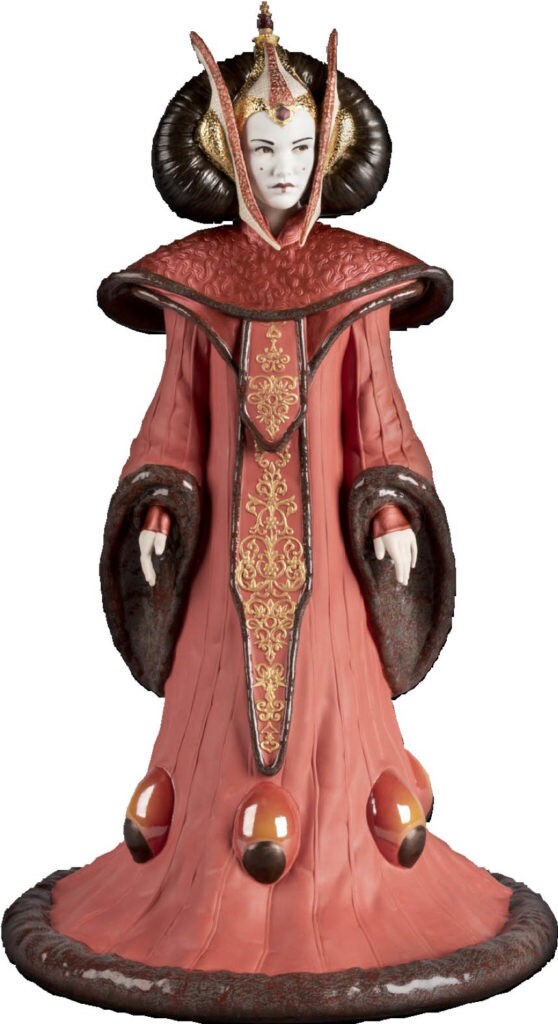 1. Lladró's porcelain Queen of Naboo is truly regal. The designers have pushed the boundaries of handmade porcelain sculpting to make the towering Queen Padmé Amidala a first of its kind limited to just 1,000 pieces. Merten called it a "work of art."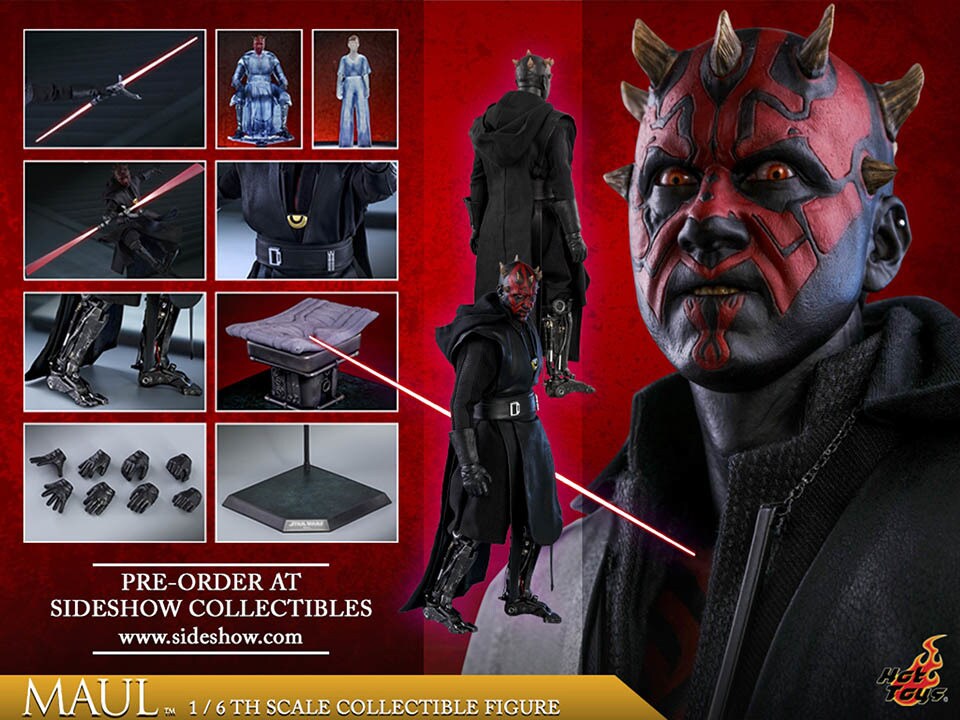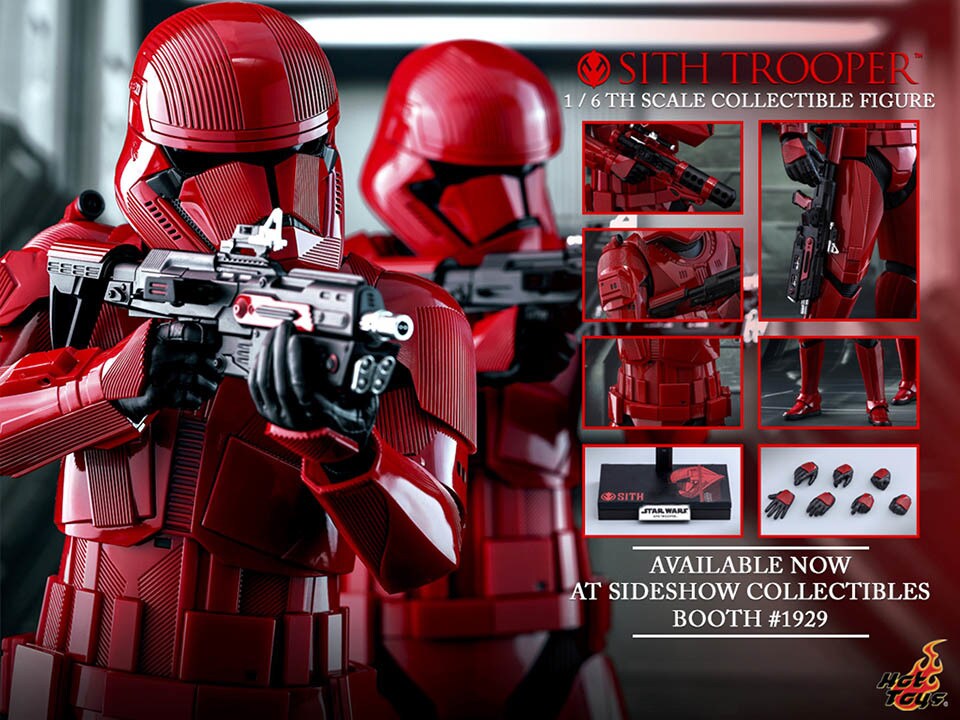 2. Meet Maul, if you dare. Less beautiful, but certainly as striking, Hot Toys recently revealed its take on the Sith trooper and Maul from Solo: A Star Wars Story. "It's just exquisite," Merten said of the Dathomirian warrior-turned-crime boss.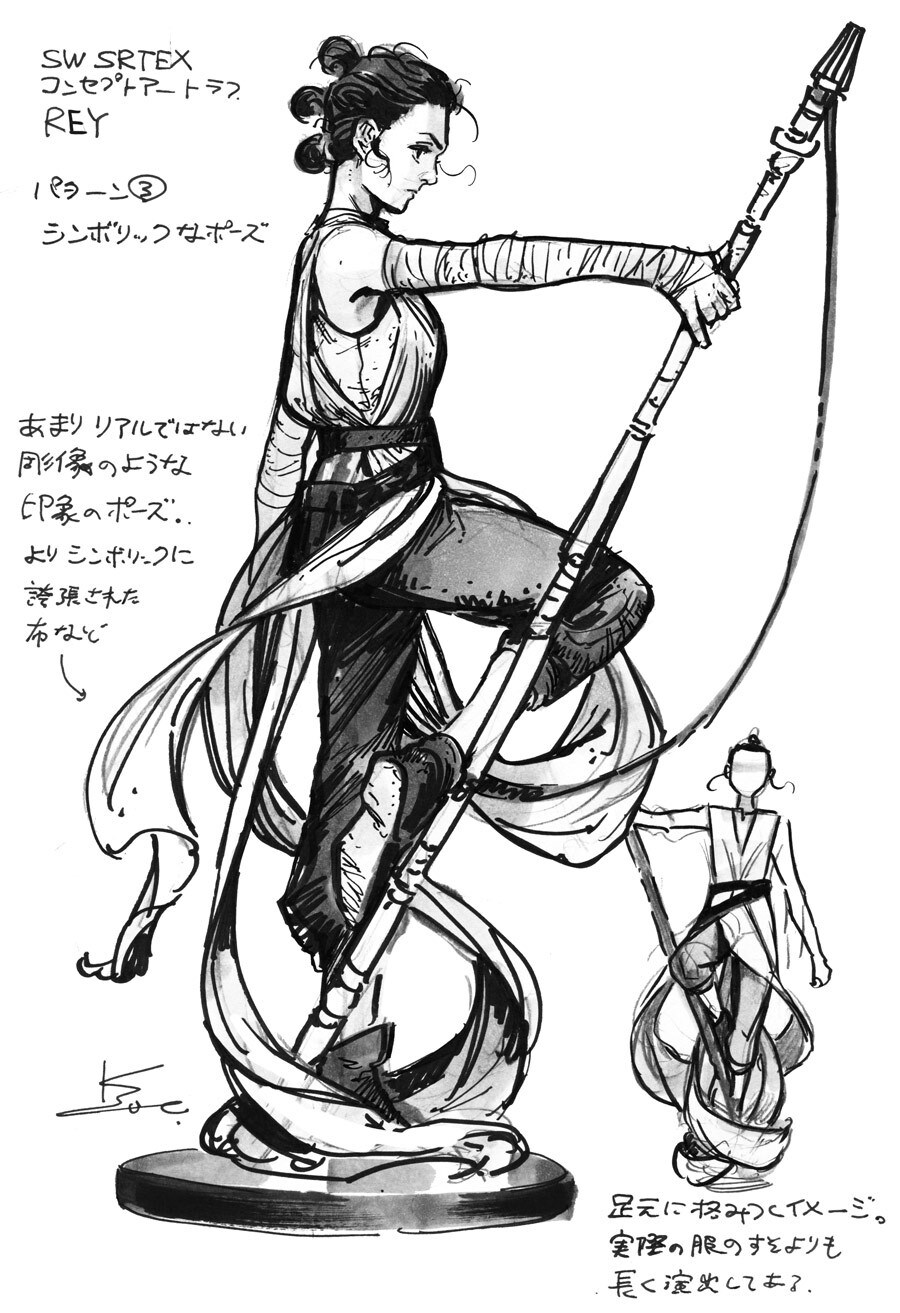 3. And Rey, Descendant of Light. Kotobukiya's Kim Miller says the brand is starting to work with individual artists to bring their own style to Star Wars characters. On Friday, she debuted the turnaround sculpt for anime artist Kamome Shirahama's "Rey, Descendant of Light," a piece that will hit shelves next year. Windblown, with her staff raised, this stylized version of the scrappy scavenger looks ready for adventure.
4. She's not alone. And in June, Shirahama's vision of Kylo Ren will debut, with interchangeable pieces so the collectible can contemplate his own helmet or the melted remnants of his grandfather's mask.
5. A legion is coming. Kotobukiya's ARTFX+ line will also welcome Sith troopers, stormtroopers, scout troopers, and more next year, including Luke Skywalker in X-wing pilot gear, part of the 1/10th scale series, and looking ready to take on the whole galaxy.
6. Governor Tarkin, I should have expected to find you. Diamond Select Toys is working to create a formidable bust of Grand Moff Tarkin, and Regal Robot announced its own work on a 1:1 scale bronze bust celebrating the terrifying Imperial leader.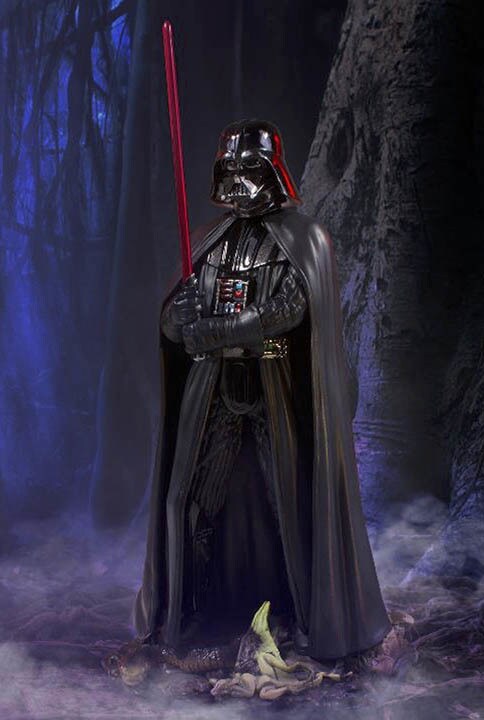 7. Luke and Rey are both just dreamers at heart. Diamond Select Toys, which now includes Gentle Giant Ltd., is also finishing orders including gallery models of Darth Vader on Dagobah and Han in Carbonite, plus expanding on the brand's series. Next year, they'll debut a pair of sculptures featuring Luke Skywalker and Rey both dreaming of better lives from their humble desert homes, and a jumbo action figure of C-3PO falling to pieces, with a handy bag to collect his removable limbs.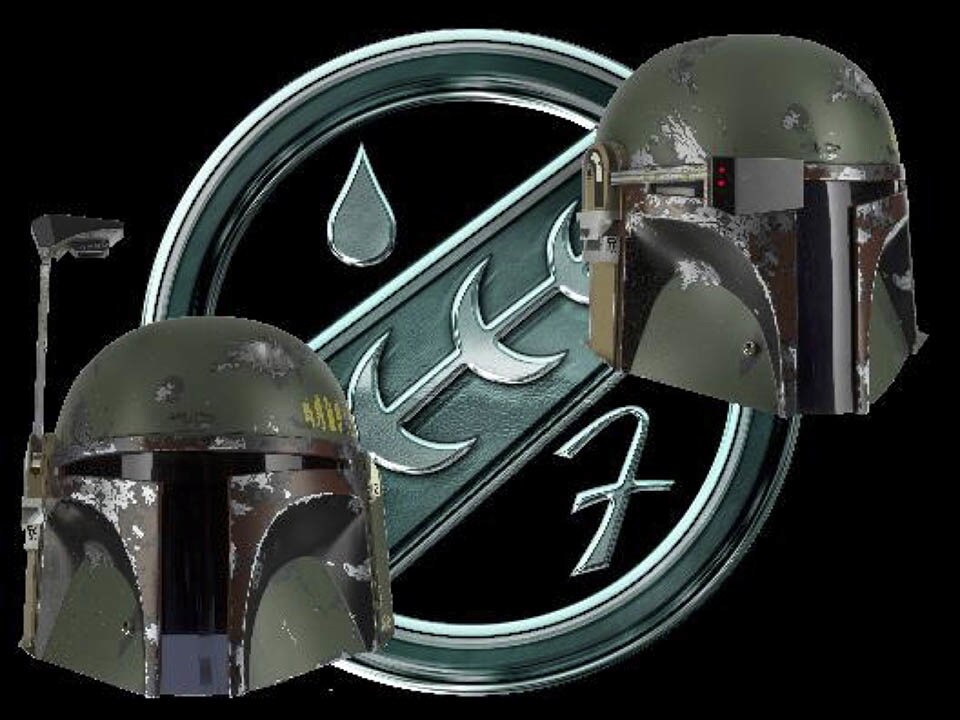 8. The mask of a bounty hunter requires original molds. Bryan Ono of EFX Collectibles created a screen-accurate version of Boba Fett's helmet by first creating a cast from the original prop, then painstakingly adding hundreds of paint layers to get just the right texture of the battle-scarred bucket. "We take a lot of time and effort to replicate the prop," Ono said Friday, including traditional replica-making methods from the 1970s and 1980s before 3-D scanning was an option. "The geometry is screen accurate," he told the panel audience. "So is the range finder and all the paint as well."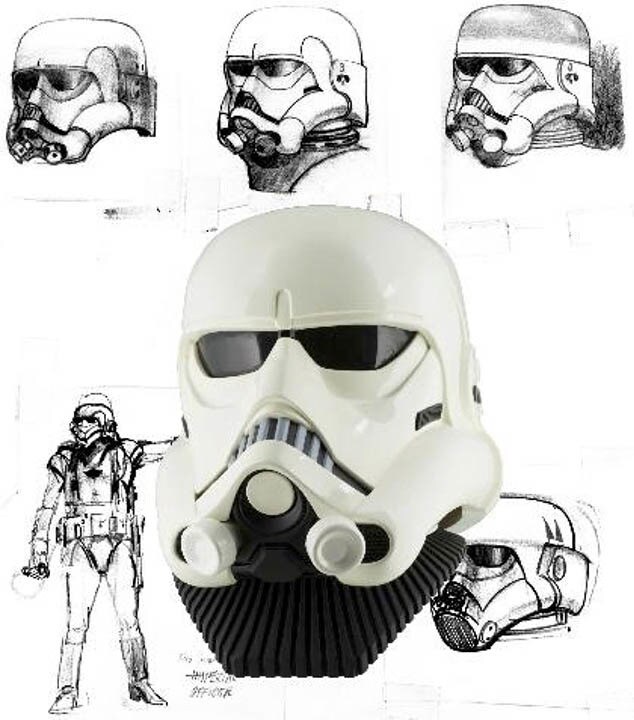 9. EFX consulted with a master. Ono also revealed that he had worked with Ralph McQuarrie himself to help realize a stormtrooper helmet done in the style of McQuarrie's original concept art. He needed the legend's help to finish the back of the design, never glimpsed in the works used for reference.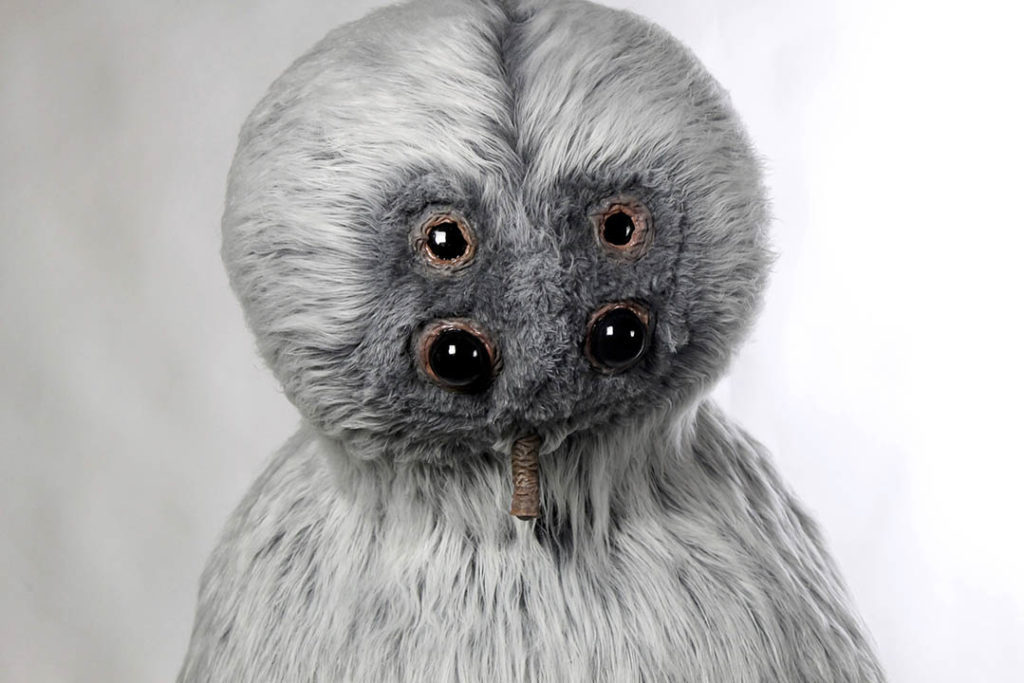 10. Tom Spina's love of creating Star Wars pieces has been a life-long habit. "I have been making Star Wars stuff since 1977," he told the audience. "I was 4 or 5 at the time so it wasn't good stuff but it was stuff. That drive just never changed for me." Spina has been involved in restoring screen-used props and costumes, including the creature creation for Muftak from the cantina scene in Star Wars: A New Hope. "I'm one of the few people in the world who can say they shampooed the original Muftak costume. Twice," he said.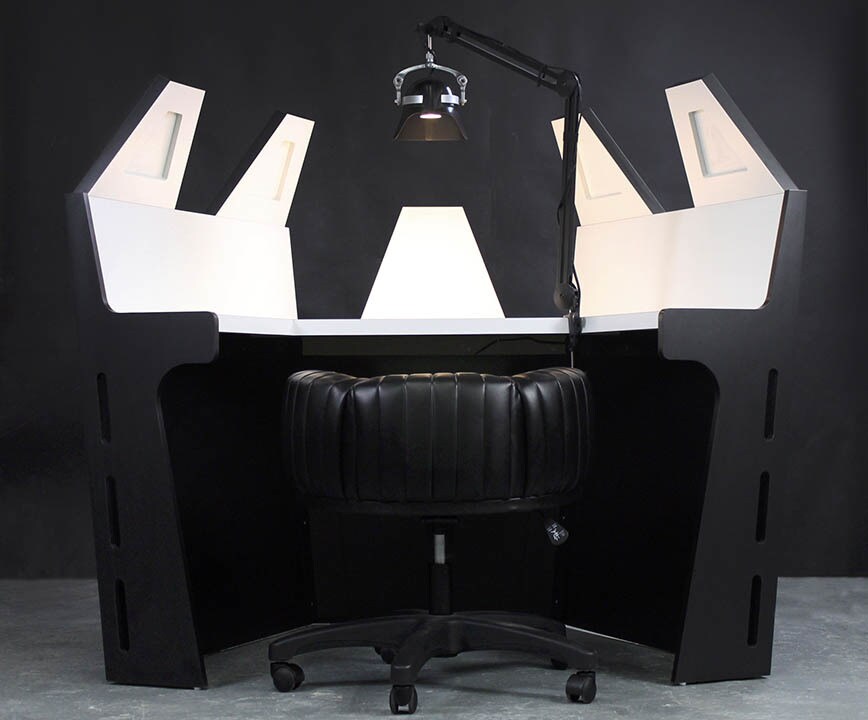 11. If you have a Star Wars dream, Spina will try to make it a reality. Spina showcased a recent custom desk, which he designed for an artist looking for a quiet place to create, in the style of Darth Vader's meditation chamber. Even the lamp for the piece is on theme, looking like Vader's helmet descending from a small crane. "I love the brainstorm part of it," Spina said of his outrageous and unique furnishings. "We took a dewback and turned it into a sofa because that's what we do."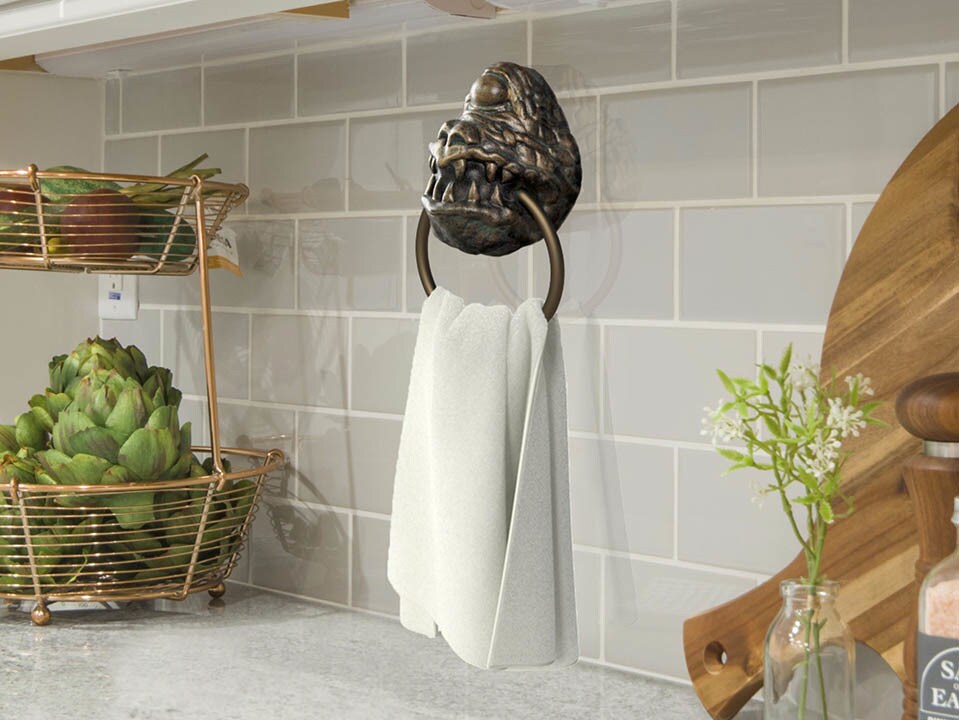 12. Regal Robot doesn't just do furniture. Spina's company also makes smaller home goods using designs from the saga. For example, a convention exclusive magnet is made to look like the gargoyle on Jabba's throne. Soon, the same motif will be used for a towel holder and later a door knocker, he revealed.
Associate Editor Kristin Baver is a writer and all-around sci-fi nerd who always has just one more question in an inexhaustible list of curiosities. Sometimes she blurts out "It's a trap!" even when it's not. Do you know a fan who's most impressive? Hop on Twitter and tell @KristinBaver all about them.
Site tags: #StarWarsBlog, #SanDiegoComicCon2019